Who Invented the Sewing Machine? It's Time for a Mind-Blowing Bedtime Story!
You've gone so far with your sewing practice, but are you aware of who invented the sewing machine? 
If not, no worries! It's never too late to learn the essentials. Also, what can be more delightful than getting familiar with the stories of the sewing enthusiasts who were there long before us?
In this article, we'll explore
the first sewing machine invented (

when were sewing machines invented, who came up with the prototype, and who improved the sewing machine)

, 

other crucial events from a sewing machine timeline, and

curious sewing machine facts from this device's history;
Ready to dive in?
The first sewing machine
Let's start with the deal-breaker!
Even though we sometimes hear that Isaac Merritt Singer invented the sewing machine, this belief is far from the truth. 
Our good old, long-beard Singer wasn't an ambitious researcher nor technician who created a sewing machine's mechanism from scratch. 
Yet, he did a lot to develop this device and the entire industry!
What do we owe him? Mr. Singer 
designed the first practical sewing machine, 

used mass-production techniques to manufacture a sewing machine, and 

pioneered the hire-purchase system of buying on credit in easy installments, revolutionizing consumer behavior.
(read more on History Today)

Image source: Pinterest
Sewing machine patent
On Aug. 12, in 1851, Singer patented the most practical and commercially viable sewing machine of a time—a memorable Patent No. 8,294. 
But Singer was no backstage scientist. Instead, American business history remembers him as a showman and "one of the most forceful, flamboyant, and unscrupulous business tycoons." (History Today) 
He was the eighth child of poor German immigrants, born on October 27, 1811, in Pittstown, New York. 
Before hitting the jackpot with his sewing machine business, he worked, among others, as an actor (he formed his theatrical troupe), as a ditch digger, mechanic, and cabinetmaker. He was also employed at a plant manufacturing wooden printers.
So instead of responding to the question "who invented the first sewing machine," we got into "who patented the sewing machine," but this is how this story unfolded. 
Are you curious about the full Singer sewing machine story? 
Go to Super Label Store blog to get to know the best sewing machine brands, such as 
And discover our handy sewing tips, for instance 

Image source: Hobby Couture
When was the first sewing machine invented?
So, Singer was the first to turn the sewing machine into a profitable business, but who is the actual inventor, and what year was the sewing machine invented?
It's time for some sewing machine Wikipedia search!
Sewing machines were invented during the first Industrial Revolution. 
And why was the sewing machine invented in the first place?
The principal goal was to decrease the amount of manual sewing work performed in clothing companies. 
We ‌generally call Thomas Saint a sewing machine inventor, but the story is a bit more complex than that. "A bit," to say the least.

Image source: Time
Who invented the sewing machine?
To put things straight, let's dig into the research conducted by ISMACS International (International Sewing Machine Collectors' Society) entitled "A Brief History of the Sewing Machine."
The table below gathered essential points in the history of this device's conception, trying to determine who created the sewing machine.
When
Who & Where
What

1755

Charles Weisenthal, a German immigrant,  in London

He gets a patent for a needle for mechanical sewing.

1790

Thomas Saint, a cabinet maker

He patents a machine with which an awl makes a hole in leather and then allows a needle to pass through. 

Read about the leather sewing machine and sewing leather.

1810

Balthasar Krems, an inventor, Germany

He develops a machine for sewing caps, but no patents are taken out.
Let's pause here for a minute to glance at a curious fact about the sewing machine history.
Some critics believe that Thomas Saint possibly only patented an idea of a machine that was never built. In 1874, William Newton Wilson found Saint's patent drawings. They attempted to produce it based on Saint's drawings, but it wouldn't work without considerable modification.
Also, you'd never guess how Saint's sewing machine design was first patented:
"An Entire New Method of Making and Completing Shoes, Boots, Spatterdashes, Clogs, and Other Articles, by Means of Tools and Machines also Invented by Me for that Purpose, and of Certain Compositions of the Nature of Japan or Varnish, which will be very advantageous in many useful Appliances." 
Straight to the point, huh? (especially, considering Singer's neat Patent No. 8,294)

Image source: Smithsonian Mag
Let's keep digging in the sewing machine 1800s golden era:
When
Who & Where
What

Early years of the 19th century

1814-1839

Josef Madersperger, an Austrian tailor 

He produces a series of machines in the early years of the 19th century and in 1814 receives a patent still working on the invention in 1839.

He fails to get all the elements together successfully in one machine and eventually dies as a pauper. 

1804

Thomas Stone and James Henderson, France

They patented a machine that attempted to emulate hand sewing.

1804

Scott John Duncan,

France

He creates an embroidery sewing machine using several needles. 

Here's our take on sewing supplies. 

1818

John Adams Doge, a Vermont churchman,  and his partner John Knowles, USA

They produce a device able to make a good stitch. Unfortunately, it sews only a short length of

sewing fabric

followed by a laborious re-setting up.

1830

Barthelemy Thimonnier, France

He uses a barbed needle for his machine, built almost entirely of wood. 
Here's an extraordinary power of Barthelemy Thimonnier: 
Unlike other inventors, he manages to convince the authorities of the usefulness of his idea. As a result, he receives a contract to build a batch of machines to sew uniforms for the French army. This way, in only ten years, Thimonnier has a factory running with 80 machines!
Thanks to a sewing machine Industrial Revolution enabled companies to mass-produce clothing. This‌ helped make the textile industry one of the primary drivers of the Industrial Revolution, driving economic production.
Three essential changes that brought about the Industrial Revolution were: 
the invention of machines to do the work of hand tools, 

the use of steam and later of other kinds of power, and 

the adoption of the factory system; 
Two of those embody what sewing machines are all about!

Image source: Smithsonian Mag
Unluckily, these sudden big inventions often bring trouble. 
Parisian tailors aren't glad about the automatization provided by Thimonnier, fearing it's going to take away their hand sewing jobs.
Late one night, a group of tailors storms the factory. They destroy every machine and cause Thimonnier to flee for his life. 
Yet, our brave inventor starts again promptly, introducing an improved sewing machine model. And then, the tailors attack again as well! 
Thimonnier saves one machine and flies to England. 
We'll remember him as the one who
produced the first practical sewing machine, 

was the first man to offer machines for sale on a commercial basis, and 

ran the first garment factory; 
What happens next? How does 1800 sewing machine history evolve? Let's check in with Ismacs.
When 
Who & Where
What

1833

Walter Hunt, USA

He invents the first machine, which doesn't ‌emulate hand sewing, but makes a lock stitch using two spools of thread and incorporates an eye-pointed needle, as we do today. It was, unfortunately, able only to create short, straight seams. 

Discover sewing machine needles and learn to sew on our blog!

1842

John Greenough, USA

He produces a working machine where the needle passes utterly through the cloth. However, the manufacture never took off, as no one wanted to invest in the idea. 

1844

John Fisher, England

He invented what we would call the modern machine. Although designed to produce lace, it was essentially a working sewing machine. 

Because of the miss-filing at the patent office, Fisher's invention goes overlooked during the legal arguments between Singer and Howe about the origins of the sewing machine.

1844

Elias Howe, USA

He completes his first sewing machine prototype and patents it a year later. However, people still aren't ready for it! He doesn't sell a single machine at a time. 
Who would think that the history of the sewing machine—a seemingly modest device spreading a vibe of joyful creativity and peacemaking—was full of fights, accusations, patent lawsuits, up to narrowly escaping death? 
A curious fact: Even though Walter Hunt came up with a back-stitching sewing machine in the early 1830s, he declined to patent it! 
Some sources claim ‌he was afraid it would cause the massive unemployment of seamstresses. (read more on Wired) 
According to other authors, he never applied for a patent because he considered the fee too high. (Mass Moments)
But no worries, Hunt didn't end up bankrupt like many others in the industry before (and after) him. 
Instead, he was recognized as 
an inventor of the safety pin, 

a precursor of the repeating rifle, a knife sharpener, a gong for fire engines, bicycle improvements, ice plows, a forest saw, a stove to burn hard coal, a streetcar bell, synthetic stone, road-sweeping machinery, and paper collars for shirts;
Read about sewings supplies and a detailed version of the "who made the sewing machine" story on Contrado.

Image source: Laurel Cottage Genealogy
Before tackling the Singer and Howe legal battle, how about a YouTube chill with "The Forgotten History of Sewing Machines"? 
Let's have a look at the main events of the creation of the first sewing machine:
So what happened next? Who invented the sewing machine in 1846?
Elias Howe patented the first-ever lockstitch sewing machine in the world in 1846. 

Image source: Mass Moments
According to Ismacs, Howe tried to interest the tailoring trade in his invention, to the point of arranging a competition with his machine set against the finest hand sewers in America. 
It sounds like an excellent way to show its capabilities indeed! 
His machine wins hands down, but Howe still doesn't make a single sale despite long months of machine demonstrations.
If anything similar ever happens to your garments, we've got a sure way to lift your spirits!
On the Super Label Store, we not only discuss topics related to how to sew to help you excel but also offer different types of woven labels.  
Customize your textile, clothing, towels, sheets, and accessories with 
 You'll be amazed by how professional your fabric items start to look!
Head to Super Label Store, especially if you're
a DIY/clothing crafter at home (check out our selection of the

sewing machine for beginners

),

a textile/sewing fanatic,

a (small/starting) clothing brand (here we discuss ‌the

industrial sewing machine

)

a fashion designer,

a manager/owner of a hotel, bar, or hospitality business;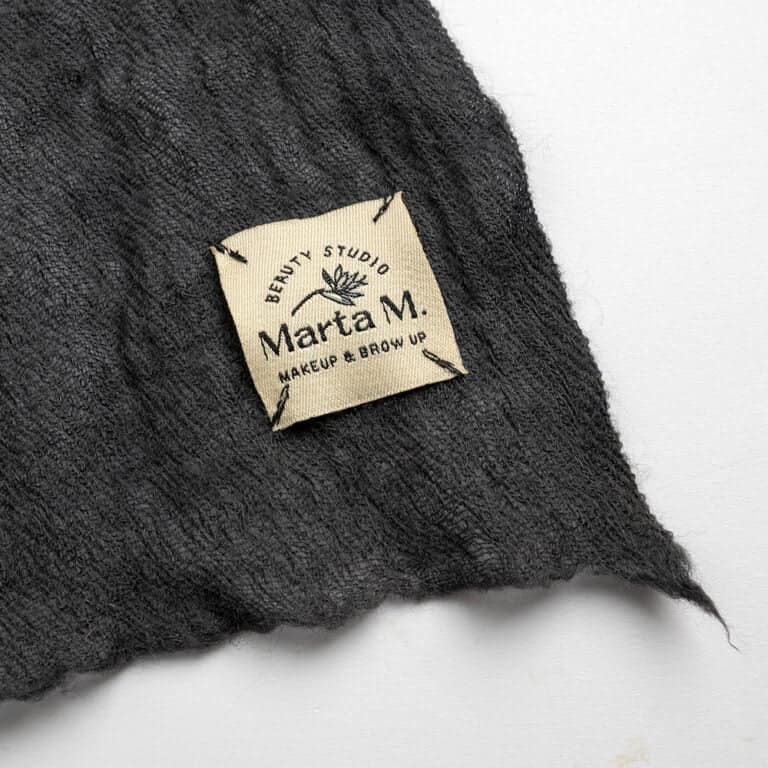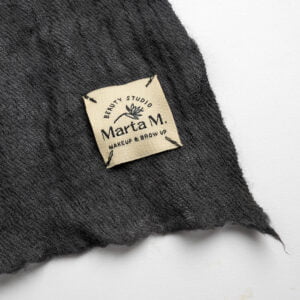 But getting back to Howe—despite unsuccessful attempts, our eager inventor wasn't going to lose, even though he was already drowning in debts!
Howe decides to send his brother Amasa from the US to England. The idea is to elicit people's interest in Howe's innovative device project on the other side of the Atlantic. 
Was the trip successful? Even though Amasa finds in England only one backer—a corset maker, William Thomas—it's enough. He gets enthusiastic, buys the rights, and calls for Elias Howe to come to London to develop the device further.  
Unfortunately, the collaboration doesn't go well. Men accuse each other of failing to honor agreements, and Elias finally returns to the USA, still as poor as a church mouse. 
Here's a Howe's machine today, a vintage model in poor condition. Thanks to over a hundred hours of restoration, it changes its looks 180 degrees. 
If you were thinking about getting a vintage model, but the one you came across doesn't look exceedingly attractive, check "1873 Howe Sewing Machine Before and After Restoration" below, to understand that you can do pretty much everything in this department:
Let's now go back to the beginnings—the sewing machine's 1846 invention and Howe's efforts to spread his idea throughout the globe. 
After a futile attempt to collaborate with a corset maker, William Thomas, Howe goes back to the USA. 
What does he find there?
A sewing machine idea conquers his country without him! 
Dozens of manufacturers (including Singer) produce machines that, however, contravene the Howe patents. 
Howe quickly realizes his fortune depends on defending his patent and collecting royalty fees from sewing machine manufacturers. 
And here starts a long series of lawsuits with Wheeler & Wilson (Wikipedia), Grover & Baker, and others. 
Happily, Howe, unlike many of his predecessors in the industry, didn't die in poverty. Howe, just as Singer, became a multi-millionaire thanks to his luck and avid mind.

Image source: Science Museum Group Collection
All things considered, saying with all the certainty 
where was the sewing machine invented and

when was the sewing machine made
is quite a challenge, given the activity of many inventors spread in hundred years! 
How did the first sewing machine work
Thanks to the description published in American History, we can grasp Howe's idea for a sewing machine.
Howe's sewing machine model used a grooved and curved eye-pointed needle—provided with thread from a spool—carried by a vibrating arm. Review our take on sewing machine needles.
Loops of thread from the needle were locked by a second thread carried by the shuttle, which moved through the loop by reciprocating drivers. 
The cloth hung vertically, impaled on pins on a metal baster plate, while the baster plate moved intermittently under the needle with a toothed wheel. 
When the end of the baster plate reached the position of the needle, the sewing stopped. 

Image source: Smithsonian Mag
The length of the baster plate was crucial for the length of each stitching operation, and it could only sew straight seams. 
A machine operator had to remove the cloth from the baster plate, and the plate moved back to its original position. 
At this stage, the machine operator repositioned the cloth on the pins and continued to repeat the entire process until finishing sewing the item.
Let's put it straight. It wasn't the ideal way to sew. Yet, this device marks the beginning of a real, global sewing machine revolution. 
What's more, it's just the beginning of the story!

Image source: Pinterest
First electric sewing machine
In 1851, Singer invented the first machine with a horizontal arm and a pressure foot—a system that keeps the fabric stable under the needle. 
These hand-operated, hard-to-use sewing machines required an update. So, sometime later, the manufacturers introduced the foot pedal to free the hands. 
According to the sewing machine Wikipedia research, Singer Sewing Co. developed the first electric machines and introduced them in 1889. 
By the end of the First World War, Singer offered hand, treadle, and electric machines for sale.
These electric machines were standard machines with a motor strapped to the side. With time, more and more households gained electricity, and as a result, these machines became more popular. The motor was gradually introduced into the casing.
In 1975, Singer produced the first electronic machine in the world (Athena 2000). (LisanzaUomo) 

Image source: Sewing Is Cool
By 1905, Americans all over the country were sewing with electrically powered machines. 
As Americas Library notes, today, sewing machines in manufacturing plants use computer technology to create customized clothing with little human intervention. 
It's essential to understand how a sewing machine transformed societies. 
Before sewing machines, middle-class housewives spent a pretty large amount of time maintaining family clothing. 
Even with the help of a hired seamstress, this task required several days a month on average. 
When it comes to other numbers, they're pretty precise:
at least 14 hours to make a dress shirt for a man by an experienced seamstress, 

10 hours to make a woman's dress,

three hours to make a pair of summer trousers; 
Only very wealthy people had over two sets of clothing: one for work and one for a Sunday visit to a church.
Now, imagine what happened with societies when sewing machines kicked in!
a dress shirt became a job of an hour and 15 minutes,

a time needed to make a dress got reduced to an hour,

while for a pair of summer pants, a machine operator needed only 38 minutes;
There was also a more significant revolution stemming from the reduction of time spent sewing by women at home.
Women's role in household management diminished in the total time spent working. That gave them extra time for leisure and enabled them to seek employment outside the house. 
The situation got even better with the introduction of the industrial use of sewing machines. (click to read about the industrial sewing machine, embroidery sewing machine, and sewing machine repair.
Clothing production moved from housewives and sewists to large-scale factories. This, in turn, led to a substantial increase in productivity. The equation was simple: fewer workers could produce the same number of clothes. Hence, the entire transformation was followed by the reduction of clothing prices. 

Image source: Click Americana
Although the initial effects of the sewing machines' launching on the market in masses weren't beneficial for sewists since some of them lost their jobs (fewer workers could now produce the same output), in the long-run, adverse effects of inventing and introducing the sewing machine to the market decreased, and got quickly overshadowed by positive outcomes, such as
women, who were previously busy at home could now seek employment in factories and earn more, 

with women earning money, i.e., with the family income doubled, families could afford more items and clothing,

seamstresses could produce more garments with home sewing machines and increase their earnings, 

as the clothing industry grew, many unemployed workers found jobs,

cotton production increased to match the demand of the new clothing factories. Therefore, cotton became planted in new areas where people had not previously farmed it,

metal companies providing parts for the machines also benefited from the invention, as well as

the new sewing machine invention profited shippers who had more work with moving the increased amounts of goods,

manufacturing of furniture with upholstery, curtains and towels, toys, books, and many other products got also stimulated by a sewing machines appearance; 
For more hacks and thorough research, check Super Label Store blog with our takes on: