Are You in Search of the Strongest Sewing Appliance? Pick a Pfaff‌ ‌Sewing‌ ‌Machine‌
Pfaff sewing machine is known for being one of the most reliable sewing machine brands. 
PFAFF was founded in Germany in 1862 by Georg Michael Pfaff, a professional instrument maker.
The first Pfaff sewing machine was handmade, created for sewing leather in shoe manufacture. (more about a leather sewing machine here)
For over a hundred years, Pfaff has been inherited by three generations of family members. As a result, the brand achieved an acclaimed position in the global sewing machine market. 
In 1999, Pfaff was bought by Husqvarna Viking, and in 2006, it became part of SVP Worldwide—a corporation that also owns the Husqvarna Viking and Singer sewing machine brand. 
Most SVP's machines are made in China, although Singer states that they manufacture their products in Brazil, China, Taiwan, and Vietnam. The company is headquartered in Tennessee for the US and Hamilton Bermuda for the global service. 
In 2013, Pfaff became a property of SGSB Group Co. Ltd.
But this is where the fascinating Pfaff story only begins!
Keep reading to discover  
what‌ ‌is‌ ‌a‌ ‌Pfaff‌ ‌sewing‌ ‌machine‌,

what are the most decent Pfaff‌ ‌sewing‌ ‌machine‌ ‌models‌ on the market, and

how‌ ‌much‌ ‌does‌ ‌a‌ ‌Pfaff‌ ‌sewing‌ ‌machine‌ ‌cost‌;

Image source: YouTube
Pfaff‌ ‌sewing‌ ‌machine‌—what's good to know
According to Jo Mottershead:
"Originally made for industrial use only, Pfaff expanded into the domestic sewing machine market in 1931. By the 1950s, the Pfaff 30 electric sewing machine was produced." 
Then, Pfaff released their first computerized sewing machine in 1984. 
No wonder Pfaff has seen an impressive market demand. The brand has always known how to keep up with the times.
What is Pfaff famous for nowadays? 
Performance Sewing claims that Pfaff stands out because its machines incorporate IDT (Integrated Dual Transportation System). 
The principle of the IDT system is that the fabric is fed from above and from below. Moving the top and bottom fabric at the same rate eliminates slippage. 
This mechanism ensures perfect fabric movement in both 
forward, and 

reverse sewing 
on any type of garment or any sewing fabric. 
A secondary ability of the IDT system is that it stops sheer fabric from puckering.
"The IDT truly makes matching a breeze,"
claims Carolyn Niemann in Generations Quilt Patterns, referring to the Pfaff Passport 2.0 Sewing Machine.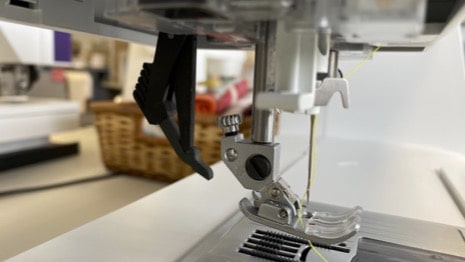 Image source: Movie Cultists
To see how this mechanism works, have a look at this video on the Colin Mills YouTube channel:
Because of both brands' European origins, Swiss Bernina and German Pfaff are often compared. 
Both brands have a long generational, over-a-hundred-year history of manufacturing high-quality and innovative sewing machines when it comes to similarities. 
Both companies carry manual and computerized sewing, quilting, and embroidery machines with inspiring features. 
Silver Bobbin made an effort to respond, which one is ultimately better. In the table below, you'll find our brief overview based on an exhaustive comparison created by the author. 
Check out blogs if you're looking for 
Bernina
Pfaff
Unique features

DesignWorks technology, 

Stitch Regulator, and 

Bernina Hook;

IDT and Active Stitch technology, and 

Shape and Stitch Creator;

Portability

Five portable models

Two portable models

Stitches

Some models have over 200

Some models have over 500

Stitches per minute

Up to 1,000 SPM for some models

Up to 800 SPM for some models

Warranty

Up to 20 years 

Up to 5 years 
Brands' two leading models—Bernina 435 vs. PFAFF Creative 1.5—are meticulously compared by Woman & Home.
Other comparable models include:
most popular: Pfaff Performance Icon and Bernina 770 QE,

serger: Pfaff Coverlock 4.0 and Bernina L 860,

embroidery: Pfaff Creative Icon and Bernina 880 Plus;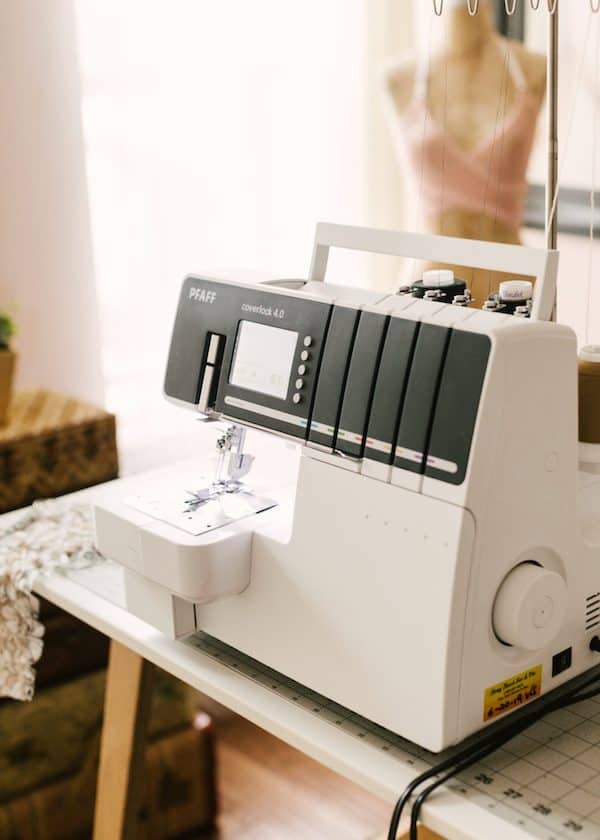 Image source: Madalynne
List‌ ‌of‌ ‌Pfaff‌ ‌sewing‌ ‌machine‌ ‌models‌
Have we explained why it's worth giving thought to purchasing Pfaff? 
If your inner voice responds "yes," let's jump to the map! On My Sew Net, you'll discover all Pfaff‌ ‌sewing‌ ‌machine‌ ‌dealers‌ around you. 
One of them is Rocky Mountain Sewing and Vacuum (located in Aurora, Arvada, Littleton, and Colorado Springs), offering you the full line of Pfaff sewing, embroidery, and quilting machines, as well as accessories dedicated to this brand.  
Go to Rocky Mountain Sewing to get familiar with their proposition (and Pfaff‌ ‌sewing‌ ‌machine‌ ‌price‌ ‌list‌).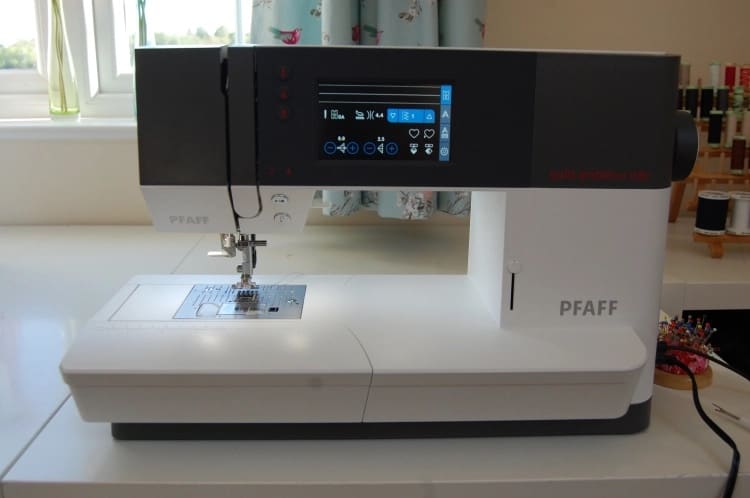 Image source: Sewmanju
There's nothing that could reveal more than Pfaff‌ ‌sewing‌ ‌machine‌ ‌reviews‌.
Unfortunately, not all of them are favorable. For example, users sometimes suspect that issues they experience with their Pfaffs are due to manufacturing being moved away from Germany. 
"Betrayed by Pfaff. I absolutely loved my Pfaff, after I became accustomed to it. It was my "Big Beautiful Pfaff"– and use it I did. […] Then, the multi-function display window started to fail–numbers were not always complete. I took it to two different sewing machine dealers for analysis and sewing machine repair."
—Diana from El Paso, TX, describes her experience on Generations Quilts Patterns.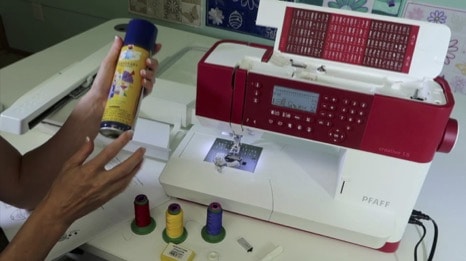 Image source: Sewing Mastery 
On the other hand, many sewers don't even doubt if they need a new Pfaff sewing machine. Instead, they ask, "Which Pfaff Ambition sewing machine is right for me?" instead. Find the response on Sewing Mastery.
You also don't have to ask if you need different types of woven labels by Super Label Store. The only thing to consider is which one you need first.
Choose out of
and watch how your DIY clothing, textiles, towels,‌ ‌sheets,‌ and ‌accessories‌ gain added value with this small but essential enhancement.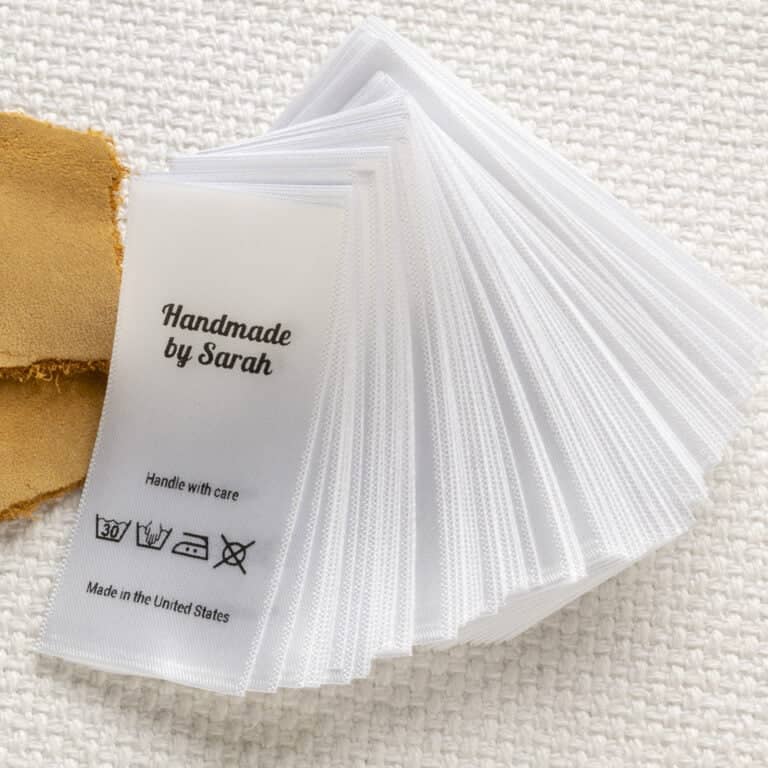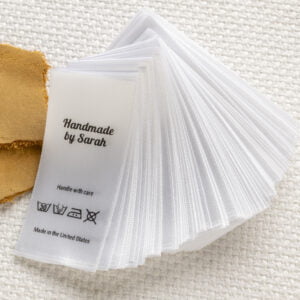 Now, while reviews of particular Pfaff models online are infinite, there's also a fair number of websites that offer a sincere market overview.
One of them is Sew Va Direct with "The Best Pfaff Sewing Machines for Every Type of Sewer." Check the table below:
| | | |
| --- | --- | --- |
| Type of sewer | Pfaff model | Price |
| The best Pfaff‌ ‌beginner‌ ‌sewing‌ ‌machine‌ | Pfaff Smarter 140s | 299.00 $ |
| The best Pfaff machine for your first upgrade | Pfaff Smarter 260c  | 499.00 $ |
| The best Pfaff machine for sewing experts | Pfaff Creative 4.5 | 2499.00 $ |
| The best Pfaff machine for quilters | Pfaff Creative 3.0 | 1699.00 $ |
| The best Pfaff machine for embroiderers | Pfaff Creative 1.5 | 969.00 $ |
On Do You Sew, Pfaff Creative 3.0 was also listed among the five top Pfaff choices, referred to as "jack of all trades," taking a sewer to "another level of sewing." 
Let's dig in to find out why. 
Pfaff Creative 3.0 comes with 
254 built-in stitches and 157 embroidery designs,

an extra-large sewing area for big projects (plus, you get two embroidery hoops with the machine),

Original IDT System (as every sewing appliance manufactured by Pfaff),

Patchwork Program,

Exclusive Stitch Creator (gets your creative juices flowing by designing new stitches, redesigning existing ones, and importing new designs),

high-resolution LCD screen,

lots of memory to save combinations and designs;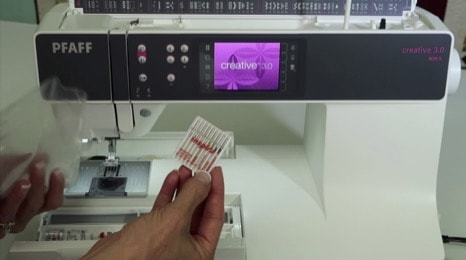 Image source: YouTube
Mind that this model has nearly all of the same features that Pfaff Creative 4.5 has, but it's slightly more affordable.
The author says embroidery features are impressive, stitch quality supreme, and upper and lower thread sensors make it almost impossible to run out of thread. (explanation of the sewing machine thread and sewing machine tension here)
Tiny drawbacks are that Pfaff Creative 3.0 is a little too complicated for beginners and pretty costly. 
Watch "Pfaff Creative 3.0 81 Machine Highlights" by HeirloomCreations to get a broader perspective of this model:
One thing to remember is that Pfaff Creative 3.0 enables you to engage in some embroidery to monogram and customize your quilts well beyond the capabilities of most sewing machines in this price range—reminds Sew Va Direct.
Get familiar with other Pfaff‌ ‌embroidery‌ ‌sewing‌ ‌machine‌ ‌reviews‌ before making the final decision.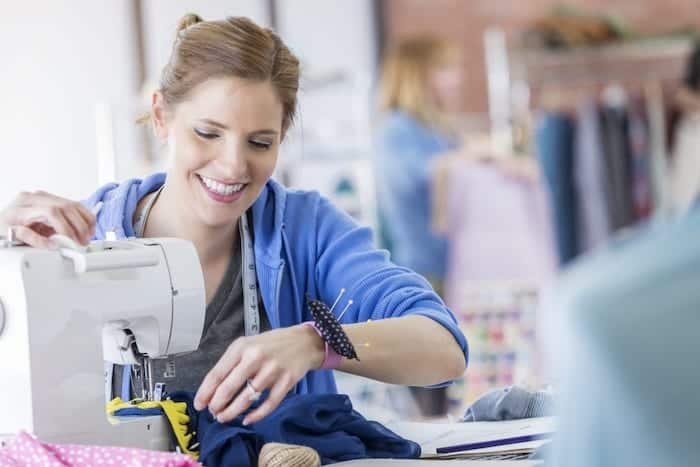 Image source: The Inspired Sewist
Now let's change the narrative and look at the more affordable (yet, still very pleasurable) alternative. 
One of the popular options among Pfaff‌ ‌home‌ ‌sewing‌ ‌machines‌ (industrial models are always more expensive than home options) is Pfaff Smarter 140s. 
This model is almost identical to Pfaff Smarter 160s. One of the easy-to-notice differences is that 160s has pink accents and 140s lime green.
All Smarter models are Pfaff‌ ‌mechanical‌ ‌sewing‌ ‌machine‌ options offering high build quality.
 This affordable (310 $) machine features:
two large dials, 

drop-in bobbin,

21 stitches, including utility stitches, decorative stitches, stretch stitches, and a buttonhole.

a stitch selection dial with pictures of each stitch,

a stitch length adjustment dial on the front,

a stitch width adjustment dial on top, 

an easy-to-follow thread guide, 

seam guides etched onto the needle plate, 

a large reverse stitch button,  

a free arm,

automatic needle threader,

onboard accessories case (read about

sewing supplies

),

bright LED lighting,

adjustable presser foot pressure,

adjustable needle positioning; (if you're not sure what it means,

learn to sew

from our reader-friendly guide)
All in all, this machine really is beginner-friendly! As Sewing Direct confirms on their channel, it is "fantastically simple":
"The Smarter should be called the Simpler; it is so easy to use,"
—adds Sewing Machine Sales. Authors also notice that you usually don't see a 7 point feed system on machines below the 600 $ mark, so this machine is a real treat.
For an in-depth, expert review of this model, go to Sewing Insight. Here, nothing is hidden behind pleasantries.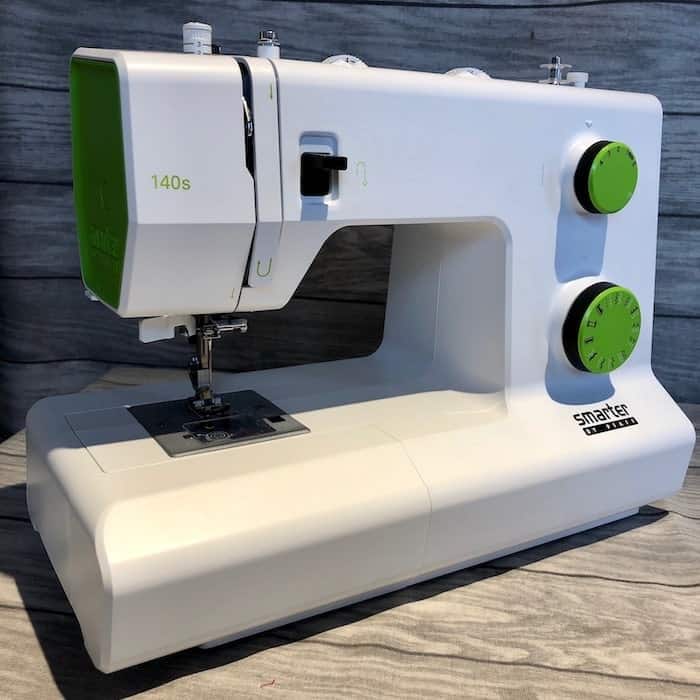 Image source: Les Machines Acoudre De Patricia
On the other hand, this versatile brand offers several more expensive models. 
The most expensive Pfaff sewing machine is the Creative Icon 2 for 20,000 $. 
No wonder you expect another-level advanced technology here. Creative Icon 2 is a sewing, quilting, and embroidery machine at once.
Watch "Pfaff® Creative Icon™ 2 Sewing & Embroidery Machine" to get the idea of why anyone would buy a sewing machine that's more expensive than a yacht. 
The Pfaff Creative Icon 2 offers 
access to all the design tools available in mySewnet, 

innovative AI technology,

the world's first voice recognition program in a sewing machine,

a projector to display bars and grids on your project as you work,

an embellishment attachment that will help you with coaching or ribbon work;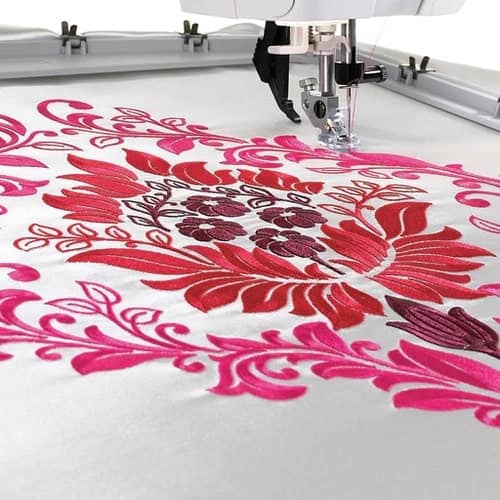 Image source: A Quilters Folly
A Pfaff machine listed as perfectly responding to the needs of experts is Pfaff Creative 4.5. 
Its $2499.00 price isn't as whooping as that of our previous hero, but it's still quite an expense. 
So what do you pay for? Creative 4.5 has the power and features to lead you to success:
a massive workspace (create large projects without hassle),

multiple proprietary stitches (the only machine that has this function),

stitch creator feature to build your own stitches,

extensive touch screen system,

480 individual stitches for use;
Go for a long storytelling ride with Texas Quilt Girl to understand the real impact of a Pfaff Creative 4.5 on a user. Let us sell you a little incentive: the author mentions a "Divine Intervention." 
Some other pros mentioned by users:
set up and sew straight away (the machine does everything for you),

bobbin winding is a breeze,

IDT System,

buttons make everything easy,

lots of room for quilting;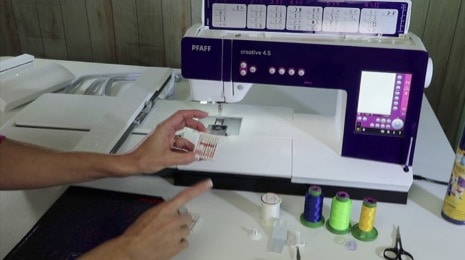 Image source: YouTube
We mentioned Smarter, Creative, and Creative Icon lines, but what about popular Select, Passport, and Ambition models?
According to the Sewing Machine Blog, two Ambition models win in categories:
the best for ease of use (a wide array of options with the ease of use, simple control, and convenience)—Pfaff Quilt Ambition 630, and

the best combo (best combination of sewing and quilting and the best combination of advanced features and ease of use)—Pfaff Quilt Ambition 2.0; 
Pfaff Ambition mid-level models stand for comprehensive functionality. Their 1,200 $ price isn't exaggerated for what they have to give. These machines have a minimalist design and an overall elegant feel.  
In her blog, Sewmanju describes her experience with Pfaff Quilt Ambition 630 and how she selected and upgraded her sewing machine. 
As the previous owner of Janome Memory Craft 4900 QC, Bernina 435, and an experienced sewer, the author takes us through her experience with details. 
After praising her new Pfaff Quilt Ambition 630 machine greatly, she also notices several cons:
imperial seam allowance marker positions feel like they are set too far back from the needle position. 

you can't sew buttonholes back to back—which she didn't often do before, yet, it was an option, and now it isn't. When making buttonholes on the Janome, the needle would return to the starting position enabling the user to sew a second buttonhole directly on top of the first. With this Pfaff model, the needle stops at the end of the buttonhole, and you can't repeat a second buttonhole on top of the first.
With Pfaff Quilt Ambition 630, you can easily sew denim, leather, wool, satin, sweatshirt fabric, viscose crepe, and tencel. In addition, you can make buttonholes on denim and lightweight fabric. Moreover, this model of Pfaff lets you topstitch leather and install zippers.
Ambition models provide 
136 stitches,

a speed slider (to control stitching speed),

IDT technology, and

LCD screen display;
Sara from the Sewing Mastery helps us pick the suitable model from the Pfaff ambition family: 610, 620, and quilt 630.
It goes like this:
Pfaff Ambition model
Who and why should get it

Pfaff Ambition 610

This model will get you in with the cool kids with plenty of growing possibilities included if you are on a budget. 

Or maybe you're interested in purchasing a kids sewing machine?

Pfaff Ambition 620

Step up from a basic sewing machine or a 30-year old appliance and get excited with the fantastic features of this model. 

Pfaff Quilt Ambition 630

If you don't want to be limited.
Check the entire Pfaff offer on their Official Website. 
Pfaff‌ ‌sewing‌ ‌machine‌ ‌prices‌
On Franknutt, prices range from 310 $ for a basic‌ ‌Pfaff‌ ‌sewing‌ ‌machine‌ (for a Pfaff Smarter 140S) to 20 thousand dollars for the latest‌ ‌Pfaff‌ ‌sewing‌ ‌machines‌ from the Pfaff Creative Icon collection. 
Moreover, one of Pfaff's sergers, Admire Air 7000, sells for about 4,000 $. With electronic air threading mechanisms, a touchscreen control panel, 26 different stitching patterns, and a knee lift for hands-free presser foot manipulation—this price is somehow self-explanatory. 
We recommend you do your research and find a suitable, exciting Pfaff model that perfectly responds to your needs. 
If you're on a budget, consider purchasing one of the used‌ ‌Pfaff‌ ‌sewing‌ ‌machines‌ on eBay or similar websites.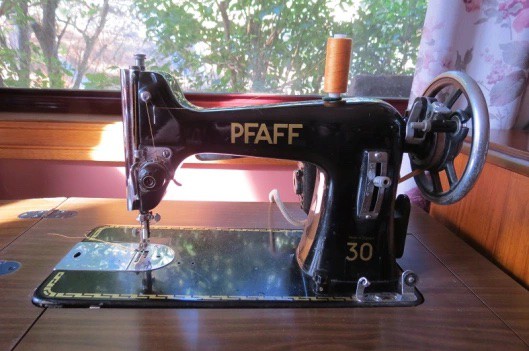 Image source: Jo Mottershead
As mentioned, Pfaff machines are for sewers of all stripes, so everyone will find something worth having in their sewing room.
Read our blogs about Walmart sewing machine and handheld sewing machine to stay updated with the sewing news!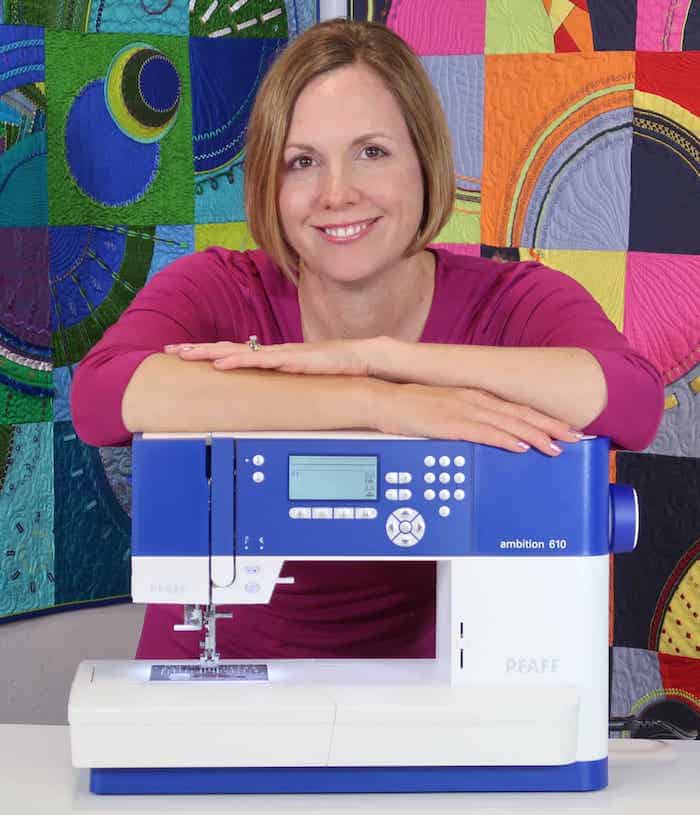 Image source: Sewing Mastery