Step 1: Design your custom hang tags
Do you already have a clothing hang tags design in mind? Your custom hang tags for clothing will make a great first impression and offers instant brand recognition. That is why we offer the option to design your personalized hang tag. Do you want a hang tag with your logo? No problem! Or do you prefer a simple hang tag with just text? You can do that too. Start designing your custom hang tags with strings above.
Step 2: Having the custom hang tags printed
As soon as you've finished your design, you're ready to have the custom hang tags design for clothing printed. Something we do as well, of course. Just give us your design and we get to work.
Step 3: Clothing label tags – Let's order!
You've finished your clothing hang tag design and you want Super Label Store to print the labels. So now there is only one step left to do. Place your order! As soon as we've received your custom hang tags order, we start the production and your clothing label tags will be on your doormat in no time.
Easy to use configurators help you to design and order in minutes.
Premium quality from start to finish.
FROM 5 TO 10.000+ PIECES
Fast production time.
6-12 business days or less
DOWNLOAD AND PRINT YOUR PROOF (PDF) BEFORE ORDERING, SCALE 1:1.
Inspiring custom hang tags
Custom hang tags
Hang tags for clothing are attached to clothes to give information about the material and how it is supposed to be used. They are used to attract attention, tell a story, and project an image. It should build brand recognition so that once a customer sees one of your hang tags, they associate its image with all of your products. What is your company all about, and what can your customers expect from your products?
Custom hang tags for clothing
Hang tags are labels affixed to the products with relevant information aligned to the brand. They are usually thicker and more robust than other clothing labels. Hang tags are very important for manufacturers. Very few items offered in retail do not include a hang tag printing for clothing. Hang tags are also important because it is an important marketing tool as well.
Hangtags attract attention and a lot of times make the difference between a person purchasing the product. Like all marketing, clothing hangtag marketing is like a science. You have to do it right to get results.
Brand tags for clothing
The tools consist of a tag to help creators disclose when a post results from a partnership and insights to help businesses access the performance of their branded content campaigns. In a retail setting, people come into contact with many brands, often displayed close together with similar products. Anything you can do to differentiate your apparel will help get your brand noticed.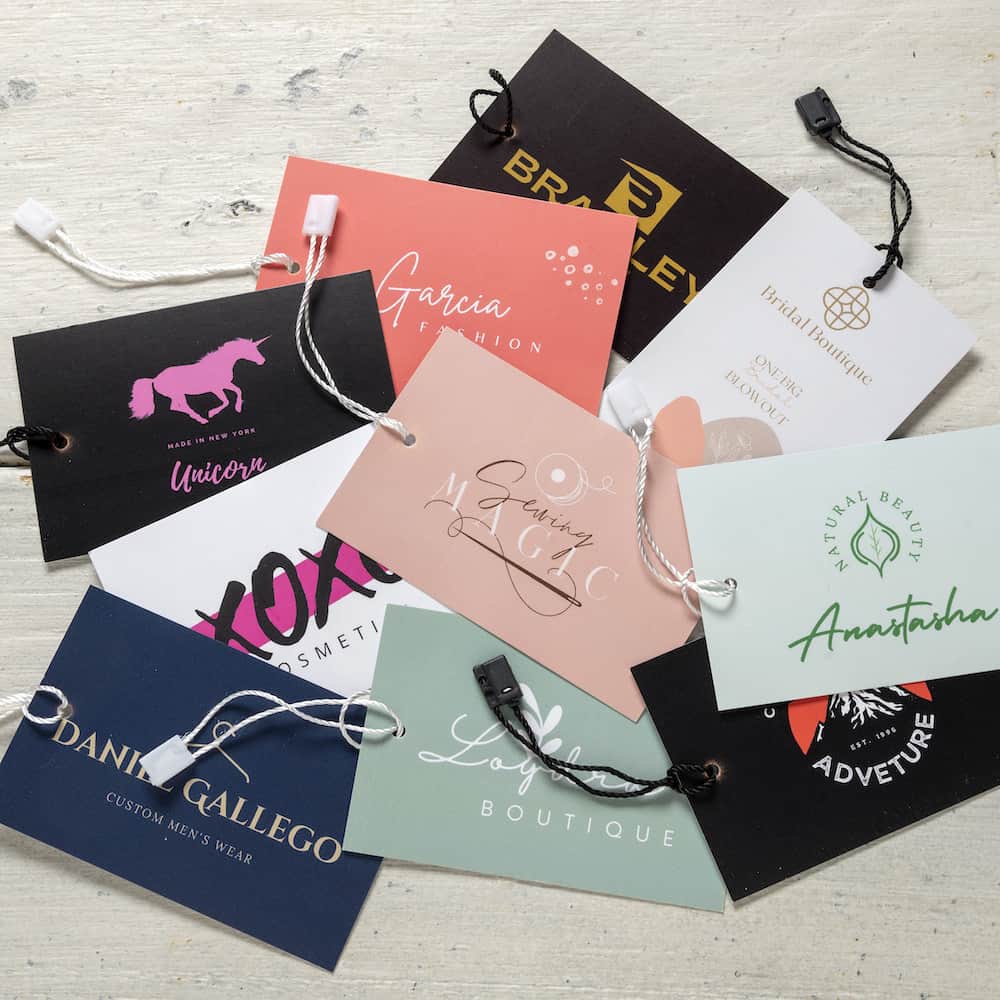 Custom hang tags for clothing provide you the valuable opportunity to appeal to both considerations. The color or material choice, your logo, or tagline may all evoke a feeling for a customer. At the same time, your highlighted features and benefits can add the validation necessary to justify their purchase.
Among the more tangible advantages, when it comes down to it, clothing swing tags also look great and give a certain oomph to your apparel that customers will notice. In marketing terminology, a hangtag adds to your apparel's perceived value, the customer's evaluation of a product's ability to fulfill a need and provide more satisfaction than a competing product. Luxury brands are built on this. It's the perceived value that justifies the price.
Custom printed hang tags with strings
When you are ready for custom packaging that sets your brand apart, consider our custom hang tag for cloths printing. We specialize in creating unique sizes and shapes to help you craft your branding. And our high-quality paper stock reflects well on your business, much better than other discount printers.
We can also add custom design elements like foil stamping, embossing, PMS spot colors, and rounded corners to get your hang tags for garments some attention. Aqueous coating is included, but you might want to up the ante with a super glossy UV or Soft Touch coating. We offer a wide range of custom finishing options to enhance your hangtag. Just ask one of our Print Consultants for suggestions.
An attractive and informative custom hang tags with strings can make or break a customer's final decision. Customize every detail of your hang tag printing so that your brand is distinguished and your product's many advantages are communicated.
Our knowledgeable Print Consultants will find the right solution for your custom printing project from a wide selection of products and options to create a look that is as unique as your business.
Hangtag printing
Hangtag conceptualization and design are only part of the process. How you print your hang tags can greatly influence customer response and your return on investment. Do it wrong, and you send a poor message, but get it right, and you can boost sales overnight. Here's how to print hang tags for maximum sales potential: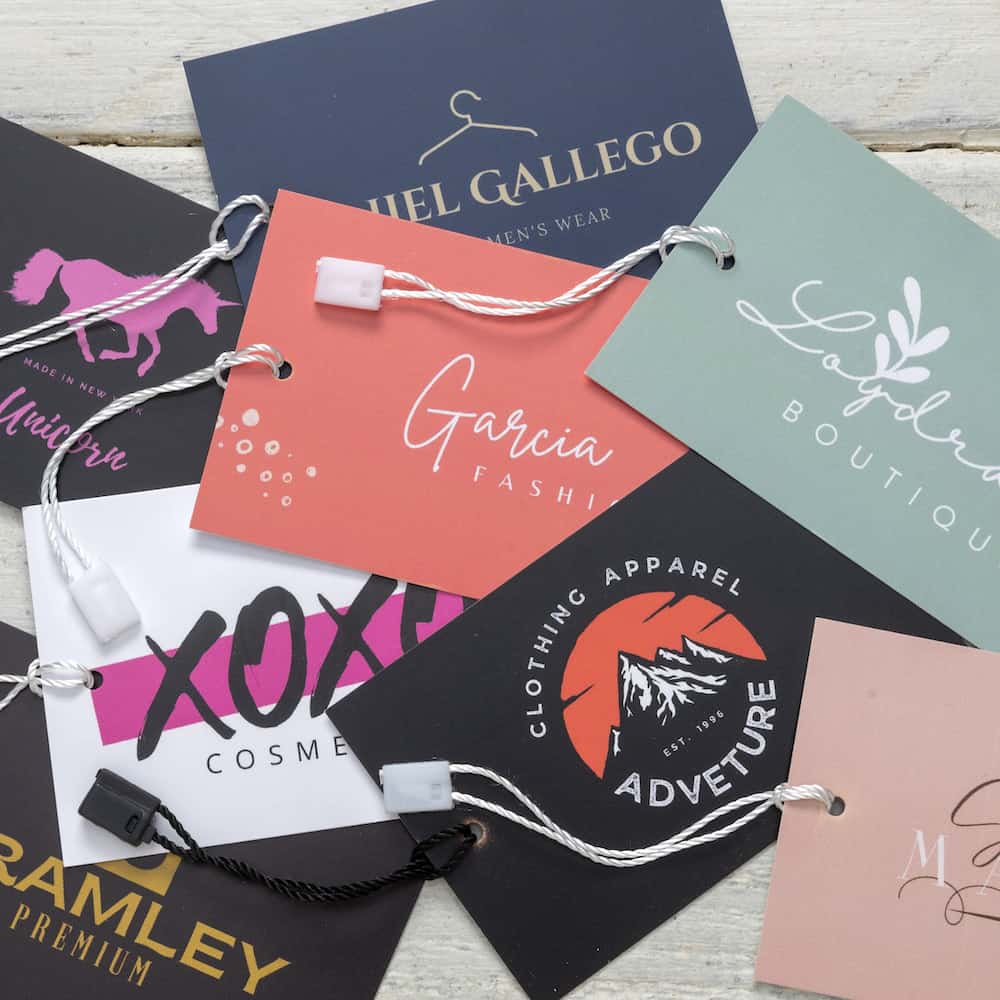 Your hangtags should be able to stand up to a lot of handling, and the last thing you want is for wear and tear to project a poor, haphazard image. Opt for a 16-point gloss cover stock that's sturdy enough to withstand probing hands and adds a glossy sheen that enriches your design.
Full-color hang tag printing always attracts more attention than black-and-white versions. Plus, with today's advanced state-of-the-art printing techniques, you can go full color on both the front and the back at a minimal cost.
The larger your hang tags, the more likely they are to attract attention. You'll also save on the price per square inch, so you essentially get more ad space for less money. Print oversized hang tags whenever possible to boost your return on investment.
All hang tags need holes drilled; some require perforations for coupons and gift cards or scoring for easy folding. Make sure you indicate these in your hang tag design layout template and when you order. Scoring and perforations lend a professional appeal and help you enhance your sales pitch, so don't overlook these valuable vehicles to increasing sales.