Read on to learn why woven labels look much more professional and some tips for woven label design and best practices.
Custom clothing labels (also known as woven fabric labels) are a valuable way of branding your clothing. Labels can be made to match your company's colors and logos so that they blend with their fabric or garment.
Labels can be added to hats, bags, shoes, and any other apparel where a label would be useful.
They are also helpful for separating and organizing your closet. For example, if you label an item of clothing for someone to wear at work, their coworkers will see that label every day.
People who receive a promotional item with a custom clothing label will display it at home or work, where they will interact more with others and form connections.
If you are looking to design a custom woven label for your business but are unsure how to make the perfect one, this post is for you.
In this guide, we have covered everything you need to know about woven label design and best practices to help you create the best customizable label for your business.
Let's explore.
What Are Woven Labels?
Woven labels are a unique, cost-effective way to add your brand to any product. They are made from one piece of fabric that is woven into the shape of a label, which gives them their distinct look.
In addition to being beautiful, woven labels are also durable. These labels are made with cotton or polyester and are often used to decorate bags, shoes, and other accessories.
The size of woven labels can vary depending on how much information needs to be included in them. Some labels are just one inch wide, while others may be up to two inches wide or even longer, depending on what information needs to be included on them.
4 Types of Woven Labels
There are different types of woven labels. They can be made from various materials, printed in different ways, and used in different situations.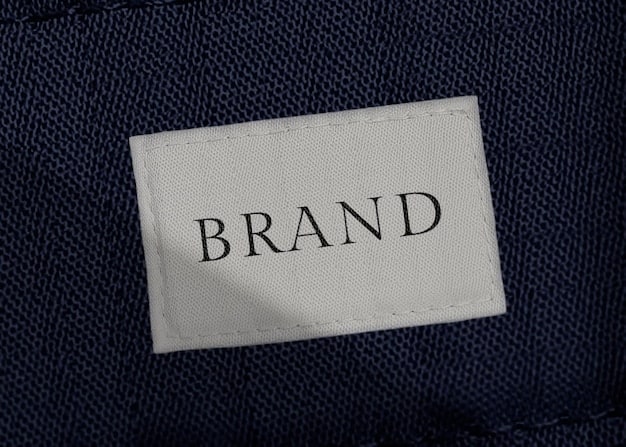 Image Source: Rawpixel.com On Freepik
Here are the most popular types of woven labels.
Traditional Woven Label
The most common type is the traditional woven label. These are made from cotton or polyester yarns that are woven together to create the label's appearance and texture.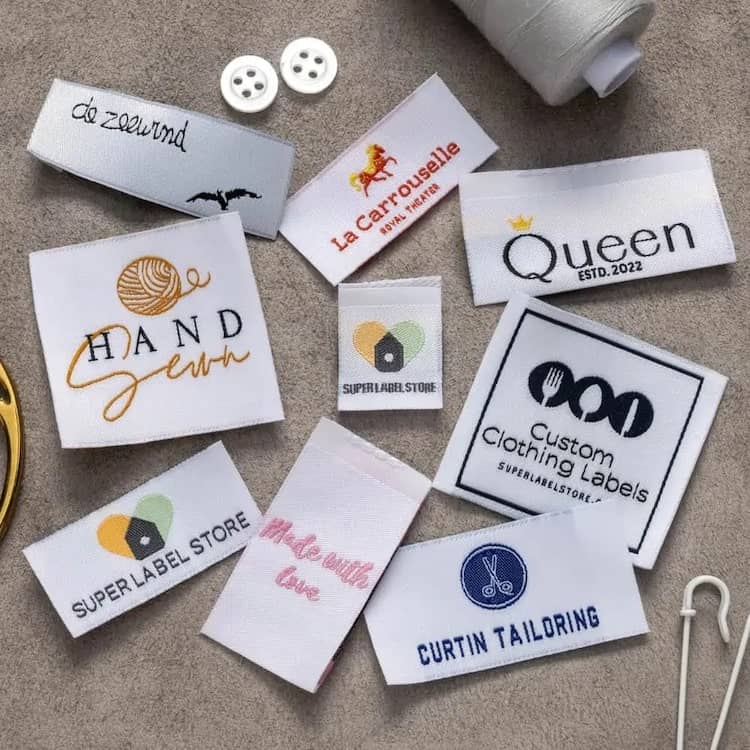 They are often used on clothing because they are comfortable against the skin and don't tend to snag on anything.
Printed Woven Labels
Printed woven labels are a type of label that has been printed on a woven fabric. The printing process for this type of label is different than for other types of labels.
It uses a special ink that doesn't soak through the fabric. This makes it possible to print images and designs onto the fabric. This type of label is used in clothing manufacturing, but it can also be used in other industries.
Heat Transfer Label
Another popular type is a heat-transfer label. These look like traditional woven labels but have an adhesive backing so they can be applied to clothing by ironing them onto the fabric surface.
The adhesive keeps them attached, so they don't fall off during wear or washing cycles (some people also choose to sew them down just to be sure).
Hang Tags
Hang tags are small paper labels that are attached to clothing.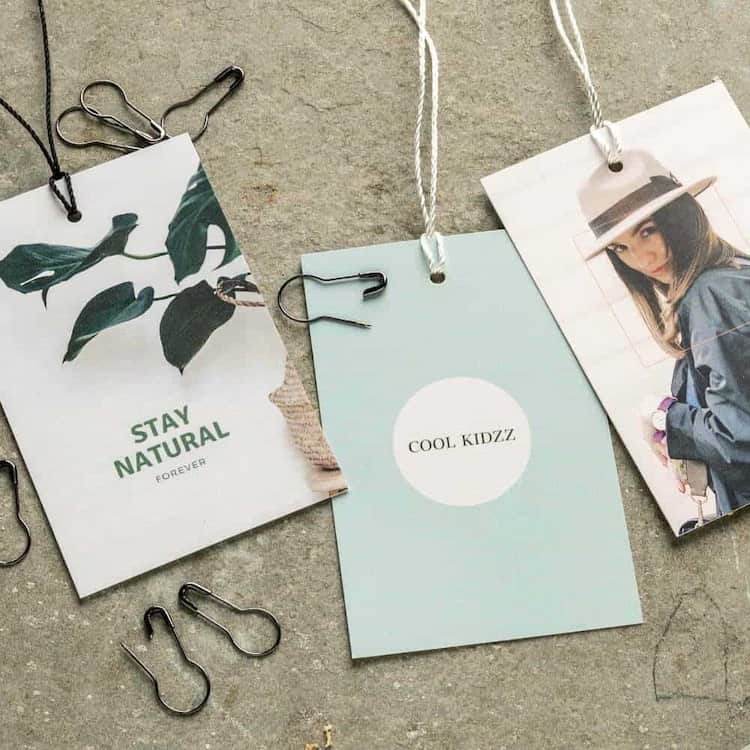 Hang tags often contain information about the product's brand, care instructions, or other important details that can't fit on the packaging. Hang tags can be found on everything from shirts to jackets to pants.
Why Should You Use Woven Clothing Labels?
Clothing labels are an excellent way to give your product an edge over your competitors and make it easy for your target customers to find you.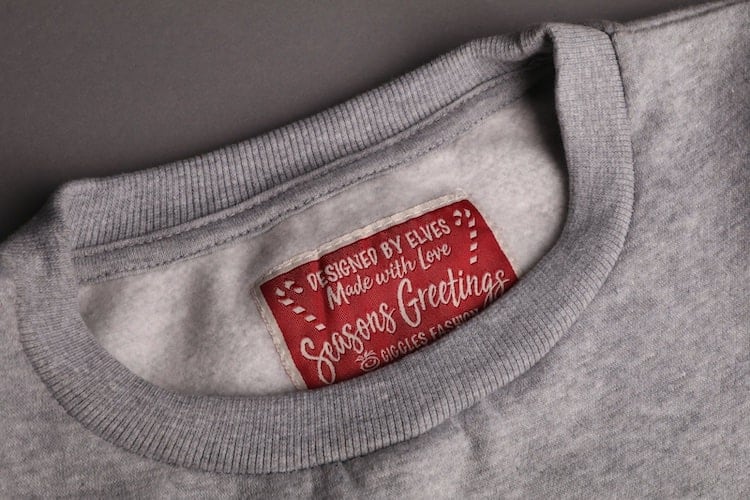 With woven clothing labels, you can display your logo in several ways and use this opportunity to showcase your company's personality.
Here are some reasons why you should use woven clothing labels:
They're Durable
Woven labels are made of durable material that won't tear or fade with ease. They'll last through multiple washes and even after the item is laundered.
They're Customizable
Woven labels offer endless design options and possibilities. You can choose from different text styles, fonts, and graphics, and even incorporate your own artwork into the design!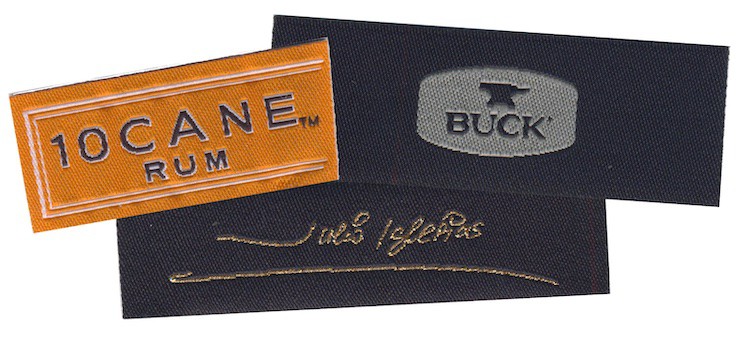 Image Source: ThirtySevenWest
They're Versatile
You can use woven clothing labels on any type of apparel or accessory—from hats and bags to shoes and shirts. Whatever kind of product you're selling, there's sure to be a woven label option that fits in a perfect way!
They're Affordable
Woven clothing labels have become more affordable over time because many companies now offer them at wholesale prices instead of retail prices. You can get them at a lower cost without sacrificing quality or style!
They Look Great
Woven clothing labels add a touch of class to your products. They are often made from high-quality materials such as silk and satin, which give them a luxurious appearance that customers love.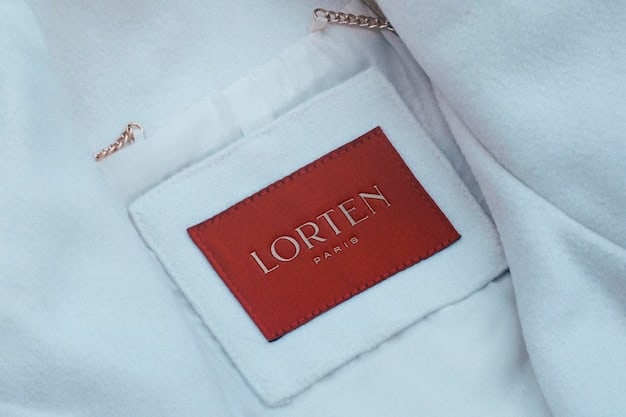 Image Source: Asylab On Freepik
10 Best Practices for Designing a Woven Label
Designing a woven label is important to any company's marketing efforts. It is more than just putting your company's name on some fabric.
It's about creating an identity for your brand that all will see of your customers—and even potential customers—every time they wear that label.
The label is what people see first. It's also the only thing that remains in contact with the product throughout its lifecycle.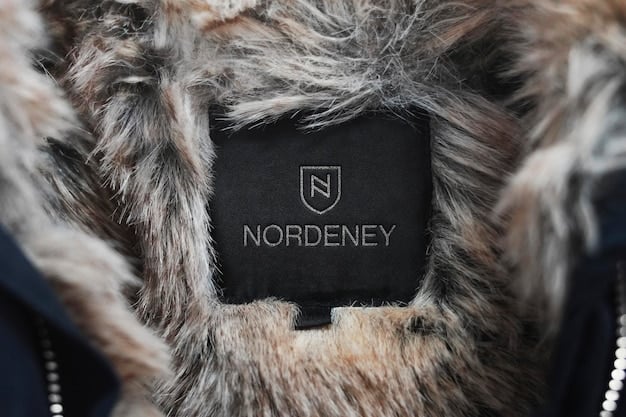 Image Source: Asylab On Freepik
A good woven label will enhance your brand, help you sell more products, and give your customers something they love that they can use over and over again.
Here are some best practices to keep in mind while designing a woven label that will help you increase sales:
Keep It Simple
As with any design project, you want to showcase your company's product or service rather than bury it with too much text or imagery. Choose the design as simple as possible.
Choose the Right Size
If you have too much text on a small label, it will be hard for people to read. They might not even notice if they have too little text on a large label! Make sure both sizes are well-designed so that they're easy for everyone who sees them!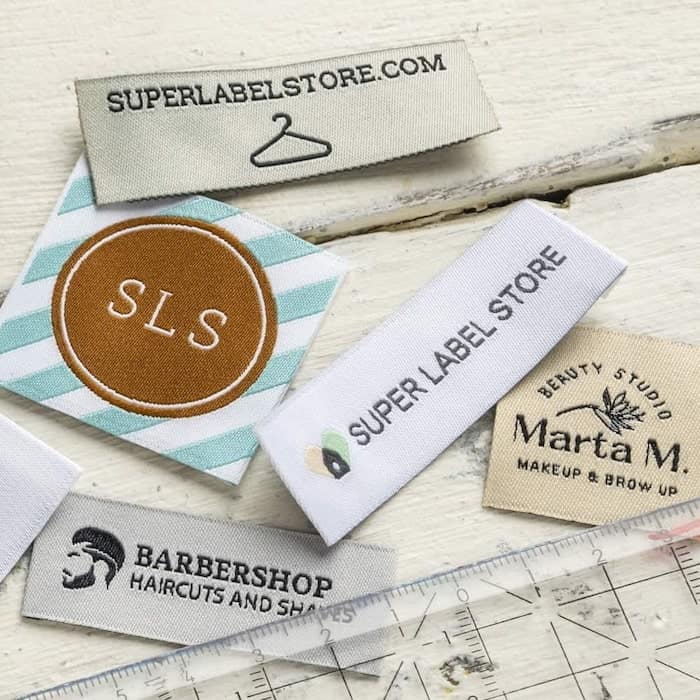 Use Contrast Colors
When designing woven labels, be sure to use contrasting colors.
Using contrast colors for designing woven labels is a great way to make your product stand out. It's also a technique that can be used in many different ways.
Your logo should be easy to see and read, and the color of your logo should contrast with any background you place it on.
For example, if you're using a white label to print your logo, you should use black ink. If you want to print your business logo on a dark background, such as black or dark blue, you should use light colors like yellow or green.
If you want to use more than one color, you can choose complementary colors which are opposite each other on the color wheel. These contrasting colors will also enhance your label's visibility and create a more subtle effect than using two different shades of one color.
Choose the Right Fold
There are two fold types for designing woven labels, and both are easy to use. Make sure you choose the right fold according to your needs.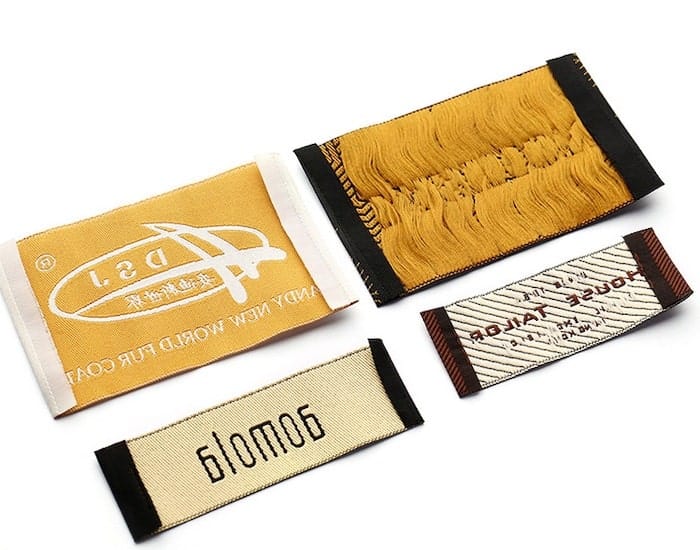 Image Source: Xu Amy On LinkedIn
Flat Fold

The first is called a "flat fold." This is the most common type of label fold, and it is used on most woven label designs. It's simple: you just make a straight line down the middle of your label. That's it!

Cut fold

The second fold type is called a "cut-fold." This type of fold is used when you want to create a design that has multiple layers in an area or when you want to create a flap or pocket on your label.
This works by cutting out the area where you want the flap or pocket to be. After folding up the rest of your label, you can put whatever text or images you'd like into that space before sewing it together.
Think About the Position of the Woven Label
When designing woven labels, it's essential to consider how the label will be applied to a product. The woven label's position can impact how consumers perceive it and what they understand about the product.
For example, a label on the left-hand side of a shirt may be perceived as more feminine than one on the right side.
If you want your customers to think of your brand as masculine or feminine based on where they see your label, make sure they are consistent with their placement throughout all products in that category.
If you are making something like a towel or blanket used in public spaces like hotels or restaurants, then place your label near the corner of each corner seam and along each side seam. This allows people who are looking at your product to see it easily when they are using it.
Use a Clean and Simple Font
When it comes to designing woven labels, the most important thing is to use clean and simple fonts. This will help you ensure the label is readable by customers and employees.
It's also important to ensure that your design is easy to read in low light conditions, as most stores have dimmer lights than homes.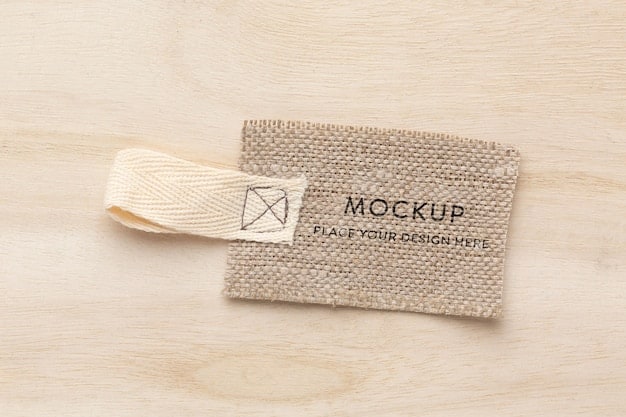 Image Source: Freepik
Don't use all caps unless you're going for a particular effect (like comic book style).
If you're going to use a serif font, make sure it's not too narrow or too wide. Keep this in mind when creating your label!
Look For Inspirations
When designing a woven label, it's important to keep your target audience in mind.
Woven labels are often used as a way to brand products and make them more recognizable, so they're often designed with the customer in mind.
If you're looking for inspiration when designing your own woven labels, look at other brands that your target audience has received well.
The best way to start is by looking at the design elements that are most popular among the products they purchase. You can also ask the people who buy your products what they like about them and what they don't like.
Take some time out of your day to think about what you want the label to say about your company. What does your brand stand for? What do you want it to communicate? Are there any phrases or words that should be included in every product?
Once you've answered these questions, it will be much easier for you to find the right design elements from which inspiration can be drawn.
Make Sure Your Label Fits in With Your Brand's Aesthetic
Your brand should have an established visual identity, including color choices, fonts, and other elements like logos or icons. If you want your customers to recognize your products quickly, the same goes for the labels!
Put Required Information
Label design is an important part of the process of creating woven labels. It's the first impression customers have of your product, so it's important to get it right.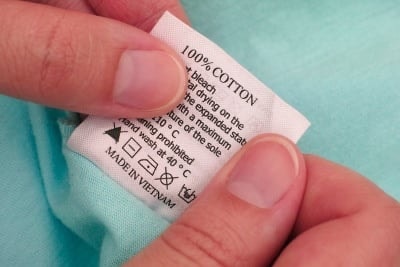 Image Source: InTouch Quality
Woven labels should include all relevant information about your product:
name,
description,
ingredients list (if applicable),
country of origin,
allergens (if applicable), and
any additional information that would be helpful to your customer when making their purchasing decision.
Include Care Instructions
When designing woven labels, it's always important to include care instructions or care labels for the fabric.
This will help the customer to know how to keep their clothing looking its best, and it may even prevent them from damaging the garment in the wash.
To make sure you're providing your customers with everything they need, we've created this handy message that you can just copy/paste into your design:
Warm machine wash separately; do not bleach; do not tumble dry; do not iron; allow to air dry.
Design Your Own Custom Woven Label With Super Label Store
Now that you know key tips and best practices, you might be looking for a company to help with your clothing labels. You want one that will provide top-quality service and products. With Super Label Store, that's what you get.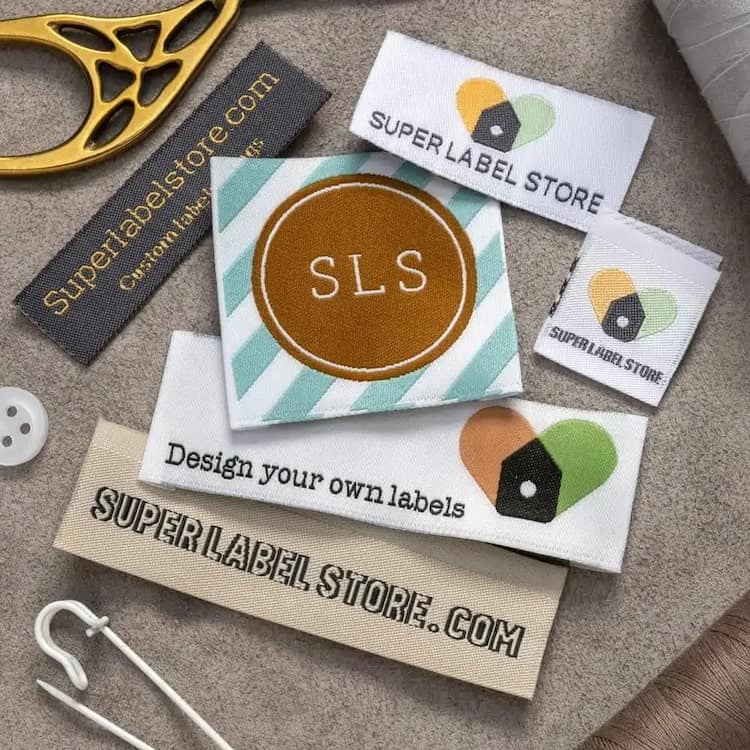 Whether you're a business owner or just looking to add some personality to your wardrobe, Super Label Store can help you design the perfect clothing label for your needs.
Our team of experts has been in the clothing label industry for many years, and we know what it takes to ensure your clothing labels are perfect.
We offer our customers the highest quality products and customer service at the most affordable prices. Our clothing labels are made from superior quality materials that are designed to withstand any harsh conditions you may encounter while using them.
We have a wide range of options available for you to choose from when designing your own custom woven label, including:
Woven labels in a variety of sizes and shapes (square, round, rectangle)
Woven labels in various materials (polyester, cotton)
Woven labels in various colors (various shades of each color)
Whether it's a logo, a slogan, or even just text, we can help you create something that will fit your needs.
So, what are you waiting for? Head on over to the Super Label Store today and design your own custom-woven label!