Design Your Woven Name Labels With Super Label Store
You've got some items, and you want to name them. We've got the best fabric name labels you're looking for! When we say "name labels," we mean "name labels for clothes" that let you name your clothing and put a little personality back into your closet. 
These personalized name labels are perfect for labeling everything from your children's school supplies to your company's products. They aren't just any old labels—they're custom-made to fit your style and needs.
Whether you have a bunch of shirts from the same company and need to keep them organized or want an easy way to tell what's in your drawer, these custom name labels are for you. They come in all shapes, sizes, and styles, so whether you need one label or 10 million, Super Label Store has what you need.
Our name labels are made from a soft, flexible, yet durable material. They're easy to use and come in many different colors and styles.
Our mission at Super Label Store is simple: to provide customers with top-notch quality products at competitive prices without sacrificing customer service or product quality. We're here to help you find what works best for your business's needs—no matter how large or small they may be!
Why superlabelstore
Easy to use configurators help you to design and order in minutes.
Premium quality from start to finish.
FROM 5 TO 10.000+ PIECES
Fast production time.
6-12 business days or less
DOWNLOAD AND PRINT YOUR PROOF (PDF) BEFORE ORDERING, SCALE 1:1.
Inspiring name labels and tags
How Super Label Store's Name Labels Are Different?
Super Label Store is a leading name sewing labels supplier that provides high-quality, custom name stickers for all your needs. We provide a variety of unique and stylish labels for kids in addition to the standard products you might find at other suppliers. Here are some ways our name labels differ from others: 
They're Sturdy
Our name tags for clothes are made of a sturdy material that can withstand moisture, w
ashing, and even some wear and tear. You won't need to worry about them falling off or getting ripped in the wash—they'll stay put! 
They're Easy to Apply
With our easy-to-follow instructions, you can hand sew or machine stitch your name labels on your child's clothing. All you need is a few minutes and sewing supplies, and they'll be good as new! 
They're Easily Customizable
Our name label makers allow you to create your own stick on name labels for clothes in minutes. Whether you're creating them for a project at home or work, you can choose the size, color, and font style you want for your label. 
They Look Great
Our name labels for kids come in a variety of styles, sizes, and colors, so you can get what you want out of your product labels—from bold reds to soft pinks and everything in between! 
They're Easier to Read
Super Label Store's name labels are simple and elegant. They are woven in beautiful colors, which makes them very good to read. 
They're Lower in Price.
We offer a lower price on name labels than other suppliers, allowing you to save money while still getting top-notch quality products. 
Why Choose Washable Name Labels From Super Label Store?
At Super Label Store, we understand the importance of having a great label that makes your product stand out. We strive to deliver the best quality, cheap name labels (woven). Here's what we promise you: 
Quality Labels at an Affordable Price
We offer the best quality washable name labels at affordable prices. Our woven name labels are made of 100% cotton and polyester thread and come in several colors and sizes, making them perfect for all your needs. 
Customizable Options
We know that one size does not fit all, so we offer customized options for your needs. You can choose from a combination of colors and sizes to ensure that your iron-on name labels match your needs in the best possible way. We also offer custom designs if you want something more unique than our standard designs. 
Excellent Customer Service
Our excellent customer service team is always willing to help with any issues or questions during the ordering process. Or after receiving your order so that there are no surprises along the way—just smooth sailing! We want all of our customers to feel comfortable ordering from us. 
Beautiful Name Labels For All Your Needs
With Super Label Store, you can get beautiful name labels for all your needs. Let us help you create labels that are sure to make your brand stand out and make it easy for people to identify their belongings. 
U
sing the Name Labels to Organize Small Things
If you're looking for an easy way to organize small things in your house, iron-on name tags may be the perfect fit for you. These handy tags can be used on small objects that can be misplaced, such as keys, cell phone accessories, flash drives, and more. You can also use them to create order in your household and keep track of important things that you might otherwise leave behind or misplace on a regular basis. 
Using the Labels for Kids Toys
You can also personalize the daycare label with children's names so that smaller toys are always returned to their proper owners. This is a great way to avoid losing toys and helps keep them organized in one place. 
It's much easier for kids to remember where their toys are if they know where to look for them. This will help prevent arguments about who owns what toy and decrease the chances of the kids sharing their toys. 
Use as an instruction
Name labels can also serve as instructional tools for identifying how to use something in the right way, such as on a piece of machinery or a toy. For example, if you have children's toys that are meant for older kids, you could put the best clothing labels for daycare on them. That way, your younger children know not to play with them without supervision. 
Use as Personalization
You can use these personalized name labels on everything from clothing and shoes to kitchen appliances, bedding, books, and much more. Start labeling drawers, pantries, and cabinets—or even create your own unique system by labeling shelves or doors instead! Use personalized name labels if you want a fun new way to decorate your space. 
Perfect for Kids Labels
If you're a parent who has to work outside of your home on occasion, name labels for daycare are key. They can keep track of your child's belongings, like bottles, clothes, bags, and pacifiers. If the unthinkable happens and someone else has access to your child's things and isn't sure where they came from—or worse yet, doesn't care—they can help identify whose belongings those were in case someone else tries to claim them as their own! 
Attach Your Name Labels Your Way
With our personalized school labels, all you have to do is sew them on. Whether you're using a sewing machine or by hand, you'll be able to make sure your stuff always has your name on it in no time. Our fabric name labels are designed to be durable, so they can also withstand whatever your kids put them through. 
Where Can You Use Name Labels?
Name labels are an excellent way to keep your belongings organized and easy to find. Here are some ways you can use name labels to give a personalized touch to your belongings:
Personal belongings (such as keys and wallets)

Clothing

School and Camp supplies (Backpacks, Notebooks, Pencils)

Storage containers

Packing cubes

Laundry Baskets and Hampers

Kitchen items

Scarves

Coats

Diaper bags

Lunch bags

Face masks

Duffle bags and sports bags

Luggage

And many more!         

Ready to Start? Use Our Custom Name Label, Designing Tool
We know. You're a busy bee.
When it comes to designing your name labels, you don't want to spend hours combing through clip art and font options. That's why we made this easy-to-use online name label designer—so you can get the job done fast!
Put on your thinking cap and get creative! We have everything you need to design eye-catching name labels that will help organize your belongings or showcase your brand at every opportunity. 
Do you want to attach your name labels in a vertical or horizontal way? Do you want to use a single label or two? Do you have a specific font in mind?
All of this is possible with Super Label Store's personalized name labels and designing tool. With just a couple of clicks, you can make any clothing label that reflects your style and personality. It's easy! Just make sure to check out our website for all the details.
The best thing? When you purchase from us, you don't just get name labels—you get all kinds of personalized products! Shop with us today to find the perfect gift idea for your loved ones! 
What Other Products Are Offered at Super Label Store?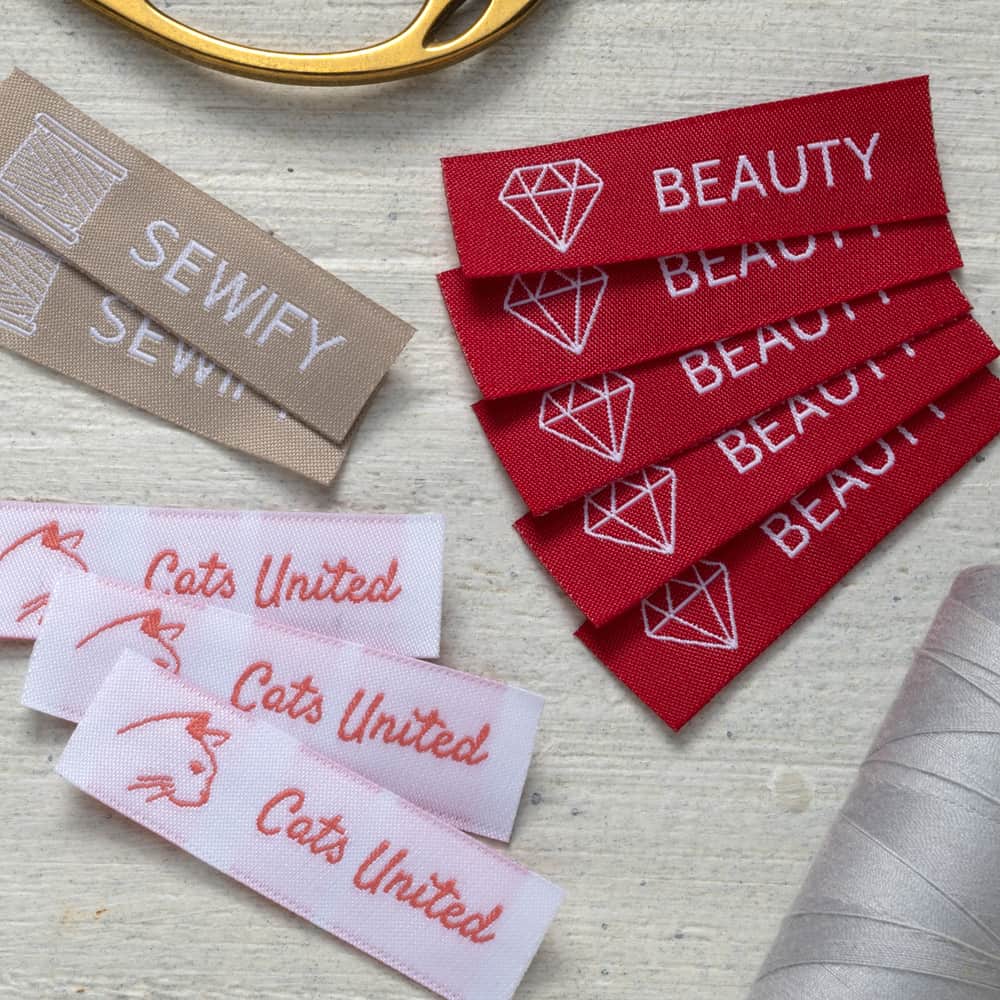 Don't forget to check out Super Label Store's other high-quality Labels! 
We know you don't have time to waste on anything less than high quality. That's why every label we sell is made with the highest quality materials, so it will stand up to whatever you're putting it through. And with our easy-to-use designing tools, you can customize your labels in seconds.
Our team has been working day and night to create a range of products that exceed expectations in every way possible. 
Whether you're looking for something with a sleek design or something simple with just the right amount of flair, we've got what it takes to make sure your product is labeled in a beautiful and proper way—every time.
Start personalizing your own name labels and many more: 
Woven Labels
Our woven labels are made from the highest-quality materials and are designed to last through many uses. They're available in different sizes, colors, and styles. 
Hang Tags
Our hang tags are perfect for use with clothing, accessories, and other items that need to be worn or displayed on a clothes hanger or rack. They feature an eyelet hole, so they can be attached with utmost ease to anything you want to decorate. 
Care Labels
Our care labels are a great way to ensure that your customers know how best to care for their purchases without having to ask. These simple but effective labels will help keep your customers returning over and over again. They'll also help ensure that everyone is happy with their purchases! 
Pre-made Labels
Pre-made labels come in all shapes and sizes–so no matter what sort of product you have (or intend to sell), there will be something here for you!  
You Deserve to Be a Label Boss, and Super Label Store is Here to Help.
With our easy-to-design and super-customizable clothing labels, you can get the look and feel you want without having to know how to use Photoshop. And because we offer top-quality products at an affordable price, you'll never have to worry about running out of funds for the design of your quilt labels.
All of our labels are designed with your needs in mind, so you can be sure that they will look great and help you get the most out of your product. 
Whether it's for your business, your hobby, or just because it's fun to have cool stuff around the house…we've got you covered!
Come on over to the Super Label Store today, and let's get started!