Is Upcycling Fashion an Exciting One-Season Crave or a Terrific Future-Oriented Approach?
The fashion industry turns its course upside down in recent years. The worldwide popularity of upcycling is growing day by day. The word is relatively new, it's been around only since the late '90s. 
Revamping, transforming, repurposing―call it as you wish. It all boils down to the creative reuse of items. Upcycling fashion is one of the biggest sustainable opportunities of today. It can help the environment on a huge scale.
Will upcycling become the future of fashion or it's just a passing trend? Funny fact: Cambridge Dictionary voted 'upcycling' as the word of the year 2019. In the future, we expect even more profound changes to come in this department. 

Image source: Pinterest
What is upcycling in fashion?
Upcycling is when we use the product for the second time, whether it was a waste, by-product, or unwanted piece. Upcycling can refer to clothing, but also furniture, etc. The goal is to transform the material into something else. The new item has a greater quality in an artistic or environmental sense. 
Recycling and upcycling fashion
What is the difference between upcycling vs recycling? 
Although we often use these words interchangeably, they refer to different things.
Upcycling is when you invent a new use (of a higher value) for a product or material.

Recycling is when the material is not serving anymore, e.g. it's broken down or used already. We recycle when we process it into a new item.
Recycling is converting rubbish into reusable material. When a new material is better than the original―we can consider it upcycling.

Image source: Belgo
Let's check a few examples:
Recycling
Upcycling

Glass recycling

When an old men's shirt turns into a girly dress (see more on

upcycle mens shirt

) 

Plastic recycling

―

there are seven types of plastic with a recycling code from 1 (easily recyclable) to 7 (not recyclable);

The plastic bottle turned into drip irrigation

Paper and cardboard recycling

Necklace made of

old watch parts

Electronic recycling

Old pair of jeans turned into boho skirt (take a look at

sewing projects old jeans

)

Metal recycling

Other upcycling fashion ideas, like

upcycled flannel shirts

or various ways to

upcycle fabric scraps

Image source: Ehimetalor Akhere Unuabona on Unsplash
Upcycling industry
Why is the upcycling industry growing so fast? There are at least three reasons:
           1. Sustainability
Upcycling industry is growing, as we are more aware of the impact that our actions have on the environment. 
Sustainability is not to underestimate when considering today's popularity of upcycled clothing brands. For example, making a single cotton T-shirt requires over 700 gallons of water. If you create your DIY fashion project and reuse an old T-shirt you use no water at all! Thanks to this trend, we can save 85% of textile waste that would end up in landfills.
            2. Uniqueness
Another proficient aspect of upcycled fashion is its uniqueness. Brands like H&M and Zara sell thousands of identical products. The upcycling fashion movement provides you with the one and only piece of clothing on the planet! It's more than any luxury fast-fashion clothing brand could ever ask for. The skill of sewing may help you differentiate from other upcycling fashion designers. Check these 10 seasons to start sewing clothes and summer sewing projects to get more inspired. 
            3. Low price
When costs of manufacturing are low, the same goes for the price of a final garment. Upcycling is less expensive for another simple reason (although this makes only a fraction of the total cost of creation)―to create a garment you use pre-existing materials and fabrics.
You can expect a unique upcycled item to be cheap compared to other products found on the market. It depends only on the upcycled clothing designers to judge its real value. And sell it accordingly! 

Image source: PeterFisk
Is there a market for upcycled clothing?
Recycling and upcycling fashion are both of value nowadays. The current trend of the global fashion market focuses on promoting upcycling designers. The upcycling clothes business has been going through a fast development since the beginning of the XXI century. 
According to 'Five Principles of Waste Product Redesign under the Upcycling Concept' by Jiang Xu and Ping Gu, the main characteristics of upcycled fashion are:
The principle
Description

Value enhancing principles

Upcycle means promoting the value of the waste and turning it to be wealth. That's why we shouldn't omit this mental phase of enhancing its value. Designers of any kind (be it furniture or fashion DIY creators) should look deep into the potential for the future use of the waste. Which features matter?

function, 

material, 

structure, and 

others.

From here, after the first assessment, you can start making your best to turn waste into proverbial gold. Read more about upcycling clothes. 

The principle of making the most use of the waste

Including the use of waste as a raw material represents the idea of upcycling taken to the greatest. To redesign, we should focus also on reducing the scrap materials from our manufacturing process (to avoid secondary waste). In practice, we should design these processes with care before we start the actual creation and manufacturing.

Durable and environmental principle

For starters, let's state this one truth. Yes, the raw material intended for redesigning products comes from waste. No, it doesn't make the fabric low-quality. When upcycling, designers should treat the material without discrimination. They should see it as equal to a new, manufactured one.  Then it becomes clear that we prolong the item's (fabric) existence by giving it more years to live. That establishes the new durability of the material (it doesn't last as long as the item itself but longer). The quality doesn't degrade because of the form the garment takes.

Cost control principle

It's crucial to plan the redesigning process having in mind all the potential costs. Recycle, upcycle, or redesign of the waste should base not only on the idea of getting your creative juices flowing. It should also focus on a solid calculation of the costs and taking care of their efficient control. Otherwise, even the best upcycling brands go astray. The designers should consider all points of the designing process. It means starting planning from the acquisition of the source material and finishing on the marketing. 

Populace's aesthetic principle

Upcycling fashion brands (as any other commercial brands) should take commercialization as a guide for creating and keeping a brand active on the market. Designers should:

be sensitive

be fashionable (updated)

have perfect visual quality, 

have a keen insight,

be familiar with the conditions and customs of the target market, 

not take personal thoughts and value into their projects

Upcycle clothing company of your own
If you think about starting an upcycled clothing business, reach out to Super Label Store for custom woven labels and care labels. This small but significant gadget will upgrade your upcycled designer clothes. You will notice them turning into professional items worth their price.
Why is using different types of woven labels by Super Label Store such an excellent idea? By adding this tiny little gadget to your DIY garment, you send a clear message. It's not just a homemade fun activity but a real, wearable (and sellable) outfit. 
Upcycling fashion is much more than a seasonal trend. Let's see where, how (and why) can upcycling textiles bring you.

Image source: PeterFisk
Sustainable companies with upcycled garments
Practicing slow fashion at home is usually a pure pleasure. Yet, setting up your brand is a whole different story. If you want to do it well, it might get hard at some point. But it doesn't mean it's not worth it! Just the opposite. 
Check these best upcycled clothing brands (read more about them at eluxemagazine) to get inspired and hungry for success:
            1. Elvis & Kresse
            2. Reformation

Image source: eluxemagazine
            3. TRMTAB
            4. The R Collective
            5. Peony

Image source: eluxemagazine
           6. ASOS Reclaimed Vintage
           7. Triarchy Atelier
           8. Bottletop Fashion
           9. Charlotte Bialas
         10. Christopher Raeburn
         11.  Boom Shankar
Looking at some of them it's hard to believe these brands engage sustainably. Yet, here we are, looking at these luxury pieces of clothing created with a 100% slow fashion approach. You don't have to manufacture fabrics to have them looking chic.  
Top tips for starting a sustainable fashion business
―
upcycling fashion in the offensive
Starting your upcycled fashion brand isn't different than starting any other fashion line. Read how to start a fashion brand and sewing hobby to successful sewing business. Following experts' advice will make everything easier. 
At first, all brands need to take similar steps (to mention only a few): 
define a target audience 

create a brand identity

decide on pricing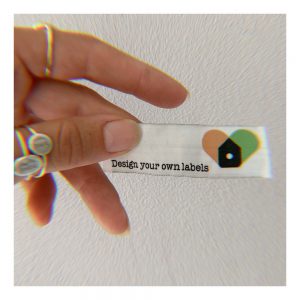 How to make it easy for your future customers to fall in love with your creative inventions? The answer might be simpler than you think. Invest in custom woven labels by Super Label Store. 
Let's see what types of labels are available and how to make them work for you:

Image source: Hypebae
If you love to revamp the unloved garments, you should get to know Super Label Store. Customize your textile, clothing, towels, sheets, accessories with these custom labels. 
Super Label Store is open to collaborating with:
DIY/clothing crafters at home 

Textile/sewing fanatics

(small/starting) clothing brands

Fashion designers

Hotels, bars, and hospitality businesses 
Sustainable clothing brands are often based on the appreciation and admiration of sewing. If you're one of these people, check 35 intermediate sewing projects and advanced sewing projects. 
If you head over heels in love with upcycling fashion for other reasons, read the health benefits of sewing and easy beginner sewing projects. This might be the right motivation for you to take up this new hobby. 

Image source: Wsj.com
Experts say to begin with customer awareness when starting a brand. There is no business if there is no client, let's put it straight. 
This approach is logical. Instead of searching for people who will buy your product, find out who is your buyer and only after, design a marketing product. 
As we read on The Fashion Business Coach:
'It's a lot easier to find a customer and design something they will love, rather than try and sell a product to everyone (because you didn't target a specific customer) and somehow get them to love it'. 

Image source: Brittslist
People have to be in love with what you do to reach for their wallets and spend their hard-earned money on it. Don't see it as an obstacle. It's rather a chance to get in touch with your customers. Do market research, e.g. by asking people to complete a short survey. 
Add these fundamental questions to get to know your people:
What clothes do you buy most often (casual, activewear, workwear)?

What are your favorite brands to buy from? (buy, not watch on the internet)

Where do you get outfit inspiration?

How often do you buy clothes?

Do you shop online/in-store/other?

How much do you spend on clothes a month/a year?

If not concerned about money, what brands would you buy from?

Image source: Jacek Dylag on Unsplash
Getting to know your audience is of utmost importance. It's like with every other business: you want to offer the solution to the problem. How do you find the problem (and then the solution) if you don't ask what the problem is? 
Request more specific, personal information as well (we will explain how to use it later):
| | |
| --- | --- |
| Demographics | Psychographics |
| Age | Lifestyle |
| Location | Personality |
| Gender | Behavior |
| Dress size | Style |
| Income | Beliefs |
| Disposable income (after paying the bills) | Likes/Dislikes |
| Family | Values |
Before getting yourself to work to upcycle sweater or upcycle tshirt, make these few simple steps. It will help you not to get too attached to your imagined idea of your client. The idealized persona you have in your mind is just this―a glorified (and untrue) figure in your mind. After conducting the research you'll see how far your actual client is from your dream client.  
Thanks to the fashion business experts, we learn that it's worth trying two options to structure the customer's profile. 
'Consider your target audience as a whole and use a range of details. For example, age. Your avatar would have a specific age, whereas a target audience profile would have an age range. Personally, I do both of these options for all of my businesses and review them each year. Why? I find it really useful to have a customer avatar and I create everything for them. Decision making is so much faster when you have one specific person in mind that you want to 'wow' and if you're working as a team it makes it easier, as everyone has a clear vision of the customer, as it's not a range of traits that are open to suggestion.' 
This information serves not only for creating concepts in your mind. When you start working on the marketing process and targeted advertising (e.g. Google Ads), you'll have to respond to these questions anyway. 

Image source: Brittslist
Upcycling designer fashion―Conclusion
Here we are: 
knowing a lot about upcycling and how important it is for the environment, 

loving fashion, 

getting to know how to sew or developing this skill,

and looking forward to creating a brand! 
For more inspiration, follow the brands that we advised before. Want to get to know more? Femail Forever, Anekdot, Maharishi, Greg Lauren, Good Krama (by buro247), and many others. They are already out there to show you the world of new possibilities. 
Consider that DIY, slow, sustainable fashion doesn't have to look worn off. For many of us, upcycling fashion still brings to mind the school activities, when we used to transform old sloppy t-shirts into equally old and unattractive bags. 
The upcycling business has come a long way since these school-day memories. Many well-known designers share their aura of awesomeness with fans of upcycling fashion and add a soft touch of luxury to it. 
Getting a handle on the shameful waste from the past (generated by their industry) becomes a goal itself. There is no better approach than we could ever imagine for the fashion industry. 

Image source: Wwd
Look at the example at the very top of the ladder. Austrian designer Christoph Rumpf won the Première Vision Grand Prize at the 34th edition of the Hyères International Festival of Fashion and Photography (2019). The jury was led by Natacha Ramsay-Levi, Chloé creative director. 
90% of Christoph Rumpf's winning collection was made of repurposed textiles: upcycled and deadstock material from the flea markets. He used a crazy set of fabrics and accessories. For example beaded trims from old belly-dancing costumes, bone markets-sourced jewelry, Persian carpets, Lurex jacquard, pristine cotton, crystal pendants from chandeliers.