How to Understand the Gigantic Power of Sustainability?―Upcycle Meaning (and Definition)
What is upcycle meaning (and definition)? The popularity of this current topic needs a quick (but detailed) explanation. 
Let's crack what it means to upcycle in fashion and otherwise. Has upcycling an actual power to change the environment? What do we gain for ourselves, besides lifting the planet Earth? Can sustainable fashion be also pretty and elegant? What is the difference between recycling and upcycling? Let's go through the answers below. 

Image source: Luxiders
Recycling vs upcycling
The first question is the distinction between upcycling vs recycling. While both words concern the sustainable approach, their definitions differ. Let's crack recycling and upcycling def, starting with the most general description. 
Upcycling
Recycling

Converting a material into something new. The upcycling and recycling difference here is, in fact, minor. Both methods assume creating a new product. 

Converting a material into something new.

Greater value than the original.

Roughly the same value as the original.

Transforming scraps of cloth from the fashion production into brand-new high-quality clutches? For more ideas go to

upcycling fashion

. Changing plastic pouches into tote bags (common in Indonesia)? See other fantastic inventions you can create when you

upcycle fabric scraps

.

Processing scraps of cloth down into threads (composing materials). Creating new bolts of cloth.

Upcycling allows the material to leave the repetitive cycle. It can go 'higher', out from its original life cycle (read more about these processes on

community material trader

). The recycling process involves collecting, sorting, shredding, melting and reprocessing of materials which can then be reused.  Upcycling process Involves transforming existing raw materials into something new and better by using techniques like tinkering, sewing, crocheting and crafting.

Recycling turns a material back into the same life cycle. 

Textiles are great for upcycling. Upcycling is common in fashion. Items' transformations depend on our creative approach and skills.

Recycling works best with:

We can recycle these materials many times. The final item will be of equal quality. Sometimes the material will experience downcycling―some elements lose their quality when recycled.

Image source: Pinterest
The difference between recycle and upcycle for nature is minimal. It's just a matter of the final effect. More than other things, it's the attractiveness of the product that we get in our hands.
Upcycling vs recycling? For the sake of the environment, we must reuse the materials and avoid producing new ones. Both options are effective at renewing the value and quality of the material.
Almost anything can be upcycled. The good news is that repurposing items is a gratifying hobby. Think what you can do with:
Plastic bags and bottles

Inner tubes from tires

Furniture

Old clothes

Bicycle chains 

Leather offcuts

Oak Barrels
Source material
Final effect

Plastic bottles

Methods of reusing plastic bottles?

Closed-loop plastic material recycling technology―it returns plastics into consumer products. 

'Electrospinning'―turns plastics (even the famous ocean microfibers) into fabrics

Examples?

Adidas Parley upcycles ocean plastic into shoes (already made six million pairs!) 

Turned into yarns and materials and then into:

jackets 

t-shirts 

shoes

accessories 

Bicycle chains

A hell of jewelry!

Old metal cans, halves of plastic bottles.

Beautiful, decorated, and durable flower pots

Image source: Bernard Hermant on Unsplash
Define upcycle, recycle, downcycle
The third, much less trendy option, is downcycling. The term boils down to converting a material into a product of less value than its original item. If you want to upcycle sweater, this one won't work.  
Why even bother with downcycling?―you'll ask. Downcycling works when there is no option for upcycling and recycling. It's the least effective of the 'Holy Trinity' of sustainability choices. Yet, we still do something to protect the planet if we proceed with this one. 
The choice to produce the lower-grade product with the use of downcycling method comes in one case. It happens if the type of the material prevents it from preserving its former durability after being re-processed. For example, paper and plastic don't recycle well. Writing paper turns into the newspaper or toilet paper, clothes into cleaning rags. 

Image source: Community.MaterialTrader
Difference between upcycling and recycling
Let's clarify one common concern. 'To be or not to be' of the modern sustainable approach to fashion and other industries is―recycled or upcycled? 
Upcycling clothes means pushing the fabric up, out from its original cycle―to create something better. Recycling reinserts the material into the cycle. It helps to prolong its life in one form or another. Downcycling is the least precious, but still a profitable option for the environment.

Image source: Vogue
Upcycling isn't a new phenomenon. Why does it gain popularity now and didn't in the past? It's because of how conscious as customers we become. Now we begin to see that our shopping habits have an actual influence on the condition of the planet Earth.
Upcycle meaning (and definition) in fashion   
What does upcycle mean? To put it straight: 
'Upcycling focuses on transforming unwanted items or materials into covetable, high-value upcycled products.'
We see upcycled fashion around quite often nowadays. Upcycling definition is on our lips. 
Yet, recycled or upcycled clothes have been a trend since the 90ties. If you wish to get engaged in this movement (read upcycle mens shirt, upcycle tshirt and upcycled flannel shirts to see how to crack the idea), check these custom woven labels. 
They will help you finish your fashion item with exquisite style. 
Different types of woven labels by Super Label Store are made to serve:
(small/starting) clothing brands

DIY/clothing crafters at home 

textile/sewing fanatics

fashion designers

hotels, bars, and hospitality businesses 

Recycle upcycle benefits
As you know, there are some crucial benefits to upcycling. Let's break them down with the help of FutureLearn:
Environmental
Social and Economic
Personal
Saving materials from landfills

―The well-known life cycle of clothing is the production, use, throwing away. Upcycling turns it upside down. Fashionable brands of today (even the top ones) make fancy clothing from old scraps. Instead of sending them to landfills, creative guys reclaim them with benefits to us all. 

Lifting the value of artisanal work and good, old craftsmanship―Behind each upcycled fashion item, there is a creative individual. This personal touch adds value to the garment. Keep in mind that upcycled fashion is attractive to many contemporary customers. Upcycled garments don't have to be cheap. The new global upcycling drive based on individual inventions has its worth. 

Doing your bit for the Planet―Being a good boy or a good girl is an utmost pleasure. You know that feeling when you did something right? This is what you get when you upcycle. 

Reducing what's destined to go into landfill―Some items will still go to waste. Yet, the percentage is smaller than in the past. We tend to throw masses of clothes into rubbish because consumerism culture taught us to. With upcycled fashion entering Haute Couture showrooms, we will forget this habitude with time. 

Supporting local and rural industry―No big industries have to be involved in the operations of producing clothes. It benefits and supports communities of:

 artisans, 

creatives, 

small brands, and

even whole rural village industries.

Crafty repair skills―It's another amazing feeling. Having the skills and knowledge needed to repair an item is like giving it a new life. Sewing may be helpful for these activities! Read these

10 reasons to start sewing

for a kick of inspiration. 

Limited use of natural resources―Another feature that is crucial for the planet. If we upcycle existing resources instead of producing new ones, we don't use new raw materials for production. Compare that to using an average of 2,700 liters to produce the cotton needed to make one t-shirt.

Reduced costs of manufacturing―The costs (both in a purely economic way as in an environmental way) are lower. With no manufacturing onboard and with the use of reclaimed materials, we notice a significant reduction of the major costs. 

One-of-a-kind pieces―While upcycle and recycle is the future, having something unique has been a fashionistas' goal for ages. Upcycled clothes give you exactly that. Read these

health benefits of sewing

to get a hitch on why learning to sew benefits your looks and well-being. 

Image source: Europeana
'Sustainability is not a one-step process, it is continuously making the right choice at every juncture.'
DIYers often become so involved with their passion that it interweaves with every action they take. Upcycling is caring for the environment. It's about believing that we have real influence. At the same time, DIYers are individualistic and creative. This approach in a longitudinal scope is intensely rewarding. 

Image source: LiveKindly
Upcycle meaning in the high fashion 
After this robust introduction to upcycling and recycling, you're probably eager to follow the steps of the biggest upcycling stars. The scene is still half empty. Take your time to learn and get on this colorful ship! 
When you're done with your first clothing DIY project, check these custom woven labels by Super Label Store. We bet you'll need them to stand out with your new amazing proposal on the market.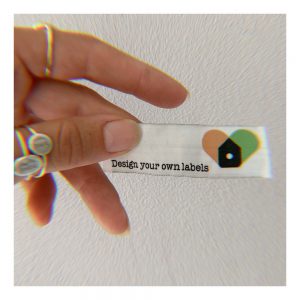 A few affordable ethical fashion brands to follow (read about them here):
PACT

ORGANIC BASICS

WARP+WEFT

TENTREE

PASSION LILIE

PRANA

AMOUR VERT

SMATERIA

NORDGREEN

KOOL & KONSCIOUS

Image source: IreneBrination
Frequently Asked Questions
Is it possible to upcycle food waste?
Yes you can. Upcycling raw materials is a very effective way of reducing food waste. Turning leftover produce and other food items into delicious meals or other products can create something new and useful while reducing waste material. For example, excess produce can be used to make jams or sauces, vegetable peels can be used as natural dyes for clothes or textiles, and more.
Can upcycled clothing be fashionable?
Yes, upcycling can create unique and stylish fashion pieces that are sure to turn heads. Repurposing materials like old clothes, vintage fabrics, recycled textiles, and more can be used to make stunning garments and accessories that are as fashionable as they are sustainable. Even fashion industry icons and designers have turned to upcycling in recent years.
Where can I find inspiration for upcycling projects?
You can look for tutorials online, watch videos on YouTube, or browse through social media sites like Instagram and Pinterest. There are also craft stores and thrift stores where you can find materials to use in your project.