Use this free underwear sewing pattern roundup to make a pair of underwear that fits your style and body.
Women's underwear is a serious industry, with a total worth of $7.4 billion in the United States. The average American woman spends $7,000 on underwear over the course of her lifetime.
The underwear is the foundation of the perfect outfit. It's what makes you feel confident and comfortable.
If you have the right underwear, you can:
Keep yourself comfortable throughout the day with a perfect fit.

Look great and feel confident in what you're wearing.

Get rid of any chafing or irritation that may occur from ill-fitting underwear.
You might think of underwear as something you buy, but what if we told you that you could make it at home? What if we told you there is a way to personalize your underwear so that no one else will ever have the same pair (or at least they'll have to be very close)?
All it takes is a few simple steps, some fabric and thread, and your sewing machine.
In this article, we've come up with a complete round-up of men's and women's underwear sewing pattern ideas.
These patterns are great for beginners and experienced sewers because they're easy to follow and also fun to put together. You can also use them as a starting point for customizing your own designs.
Whether you're looking for a seamless thong pattern or something more adventurous or romantic panties, we have something for everyone.
Let's get started.
16 Underwear Sewing Pattern Ideas for Women to Make Your Collection More Sexy and Fun
If you're looking for a way to make your lingerie more personal, we've got just the thing: underwear sewing pattern ideas for women.
Image Source: The EBY Blog
These patterns will allow you to create unique underwear. You can choose from a comprehensive range of styles and fabrics and make something that is both comfortable and stylish.
This is also a great way to save money! Apart from buying expensive designer lingerie, you can make it yourself at home.
The best thing is, you can also give a store-bought, professional touch to your handmade, homemade underwear. Head to Super Label Store and place your order for high-end, super customizable, and easy-to-design
These clothing labels are available in a broad range of colors, styles, and shapes so that you will get the exact match for your needs. They will also help your product look more professional and classy.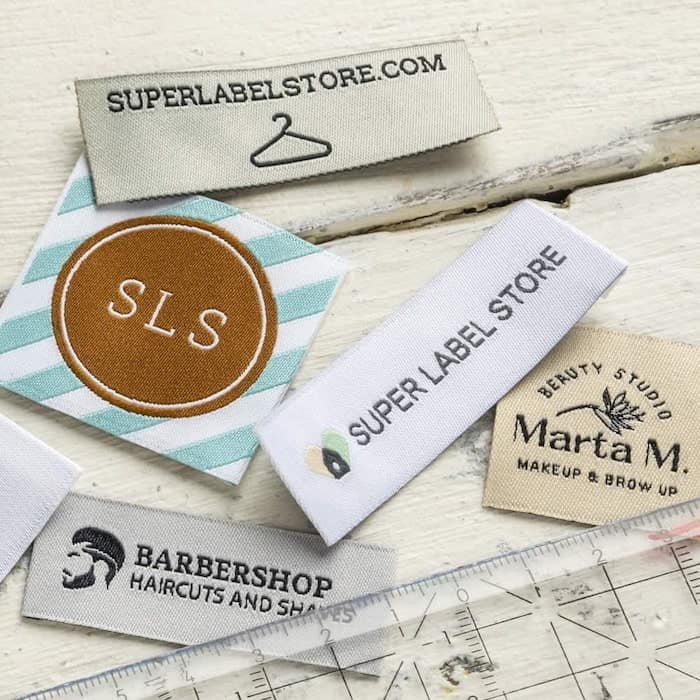 So what are you waiting for? Get started on your own unique piece today!
DIY Lace Undies Sewing Pattern
It's time to look at your underwear drawer and ask yourself: do I feel good in these? If the answer is no, it's time to change. How?
With this DIY Lace underwear sewing pattern, you can make the underwear of your dreams! These free sewing patterns will fit any body type, so no matter what kind of shape you have, it will work for you.
Image Source: So Sew Easy
These are the perfect things to make if you're in the mood to make something special for yourself—or someone else! They're easy and fun to make, so get started today!
Simple Bikini Sewing Pattern
This simple bikini sewing pattern can be used to make any swimwear, including one-piece and two-piece suits.
It's an easy underwear sewing pattern pdf that you can complete in one afternoon, and it will give you the sewing skills you need to sew different types of clothes.
Bikini Pants Sewing Pattern
These bikini pants sewing patterns are a great way to get started with your own unique designs. They're also easy to use—follow the step-by-step instructions!
Image Source: Coco Bay
The free underwear sewing pattern is designed for the pant style and size you choose, so you can make sure they fit in a perfect way.
Hip Hugger Pants Pattern
The hip-hugger period underwear sewing pattern is a great addition to your wardrobe. They're super comfy and have a classic look. They are often made from stretchy types of fabric and are an excellent choice for wearing with heels or boots.
This long underwear sewing pattern features a pair of pants that sit high on the waist and are fitted around the hips and thighs, with a slight flair at the bottom.
These girls sewing patterns include instructions for two different styles: one with an elastic waistband and one without.
The Rosy Lady Shorts Pattern
The Rosy Lady shorts sewing pattern has been designed with a fun and flirty silhouette that is perfect for summer!
Image Source: Nellie Joans
The shorts feature front darts, back darts, and side slits for an adjustable fit. The easy underwear sewing patterns come with instructions for making a pair of shorts from scratch and include multiple sizes.
It is available in PDF format, so you will be able to download the instructions straight away.
Stevie Knickers by Paper Theory
Your summer wardrobe is about to get a significant upgrade with the help of Paper Theory's free knickers sewing pattern.
Paper Theory's Stevie Knickers sewing patterns are designed to be easy to follow, with simple instructions that result in professional-looking results every time.
The pattern comes in three styles: bikini cut, high-waist, and short shorts. The wide waistband and high-cut leg openings make them comfortable for all-day wear.
Acacia Underwear by Megan Nielson
These types of underwear for women are comfy and low-rise underwear sets that you'll be able to wear every day.
Image Source: Megan Nielsen Pattern
The Acacia pattern comes with a high waistband and a full back panel, making it easy to make your own seamless underwear from scratch.
This sewing pattern is perfect for beginners who want to start sewing their own lingerie. It also makes a great starter project for those looking to get into sewing apparel.
Turn an Old T-shirt Into Underwear
It's time to give your old, worn-out tees a second chance.
You can use different types of t-shirts to make underwear! All you need is a sewing machine (or thread and needle) and some t-shirts you're ready to part with.
Lacey Thong Panty Sewing Pattern
The Lacey Thong Panty sewing pattern is perfect for a comfortable, flattering, and versatile panty.
Image Source: ThirdLove Blog
This thong sewing pattern free can be used for making lingerie for women or for making costumes. It is also designed to be worn with your favorite pair of jeans or a flirty skirt.
These sewing patterns for beginners are made from two different fabrics, and the front of the thong panty features lace detailing.
Hipster Sewing Pattern by Make Bra
A hipster sewing pattern is a pattern that has been designed to be a little bit off-beat and different from the norm.
The curves are just enough to make this underwear stand out without being too "out there" for your taste.
The pattern is based on a standard pair of underwear that you can wear every day. With this pattern, you can make them even more special by adding hipster-style details like lace trim or colored ribbons. It is perfect for beginners who want to learn how to sew their own underwear.
Scalloped Boyshort Panty Pattern
This scalloped boyshort panty sewing pattern makes a great everyday lingerie piece. They have an elastic waistband and wide sides that will keep their shape throughout their lifetime.
The scalloped edges provide a feminine touch, while the soft types of cotton fabric mean you can wear them all day and not feel uncomfortable. This sew underwear pattern comes in sizes XS to 3XL, so you can make panties that fit any shape!
Hellebore Hi-Cut Panty by Primrose Dawn
The Brazilian panties sewing pattern is designed to fit in the best way and help your body look flattering while still being breathable and comfortable.
Image Source: Parfait Lingerie
This pattern is for a pair of high-waisted, high-cut panty underwear made with a high-quality polyester fabric. The sewing instructions are simple and easy enough to follow, even if you're new to sewing or have never sewn underwear before.
Nixie Briefs by Jennifer Lauren Handmade
When it comes to fun underwear, Nixie Briefs are the real deal. They're a classic shape and style, but they're also unique. The beautiful lace trim along the edges of these briefs makes them stand out from the crowd.
This underwear sewing pattern by Jennifer Lauren Handmade is easy to follow and quick to sew—it'll take less than an hour! It is designed for sizes small, medium, and large.
Lula Mini Shorts Sewing Pattern
The Lula Mini Shorts sewing pattern is a fun and easy way to learn to sew shorts with a modern, flattering fit. These shorts are a wardrobe staple that you'll want in every color!
It's perfect for summer nights out or any other time of year! This underwear sewing pattern comes in sizes XS through 3X and includes instructions to make your own pair of these super-cute shorts.
Thong Sewing Pattern
The thong is made with soft stretch fabric and has an inverted triangle cutout in the back.
Image Source: Clovia
If you want to be crafty, add lace trim or some jewels around the edges to make them extra fancy! This thong sewing pattern is easy to follow, and the results are sexy.
SoZo Panties Sewing Pattern
It's a simple, classic pair of panties that you can use to make a pair for yourself or to give as a gift. Use it to make your favorite style of underwear, or use it as inspiration for designing your own unique creations!
Image Source: Sew Exhausted
The panties sewing pattern includes instructions for making them with an elastic waistband and without an elastic waistband.
4 Ideas for Men's Underwear Sewing Pattern
Sewing underwear for men can be a great way to help you get into the market of making your own clothing. It's also great to make some extra money on the side.
If you've ever wanted to make something special for your men, but needed to know how or where to start, then we've got your back!
Image Source: StyleRug
Our men's underwear sewing pattern ideas include briefs, boxers, trunks, and thongs in sizes ranging from small to extra-large.
The best thing? All these sewing patterns for undergarments are easy and cost-effective, and they will boost your confidence in order to take on other projects like,
Use these men's underwear sewing patterns to sew your own briefs, boxers, or jockstraps today!
Classic Boxer Sewing Pattern
Do you know those boxer shorts that your dad and grandpa wear? That's the style this pattern is after.
Image Source: The New York Times
This boxer sewing pattern has a classic design with just enough detail to make it stand out. This men's underwear sewing pattern comes with instructions for several different sizes, from small through extra-large—so this boxer pattern can be used for anyone in your family.
Stretch Boxer Sewing Pattern
This men's boxer sewing pattern will help you create comfortable, stretchy pants for your partner or friend.
These mens underwear sewing patterns include instructions for creating boxer shorts in sizes XS to XL. They can be adapted for different body types and sizes by adding or subtracting fabric from the side seams of the pattern.
The main fabric should be a 100% cotton knit jersey. Other fabrics may be used as accents.
Men's Bikini Sewing Pattern
A simple, no-frills men's bathing suit. This pattern is perfect for the man who loves to spend time in the water and isn't afraid to show it!
Image Source: Mensuas
It's made from a blend of polyester and spandex, and the pattern comes in sizes small through extra-large.
Seamless Front Bikini Sewing Pattern
This seamless front bikini sewing pattern for men is an easy-to-make pattern. It will allow you to sew a one-piece garment with a deep scoop neckline and high-cut leg line.
You can use this underwear sewing pattern to make your own men's swimwear. The pattern can be adjusted to fit any size, so it's perfect for anyone who likes to make their own swimwear.
Conclusion
Underwear is more than just a necessity—it's an opportunity. If you want something new and different, then you can make it happen! All you need is a little creativity and some fabric.
With the above collection of underwear sewing patterns, you can make anything.
How about adding extra fun? Some underwear with your best friend's face on it. Or maybe some underwear that looks like your dog's face when they're sleeping. Or maybe even some underwear that looks like your favorite celebrity! Anything is possible when you start with any of the above-mentioned underwear sewing patterns!
Gather your sewing supplies and get started with a unique, comfortable underwear sewing project.
Happy sewing!