All types of clothes in a look! Discover and make different types of outfits yourself
What type of clothes can make up an outfit?
Centuries of constant developments of our clothing have led to an immense diversification of every single tiny piece of garment.
There are some types of clothing that we wear every day and others whose existence we may even ignore until we see it in some luring shop window.
If you are wondering what are the different types of clothing styles, this article is for you!
Starting from the head and ending with the feet, you can discover what are the different types of clothes for women…because there are many!

Image source: Shiksanews
Here's an overview of all the types of female clothing that can form an entire look. 
Let's see them divided by body section, starting from the top.
Head
Our heads can be covered and ornated by:
Hats
They protect your head from the sun, wind, or/and rain. There are many models:
Historical hats like the 1920s cloches, top hats, bonnets, etc.

Caps with peaks like baseball caps

Bucket hats in different materials

Straw hats like the boater, the panama, the fedora, the derby, and the beach hat, the conical one, the straw sailor hat, sombreros 

The wool basque 

And many more!
In some parts of the world, people cover their heads with scarves or long strips of fabric like keffiyehs or turbans.
Veils are also used by women to cover their heads on a daily basis (like shaylas, hijabs, chadors, khimars, niqabs and burqas) or on certain religious occasions, like tulle or lace veils for weddings.

Image source: Pinterest
Bandanas
They are square or triangular kerchiefs that are worn tied to the head. Their purpose can be both functional and decorative.
They can also be worn rolled on themselves as a headband or around the neck as a scarf (see below).
The most common in pop culture is the red one with a white paisley pattern.

Image source: Specifically Random
Babushkas
Compared to bandanas, babushkas are wider. They resemble more a big foulard or hood wrapped around the head. 
It can be worn even under a hat. It immediately gives a retro style and you can wear it with both your hair up and down.
They originated as part of the Russian folk costumes.

Image source: Pinterest
Headbands
They keep your hair away from your face.
There are many types of headbands. They are cool ornaments like the embellished 1920s bandeaus or more practical tools you use when cleaning your face for your nighttime routine.
They can be simple, have appliques or bows, and resemble turbans. They can be made in a variety of materials, even plastic.

Image source: Pinterest
Bathing caps
To keep your hair dry when you shower.
Neck
Like our heads, our necks are a perfect place to show our identity through fashion because it is close to our face and eyes so anything we wear around this area is bound to stand out!
The neck is also a sensitive part of our body. We need to take care of it if we don't want it to become a vector of colds and throat aches!
Thus, around our necks we wear a variety of both functional garments and cute accessories like:
Scarves
They protect your neck from drafts, cold weather, and even strong air conditioning during summer.

Image source: Pinterest
There are many types of scarves apart from the classic wool example above:
Fluid foulards (like ascot scarf, silk scarves)

Lightweight cotton scarves

Wool dickeys (mock shirt or jumper collars)

Dupatta (long and wide scarf of Indian origin)

Pashminas (lightweight and shiny scarves always of Indian origins)

Infinity scarf (a loop, rather than a band, to pull on)

Snoods

Triangular scarves or kerchiefs

Shawls, capes, and stoles are bigger types of scarves of a variable length used to cover the shoulders too, resembling more of a mantle.
Ties
Ties keep your shirt collar in place and well closed. 
Women wear ties too and aren't necessarily an accessory for formal occasions even though they add a smart touch to an outfit. 
They can have different kinds of 'ties' and knots like those you see in:
bow ties, 

neckties,

apache ties (the classic accessory you see in all men's costumes in western movies, often presenting a metal slide), 

cravates or cache-cols (literally hide-neck in French) which, unlike all the others, are worn in contact with the neck skin and under the shirt collar for a chic and nonchalant effect.

Image source: China Hao
Collars
Collars are generally sewn to the top you are wearing but they can also be a one-piece accessory that provides a collar for collarless tops. 
You can add it to any outfit you want (see DIY section).

Image source: Pinterest
Top
On the upper half of our body, we tend to wear several layers, more so than in other body parts. 
We have all the important organs to shield from external conditions and in general, we have more sensitive spots here.
Unlike trousers, there are many more different types of clothes that we put in direct contact with our skins or other more resistant or warmer types. 
T-shirts, blouses, and shirts have so many varieties.
Important differentiating factors are:
the neckline

the shoulder line

the sleeves

the fit 

the hem length
Shirts and Blouses
These types of tops are usually made of several pieces of fabric sewn together:
front and back pieces,

plackets for buttons and buttonholes, 

yokes, 

sleeves, 

collar and collar stand, 

cuffs
so their construction can be longer and more complex than t-shirts.
They have a smarter look and can present more details than t-shirts.
A shirt is the classic buttoned and collared long-sleeve top we wear for a variety of occasions but that is, in general, on the more informal side of the spectrum. Originally, it was used only by men.
Even if a shirt is often found in its most classic model, there are some varieties that can be more casual:
Collarless or Mandarin-collar shirt (a shirt with only the collar stand)

Holiday shirt or Camp shirt or Bowling shirt or Hawaian or Cuban shirt (all these terms indicate the same type of shirt with a convertible collar

,

Hawaian shirt also present hawaian vibrant graphics)

Epaulet shirt (military style shirt with bands or straps on the shoulders)

Safari shirt (it can have a belt and two big pockets on the chest, usually in khaki colours)

Flannel shirt
The term 'blouse' is associated more with the feminine wardrobe.
It doesn't have specific features associated with its meaning, so it can present all the types of sleeves and necklines, and still be considered a blouse.
Common types of blouses are bow blouses, puff-sleeve blouses, shirred blouses, sleeveless blouses, jester blouses, silk blouses.
You can play with neckline/sleeve combinations, and even with the fit of the garment.
Read about all the types of sleeves for the options you have and decide which one is your favourite!
Both blouses and shirts are usually made with woven lightweight fabrics. You can also find warmer shirts and blouses made with flannel for the wintry months.

Image source: Pinterest
T-shirts
T-shaped tops, often with short sleeves, made with knit fabrics. They are a simple and essential staple in everybody's wardrobe.
They consist of very few pieces of fabrics sewn together (front and back pieces and the sleeves), even though you can always find exceptions in fashion.
Given their simplicity, there are many ways to jazz them up. You can find them having details like knots, buttons, ruffles, and so on. 
Common types of t-shirts are:
Scoop t-shirts, Crew t-shirts, V-neck t-shirts

Polos (they are sporty but have smart shirt-like details like collar and buttons)

Henley (similar to polos but without the collar)

Off-shoulder tops

Shirred tops

Tank tops

Camisoles (sleeveless t-shirts with spaghetti straps, they could fall under the category of underwear if you wear them for your comfort under winter t-shirts or sweaters, but you can also find them in silk for a night out, or in cotton for casualwear)

Tie strap tops (straps are knotted on the shoulders instead of seamlessly running from the front piece to the back)

Strapless tops

Raglan t-shirts

Yoke t-shirts.

Image source: Pinterest
Sweaters
Sweaters are heavier tops that protect you from colder weather. 
The main types of different sweaters, or jumpers, are:
Pullovers (closed sweater)

Cardigan (open buttoned sweater)

Turtlenecks (high-collared sweaters)

Vests (sleeveless sweaters)

Sweatshirts (sporty cotton sweater)
See different types of sweaters on SuperLabelStore blog. 

Image source: Pinterest
Bottom
Individual pieces that protect our lower half of the body are of two bigger categories, skirts and trousers.
Skirts
Individual tube-like cover for your legs.
The most common skirts, of variable lengths, are:
A-line (triangular shape)

Circle skirts

Mermaid skirts (tight-fitting for its two thirds and then flaring out)

Handkerchief skirt

Pleated skirts

Pencil skirts

Tiered skirts

Wrap skirts
For a thorough guide on skirts check types of skirts on SuperLabelStore blog.

Image source: Pinterest
Trousers
Items of clothing covering legs individually and joined at the waist.
The models of trousers and shorts are varied. The factors that distinguish them are:
the materials

where the waistline falls

the hem length

how wide the legs are on the thighs and the calves
According to the materials, they can have different names like:
jeans for those made of denim; 

corduroys for those made with the homonymous fabric; 

chinos for pants made with a homonymous heavy twill cotton fabric originally made in China;

leggins for knit second-skin effect bottoms.

Image source: Pinterest
As to their length and fit, there are different styles:
Shorts

Cropped pants

Hot pants

Bermudas (above the knee)

Cargoes

Cigarette pants

Slim-fit

Low-waist pants

Capri pants (mid-calf, with a slight flare)

Bootcut pants

Flared pants

Gaucho pants (a sort of cropped cut trousers with a wider flare at the hem)

Harem pants (extra loose-fit pants with dropped inseam)

Sweatpants and pajama pants

Palazzo pants 
In our blog article on all the different types of pants, the topic is discussed more in depth.
Belts
Accessory securing and tightening the top of a skirt or a pair of trousers at the waist.
Suspenders
Another way to secure and to keep up the trousers with elastic straps that are attached to the top go across the shoulders.
Feet
There are two layers that protect our precious feet, the inner one is socks or collants, the outer one is shoes & co.
Socks and tights
They offer protection to your feet from blisters, cold, overheating and from rubbing the skin with the insole.
They are made of knit fabric because they have to be elastic to allow ease of movement when walking.

Image source: Pinterest
Socks are unisex, meaning that they don't have different shapes for men and women.
The types of socks differ in their length.
The most common ones are:
No show

Liner 

Low-cut

Ankle-length

Mid-calf

Knee-high

Over the knee
Tights, instead, are used by women under skirts and dresses. 
They are made of thin stretch material and they can cover all the legs up to the waist or be separate and resemble a higher type of sock, like the stockings. 
Types of tights also differ in their length but also the density of the knit fabric (calculated in Deniers) and textures. 
Common types of tights are:
Sheer tights (around 20 or few more deniers)

Opaque tights (30+ deniers)

Fishnet tights

Fencenet tights (similar to the fishnet but with bigger holes)

Backseam tights

Cuban heel tights

Stockings (high separate collants reaching the thigh)

Garterbelts (to keep stockings from falling down)

Stay-ups 

Control top tights (having shaping and slimming effect)

Compression tights (help blood circulation)
Shoes
Shoes are an important type of clothing, or accessory depending on how you consider them. They help our feet sustain all the weight of our bodies.
There are countless types of shoes because we must always wear some kind of foot protection whenever we leave our house and wherever we go with whatever type of climatic conditions. 
Let's list them according to occasions and seasons:
Sporty shoes (trainers, sneakers, running shoes, walking shoes, trekking shoes, soccer/football/rugby cleats, hiking boots, aqua shoes, diving fins)

Classic shoes (Oxfords, loafers and mocassins, Chelsea boots, Clarks desert boot, brogues, Derby, Monk, bicolours, ballerinas, Mary Janes)

Casual shoes (slip-ons, casual sneakers, boat shoes, canva shoes, gum shoes)

Summer shoes (sandals, heel sandals, espadrilles, espadrille wedges, flip-flops, mules, clogs, slide shoes, jelly shoes)

Winter shoes (boots, laced boots, Timberland boots, Lita, wellingtons, uggs, ski boots)

Heel shoes (pumps, platforms, t-straps, stiletto, open-toe, kitten, lobster claw, scarpin, d'orsay)

Image source: Pinterest
Underwear
It is a type of delicate wear because it is in direct contact with the skin and sensitive parts of the body. It has a gentle touch and is usually made with anti-irritating materials.
For men and women, there different types of knickers to wear under trousers or skirts to cover the groin:
Shorts

Trunks

Boxers  

Briefs

Hipsters (high-waist)

Bikinis

Boyshorts 

Tangas

Thongs

G-strings (hidden panties)

Control briefs

Image source: Pinterest
Women also wear bras to protect and sustain their breasts.
There are many models with different effects, different kinds of coverage and more or less support:
Strapless (to wear with off-shoulder dresses and tops)

Bralette (its hem covers the midriff and it is usually made with lace)

Push-up

Sports bra

Triangle

Soft cup (without underwire)

Balconette

Beginner's (for young girls in their puberty)

Tube (a stretch unsupported band)

Multiway (you can place the straps in different positions according to front and back necklines)

Maternity bra (used when breast-feeding)

Plunge (V-neck bra)

Image source: Ohhh Lulu Lingerie
One-piece clothing
One-piece clothing is a practical full-body cover with individual or separate pieces for the legs. 
It includes all the types of wear clothing that don't detach the top from the bottom. 
The most worn type of one-piece clothing is the dress! Styles of dresses abund:
Sheath (form fitting)

Bodycon (similar to a sheath dress but its tight effect is increased by elastic fabric)

Princess line (flared at the end)

Empire (the waistline sits under the chest)

Shirtdress (it looks like a long shirt)

Shift (strapless and straight design)

Wrap 

Kaftan (loose-fitting and long)

Ball gown (with important and wide skirt)

Asymmetrical

Qi pao or cheongsam (modernised version of a traditional Chinese dress with high collar, slits, bell sleeves and diagonal shoulder closing)

Apron

Tent (without waistline)

A-line

Pegged

Babydoll
Read our in-depth article on types of dresses to discover more styles!
Other types of full-body layers are:
dungarees, 

playsuits (short sleeves and legs), 

jumpsuits (long sleeves and legs), 

rompers (similar to the previous two but usually considered childrenswear), 

onesies (often considered homewear),

aprons (to protect clothes from dirt),

leotards (tight stretchy thin garments worn in contact with the skin, usually worn by dancers or athletes).

Image source: Lazzari
Outerwear
To protect ourselves from the elements we use many kinds of outerwear. 
If you need to shield yourself from a dry and cold climate, you would use:
Coats (made with warm fabrics like wool, tweed, or down)

Jackets

Blazers (if you want to look even more stylish)

Fur coats

Capes

Parkas

Montgomerys

Leather bikers

Ponchos

Denim jackets

Cloaks and mantles
For protection from rain and wind, waterproof outerwear is needed. Typer water-repellent covers are:
Raincoats (made with oilskin textiles)

Trenches

Rain ponchos

Anoraks

Image source: MyTheresa
Become the master of the different types of clothing
It is possible to make all the different types of garments…to clothe yourself from head to toe! 
It isn't a joke. 
Making the wheel of fashion slow down seems to be a common goal after the pandemic. 
With the number of fashion shows and collections reduced and designers taking it easier, you can become the actual master of your sartorial self-expression. 

Image source: Jazmin Quaynor on Unsplash
Take the chance to engage more actively in the creation of many types of clothes in your wardrobe. 
This time it won't be brands, stylists, designers, or influencers to set the rules for what and how to wear, but you!
Discover all types of clothing styles you can make!
For all the body sections, you can find a DIY option for each type of clothing. Under focus, there aren't only the obvious ones like:
t-shirts

skirts

trousers

dresses
but also
outerwear

sportswear

onesies

some accessories (including summer shoes!)
Nothing is left out!
The different options will interpret these clothes in various aesthetics, from classic to boho…you will find different types of clothing styles to suit everyone's tastes.
If you want to know more about all the different clothing styles and choose which one represents you the most, then read our blog on types of clothing aesthetics!
Still unsure about making your clothes? Convince yourself with our 10 reasons to start sewing.
It will be easy to create your wardrobe if you follow our guides 'learn to sew' and 'how to sew'. 
Plus, your creative process will be trouble-free with the sewing hacks you can find on our blog. 
Include also our best sewing tips and tricks in your sewing process!
Above all, remember that if you are the creator of your wardrobe, your clothes must carry your signature!
If you feel even more creative, you could also design a logo with symbols important to you or with your initials.
Once you have decided how your mark should look, have it woven on labels that you will attach to your garments! SuperLabelstore offers you this service: it is easy, fast, and affordable! Make your woven labels now!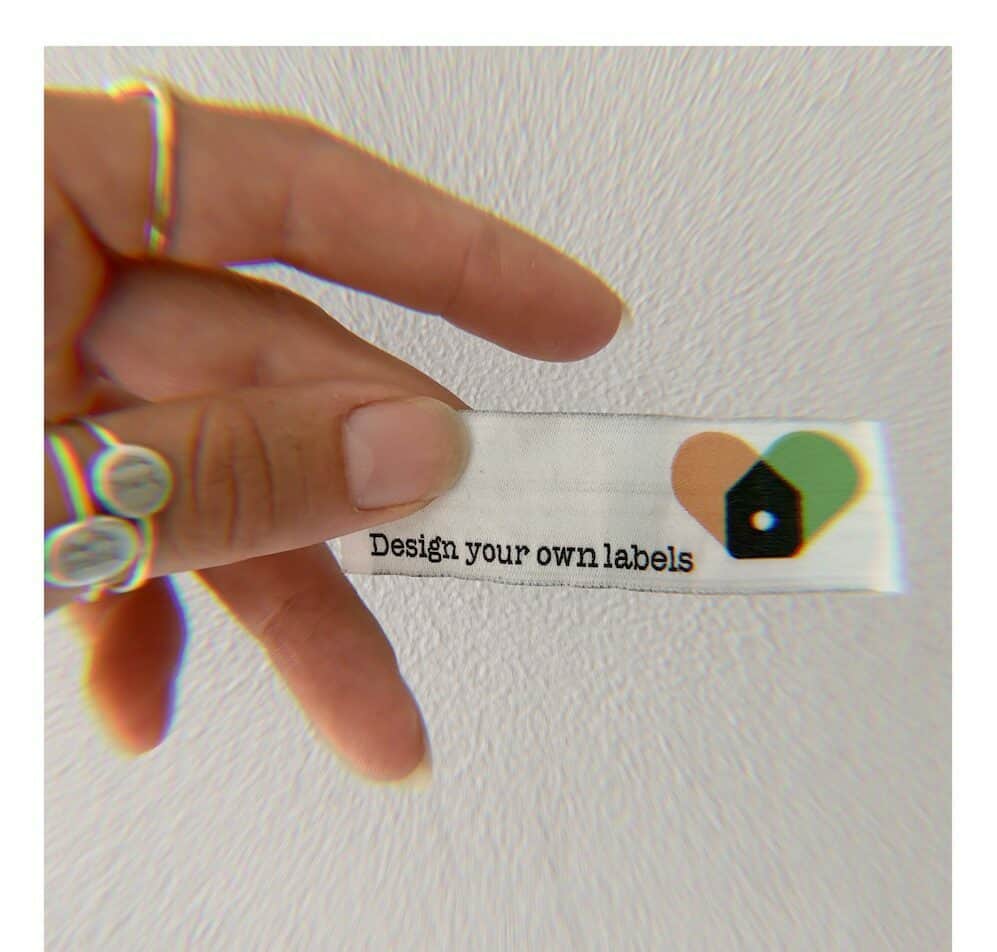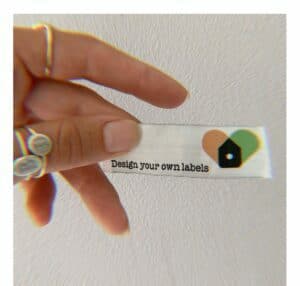 Image source: SuperLabelStore
Here's what you have been waiting for: the DIY projects to create all the different types of clothes you want!
DIY Head accessories
You can wear accessories that protect you from the sun like hats or that keep your hair away from your face like headbands.
These types of accessories can be, then, both practical and stylish!
For the head section, you can find many variations of the same accessories.
Hats
Hats can seem tricky to style but if you make them yourself you can opt for fabrics that you know can match well with the rest of your wardrobe.
Read about sewing fabrics on our blog to find the inspiration and to decide which one is the best for the idea you have in mind! 
If you are a beginner and you don't know what makes a fabric different from the other, use our guide on types of fabrics.
You have two options for fashioning your headgear:
sewing it!

crocheting it!
Bucket hats
Starting with the first option, bucket hats are very easy to sew. 
They lend themselves to any kind of fabric, so you can experiment as you please to follow your most twisted desires regarding colours, motifs and aesthetics. 
You can use heavier wool fabric for the winter season, lightweight cotton fabric for summer or waterproof material to use it under the rain or for your fishing expeditions!
You can either draw yourself the pattern pieces based on your measurements (or those of a dear one) following this tutorial
or you can use this free pattern in one size by Rosery Apparel. There is also a video tutorial on the same page if you need to visualize the process of making it!
The second option for making a hat, again, allows you to select the material according to the season you are in.
Crochet hats 
Crochet hats can be made with wool for winter, but their summer raffia version is more stylish, don't you think?

Image source: Make & Do Crew
If you are more of a preppy style person, then you will love the raffia boater hat of this tutorial! 
Raffia threads can be found in all the colours of the rainbow, so you could even make several pieces to go with more outfits!
If your style is more boho, and you prefer a floppy and larger brim that makes it easier to carry the hat in your bag, then follow the instructions for this free crochet sun hat pattern!
If you want to make a statement and be edgier, then this free Fedora Crochet Sun Hat Pattern by Make & Do Crew is right for you! 
You can style it in many ways according to the vibes you are looking for. You can even make it in children's sizes!
Scrunchies!!
One of the latest nostalgic rages for hairstyles. 
Apart from being a  cute revival of an 80s hairstyle, they are useful for getting rid of fabric scraps! They are also a thoughtful last-minute gift idea! 
Texture and dimensions are up to your preferences! You only need your favourite fabric, a piece of elastic, sewing machine and you are ready!
This tutorial shows you how you can make three different styles of scrunchies.
Headbands
The word 'headband' can stand for different kinds of gadgets to keep your hair from falling on your face. 
You could even use a foulard as a headband by just tying it on your head or behind your neck.
If you like a more classic rigid type of headband, reminiscent of the 60s, then follow this other tutorial by Rosery Apparel to make a padded headband.
You could even go on and add appliques like pearls or other details. 
For a softer look, try these two beginner-friendly projects for a turban-like headband with 70s vibes that will hug your head.
DIY Neck accessories
We can hang various items of clothing on our necks. We won't cover jewelry here, but only fabric adornments. 
Only the first one (scarves) has a clear functional purpose. The other two (neckties and detachable collars), though, help us in expressing our styles better. 
Scarves
Don't think that scarves are used only during winter! 
They can protect your neck from spring and summer evening breezes and can be made in lighter fabrics too.
You can either knit your scarf or sew it.
If you want to sew it, you can make it in a triangle shape following the instructions on Heather Handmade.

Image source: Heather Handmade
As you can see, you can add all the details you like. Tassels, pom poms or nothing for a minimalist look.
You can also try this guide by Apple Green Cottage to make a round scarf, it is a slightly less easy process than the previous one.
Neckties
Neckties are mostly used in Asia for a classic or preppy style. They would make such an adorable addition to your outfit!
They consist of a string that you usually put under the collar of your shirt and you tie it into a knot. It has a cowgirl flair to it, don't you agree?

Image source: Di Lei
The strings can be long and almost reach your waistline as in this picture, or shorter. 
To make neckties, you can use the small pieces of fabric that you were about to throw out.
To learn how to make them, again follow the tutorial by Rosery Apparel: you can directly jump to minute 3:59 for the neckties, or see how else you can use scrap fabric!
Detachable collars
They are an original way to liven up your looks!
If you're not a shirt person, then you can add this smart detail to your sweaters and tops to become just a little bit more formal. It all depends on the fabric you choose.
As with scrunchies and neckties, it is a good solution to recycle fabric scraps.
With this tutorial, you can see four ways you can make and style detachable collars. It includes the free templates as well, how cool is that?
DIY Tops
In case you want to try a different version from those suggested here, keep in mind that the hem length is the easiest aspect you can change directly on the paper pattern.
If you adore the sleeves of a top, but you want to use the bodice pattern of another one, you can mix the shapes and design a new model without too much difficulty. You just need see-through paper and a pencil.
Do read our articles on types of shirts for women, types of tank tops, types of crop tops, types of t-shirts, and types of shirts to have more inspiration and have a complete overview of all the different models.   
Check types of corsets too!

Image source: Pinterest
Knot tee for beginners
A super easy but chic tee pattern is the Morning Glory Top by Sarah Kirsten. When you say, maximum output with minimum effort.
It's two-in-one because you can style it in two ways: the knot can go on the front, for a plunging decolleté, or the back, for showing your bare back. 

Image source: Sarah Kirsten
Boxy tee 
For a minimalist tee, somewhat reminiscent of kimono shapes, do try one of the three versions of the Boxy Tee by Purl Soho. 
If you follow the instructions, then you do not need the pattern, it's just a matter of measures.

Image source: Purl Soho
Classic shirt
You can't do without a classic button-down shirt! It's a basic staple that is present in all types of clothing styles. 
If you dress grunge, for example, you can make it oversized with a checkered flannel and wear it open. 
Use the free Noa Linen Shirt Pattern by Fabrics Store for making this classic! You can use any type of woven textile.
Sweaters are the other thicker layer for the top half of the body. They are used mostly during winter, but you can also wear them in warmer months as they can be made in cotton as well.
They are usually knit or made of a stretchy knit fabric. They can be open on the front, with buttons or zippers, and have additional details like a hood or front pockets.
You can find them in a variety of models too.
1-hour sweatshirt
To sew your next sweater, follow this tutorial. The garment is based on a diamond shape, and so the sleeves slightly look like batwing sleeves. It is easy and fast to sew!
Chunky cardigan
If you like to dress oversize, then this chunky cardigan by Flcty is right for you. This is for the knitters out there, so grab your needles!

Image source: Flcty
DIY Bottom pieces
If you are interested in shorter types of trousers because summer is around the corner, check our article on types of shorts!
If denim is your passion, then you shouldn't miss our guide to types of jeans!
Sweatpants
If you like sporty clothes, or you simply need some trousers to go jogging, then grab your fave stretchy fabric and sew these DIY Jogger Pants by Happiest Camper.
High-waisted trousers
For trousers you can wear for any daily occasion, there is this free pattern of the high-waisted Clyde Work Pant by Elizabeth Suzann Studio. You can even dress them up for the evening.

Image source: Elizabeth Suzann Studio
Palazzo pants
Do you like more dramatic styles? Wide-leg trousers fit you? Then download the free pattern for these palazzo pants by Mood Society. 
You can make them in two different lengths. Do use sew them in different fabrics so you will wear them throughout the year.
Skirts
Are you more of a skirt person? Then go read our article on types of skirts. You will find many DIY projects there too.
DIY Footwear
Feet are covered by a first layer, socks, and then by a second resistant, sturdy layer, shoes.
Socks
Check our in-depth post on SuperLabelStore about different types of socks. In this article, you can find various DIY projects for making, recycling and upcycling these items of clothing.
Espadrilles
About making shoes yourself…ok, it sounds scary if not impossible! They are those types of clothing lines that you take for granted that you will buy in a shop. 
They must carry the weight of your entire body and allow you to move around, walking from A to B. They have got a lot on their plate.

Image source: Pinterest
This said, making lighter shoes for summer, perhaps to go to the beach or to chill in the park, is a project that you can make at home without too much difficulty.
It can even become an occasion for recycling older material and saving money instead of buying another pair of seasonal shoes that won't last for more than a few summers anyway.
A style of shoes that can be personalized according to your preferred fashion aesthetics are espadrilles! 
They are a basic type of shoes to which you can add as many details as you want. You can pick the fabric you like and you can add appliques or embroideries.

Image source: Pinterest
You have several options for creating your pair of espadrilles. The fastest and less fun way is to buy pre-made outer soles that include a pattern and follow the instructions.
Another option is to follow this tutorial by Kreativstattandrea on how to make espadrilles soles with rope. 
You still need to buy insoles (the part in direct contact with your feet) but the smart idea is to recycle an old garment as a lining. This way is cheaper, more fun, and more environmentally friendly. 
Once you have your soles ready you can decide to crochet the upper of the shoe or to sew it. If you decide to use a woven fabric upper, then you can use this free pattern by Make It Today. 
This pattern includes few instructions but if you are a visual learner, you may benefit from watching this other tutorial by The Makery, where you can see the process of attaching the fabric pieces to the espadrilles soles.
You will see that these tutorials use different types of stitches. If you find them confusing, use this guide to types of seams on the SuperLabelStore blog. 
DIY Underwear
Our underwear should always be comfy because it's our second skin. It is the first layer that protects us from the rest of the world.
You can wear the most relaxed and breathing dress, top or pair of trousers but if your underwear is not doing its job right, then everything will fall apart.
If you DIY your underwear you will be more in control of what you put in contact with your skin. 

Image source: Warp + Weft
If you have sensitive skin, then you can select only materials that are good for you.
There are many underwear-free patterns out there. You can choose basic models or more romantic and intricate ones that include lace fringing. 
Lace bras and knickers set
For the more romantic ones, Ohhh Lulu Lingerie offers these free patterns for their Hyacinth Bralette and Celeste Panties. Apart from the basic material, you need a stretch lace trim edging for extra-seductiveness.
Basic panties with different waistlines
For those who need and want to keep underwear at its simplest, there are the free options of the regular waistline Stevie Knickers by Paper Theory and the hip-high Maxine High Waist Panties by Evie La Luve. They are all beginner-friendly.
Sports bra
For a sporty but chic bra that requires no hooks (it's a pull-on) and no serger, do check out the free Madalynne Intimates' Barrett pattern.
DIY One-piece clothing
When you go shopping for clothes, when you go to the swimming pool, or in any other situation that requires a lot of dressing and undressing in changing rooms, wearing a one-piece garment is convenient.
It takes you just one second to put it on and you are ready to go!

Image source: Olive Clothing
Playsuits
About playsuits & co., features can vary and mix. There are models with no sleeves and long legs or with short legs etcetera. 
Peppermint has a wide range of models you can pick from:
Dresses
Dresses-wise, you have the world at your fingertips! To sort things out, it would help to read our guide to the different types of dresses. 
Are you passionate about the types of fashion clothes of the past? You can find dress patterns from another era!
If you are into the 1960s, for example, you can find a pattern for a Mary Quant style dress with a video tutorial included!
Are you into the 1950s and are a fan of Audrey Hepburn? Then this free Sabrina-inspired dress pattern is perfect for you!

Image source: WordPress
DIY Outerwear 
To finish your full DIY looks, an outdoor cover is necessary! 
As with more complex shoes, it is not probable to have at home all the materials for making a proper winter or tailored jacket.
There's still something you can do though! 
Raincoat
If you find a waterproof fabric, even a kitchen table cloth will do, you can create a raincoat!
There is a free pattern and instructions you can use for your beautiful rain jacket!
Do also find inspiration with this tutorial. You can see the use of kitchen oil fabric…maybe you have one you were going to throw.
If you're going to make these different types of styles of clothing, remember to add your custom care labels and hang tags. It is easy to design them on SuperLabelStore!