Feeling Like Sunflower Embroidery May Be an Idea for You? Then It Probably Is!
Sunflower embroidery isn't an innovative concept unless you transform it into such! (see, for instance, the example below)
Just like with all embroidery flowers—you can keep it traditional or try more imaginative designs, and you never really know which one ends up more captivating. 
Whatever the result is, one thing is sure. If you don't purchase an embroidery sunflower pattern as part of a dedicated embroidery kit, you will need to collect embroidery supplies by yourself to prepare for stitching. 
DIY sunflower embroidery—getting ready
So, what to get equipped with to conjure up embroidery sunflowers that stand out and do it smoothly?
Before you dig into all these gorgeous sunflower embroidery patterns, ensure you have:
…and a handful of embroidery ideas!
When it comes to embroidery needle and machines, there are:
universal sewing needles for a machine, and 

machine needles explicitly designed for embroidery; 

Image source: GoldStar Tool
Sewing and embroidery machine needles vary by the two characteristics in their structure:
needle's scarf, and 

the size of the eye;
In a machine embroidery needle, these two features are adjusted accordingly to put less strain on your embroidery thread, which is thinner and more fragile than a regular one.
Machine embroidery needles are also usually more expensive than regular sewing needles, but don't panic! Embroidery won't cost you a fortune.
Read more about needles in Age Berry and tackle how to make a fortune on your projects on Super Label Store!
Curious to know more? 
Super Label Store is happy to provide you with the best 
whether you are 
a DIY/clothing crafter at home, 

textile/sewing fanatic,

small or starting clothing brand,

fashion designer,

owner or manager of hotel, bar, or hospitality business 
and want to customize your textile, clothing, towels, sheets, or accessories with custom (clothing) labels and tags.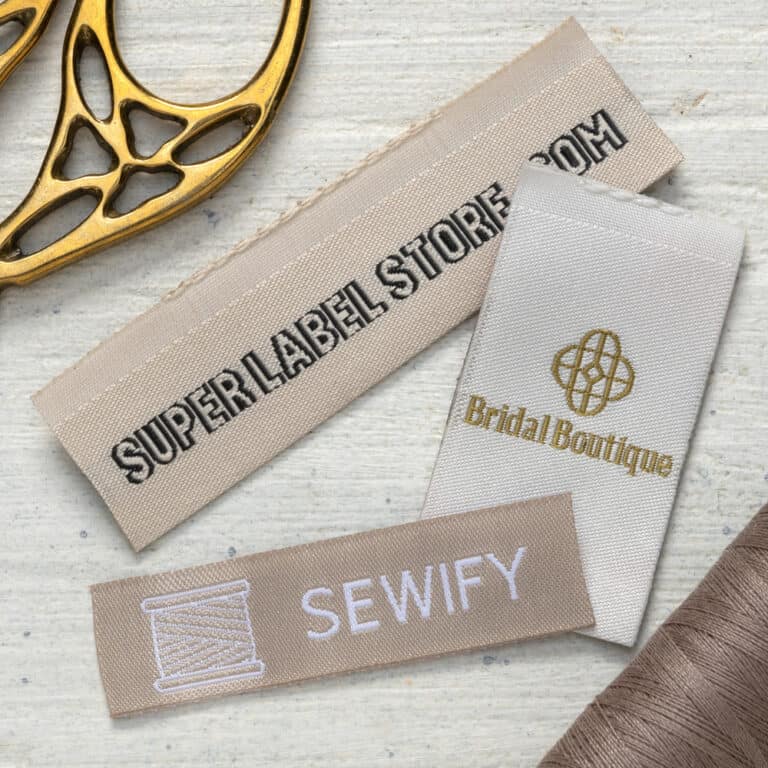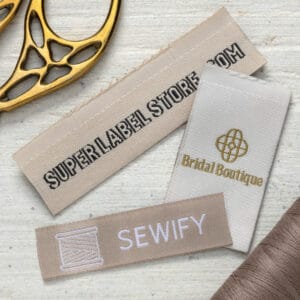 To learn more about embroidery, visit these to-the-point blogs:
Mary Corbet's Needle 'N Thread,

Feeling Stitchy,

Sublime Stitching,

Karen Barbé Embroidery Workshop,

Vintage Transfer Finds,

Carina's Craftblog,

Kimberley Ouimet,

Red Heart Yarn,
as suggested in the following The Spruce Crafts article. 

Image source: Eris Goes To
Crafters differ in their preferences when it comes to embroidery-making techniques.  
Some embroiderers highly appreciate and have no interest in abandoning hand embroidery for automatized embroidery techniques.
Others go crazy for the ease of working with machine embroidery.
In the next paragraphs, we will go through several sunflower embroidery designs of both types. Everyone will find something for themselves here! (Not there yet? Read "Three reasons why I adore embroidery and think you should try it" by Wimperis).

Image source: Wimperis
Sunflower hand embroidery patterns
Ready to kick it off with your first sunflower embroidery design?
Why not start with something special?
There are plenty of types of clothes that you can embroider on. To pump up your inspiration, we found a way to help you embroider a sunflower embroidery hat!
Have a look at this River Birch Threads YouTube video to see how:
This is one cute, easy sunflower embroidery pattern, isn't it? Share your thoughts!
Ready to tackle another one?
In this video, Malina GM Embroidery teaches you how to easily and quickly embroider a 7 X 7 cm embroidery sunflower design using stitches such as
checkered stitch,

buttonhole stitch, and

French knot (Click on

Sublime Stitching

for "The best instructions EVER for the most feared and equally adored embroidery stitch");
Ladies and gentlemen: the wildly yellow "New Design 3D Embroidery of Sunflower Buttonhole stitch Double petals":
For the following sunflower embroidery pattern free, we reached out to Gathered. In this thrilling project, you will use the sunflower embroidery pattern (available at the link above) and a set of embroidery supplies:  
Materials to use
Description

Cotton fabric 

To have a quick look at types of cotton fabric, visit our Super Label Store blog.

35x35cm, deep burgundy

Stranded cotton

One skein each of 

beige, blue-grey, light brown, mid brown, dark brown, bright gold, light gold, dark gold, 

green, green-brown, light olive, dark olive, 

pink, deep pink, salmon, light terracotta, mid terracotta, dark terracotta;

Embroidery hoop

15cm diameter

Embroidery kit

A basic one

Sunflower embroidery template

Find it ready to download on

Gathered
Before you get down to stitch this gorgeous embroidery sunflower design, let's see which embroidery stitches you will practice on this occasion:
backstitch,

French knots,

satin stitch, 

seed stitch;

Image source: Gathered
Free embroidery patterns like this one are pretty easy to spot online. After all, flower embroidery pattern options, such as rose embroidery or sunflower embroidery, are among the most popular ones (butterfly embroidery is also quite common, though).
Check out the article "Free Flowers Embroidery Pattern—update a plain top with stitches" on Gathered to explore a few fantastic options that will enliven your garments with tiny embroidery patterns made to fall in love with!
Now let's get down to the business and let this lovely hand embroidery sunflower pattern that we mentioned before see the light of day:
Got all the

embroidery supplies

that we mentioned prepared? Now you can transfer the design from the template onto the fabric using your preferred transfer method (for example, a water-soluble marker and a light source). 

Fill in the leaves surrounding the sunflower using a satin stitch—incorporate three strands of all colors except light gold, bright gold, and browns. Make small flowers using satin stitch, with three strands of blue-gray.

Image source: Gathered
      3. How do you make sunflower petals come out great? Use satin stitch with three strands of light gold and bright gold. Mix them to create a deeper, more dynamic look, or randomize which color you use on which petal.
      4. In this step, add all the detail. Use a backstitch in two strands to add more color to your sunflower's petals and leaves. Work the stitch halfway up each petal to add a little color. Make sure colors coordinate, but show up on top of the stitching you are working over. Work the stems in light brown, two-strands backstitch.
      5. It's time for French knots! Use them to add the final touches to the sunflower's center—advises Gathered. They will give the finished piece texture and dimension. Utilize three strands for each knot and wrap them two or three times to make them chunky (yes, this time, chunky is not something to avoid but the desired effect). Use dark brown color for the outer ring, then green-brown, and finally medium brown in the center. Fill the center in seed stitch instead if you don't fancy French knots.

Image source: Gathered
      6. Are you satisfied with the achieved results? Let's finish this adventure with style! First, press your embroidery and cut the fabric, so it's 5cm bigger than the outer hoop all around. Now, mount the fabric centrally back into the hoop. Finally, work a running stitch around the edge of the fabric and pull it tightly to gather the fabric behind the hoop and hold it taut.
Were you ever daydreaming: If only I could include a toothsome sunflower and an elegant sunset in one embroidery design. 
Wait…
Fancy this "Sunflower Embroidery For Beginners" by Let's Explore? We are crazy about this pattern:
Gathered has more embroidery ideas and inspirations to share. Embroidering socks with Peking Knot stitch is only one of them; check it out on Gathered.
All in all, whether you do embroidery on canvas or socks, there are thousands of free embroidery designs to explore. 
"14 Sunflower Embroidery Patterns" on The Spruce Crafts is one excellent source of free and paid designs for your project.
Click on Etsy to glance at this rustic cute-looking idea for a pattern (see the photo below). It's perfect for the intermediate-skilled embroiderer, able to use 16 different stitches and play with various textures and techniques. This embroidery project can be framed, stretched over canvas, or stitched onto an item such as a pillow or bag.  
You pay 8$, and you get:
a printable simple sunflower embroidery pattern of approximately 8×8 inches square, and

five pages of photos, 

a supply list (not supplies), 

suggested thread colors, 

a stitch key and 

a website link for how-to video tutorials;

Image source: Etsy
What about embroidery designs sunflower designs in a jar? A Lively Hope has something for you—a sunflower embroidery pattern-free pdf which you can download from the author's Google Drive directly.
Let us know how it went!
Finally, not to miss—sunflower ribbon embroidery.
Shagufta Fyms takes us through the process of making a fabulous small sunflower embroidery with the use of ribbon:
There is so much more of it! For the ever-flowing visual inspiration, jump to this sunflower embroidery Pinterest search. 

Image source: Pinterest
Sunflower machine embroidery designs
You may not be a fan of hand embroidery, and we get it. Luckily, an array of sunflower machine embroidery pattern options waits to be downloaded from any chosen embroidery library.
You don't believe us? Just go to Embroidery Designs and browse through many sunflower-related patterns. 
Their cost ranges from 1 to 4$, so you won't go bankrupt immediately. The question is whether these patterns will get your creative juices flowing because that's the whole idea and starting point!
While purchasing any sunflower embroidery template for your embroidery machine, make sure it comes in the format suitable for your appliance. 
Machine embroidery designs come in many formats, which are suitable with a specific brand of machine:
for Janome, it's JEF,

Bernina—ART,

Husqvarna/Viking—HUS. & VP3. & VIP,

Brother/Babylock/Deco—PES / PEC,

Singer—XXX,

Pfaff—PCD / PCM / PCS,

Tajima—DST,

Melco/Bravo—EXP, 
and others;
We elaborate on these formats in our embroidery patterns article on the Super Label Store blog. 

Image source: Embroideries
Are you bored with small designs? Here is a big project for crafters who like a challenge. 
The "Sunflower Table Runner Machine Embroidery Design Sew Along" by Sweet Pea Machine Embroidery Designs is a complex enterprise, but your effort will pay off. If you don't trust our word, watch the video's beginning or end.
If you go to the YouTube website directly, you will find a link to the file for an instant download. Your purchased files will include all file formats (except ART—Bernina) and all instructions (in English and German), including fabric requirements.
You can buy this design on SwPea for 12$. It's suitable for the 4×4, 5×5, 6×6, or 7×7 size hoop, and you can use a regular sewing machine to make it.   
With this project's blocks, you can alternatively make a placemat, coaster, table runner, quilt, cushion/pillow, machine cover, etc.
You can always add embroidered names, words or verses, or any other embellishment to your project if you want more attractions (such as beads, ribbon, sequins, etc.).

Image source: SwPea
Check out also this curious and original "Kansas Hand Embroidery Pattern PDF" (Pinterest). 
Otherwise, consider purchasing this plain, delightful "Sunflower sketch embroidery design" for $2.90 on Machine Embroidery Geek (see image below). It's chic and super quick to stitch out.

Image source: Machine Embrodery Geek
For a very original idea of a sunflower, make sure to get familiar with Tigley Textiles and their article "More Top tips for Machine Embroidery—stitching a sunflower" by Julie Brand.
So, which technique convinces you more, free sunflower hand embroidery patterns or sunflower machine embroidery design ideas?

Image source: Tigley Textiles