Sew it. Wear it. Love it! Learn everything you need to know about sewing vinyl fabric at home.
Do you ever find yourself looking at a piece of fabric and thinking, "I could make this into so many things!"
Well, we've got great news for you: there is a material that can help you be more versatile with your sewing projects. Vinyl.
Vinyl is a common material for clothing, upholstery, and other household items.
Crafters often use it to create projects like totes and wallets because it's easy to work with, and you can use it to make anything look unique. It's also great for creating projects with a lot of detail and texture.
Sewing vinyl can be trickier than working with other fabrics. Understanding how to sew vinyl is important so your finished product will look professional.
In this article, we will help you learn everything about sewing Vinyl by hand or machine so that you can master your next craft project. You will be amazed by how versatile vinyl is!
Let's get started.
Introduction to Sewing Vinyl
Vinyl is a popular fabric for apparel, accessories, and home decor. While these types of fabric can be sewn with a regular machine, it is a bit more difficult than other materials.
If you are new to sewing vinyl, this section will walk you through the basics of sewing vinyl material and help you get familiarized with this popular material!
Image Source: MJTrends
What is Vinyl Material?
Vinyl fabric is a synthetic material that is often used in upholstery, linings, and other applications where durability and strength are necessary.
It is durable and can withstand the components well. It is also easy to clean and maintain—wipe it down with a damp cloth!
Image Source: The Independent
Vinyl fabric is often confused with leather because of its similar appearance and feel, but it's a much more durable material that can be cleaned using soap and water or dry cleaning chemicals.
Examples of Vinyl Projects
Here are some examples of sewing vinyl projects that can be used to create various items:
Coasters

Bags

Pillowcases

Tablecloths

Curtains

Bathroom mats and rugs

Upholstery

Placemats

Baby bibs

Seat covers

Toys

Aprons

Purses

Pouches 
What Are the Benefits of Sewing Vinyl Fabric?
Vinyl fabric is a versatile material that can be used in different ways. There are many benefits to sewing vinyl, including the following:
Image Source: Chicago Canvas
Durability
Vinyl fabric is durable, making it ideal for outdoor use. It can withstand high temperatures and other weather elements.
Image Source: Fieldtex Contract Sewing Blog
Aesthetic Appeal
Vinyl fabric comes in a wide range of colors and patterns, allowing you to match your style or decor with utmost ease. It also has a smooth texture that many people find appealing.
Easy Cleaning
Vinyl fabric is easy to clean because it doesn't absorb stains and dirt as cotton does. So spills will wipe off with more ease than with other fabrics.
Image Source: The official Enduratex
Waterproof Protection
Vinyl fabric makes an excellent barrier against water damage when used on furniture or other items. The moisture may cause damage if left unchecked for long periods of time.
Non-Slip Backing
This means that if you're sewing stretch vinyl and making curtains, then they won't slide down onto the floor.
It is because the friction between them is lessened by using this kind of backing, which makes them stay put better than other types of backing materials.
Image Source: Freepik
How to Sew Vinyl Using a Sewing Machine
Vinyl is great for home decor, fashion, and sewing projects. It's available in several colors and prints and is very affordable.
Image Source: Pinterest
The disadvantage of working with vinyl is that it can be difficult to sew by hand. So if you've never sewn with vinyl before, then this tutorial on how to sew vinyl is perfect for you. Follow the steps to learn to sew vinyl fabric.
Step 1: Prepare the Vinyl Fabric
Wash the vinyl fabric in cold water to remove any sizing that may be on it. This is a step that can't be skipped, or you may need help getting the vinyl to lay flat.
Hand-dry the vinyl fabric using a cloth or towel and hang it up so it can dry before you begin cutting your pieces out.
Image Source: The Laundress
Iron both sides of your interfacing and then iron each piece on a separate basis with an iron set on a "cotton/fabric" or "linen/polyester" setting. This will help secure all layers for sewing later in this process.
Ironing does not need to be done again after interfacing has been attached unless it feels like something has shifted and needs re-stitching.
Step 2: Cut the Fabric
Cut the fabric toward the grain using a sharp blade. A rotary cutter or scissors will work well for this step as long as you have a quality blade.
Cut through both layers at once to avoid fraying (do not skip this step!). A cutting mat will keep your work surface safe and prevent snags on your fabric.
Step 3: Add Interfacing
If you are wondering why you should use interfacing on Vinyl fabric, then this step is for you. Interfacing helps give your vinyl a more professional look and feel. Interfacing also makes your vinyl more durable and easier to sew.
Image Source: Best Fabric Store
What kind of interfacing should you use?
You have two choices when it comes to interfacing: woven or fusible. Woven is used for lighter-weight fabrics, while fusible can be used on all fabrics, including thick ones like leather or denim.
If you don't know "how to sew vinyl seams" or use the wrong type, it will result in puckering along the seams or other undesirable results.
Step 4: Sew and Hem the Vinyl Fabric
The next step of "how to sew Vinyl" is to sew the vinyl fabric to the interfacing. You need to sew a hem on the seam allowance of your project. Press the hem and ensure it lies flat against the fabric's surface.
Step 5: Finishing Vinyl Fabric
The last step of the tutorial is to give finishing to the vinyl fabric. This will make it easier to work with and help prevent the edges from fraying.
When you're done, you'll be left with a beautiful, sleek piece of fabric that's ready to use in your next project!
Image Source: MadamSew
Step 6: Use Labels to Give Your Project Personal Touch!
You're making an investment in your sewing project, and you wish to make sure no one else can steal it.
Head to Super Label Store and place your order for customizable
Super Label Store has a large variety of high-quality clothing labels that are perfect for your sewing project.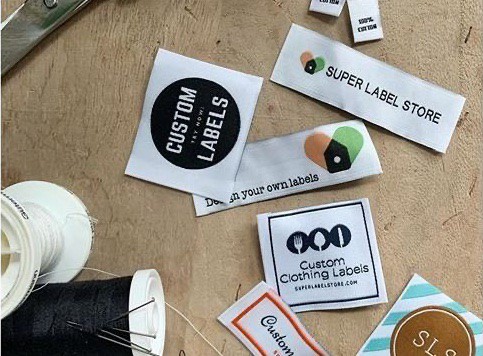 All of our products are created with high-quality materials, which ensure that they will last through the entire life of your clothing. We also offer a variety of different designs and colors, so you can customize them to fit your style!
With our easy-to-use label designer, you can create your own label in no time at all. Choose from an extensive range of fonts, colors, and sizes to ensure your labels meet your needs! Start designing your own labels today for your project.
How to Sew Vinyl Fabric by Hand
Using a sewing machine to sew vinyl fabric is easy, but if you don't have one, there are still ways to get the job done.
Image Source: Sew57Sew
It can be challenging, but with the right instructions and patience, it's not as hard as you think. Follow the steps to learn how to sew vinyl fabric by hand:
Cut your vinyl fabric to the size you want to sew. Be sure to leave an extra inch or two of fabric on all sides so that you'll have enough fabric to sew a hem when you're finished.

Fold over one side of the edge of the vinyl fabric so that it's folded under itself by about 1/4 inch.
Use a proper thread and needle for sewing vinyl along that edge.

This will create a hem on one side of your piece of vinyl fabric. Do not sew through any other part of the fabric beneath the fold.

Repeat this process on all sides of the piece of vinyl fabric until they are all hemmed up. There should be no raw edges showing at all! 
5 Tips for Sewing Vinyl Fabric
Vinyl is a versatile fabric that's perfect for projects like upholstery and bags. It can be tricky to work with if you need to learn how to sew vinyl and adjust your sewing machine in a proper way.
Follow our top tips for sewing with vinyl fabric, and you will be able to avoid major mistakes:
Image Source: Sewing Parts Online
Use a Walking Foot on Your Machine
A walking foot has an opening in the middle, so when you are sewing vinyl fabric, the top and bottom of the fabric are kept separate from each other. This makes them easier to control when sewing.
Choose the Right Needle
Needle size depends on the thickness of the vinyl. Choose a heavy-duty needle if you have a thick piece of vinyl.
Image Source: Martha Stewarts
The heavier needles have larger eyes so that they can handle heavier materials. If you have thin pieces of vinyl, use a smaller size needle with a finer point.
It will go through it without damaging the fabric or breaking under pressure from thicker layers beneath it.
Seam Finish
Don't forget about seam finishes! When sewing vinyl fabric, you can use fusible webbing as an alternative to traditional zigzag stitching along hems or edges.
This will be reinforced against fraying after washing/drying so that your garments hold up better over time without needing constant repair.
Use Strong Thread
Use a thread that's appropriate for the weight of your project. Heavyweight fabrics require heavy-duty thread.
Image Source: Ageberry
Lighter fabrics can use thinner threads or ones made from synthetic materials such as polyester or nylon.
Use a Narrow Straight Stitch and Adjust the Length of Your Stitch
When sewing vinyl fabric, use a narrow straight stitch and adjust the length of your stitch to match the width of your project. Don't use a zigzag stitch because this will result in puckering and stretching.
You can use any straight stitch length setting on your machine, but we recommend using the shortest setting possible for this type of material.
You will need to use longer stitches when sewing over thicker parts of your design or seam allowance to achieve an even seam that does not show.
Simple Instructions for Sewing Vinyl Upholstery
The process of sewing vinyl upholstery is different from sewing other materials, but it's easy to learn.
This guide will show you how to sew vinyl upholstery that looks professional and lasts for years. It's also a quick and easy way to change your furniture's look without buying new pieces.
Image Source: Herculite
Step 1: Cut your fabric into the shape of the cushion or seat that you're covering. If using pre-made cushions, ensure they fit inside the cushion casing before cutting them down to size.
Step 2. Sew the edges of your fabric with a running stitch or seam allowance of 1/8″. This will help keep the seams from falling when washed later down the road!
Step 3. Place your cushion inside its casing and place it on top of another piece of fabric that has been folded over twice. This can act as padding between layers when sewn together later down the road! All sides should be aligned in a proper way so that no wrinkles occur during washing later on down.
Tips for Sewing PVC Vinyl Fabric
With PVC vinyl fabric, you can make anything from jackets to purses to bags.
It may seem intimidating if you're new to this fabric. That's why we've got the five best tips for sewing PVC vinyl fabric that will help you get started.
Image Source: Plush Addict
Needle
Sewing PVC vinyl fabric requires special equipment and a different kind of needle than other types of fabrics. We recommend using a ballpoint needle with a size 70 or 80 (depending on the thickness of your fabric).
Image Source: The Sewing Loft
Don't Stretch Too Much When Pressing Seams Open at All Times
If you're using a PVC vinyl material, it's best to pull a little hard on seams while they're being pressed open. They could tear at any time during this process due to the stretch.
Stitches
Test out different stitch patterns before starting any major project. Some will work better than others, based on what kind of look you want. For instance, zigzags give you a more casual look, while decorative stitches like dots or lines can add interest.
Image Source: GoldStar Tool
Prewash
Don't forget to prewash your fabric before you start sewing PVC vinyl fabric! This will make it easier to work with and reduce the chance of snags or tears while sewing.
Use Pinking Shears
Cut bias strips with pinking shears to prevent fraying at the edges of cut pieces like necklines and armholes. This is where the stress will be there from movement or washing over time (it's also just prettier!).
Image Source: Anicka.design
Don't Use Pins
Use basting tape along the seam lines before sewing so that seams don't change during construction.
How to Sew Marine Vinyl by Hand (for Example, Cushion)
Making a cushion from marine vinyl is a simple process, but it does require some sewing skills. Here's how to sew marine vinyl by hand:
Image Source: Positively Splendid
You will need the following:
Sewing machine

Thread

Scissors or a rotary cutter and mat

Pins or safety pins hold things together while sewing, but you could also use clothespins if you don't have these on hand.
Step 1: Measure the pillow to determine how much Marine Vinyl fabric you need to cut. The fabric should be twice as wide as the pillow and twice as long.
Step 2: Cut two pieces of fabric for both the front and back of your cushion/pillowcase. You can use different colors or patterns if you like!
Step 3: Next up: trimming the seam allowance down to 1/8 inch. Use a small ruler and sharp scissors for this task. If you're hand-sewing your cushions, you need to cut the extra fabric away now. Do not trim it after, as it would make it difficult to turn your cushion inside out.
Step 4: Now, sew two pieces on opposite sides of the square so that they overlap each other by about half an inch.
Sew two pieces of heavy-duty elastic to two opposing corners of the square. Leave enough room to fit your hand inside when you're done stitching it down.
Step 5: Put your hand through the open end, then stitch around all four sides with an overlock stitch or similar technique. It will be 100% secure and close.
If there are holes along either side where there isn't any stitching, then go back over those places until a thread covers all four sides.
Tip: When stitching marine vinyl by hand, make sure you go slow! It's tempting to try and rush through this process because it can take so long.
If you go too fast, then it's easy for mistakes to happen along the way. This will result in uneven stitching or fabric bunching up inside seams, causing problems later down the road.
Step 6: Turn your cushion cover inside to look like an envelope with four flaps sticking out from each side. Make sure that all corners are folded in a proper way before doing this step so that they don't get lost in between layers during this process!
Image Source: Positively Splendid
Conclusion
If you want to add versatility to your sewing projects, using vinyl fabric may be the perfect way to do that. Vinyl is a popular fabric that can be cut into different shapes and sizes and sewn together.
With the above-listed information, you now have complete knowledge of sewing vinyl fabric at home. The next step is to apply the knowledge gained from reading this article.
Vinyl is an excellent choice when you're looking for a material that's easy to work with but still adds style and flair to your finished product.
It is also a great material to work with as a beginner sewer. It's durable, washable, and easy to care for. Since it's flexible, you can use it to make anything from bags and wallets to aprons and even clothes!
So what are you waiting for? Get started on your first vinyl sewing project!
Happy sewing!