How to Achieve a Guaranteed Success at Sewing? The Power of a Sewing Table
If you can't help but sew in your spare time, you've noticed the importance of the right sewing table―preferably with handy storage. 
You'll see no satisfactory sewing session without a reliable sewing table. The one that keeps the machine sturdy in place and leads the whole creative process to the happy ending.

Image source: DesignMyCostume
Yet, if you only wish to begin your sewing experience, wonder how to sew, and don't know where to start, learn to sew with SuperLabelStore. 
When your first garment is ready, don't forget to reach for these custom woven labels and care labels. In the final stage, nothing adds to the professionality of your clothing design more than a personalized label. 
The power of a sewing table
As a sewing enthusiast, you've probably researched the tools needed and got yourself a sewing needle, sewing basket, and sewing clips. What about the most essential part of the whole experience―the one and only sewing table? If you're still looking for one, let's take this road together. 
A professional sewing room is composed of:
a big sewing table where you can put a sewing machine,

a table for laptop and printer,

a cutting table,

an ironing table,

a cabinet with lots of storage;
One piece of furniture covers all these tasks in an ideal world. And this is where we're heading to.
A sewing table is a work table or desk that helps to keep all sewing materials in place. To keep it even better organized, it often has an extra bag or pouch for needlework.
What counts in this department?
enough storage, 

large enough workspace, and 

durability

―whether a sewing table

handles well our sewing projects;
A wobbly sewing station that one can't rely on is the worst option for sewing enthusiasts. On the flip side, the right sewing craft table (also known as a sewing work table) can redefine the whole experience. 
There is no doubt that having a well-equipped sewing cabinet is at the top of the best sewing tips and tricks. 
Who knows, maybe the update of your sewing room apparatus will take you from the sewing hobby to successful sewing business.

Image source: Olesia Buyar on Unsplash
A short history of a sewing table
At first, before the sewing tables or sewing machines appeared, women kept their accessories in bags or baskets. 
'The history of the sewing table dates back to England, 1770, and later in the US after the Revolutionary War'―we read in the pages of DesignMyCostume.
Most of the first tables served as storage and handy, firm surface for keeping: 
needlework

macramé, 

crochet, 

paintings, 

basket weaving, etc.
The tables developed in America at that time were made of mahogany. In that period, women would sit around the sewing table and work together.
But the proper sewing table was only about to appear. 
'It was in the mid-19th century that sewing machines came into existence. So the sewing tables were altered in a way that they could house a sewing machine as well. 1868 marks the establishment of the Singer cabinet that emerged as a contractor for sewing tables'.―DesignMyCostume continues to tell the epochal story of a sewing table and co.
Types of a sewing table
We've been installing sewing machines on various types of sewing tables since the dawn of time. In 1790, when Thomas Saint patented the early sewing machine, there was already a table to it.  
Sewing without it is not only not convenient, it's just impossible. 
Sewing tables vary in the plenitude of features: 
construction,

portable or static,

size,  

storage space, 

foldability,

color and visual design; and so on 

Image source: SeasonedHomeMaker
While it's hard to describe all the sewing tables invented by creative humans, we can have a look at a few of them to explore this area in more detail. 
Folding sewing table
If you like your sewing table to be portable or you need room for other activities in your sewing place, consider the folding sewing table. 
The folding or collapsible sewing table has the one advantage that no other has―it can hide when it's not needed. 
Creating a sewing cabinet with fold out table is a common practice, not only in small apartments. 

Image source: HistoryInHighHeels
Pros and cons of this sewing idea? Let's tackle them with a helping hand of Thefallenhem:  
Pros
Cons
Having the possibility to store a sewing table is a particular trait of this furniture. If sewing is not your daily practice or your living space is not the biggest,
think about this model. 

The good thing about this kind of sewing table is that when your space is limited you can fold it up and tuck it away in a corner anytime.

Comes in risky when it comes to stability. 

Consider that a sewing table should be a support for a heavy sewing machine and its stability is of utmost importance. 

The folding sewing table will be more affected by the movement of the machine. 

If you're on a budget

―go for it!

Folding sewing tables are less solid and durable which also makes them more affordable.  

Folding sewing tables exist to take as little space as possible. For the same reason, they aren't equipped with spacious storage. 

The construction of folding tables weighs less than that of an average sewing table. It's easy to move them around the room, house, or even to the other building if needed. 

This type of sewing table has a lightweight construction. It means that their durability also isn't the best compared to others. 

Image source: DEVN on Unsplash
Cabinet sewing table
The most classic dedicated sewing workspace has one name―cabinet sewing table. These models go together with standard sewing machines. These days, you can find them mostly at hobbyists or small sewing shops. 
The whole process isn't a mystery. You place the sewing machine atop the working table. Then, you connect the machine to it, and you're ready to go. 
This kind of sturdy elegant table will stay with you for a lifetime. The Arrow brand is the one most likely to be mentioned in this department.
Does its vintage, chic style place it among one of the 10 reasons to start sewing clothes? Custom woven labels by SuperLabelStore are one of these reasons without doubt. 

Image source: Sewmyplace 
Leaf sewing table
As we read on SewingIdeas, it's a small version of a sewing table. A palette of plain designs leaves room for minimalistic tastes. 
When it comes to the weight support―consider using a rather small sewing machine to keep it safe.  
Sometimes, this model comes with a separate drawer for the better organization of sewing accessories.
If it's not one of the classy vintage luxury items, this type is among rather cheap sewing tables.

Image source: AssetsVinterior
Quilting table
Larger in construction because you use them to work with big pieces of textiles. They often also have an option to expand the surface to enable working with quilting materials. 
Read on WhitfieldSewing a step-by-step guide on how to build a cheap sewing and quilting table.

Image source: Whitfieldcongress
Rolling sewing table
This type of sewing table has this one undeniable advantage that is hard to overlook. Every time that it needs a push (a literal one), it takes no effort to change your working station in a second. 
To say that it's portable is not enough. You can almost go for a walk together!  

Image source: Pinterest
Compact sewing table 
The most accurate description of a compact sewing table boils down to it being as concise as the material it's made of lets it be. 
These types of sewing tables (just like the folding sewing table) will get smaller to free up space in your work area. 
Yet, if you dream about a solid sewing table with drawers, this one won't do the job. 
Other sewing tables
Besides the main categories of sewing tables mentioned above, there are plenty of DIY pieces of furniture that are hard to list. See these twelve examples on AndreasNotebook. These self-made sewing tables' projects give a taste of creative opportunities in this amazing design branch. 
Are you daydreaming about a white sewing table or l shaped sewing table? Possibilities are countless! 
How to choose the best sewing table?
What to think about before getting yourself a brand new or DIY sewing table? We want it to have a high quality, fit our needs, and serve well and long. How to find the right one?
Here's what you need to discover on the road to victory (for more, check this TheFallenHem guide). 
Feature
Description

A large amount of surface space

If you go through these sewing room ideas, you'll see that space is everything. 

The abundance of a room to spread out is a luxury that only the best sewing table will have to offer. 

Think about:

pinning pieces of a project

sewing large sections of material

cutting fabric

None of these activities will have enough room to take place without a large surface. 

Several cabinets and drawers

Why is it so important? It's simple―having your tools, materials, and unfinished projects, at hand and organized is the highest convenience. The one that only the best sewing table can provide. Not to mention, that it does miracles for the efficiency of the work. 

What differentiates the best sewing tables from average ones? They usually have larger surface areas and more storage.

Durable surface

When it comes to high-quality equipment, this point is central. 

While sewing, you'll work with:

heavy sewing, quilting, or/and serger machine 

computer

needles, 

scissors, and

other tools, 

so the sewing table will be exposed to:

scratches, 

heat, and 

stains;

There is no way to accept a sewing table that doesn't represent exceptional durability and resistance.  

Airlift mechanism

Surprising as it may sound, there are sewing tables equipped with the airlift mechanism. 

It provides you with the facility of height change to carry out flatbed or free-arm sewing machines with all comforts. 

If you can afford it, go for it! 

Read more about it on DesignMyCostume.

Portability

This feature is not a must-have but it's worth considering if you want to find the best sewing table for your needs. 

A portable sewing table is a tremendous idea if you live in a small flat or if you want this piece of furniture to move from place to place inside the apartment (maybe it's too hot next to the window in the summer but it's perfect to work there during the dark winters?). 

Some sewing tables and cabinets don't weigh much. If you can't find the perfect one in the shop, do it yourself! Check also this sewing chair description to provide your portable sewing table a good company during working hours. 

Assembly

Experts believe that it's better not to buy a pre-assembled sewing table. 

But also the opposite―if assembling seems too hard, it's also not worth getting into this particular enterprise. Go for one that you can assemble with ease in no more than a few hours. 

Adjustability

There is so much more to sewing than crafting a project with a needle or a sewing machine. You need to iron, put a laptop on the tabletop from time to time, cut the fabric or spread the material on a large flat surface. Sewing projects are composed of several different steps and the option to modify table setups is more than beneficial.

Also, people vary. A small sewing table will be hard to use for a very tall person. An adjustable-height sewing table can change the game. 

When working with advanced sewing techniques it's essential to be comfortable during sewing. One can say that it leads you straight to success more than other sewing tools. 

Whenever you see an adjustable sewing table with legs and shelves able to adapt to your needs, think two times before you let it go. 

Strength and stability

Nothing is more disturbing than an unstable sewing station. It's one of the first reasons to search for a serious, professional sewing table. 

The strong support for a heavy sewing machine is what Tiggers like best. 

When the sewing machine operates at a high speed, unstable sewing tables will start to shake. The sewing machine vibrates so stable support is an undeniable advantage (to the point of being a must-have). 

You don't want your working station to sway while working on a new fancy and precise clothing project. 

Image source: TheSpruceCrafts
You want to pay attention to the qualities mentioned above but not without a thought. The best sewing tables, those that outshine others are the ones adjusted to your personal needs. 
The key to finding the perfect sewing table is deciding which features to make a priority. Do you prefer a large surface over everything else or are you crazy about shelves? 
It's your working station and you'll know it better than anyone. 
After you've chosen the best sewing table, don't hesitate to start sewing! 
Get your sewing kit essentials together, discover a few sewing hacks, and the world of fashion is all yours. In the end, don't forget to check different types of woven labels and choose the one that goes best with your new outfit.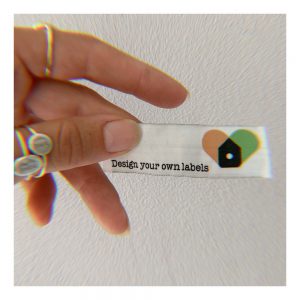 How to upcycle a sewing table?
A sewing desk is often a personalized item―just like a staging of a kitchen for a cook or a hairdresser's equipment for this professional. There are as many possible compositions of an exemplary sewing craft cabinet as there are people. 
As many other areas of design nowadays (see upcycling clothes), the sewing table department also developed its DIY branch.
How to upcycle a sewing table? While the question may seem abstract at first, it's common to transform old or cheap furniture into a custom project. Ready to update your piece of furniture in the sewing cabinet table?  
Let's check a few DIY sewing furniture ideas presented by SewGuide. 
The initial and final item
Description

IKEA table to sewing machine table

IKEA tables are simple and cheap. There is nothing more entertaining than making your first sewing table woodworking project on this base. 

What's more, it appears that you can create a sewing table by buying all the:

wood, 

bolts, 

screws, 

tools, and 

paint 

for less than $150. It not only costs less than the average sewing table available online. This one will also fit your aesthetic needs and the size of your machine perfectly. 

Bookshelf to craft table

Every collector and sewist knows that there are never enough shelves in any furnishing. 

The organization is key. That's why we're about to turn an 18-cubbies bookshelf into a craft table. 

After you're done with this project, your:

notions,

hooking scissors,

seam rippers,

trims, 

other accessories, and

endless yards of fabric, 

will finally find a well-deserved home. 

Which steps to take to go through this bookshelf to craft table transformation?

Take a look at the link below and follow the guide to make your first DIY sewing desk with storage.  

Transformation into a foldable sewing table

Isn't it a dream of many―to have your cake and eat it? The secret of this part of the sewing room is having a foldable table that becomes almost invisible when not in use. 

Your dream folding sewing table portable or stationary can occupy even half of your living space when you work. Yet, when you're done, its folding feature allows for wiggle room. After sewing, you can turn back to common house activities without being bothered by this piece of furniture.

Folding a sewing table seems a great idea (especially in tiny apartments of sewing enthusiasts). Yet, it doesn't have to be easy to create by ourselves without the proper guide. On Tidbits-cami, you'll find a quick and sufficient explanation of the whole process. 

Image source: Tidbits-cami.com
5 reasons why you need a working station and a sewing table 
No one who takes up a new passion has everything at hand from the beginning (well, almost no one). 
Photographers usually start with basic equipment, drivers with a basic car model, and so do tailors. Many sew at first on a card table, office desks, dining room table, and various other (more or less adaptable) surfaces. 
On the SeeKateSew we can read her 5 reasons to jump to the professional sewing station instead of waiting forever for the time to come. 
Recessed sewing machine lift―this little gadget liberates you from backaches and sight worsening. Not to mention being more comfortable and adjusted.

Thread holders―Maybe you're already used to having a plenitude of storage space with the angled and organized threads, but someone without a sewing station still dreams about it and wonders. A place for keeping a rainbow of threads angled right in a pull-out drawer below the desk is what every sewist needs. Even if he or she doesn't know it yet. 

Desk with fabric storage―A little bit of marvelous fabric found here and there can make your day when you start sewing in the morning. If you don't have a working station you'll not have it at hand in such a quick manner though. Imagine a sewing table with large shoebox-size totes and shelves full of fabric underneath the sewing desk. You can sort them by color or put all the fabric for a specific project. 

Image source: Jazmin Quaynor on Unsplash
            4. Notions storage―There is never enough room for storage of accessories. 
            5. Fold-out side table space―The side table is here for a reason. It can act as a run for an iron. Also, it can be perfect for piecing quilt blocks. You can use a mini ironing board or a mat. It can also simply act as a place for keeping a piece of fabric, or pattern instructions close. 

Image source: Mojor Zhu on Unsplash
Sewing table conclusion
There are a lot of possibilities when it comes to deciding on your sewing table design. You can assemble one that you've bought or buy one that's already assembled. You can also go for a custom-built or make yourself an individual project with DIY methods. You can enlarge the one that you already have with wooden inserts. It works great as an extension of the available workspace. You can paint it or add stickers. Discover your options with CraftySewingSew and find the answers to your questions in this department. 
Remember to write down a list of your preferences before organizing a sewing table for your working space. Consider your likings about the size, durability, and number of drawers. You'll also want enough storage to space all your accessories in one place. Take care of this feature, because it will make you feel free to choose every fabric you fancy and keep it for later. It saves you the fear of cluttering your working table (read these tips for keeping your sewing table in order).

Image source: InColorOrder
Reach out to this SieMachtSewingBlog for the complete guide through sewing tables. Take a look also at ClosetCorePatterns to learn how to create your DIY cutting table (with plans) from the beginning.
On the way to perfection with choosing the right sewing table, don't forget your passion for sewing! On SuperLabelStore you will get some indispensable guidance. See these easy beginner sewing projects and 35 intermediate sewing projects to develop your superpower.