Here's the First Step to a Fabulous Career: Pick the Right Sewing Machine for Beginners.
Everything seems gorgeous when you start a new hobby—take the first sewing machine for beginners in your hands, and you'll love it. 
Yet, after the first serotonin influx disperses, you'll start to notice differences between models.
You'll see that the sewing machine you use comes at a different price and has other functions than the model other beginners use. 
At this point, you'll start to ask questions. 
Even if all the machines that you review are labeled "for beginners," they're going to have a variating:
ease of use, 

type of performance they excel at, 

quality, and many other characteristics;
Learning how to sew is not the right time to deal with complex sewing machine options and hard-to-handle machinery. 
After all, when you learn to sew, you're already challenged. 
You'll be alright. We're here to help you find the best entry-level sewing machine.  
So, here's what we're going to tackle below:
At first, we'll go through a couple of burning topics everyone has to face at the beginning of every sewing career. 

In the second part of this article, we'll browse and narrow down the best-rated sewing machine for beginners. Finding the

best cheap sewing machine for beginners made for you is our ultimate goal.
If you feel like it's time to update your home library, check these sewing guides. You'll find them in the "Beginner Sewing Books for People Learning to Sew" chosen by Leslie from Seasoned Homemaker. 

Image source: Travel Her Style
How to track down the
easiest sewing machine?
Let's say you know nothing about sewing machines. Instead, you've always been using simple sewings supplies such as
a thread, 

a needle, and 

your bare (yet infallible) hands; 
Now, you're ready for an upgrade to a sewing machine. 
We know you wish for a smooth ride, and we know why. At this early stage of your career, anything can take your volatile enthusiasm away. And, between us, passion is something really worth caring about. 
We'll do our best to keep this guide simple. 
Check how Tock Custom explains "How to use a sewing machine" on his YouTube channel:
He uses the Singer family mechanical sewing machine called Singer Tradition. 
You'll find everything you need to know about the Singer sewing machine on our Super Label Store blog. See also the Sew Orbit article "Read This Before You Buy Singer 2277."
Here's a quick teaser from the website:
"The device falls into a beginner-level group. It means that the machine is built to accommodate people who have just started sewing. It covers all the basic sewing needs, including 23 built-in types of stitches and a fully automatic one-step buttonhole. So, if you are a beginner, this machine is perfect for all of your sewing needs."

Image source: Drum it Loud
Another video that you'll enjoy is "14 things I wish someone told me about sewing as a beginner" by Evelyn Wood.
That's right; she's found as many as 14 of them!
Now, you have a chance to interweave them into your sewing efforts from the start. Be sure not to miss it:

Image source: Sew Box
Ok, but the question wasn't how to sew. Instead, we asked how to find this one gorgeous beginner sewing machine from your dreams. 
Wendy's "Sewing machines (watch before you buy)" is of great help in this matter:
She explains, among others, why a beginner should stick to these four stitching features:
straight,

zig zag,

reverse,

buttonhole;
Of course, you'll be excited at first by a seller's offer to pick a sophisticated 30-stitch machine.
But do you really need this?
Follow our suggestions to save money on unnecessary features. Also, you want to keep your first sewing efforts encouraging. 

Image source: The Spruce Crafts
According to the Best Sewing Machine Review Spot, there are six critical factors to consider when choosing a sewing machine for beginners.
Ease of use—
sewing machine easy to use
We don't want a new machine to bring us problems. On the contrary, we want to be put at ease. 
A sewing machine must be easy to:
With an easy-to-use sewing machine, you'll be quicker to learn than people struggling with their sophisticated machinery.
If in classes, it will be easy to follow up on your lessons.

Image source: Quilters Review
Cost—cheap sewing machines for beginners
No less important! An entry-level sewing machine should be affordable. 
If it's not, someone is a trickster here. 
You're going to start slowly and get skills in time, so avoid spending much on a sewing machine at the beginning.
You need a reasonably priced sewing machine.
Consider that you don't need all the features of an expensive sewing machine when you start. Dealing with these options will simply bore you out. 
Weight and size—
lightweight sewing machine
Here's a thing: As a beginner, you will most likely go to classes. 
We know that there are loads of excellent online video lessons. You can also read:
and many other sewing topics on our blog; 
Yet, eventually, you'll want to meet sewing teachers and other students in person.
It won't be easy with a piece of five-hundred-kilo machinery full of expensive accessories!
Moreover, a heavy machine will make you less motivated to attend classes.
Yet, if your machine is too light, it isn't such great news either. This feature makes your machine less sturdy, and, as a result, its lifespan will probably shorten.
Remember that any heavy or industrial sewing machine won't make it without the right sewing machine table. 
Also, be smart and equip yourself with a hard carry case! It will make mobility easier.

Image source: Old Singer Sewing Machine Blog
Type of a
simple sewing machine
With so many sewing machines in the market, it's understandable that some of them will suit entry-level users better than others.
Mechanical machines are relatively more time-consuming. Yet, as more traditional, they're well-suited for learners. These are also much easier to handle when it comes to sewing machine repair. 
Electronic sewing machines (also known as semi-computerized) save your time. Yet, your skills will differ from those of people who used traditional models for their learning. You may have tiny issues tackling traditional sewing machines later. 
A highly computerized machine isn't bad for beginners, but it won't give you a chance to learn basic skills. It will distort your learning process. 
A semi-computerized sewing machine or mechanical sewing machine is the best choice for beginners. 
You learn some basics, and you're aware of how to step up your game if needed.

Image source: Fashion Revolution
Do you know any other way to step up your game?
Super Label Store brings to the table an exciting opportunity to help you stand out. 
Check out custom, chic labels made especially for you. You can design your woven labels from scratch using a user-friendly configurator on the site. 
Create different types of woven labels, custom hang tags, and care labels. 
Super easy, super quality, super custom, super low quantities—four super features for your fashion projects today!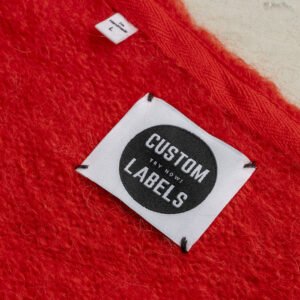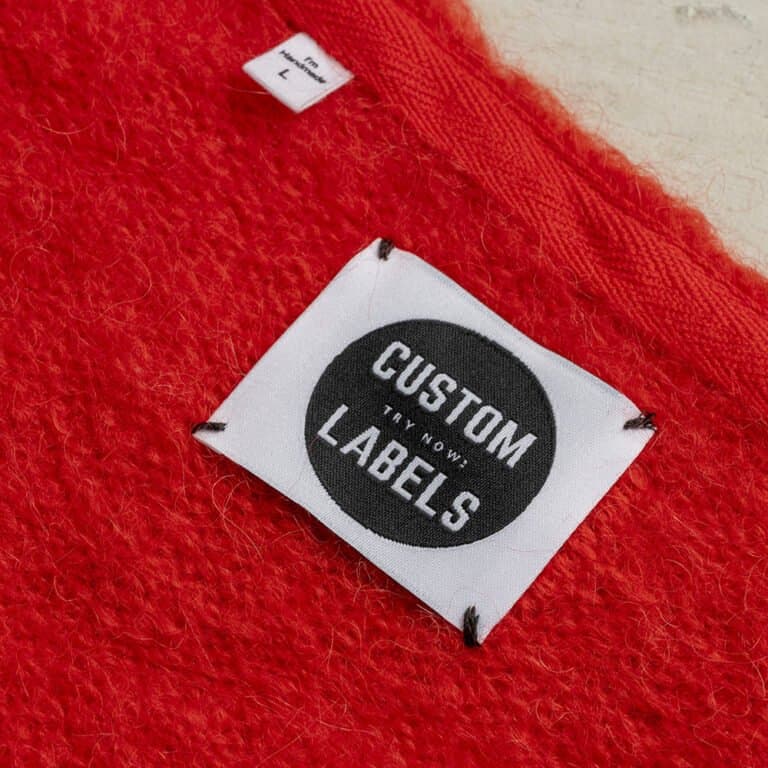 The noise level in a sewing machine for beginners
Why would an accurate noise level be so important for beginners?
Some sewing machines can be a bit too loud. 
If you're looking for ways to silence the sewing machine you already have, check these six methods shared by June on A Quiet Refuge. 
It may be something as simple as moving your machine to a different place, reviewing your maintenance practices, or checking if a piece of thread is blocked somewhere inside the machine.
But if you're at the stage of choosing a new machine and you want to make sure it doesn't bother you, keep in mind that: 
As a rule of thumb, a mechanical sewing machine produces more noise than a computerized one. 
The point is to avoid any sewing machine that produces irritating, continuous noise. 
It's vital for beginners who want peace of mind to follow instructions they read or hear. 
Number of stitches in the best starter sewing machine
According to Leslie from the Seasoned Homemaker:
"The key is not to be seduced by the number of stitches but rather choose a machine that includes stitches that you will actually use. At the core of sewing, you really only need two stitches to sew well: A Straight Stitch and a ZigZag Stitch. Almost all sewing can be accomplished with either of these stitches. That said, there are a few additional stitches and/or stitch features that I believe make sewing a little bit nicer."
The essential stitches (and, more often than not, present already in the machine you buy) are the straight stitch and zig-zag stitch. With these two stitches, you can do any form of sewing.
Best Sewing Machine Review Spot suggests not to be caught up in the craze of buying a sewing machine with too many sewing stitches. The thing is, you may end up overspending and hardly ever using them.

Image source: Discover Sewing
The point is to choose carefully.
If you're a beginner, review all the features and don't go overboard with the price or sophistication of your model. 
Just take it slowly. 
An Italian saying goes: "Chi va piano va sano e va lontano," meaning "Who takes it slowly, remains healthy and gets far."
A
starter sewing machine—other tips
Above, we mentioned a couple of handy tips. Any other suggestions?
Here are the five top features of the best beginner sewing machine, according to Sewing Machine Portal.
Do they overlap with the findings from the table above? 
Let's find out:
Feature
Explanation
Extra tip

Stitches count

How many preset stitches are you getting in your new machine? Check how many stitch patterns come with a machine. 

The more presets you have, the more time you save while working.

Presser foot choices

Presser feet give you two things:

increases the usability of your machine,

decreases time sewing takes;

Consider sewing machines with several presser feet.

Noise

Sewing machine's noise can be annoying—especially if you work long hours on it.

Choose the machine with low noise or no noise.

Accessories

With more accessories, the use of the machine becomes more convenient and manageable. Yet, it can also be the opposite—learning how to handle them may become an unnecessary burden.  

Adjust the number of accessories in your machine to your preference and skills. 

Build quality

The build quality ensures the durability of your machine. Also, sewing machines with a heavy solid metal structure are more sturdy and durable.

Pick a machine with a rigid body if you sew a lot and have ubiquitous pets or kids playing around.
As Sewing Machine Portal's authors mention: 
"Sometimes a less-expensive product can perform exactly as you want, and sometimes you can end up buying a not-so-satisfactory product with a lot of money." 

Image source: A Quiet Refuge
Evelyn Wood shares a piece of advice on "How to Choose a Sewing Machine – 3 Tips what to look for when buying a sewing machine for beginner":
You may also check what Lydia Naomi has to say about choosing a sewing machine for Beginner Sewing 101.
Besides great tips for choosing your best basic sewing machine, she presents eight popular well-rated models. These machines are mostly under $300 from Singer, Brother, and Janome. (in case the price is the last thing you think about, check "Glamorous Sewing Machines For The Ultra Rich" on Elite Choice) 
We will discuss particular easy sewing machine models in detail in the paragraph below.  
Top sewing machines for beginners
What is a good sewing machine for beginners?
We've conducted in-depth research in the entry-level sewing machine market. Its goal was to identify a couple of worthy pics of top-rated sewing machines for beginners.
Are you wondering what the key was?
We've confronted several websites and picked only their highest-scoring choices. 
Stay with us to get to know the ultimate sewing machine for beginners' list.

Image source: Prima
Not surprisingly, the tops of these lists are occupied by the most renowned players:
If you find the easiest sewing machine to use and it's also affordable, don't think twice!
Here's the table that honestly answers the burning question: 
What is the best sewing machine for beginners?
Among the top good basic sewing machine models are:
Machine model
Comment

Singer

7363 Confidence Sewing Machine

According to

Good House Keeping

, this machine is "perfect for the beginner sewer with ambitions for more advanced projects." See below why exactly it's called the best overall sewing machine for beginners.

Singer Start 1304 Sewing Machine for Beginners

"Easy to follow controls with an accessible backstitch" is what this model stands out for. Read below what else about this machine impressed experts. 

Brother XM2701

The Brother is known as the best for beginners on a budget (currently $144.00 in Walmart). Keep reading to discover which features amaze

She Likes to Sew

in this best budget sewing machine.

Janome 2212

The Janome brand has loyal fans across the globe. This basic sewing machine for beginners is high-quality, dependable equipment. Its fair price shouldn't discourage you. In fact, it's just a couple of bucks higher than other

Walmart sewing machine

models.  

Brother CS6000i Sewing Machine

Here comes another Brother.

"A computerized beast with no sense of its own but is highly capable of carrying out every of your commands exquisitely with epoch-making additions."

—this description says it all. (by Sewing Spider)
But there is much more on the market than these leading brands. 
Some websites point out 
HNESS Multi Electric Mini 4 in 1, 

CS141WPU Portable Mini Sewing Machine, or 

Pfaff Smarter 160s;
These may be picks for you if you're a beginner looking for your best sewing machine. They may not be as popular as the ones we shared in the table above, but still worth your attention. 
Various other brands may also appear a great fit and bring you a lot of satisfaction:
See also Wirecutter sewing machine selection on NY Times. As "the best sewing machine for most beginners," they chose Janome MOD-19: 
"This quiet, affordable sewing machine stitches a variety of fabrics evenly, with enough speed variation and specialized features for beginners or casual sewers."

Image source: Business Insider
We've created this chart of the "overall fantastic" best simple sewing machine for beginners list. Yet, many experts divided the best beginners machines into further categories. So, they selected, for example:
The best lightweight sewing machine for beginners: Brother XM2701

The best budget sewing machine for beginners: Janome 2212

The best heavy duty sewing machine for beginners: Singer 4423

The best compact sewing machine for beginners: Brother XL-3750, and so on!
(by Quilters Review) 
Others will select the best portable sewing machine for beginners, the best leather sewing machine, the best embroidery sewing machine for beginners, etc. 
Anyway, let us stick to the best overall pick. If you wish to take this review adventure deeper, follow the links we share along the road. 
Singer 7363 Confidence Sewing Machine
Why is this one such a blast? Check this out:
In the Singer Confidence 7363, there's a drop-in bobbin instead of the standard style for easier threading.

The speed of this easiest sewing machine for beginners is adjustable to avoid it going too fast when learning.

There is a start/stop button to stop suddenly in case you've made a mistake. 

You can adjust the tension by hand, but it will also automatically adjust to different fabrics.
Doesn't it sound like they made it for beginners to thrive?
But this machine has also: 
100 stitches, 

six buttonhole options, 

a built-in needle threader, and 

a programmable needle up/down;
So as you advance, you get all the valuable options without having to change the machine. Sewers call it "This machine grows with you."  
With Singer Confidence 7363, you're ready to make:
clothes, 

quilts, and everything in between;
"We love that"
—underline authors at Good Housekeeping. 

Image source: Gumtree
Singer Start 1304 Sewing Machine for Beginners
Singer monopolized the top of our chart with the first and second Singer starter sewing machine.
This model was picked as the best overall also by She Likes to Sew. 
It's hard to say if Singer 7363 Confidence or Singer Start 1304 is the best Singer sewing machine for beginners. Yet, we know that Singer Start 1304 has an impressive set of features:
easy to follow controls with an accessible back stitch,

only seven pounds of weight (compact, easily portable, and perfect for small spaces)

includes multiple bobbins with an automatic bobbin winding, presser feet, and

sewing machine needles

;
It's affordable, durable, and effortless to use.
"Plus, it has over 4,500 rave reviews on Amazon with reviewers saying it's "perfect for beginners" and an "excellent investment."
—claim Good Housekeeping.

Image source: Sewing Machine Fun
Among the reasons to buy Singer Start 1304, experts list:
57 stitch applications and six built-in, pre-set stitches. 
When you choose a stitch, you won't have to deal with adjusting the stitch width and length as it gets adjusted automatically. 
You pick a stitch and simply get to sew!
The six preset stitches include every option you'll need for:
clothes sewing, 

alterations, 

home projects, 

creating buttonholes, or

sewing different kinds of

sewing fabric

together;
Automatic winding means that the bobbin stops turning automatically once it's filled.
Otherwise, a handy diagram on the top of the machine will tell you how to wind the bobbin when needed. 
Accessories—this model stands for a lot of versatility for an affordable price. 
"There are things that you've never thought you'd need, such as various sewing feet (for different purposes – like zippers, buttonholes, and so on), packs of needles, even lint brushes, and screwdrivers – are included in the purchase!"
—points out Kristina Pearson from She Likes to Sew.
Compact 
Are you looking for a portable sewing machine for beginners, which is also the best small sewing machine? This model is a perfect choice. 
Take this lightweight appliance with you to the sewing lesson or stick it in a cupboard without problems.
Warranty 
Experienced players will appreciate this feature. 
Singer Start 1304 comes with:
a 25-year limited warranty on the sewing machine head, 

a 2-year warranty on parts, and 

a 90-day warranty on accessories;
On the other hand, there is also a tiny reason not to buy this machine:
Weak, lightweight needles may not meet your needs, so you may want to buy some heavy-duty needles separately if you work with tougher fabrics.
Read the exhaustive review of this Singer basic sewing machine, "Singer Start 1304 Review – Personal Experiences" by Aly on Sewing Machine Fun. 

Image source: Outdoor Happens
Brother XM2701
Brother XM2701 has a lot to offer. We divided the table below in half to review clearly the pros and cons of this model:
Pros
Cons

It's perfect both for:

beginners, and 

advanced level sewists;

There is no sewing controller

Features as many as 27 in-built stitches with 63-stitch functions

This model doesn't operate the computerized function

Stimulates your' innovation with six quick-changing sewing feet

No dedicated protective case is available on the market

Comes with a drop-in top bobbin with a jam-resistant capability

The lightweight design and plastic parts might feel a little cheap, but it's just an impression, as this machine is highly efficient. (by

She Likes to Sew

)

Contains easy threading and stitch selection mechanism

Sewing tough fabrics might not be the best idea with this machine.

Contains a LED light to make the sewing easier

Some users complain the LED light is a little dim (you may need to buy additional lighting).

Comes with an instructional DVD
Now, let's have a closer look at some of these features. 
Brother XM2701 Sewing Machine is believed to understand everyone's needs. 
For beginners, this model is great because it simplifies the learning process. 
It will also fully satisfy the needs of experienced sewers by
being nicely versatile, and 

offering the ultimate sophisticated collection of features;
A pleasing set of stitches
You'll be excited to try out 27 in-built stitches, each dealing with a specific type of sewing, for example
decorative—an expert at decorating clothes,

zigzag—matchless for creating zigzag lines,

the stretch—fabulous in producing zigzag lines in a more contracted way.

blind hem;
You can choose the stitch options by simply turning a dial.
Let's see what Brother Sews USA says about this Brother beginner sewing machine:
The next feature, still according to Sewing Spider is
The more straightforward threading system
In this machine, they simplified the threading system, and a needle threader was made automatic.
A slight touch on it is enough to get the needle threaded automatically. Also, there is a number diagram printed on the machine for easier threading.

Image source: Sew Sew Lounge
Quick-changing feet
This best Brother sewing machine for beginners features six quick-changing sewing feet:
zipper, 

buttonhole, 

zigzag, 

button sewing, 

blind stitch, and 

narrow hemmer,
to complete any project, regardless of its level of advancement. 
With these, you not only do your work faster but also grow creativity.
Quality bobbin
A unique "top drop-in bobbin" ensures that:
the bobbin is in a firm position,

you get the required stitch top quality;
Convenient 1-step buttonholer
What does this magical trick comprise?
It allows you to produce custom-sized buttonholes!

Image source: Threads Magazine
Handy LED
This machine has an updated version of LED light. 
Users have contrasting opinions on the matter of light in this model. Some claim that the LED in this small sewing machine for beginners is too dim. Others say that "it is not excessively bright to cause irritation to their eyes." (Sewing Spider) It's up to you if the glass is half empty or half full.
Janome 2212
"You can't go wrong investing a little more in a sewing machine like this one."
—says Emily Stübing from Travel Her Style. 
A lot has been said about Janome 2212. 
Its $189 Janome 2212 proposition, known for being a "mechanical option for starters," can be considered a Janome flag product. 
Janome is one of the leading sewing machine companies on the globe. It provides high-quality home sewing machines at affordable prices since its beginnings. 
What stands out in this invigorating model?
The Best Sewing Machine Review Spot explains:
"This quality entry-level machine will take beginners to the next level in the profession. For a machine weighing around 16 lbs and more mechanical, it's a grab-it-and-go-anywhere sewing machine that will keep you sewing all day. The width adjustment, dial pattern selection, and its simple stitch length make sewing easier. This is a dependable sewing machine ideal for aspiring beginners."
Let's quickly review its pros and cons. 
On the bright side, according to the Sewing Spider:
it comes with a bonus bundle with a pack of 10 bobbins and needles of 14 size,

features a simple to use mechanism of 4-step buttonhole,

provides the facility of adjusting stitch length and width,

it's versatile thanks to a drop feed and free arm,

lightweight and easy to transport;

Image source: Cucicucicoo
Yes, there are also a couple of drawbacks:
you won't be given the facility of automated needle threading and easy threading, but it's still a good sewing machine for beginners,

it doesn't contain any LCD screen and LED,

this machine would probably be even more pleasing if computerized.

you get no protective case and instructional DVD whatsoever;
As a conclusion to this easy sewing machine for beginners, The Best Sewing Machine Review Spot puts it this way:
"If you really want to kick-start your sewing ambitions without being bored by complex features or accessories you really don't need, then choose Janome 2212. Thinking of buying a sewing machine as a gift to help someone kick start their sewing experience, this would be one to consider."
Brother CS6000i Sewing Machine
Oh boy, this Brother makes tops of all the lists we have ever seen. Let's find out why!
In short, this good cheap sewing machine ($142) is a high-quality and affordable option.
Thanks to handy computerized functions, this model is easy to use.
Not to overlook is the wide table—a convenient surface to sew on for hours. 
A response to the question if Brother CS6000i is good for beginners is truly over-the-top (in a good way):
"With an extremely affordable price, this model is the best Brother sewing machine for the money and a budget-saver for novices. Especially for newcomers to sewing, the CS6000i offers a well-designed, easy to understand operating format that soon enables beginners to feel and sew like seasoned pros."
—states Sewing Made Simple.

Image source: Top Ten Reviews
Maybe the only drawback out there concerns the ease of use. With all the fantastic features it has, this model takes some time to get used to. 
It may also come in handy to compare this one of the best computerized sewing machines for beginners with similar models present on the market.
We've asked Sewing Made Simple for a word of advice about the good starter sewing machine alternative to Brother CS6000i and we've put it all on the table:
An alternative to Brother CS6000i
What makes it similar
Comparison

Singer 7570 Confidence 225

computerized,

most features are identical;

This Singer sewing machine for beginners has more built-in stitches than the Brother model. Yet, its cost is relatively too high as for these few irrelevant extra functions.

Janome Jem Gold 660

small, lightweight machine, 

clever features like the automatic needle threader, 

in a similar price to the Brother;

This model hasn't got the range of attachments Brother has. It shows only 8 built-in stitches.

JUKI HZL-35Z

extra quilting foot and drop feed for quilting;

This model's wider detachable table (helpful for quilting and crafting) is sold only as an optional extra feature at an additional cost.

Sunbeam SB1800 Compact

handy, compact, lightweight, 

automatic bobbin winder, a reverse sewing feature, LED lamp, etc. 

You're not getting a detachable wide table for large projects. You also have only 12 different stitch patterns. Use this machine for hemming, mending, and basic sewing projects.
As for sewing machine reviews for beginners, you can't miss this "Brother CS6000i Sewing Machine Review" on You Sew an Sew.
What's the best sewing machine for beginners?
We hope to have resolved this issue for you!

Image source: Express News