Are you ready to sewing doll at home? This beginner's guide has everything you need to know about drafting and sewing a beautiful, unique doll of your own.
The art of sewing handmade dolls at home is a tradition that dates back to the 1700s when women would create dolls using scraps of cloth and old clothes.
These dolls were not just used as toys for children, but also as a way for women to pass down their skills to younger generations. Some historians believe this practice may have been the first instance of "home economics."
Today, many people choose to sew handmade dolls at home as a hobby or pastime. Many people find it relaxing and enjoyable, while others enjoy having something to do with their hands while watching television or listening to music.
Would you like to learn how to make handmade dolls at home? If so, then this guide is for you! We'll show you how to make your own dolls using a few simple materials and easy-to-follow instructions. You'll be able to use these skills to make gifts for friends, family members, or even yourself!
Let's get started.
SUPPLIES REQUIRED TO GET STARTED
Sewing dolls can be a fun and rewarding activity for anyone who loves to create. Before you get started on your baby doll-making project, make sure you have all the materials and tools you need. Here is a guide to the essential materials and tools for sewing dolls:
Materials:
Fabric: There are several types of fabric suitable for doll making. Cotton, muslin, and linen are popular choices because they are easy to work with and come in a variety of colors and prints. Felt and fleece are also commonly used for making soft and cuddly dolls.
Stuffing: Poly-fil or another type of stuffing material is needed to fill the doll's body, arms, and legs. The stuffing should be firm, but not too dense.
Thread: Choose a thread that matches the color of your fabric. Polyester thread is strong and durable and works well for doll-making.
Buttons: Buttons are often used for eyes, noses, and clothing fasteners. Choose buttons that are small enough for your doll's size.
Tools:
Sewing machine: A sewing machine can make the process of sewing dolls faster and more efficient. However, if you prefer to sew by hand, you can skip this tool.
Scissors: You will need a good pair of fabric scissors for cutting your fabric and trimming the seams.
Pins: Pins are essential for holding your fabric in place while you sew. Use straight pins or sewing clips to secure your fabric.
Needles: If you are sewing by hand, you will need a set of sewing needles in different sizes. Choose needles that are appropriate for the weight of your fabric.
Embroidery floss: Embroidery floss is used for adding details to your doll's face, such as eyebrows or mouth.
Marking tools: Marking tools like tailor's chalk or fabric markers will help you mark your fabric before cutting.
Iron: This will help you press your seams and give your doll a professional finish.
Additional materials:
Pattern: Choose a doll pattern that fits your skill level and the type of doll you want to create.
Velcro or snap closures: If you are making clothes for your doll, you will need fasteners like Velcro or snap closures.
Beads: Beads are used for adding embellishments to your doll's clothing or accessories.
Yarn or doll hair: Yarn or doll hair is used for adding hair to your doll. Choose a color that matches your doll's hair.Ribbon or trim: Ribbon or trim is used to add a decorative touch to your doll's clothing or accessories.
Step by Step Instructions on How to Sew a Doll
Whether you're making your first doll or a hundredth, sewing is an easy and satisfying way to make something unique. In this tutorial, we'll show you how to sew a doll's body shape from cloth: arms, legs, head, and torso.
Image Source: Third Eye Chic Fashion
The process can be used for any type of doll—from stuffed animals to Barbies—and is simple once you get the hang of it.
Note: sewing handmade dolls at home does not require any specific skills or training.
Step 1: Cut Out a Front and a Back Pattern, and Pin Them to the Fabric
Cut out your pattern and pin the patterns to the fabric you're using. Now, cut around each pattern with the utmost care, leaving a 1/4-inch seam allowance on the edges of both pieces.
Image Source: Pinterest
Sew the edges together, and repeat these steps until you have enough body parts for all of your dolls.
Step 2: Cut Out the Fabric
Now that you've got different types of fabric picked out, it's time to get them cut. Remember: Cut with care. You want to make sure that each piece is the correct size, shape, and amount of fabric you need for sewing your doll together.
Be sure to cut out both the front and back pieces from their respective fabrics (and don't forget about a seam allowance).
Ensure you're cutting enough material for all the other parts of your doll: A skirt, sleeves/arms/legs/torso, shoes, and hair accessories will be needed in addition to these two pieces of clothing.
The pattern should come with instructions on how much fabric will be needed for each part of your doll's outfit, so there's no guesswork here—just follow along!
Don't forget about any additional details like bows or buttons or whatever else might decorate her outfit beyond just a dress or shirt. Those things are important!
Step 3: Pin the Edges Together
Use pins to hold the fabric together, ensuring that the edges are aligned and straight. Pins are great for keeping your fabrics in place while you're sewing, which can be helpful when you're trying to keep your lines straight!
Image Source: Doina Alexei
Step 4: Sew the Edges Together
The next step is to sew a doll. Place the two pieces of fabric on top of each other, with their right sides together. Sew all the way around, leaving about 2 inches open for stuffing.
Now it's time to close the body!
First, place both pieces of fabric on top of each other, with their right sides facing each other. If you have a brain fart, that means that if you were looking at them from the backside of your doll, you'd see the two layers facing in toward themselves.
Next, sew all the way around them—but leave about 2 inches open for stuffing!
Once this is done, turn your doll inside out and stuff her until she's nice and puffy. Then hand stitch (or sewing machine) up that little hole on her bottom to ensure nothing gets loose during all that rough playtime action!
Step 5: Stuff the Body
Stuff the body as much as you can. Don't overstuff it, but make sure that all of the corners are filled with stuffing. If there is any extra fabric on a seam, trim it off.
For example, your doll may have a little bit of extra fabric at the bottom of her legs or arms after sewing them together.
Image Source: The New York Times
Trim off this extra fabric using scissors and then sew up those seams again so that you don't have any raw edges where the stitches will show when your doll wears clothes in the future!
Make sure to push some of the stuffing into each corner before closing up each seam. This will help ensure that no raw edges show through once she's dressed in clothes later down this road.
Step 6: Hand-sew or Machine-sew the Opening Shut
Now that you've sewn the opening shut, it's time to add some flair! For example, you can:
Hand-sew a button on for eyes.
Sew one or two pieces of ribbon around the neckline and tie them in bows.
Put a piece of fabric over the top of your doll and sew it down at the front and back so that it covers her face. This is called a hood. Then hand-stitch on a nose, ears, eyebrows, and hair using different colors of embroidery thread or yarn.
Image Source: DIY Projects
If you're using a machine to sew closed your doll's openings, make sure that whatever material you use inside is lightweight. Do not add too much bulk, but make it thick enough so that no loose threads are poking out once all three openings have been sewn shut.
Step 7: Use Labels to Add a Unique Element to Your Handmade Doll
You've just finished making your beautiful handmade dolls and want to ensure they look their best in the marketplace.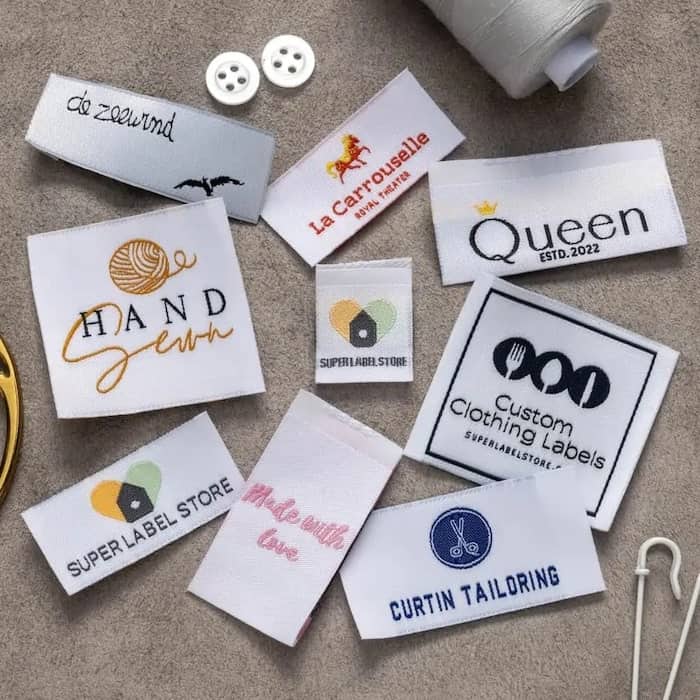 For your handmade dolls, use woven labels, care labels, and hang tags to enhance the presentation and make them more appealing.
At Super Label Store, we have everything you need to get your labels done on time. All of our products are made of high-quality materials that provide durability and reliability.
Order your labels from the Super Label Store today!
Top 7 Doll Sewing Patterns You Can Try at Home
Now that you know how to sew a basic doll at home, you might wonder about creating your own unique doll.
Creating your own doll can be a rewarding experience but also a lot of work. There are many different kinds of dolls, each requiring different materials and techniques.
Image Source: Carol Turner
In this section, we've gathered together some of our favorite doll sewing patterns so that you can get some inspiration and create a unique doll for your little girl!
Here are a few of them:
Whimsical Mermaid Plush Doll Sewing Pattern
Use this sewing pattern to make a stuffed doll that looks like a mermaid. The pattern includes instructions for making the doll and templates for the face and tail.
These free doll patterns for sewing come in three different sizes: small (12″), medium (16″), and large (20″). You can sew a whole bunch of these in different sizes for your little mermaids!
Felt Dress Up Doll Pattern
This felt doll sewing pattern is great for beginners, and it's so easy to customize. It's a tiny doll that you can learn to sew by hand, with simple supplies and some sewing skills.
Image Source: Gathered
The best thing is that this beginner-level project takes about two hours to make, and then you can start dressing it up! You can make dolls with different hair colors or add accessories like hats or scarves.
Traditional Rag Doll
These doll sewing patterns are traditional rag doll sewing patterns used by generations of seamstresses around the world. Check their free pattern or tutorial to create your doll.
Image Source: Funstra
Ragdolls are a staple of childhood play, and this pattern will help you to create one that looks just like the rag dolls from your baby.
It is easy to follow and can be sewn by anyone with basic sewing skills. When completed, it will make the perfect toy for any child.
Pineapple Doll
This beginner-level sewing pattern includes instructions for creating a soft, huggable doll. The finished product measures 18″ tall and has a sweet, smiling face and colorful hair.
Image Source: Lovely Indeed
This doll sewing pattern is perfect for anyone who loves to sew dolls or wants to have fun making a new friend.
It's also great for kids who love dolls but don't want to play with them after they're done. They can keep their creations for years to come!
Girl Boy Fabric Doll
This pattern is for a girl and boy doll with detachable clothing. The doll pattern comes in three sizes: small, medium, and large.
Image Source: The New York Times
The small size is approx. 6 inches tall while the large size is approx. 10 inches tall. The pattern includes full-size patterns for the body parts and detailed instructions on how to sew these pieces together to create your dolls. 
SUPERHERO DOLL PATTERN
Babies and young children are often fascinated by superheroes, as they are colorful and exciting characters that represent bravery, strength, and heroism. Superhero dolls provide a way for children to engage with and explore these themes safely and imaginatively.
This pattern typically includes details on the doll's body shape, costume design, and any additional accessories or features that the doll may have, such as a mask or cape. The pattern is used to cut out the fabric pieces needed for the doll, and instructions are provided for sewing the pieces together to create the finished doll.
SIBLING BOY AND GIRL MATCHING PATTERN
Make lovely Hans and Greta dolls with a detailed instructed pattern from Retro Mama!
All the designs were made up considering the intermediate level. you can create 18-19" personalized dolls following their sewing and stuffing tips, photographs illustrate tutorials. You can change up the style or try a different style with help of customizable pices.
FAQs
Can I sew a doll by hand?
Yes, you can definitely sew a doll by hand. In fact, hand-sewing a doll can be a relaxing and enjoyable activity, especially if you prefer not to use a sewing machine. Though, it will take more time and effort to complete the project compared to using a sewing machine.
To hand sew a doll, you will need needles, thread, fabric, stuffing material, scissors, pins, and any additional materials you want to use to embellish your doll. Sewing by hand can also give your doll a unique handmade look and feel that can be charming and special.
Can I add hair to the doll?
Yes, you can add hair to a doll. This will give the doll a more realistic and personalized look. To add hair to a doll, you will need a needle and thread, and a suitable hair material of your choice. You can stitch the hair directly onto the doll's head, or you can use a wig cap and glue the hair onto it before attaching it to the doll's head.
Can I wash a cloth doll?
Yes, you can wash a cloth doll. Keep in mind that some cloth dolls may be more delicate than others, so it's important to handle them with care when washing. If the doll is heavily soiled, start by spot-cleaning the affected areas with a damp cloth and mild soap. Use a gentle, mild detergent and cold water to wash the entire doll. Gently squeezing the fabric to remove dirt and grime. Avoid rubbing or scrubbing the doll, as this can cause the fabric to pill or fray.
Conclusion
Handmade dolls are a perfect gift for your little girl. They are made with love and bring a smile to any child's face. Your daughter will be thrilled to receive her own handmade adorable doll!
Sewing handmade dolls at home is also an excellent way to get your kids involved in the creative process.
You can also teach them about working with materials and tools and give them a sense of accomplishment as they watch their creations come to life. It also helps develop their fine skills, as sewing requires precision and patience (not to mention all the threading).
If you have the time and patience, then this is something that you should try out. The experience will allow you to get creative and express yourself in a way you may not have been able to before.
Do you have a hard time finding the perfect outfit for your doll? No matter how hard you try, something always seems to be missing from different types of clothes. Then you get stuck looking for hours for an outfit that will fit her in a perfect way—and still not finding anything that looks good enough.
When this happens, it's time to make your own doll clothes! Where do you start? You need patterns, fabric, and thread… What else do you need? How do you know if they'll fit right? What if they don't look good on her?
We've got your back! Check out our handy guide on how to make doll clothes and have everything necessary (including some cute ideas) right at your fingertips!
Happy sewing!