How to Sew on Velcro? Learn Useful Tips with Super Label Store Master Classes
Discovering how to sew on Velcro may not be part of easy beginner sewing projects.
It's rather on the hard side, among advanced sewing techniques.  
Learning how to sew on Velcro will surely come in handy one day, though!
So, let's get to grips with some of the sew on Velcro techniques.
How to sew on Velcro tape on:
sheets,

cushion covers, and 

patches?
Get ready to conquer new sewing lands in the article below! 

Image source: Sew Way
Sew on Velcro: What is it, and where does it come from?
Let's get to know the "enemy" first. 
What is Velcro?
At first, Velcro was a known British company. It was founded in the 1950s by the Swiss electrical engineer George de Mestral.
Then, the product, also named Velcro (invented by De Mestral), appeared and conquered the world.  
Are you inspired by the story of the inventor and manufacturer of popular hook-and-loop fasteners? 
Read more about the beginnings of this project in "The Invention of Velcro" on Thoughtco.com.

Image source: Thoughtco.com
It was in 1941 when De Mestral went for a walk in the Alps. 
He observed burdock seeds clung both to his dog and his woolen socks and coat. 
It made him curious about this natural mechanism. This is how he started his research and a lifelong adventure. 

Image source: Josh Fecteau
De Mestral would spend the next 14 years attempting to duplicate the apparatus found under the microscope.
He introduced Velcro (now also known as hook and eye tape) to the world in 1955. He did it after he finally came across the right technological solution to his idea. 
"Velcro fasteners are made up of tiny hooks on one side and smaller, fuzzy loops on the other. Once these two parts come together, they bind temporarily as the hooks catch and stick to the loops,"―writes Heat Press Guide. 
Did you know that we also call the soft or fuzzy loop side the female side of Velcro?
De Mestral patented his invention and started manufacturing what soon became a commercial product in the late '50s. (Wikipedia)
They even inducted him into the Inventors Hall of Fame for his excellent idea! 

Image source: Fratello Watches
But why do we talk about the invention of hooks and loops mechanism until this day? When did it become viral?
There were a few points in the history of Velcro that made its popularity skyrocket. 
David Letterman made Velcro famous by jumping and sticking to a wall covered in Velcro.

Men In Black and Star Trek announced Velcro was an alien invention. There is even a Star Trek episode called 'Mestral,' where Velcro is mentioned. (read more on

Everything 47

)

Velcro also gained a massive part of its popularity when NASA included it in its program. Discover the story on

Wise Bread

and

Fratello Watches

.

When it comes to fashion, Velcro should be thankful to designers Pierre Cardin and Paco Rabanne. 

Image source: Sewing Is Cool
Sew on Velcro: Introduction
We know how and why it all started. Now, let's see how we can use hooks and loops to our advantage in our daily lives and for sewing.  
Velcro of 5×5 cm can hold 80kg. According to Everything 47, it's an ant-like strength ratio. It means that we can use this material in challenging environments such as
scuba diving,

space travel, 

ski gear, and

children's clothing (maybe the most demanding of them all);
Let's check up with Wise Bread what the ten ways to use Velcro are:
What can we do with Velcro?
Description
How?

Keep rugs in place

Rugs may visually organize the room together.

On the dark side, not secured in place, they often invoke: 

tripping hazards, and

eyesores (think about those rolls at the corners)

The good news is: Velcro will help. 

With the two most common types of flooring:

Wooden floors―use Velcro on both the rug and surface sides if you want to keep your rug stationary. 

Carpets―put the hook side of the Velcro on the underside of the rug to grip the carpet fibers.

You already know that when sweeping or vacuuming, you can remove Velcro easily. 

Keep cables tied up

More and more gadgets surround us, along with the exponential development of the IoT. Yet, that doesn't mean that we're ready to charge all of them.

So how to deal with these ubiquitous cables?

Velcro is a fantastic solution. You can cut its pieces to any size you want (read about scissors in this sewing tools blog). If you have to put your:

printer,

fan,

cooling pad,

cup heater,

computer, etc.

you can always quickly unfasten the Velcro strap. 

Repair handbags, suitcases, and purses

Many bags and purses have one repeating issue in their structure. Their locks tend not to survive for long. 

By smartly applying:

Velcro pads, and 

tough glue, 

you can keep your leather goods closed without revealing the method.
Despite fastening your cables, you can also use Velcro straps to deal with loose:
pens and pencils, 

belts, 

other small tools;

Image source: Cnet
Discover on Wise Bread more ideas for the use of Velcro, such as
make your phone or tablet go vertical,

stop remote controls from wandering,

hide external hard drives,

hang pictures or art,

adjusting children's clothes,

organize jewelry or toys,
You'll find instructions on how to do it on Velcro; sewing supplies: only scissors and staple,
      7. remove bobbles (or pills) from clothing;

Image source: Measure by The Yard
Types of Velcro 
According to Our Everyday Life, we can distinguish four major categories of Velcro. Let's tackle them in the table below.
Category

Description

Products

Adhesive

There are eight adhesive-backed products of that type.

general-purpose "Sticky Back," 

clear, 

sew on industrial Velcro, 

"Ultra-Mate" is strong and thin, 

"Extreme" for porous and rough surfaces, 

"Poster Hangers" are light-duty with removable adhesive, 

plastic-, and 

vinyl-friendly;

Crafts

For sewers, there are other Velcro types available.

Velcro also offers button conversion kits. Read here how to sew a button. These kits convert button-up shirts and other clothing to Velcro fastening clothing by ironing on the Velcro.

a general sew-on form, 

soft and flexible sew-on,

snag-free sew-on, 

"Home Decor" Velcro can have: 

sew-on loop side and adhesive hook side, or 

heat-activated loop side and adhesive hook side; 

      5. "Fabric Fusion" Velcro fuses to fabric with a steam iron;

Other consumer uses

For general consumer use:

pre-cut ovals, 

pre-cut hook fasteners, 

pre-cut adhesive dots;

For garden use, Velcro has plant and tree ties and wraps. They wrap around branches and stems and then adhere to themselves. 

For holiday decorating:

      1. a garland tie (green and red Velcro sew on) that hooks to itself after wrapping around: 

banisters, 

handrails, and 

fences 

      2. packs of Velcro holiday light clips; 

Businesses

For business usage, you can go for a range of products:

adhesive-backed, 

electrical system containment, 

custom floor coverings, 

But also:

Self-gripping products, 

storage systems, 

elastic, 

"Shear Grip" products with a non-woven loop, 

protective covers, etc.
Velcro USA also provides other specialized types of Velcro:
diaper landing zones and "Flex-zone" diaper straps, 

fire retardant, 

double-faced loops for braces and orthopedics, 

health and beauty and personal care, 

knitted nylon loops, 

military, 

Velcro for modular assembly procedures, 

"RF weldable hook and loop" products that adhere to vinyl, 

vehicle seat assembly,

"Ultra Mate HTH" allows the hooks to be sealed with a variety of loops.
Apart from Velcro, what else can you attach to your clothing to make it shine?
Discover different types of woven labels by Super Labels Store and smarten your garments without effort. 
With just a few clicks, you'll level up your DIY creation. 
Choose from:
to transform your handmade garments into sellable products worth their price!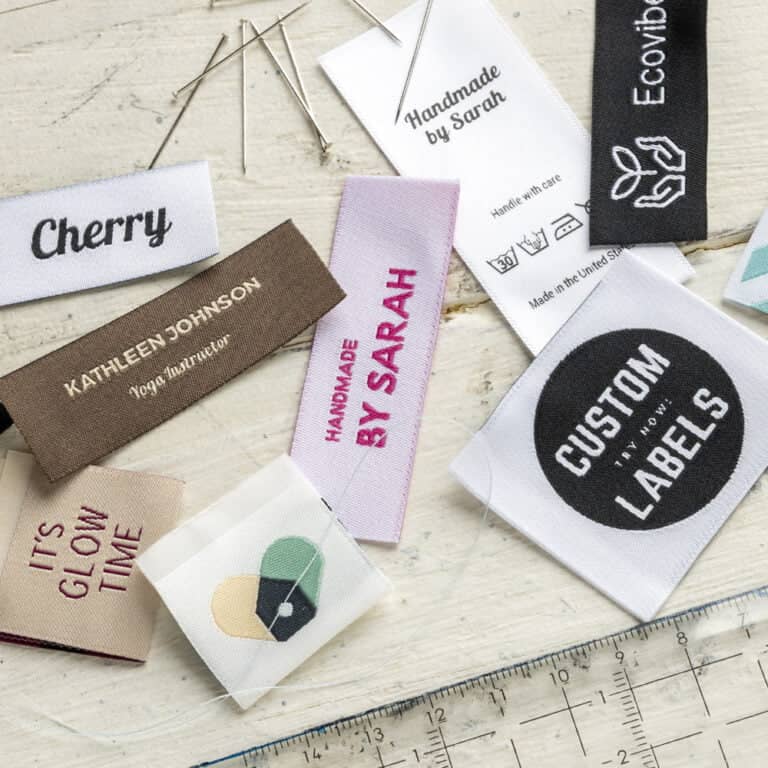 Check out these 35 intermediate sewing projects by the Super Label Store blog. Sew on Velcro sheets may be your next enterprise after going through our guide.
When you're done, reach out to Super Label Store configurator for the extra taste of luxury with customized labels. 
Sewing on Velcro by machine
We already know that Velcro has several uses. But since we're here to learn to sew, the usage that interests us most is creating and upcycling clothes. 
So how to attach Velcro to fabric? 
You can sew Velcro using:
The authors of Measure by the Yard claim it depends on:
personal preference, 

the thickness of the Velcro and the fabric, and 

where you are planning to place the strip;
Faodail Creation explains the entire process of sewing on Velcro by machine. Have a look at the YouTube video below:  

Image source: The Project Lady
According to Sewing Is Cool:
"Sewing Velcro with a machine is the kind of thing people try once and never try again." 
That's why they came up with a little guide to turning sewing on Velcro into a more approachable experience.
So, what to do to do it right?
Set the machine tension correctly. Next, choose the correct needle size (everything you need to know about a

sewing needle

is here) and the proper foot pressure. 

Cut the right size of Velcro by sliding the scissors through it to avoid tearing the hooks or loops.

Lay the Velcro pieces onto the fabric (discover

types of fabric

). 

Align precisely. Put the soft Velcro on the underside of the top piece of fabric and the scratchy Velcro on the lower piece of fabric. 
Do it with either pins or fabric glue, applying it to the center of the strip and not to the edges where you will be sewing. Mind that glue can gum up the machine needle. It can cause:
skips, 

sticking, and 

breakage of the threads or needle; 
Get to know all about sewing threads types and tips from this blog. 
Take a new, sharp, heavy-duty needle lubricated with beeswax or needle lubricant. Velcro isn't the easiest to handle. To avoid bending or breaking, choose a strong needle, for example, a leather needle or a denim needle.

If you have a special presser foot for hook and loop closures in your machine, now it's time to make use of it. If not, use a zipper foot.

Set your machine to a smaller stitch length to avoid skipped stitches. Stitch using either the zigzag stitch or straight stitch. Sew by moving the needle either left or right. Make tiny stitches along the seams.

Image source: Treasurie
Wasn't it a fabulous Sewing Is Cool and Measure by The Yard instruction for machine Velcro sewing? 
You've learned how to sew on Velcro strips with the machine. What about a DIY tutorial for making a stroller organizer with Velcro? 
You'll find a step-by-step guide to making it happen at The Project Lady. 
On Sewing is Cool, you'll also discover an accurate guide through
the method of sewing Velcro on patches on a backpack,

the description of how to sew Velcro on cushion covers (making closure and securing a cushion to a seat);

Image source: Mood Fabrics
Sewing on Velcro by hand
According to Blog.Treasurie, if you need to sew Velcro by hand, 
"use a backstitch as it results in strong stitches that will be able to take the constant pulling required by the Velcro fastenings."
An excellent piece of advice is always to test a scrap before you sew on your final project. It will help you eliminate unpicking later.
Here's how to sew on Velcro by hand, according to Sewing is Cool:
Gather materials and equipment and cut your sew on Velcro by the yard to size. 
First, cut the hook piece (i.e., the rough, rigid side), 

Then, use this cut-out piece as a template for cutting the loop piece (the softer, fuzzier side).
Cut the corners of the side seam.

Cut them angled rather than straight. 

Place the Velcro between two pieces of fabric. The soft side should be on the underside of the top piece of fabric, the scratchy Velcro on the lower piece.

Pin the Velcro to your project using a single sewing needle skewered through the middle. Masking tape will work as an alternative.

Thread your needle with a 46- to a 51-cm (18 1/8 to 20 inches) piece of thread and tie knots on both ends.

Sew as close as possible to the edge of the sew on Velcro tape, using tiny, straight stitches.

When you are back to where you started stitching, make a small stitch. Don't pull the thread entirely through (you want to make just a small loop). 

Make another loop by pulling your needle through the first. Next, pull the needle through the second loop and tug to tighten. Cut the thread as close to the knot as possible. 

Image source: Ibikusjoc
Also, you can attach Velcro even without sewing by:
gluing,

fabric-based tape, and

adhesive options;
Discover how on Heat Press Guide. 
Tips to know when you sew on Velcro
Now that we know the basics, let's uncover insider tips.
Hales Moore explains the top clues on how to sew on Velcro strips:
Velcro can be handy also in the school environment. On Breezy Special Ed, Brie shares a couple of recommendations for the use of Velcro when working with students. 
Check them out:
Sew on Velcro dots are super quick to use. You can utilize them for adapted books.

Velcro dots are more expensive than sew on Velcro tape. Buy sew on Velcro strips or tape and cut it to your needs. It's advised to go for long and skinny stripes. 

It's best when they aren't too big, so they don't stick too well. Keep in mind that you might want to pull them off later, as this is what they're made for.

Put all Velcro pieces on the file folder horizontally and then the Velcro on the cards vertically. It's easier to stick together two layers if you―or your pupil―don't place it in the exact spot. It will also be easier to pull them off later.

When planning an activity with Velcro, it's much easier from the organization's point of view to have it cut into small pieces in advance. You can keep them in separate bags labeled "hard" and "soft."
Read four more helpful tips on Breezy Special Ed.

Image source: Pinterest