Can't Wait to Start Your New Project? Let Rose Embroidery Make Your Day! 
How you create your first and hundredth rose embroidery won't differ much. 
You may be faster and more skillful further along the way, but one thing won't change:
"Roses do not bloom hurriedly; for beauty, like any masterpiece, takes time to blossom."
—Matshona Dhliwayo wrote once (source: Good Reads).  
We believe this principle concerns actual flowers as much as roses embroidery. 
There are plenty of inspiring embroidery ideas to create a jaw-dropping rose embroidery pattern. 
You can conjure up embroidery designs of roses using techniques such as:
Let's start with a few delightful hand embroidery rose patterns found online. 
Hand embroidery roses
On your way to conjuring up an embroidery rose that everyone will love, get familiar with "How to Work Woven Wheel Stitch" by Mollie Johanson on The Spruce Crafts. 
Woven wheel stitch (see the photo above) is one of the most popular embroidery stitches when it comes to embroidery flowers.
This woven wheel stitch—also called woven rose stitch—is not only cute but also easy to learn.
Although it technically consists of several stitches, in its entirety, it is referred to as a single stitch—explains The Spruce Crafts.

Image source: The Spruce Crafts
This one is probably the plainest and classy among rose embroidery designs. Add it to your floral embroideries to make them stand out.
With this design, you have two ways to go. You can either:
do the weaving part tightly—to build up a thicker and more dimensional stitch, or 

keep the weaving a little looser—to create a softer and flatter stitch;
Fuff the finished flower with your finger slightly to give it a fuller look if it seems too flat.
Which one do you fancy more?

Image source: Cut Out and Keep
Now, let's see what embroidery supplies and materials you will need to make this project happen:
Tools
Materials

Tackle this embroidery supply on our Super Label Store blog or Stitched Modern 

A small square of cotton fabric 

Embroidery fabric is a crucial aspect of every embroidery project. According to The Sewing Directory, natural woven fabrics such as cotton, wool, linen, or silk are usually the best fabrics for hand embroidery techniques. Select the appropriate thread count for your technique and threads. You should also prepare the fabric properly before getting your embroidery project going.

We write about types of fabric and types of cotton fabric here. 

Embroidery needle

—pick a size between 1 and 5;

Six-strand

embroidery floss

(read our

embroidery thread

article)

(Optionally) Tapestry needle for weaving, size between 22 and 24;

Scissors—they should be small and sharp

Ruler

Pencil or water-soluble marker
If you have an embroidery kit in your embroidery studio, you probably don't have to worry about half of these tools.  
Ready to give woven wheel stitch a try?

Image source: Peacock & Fig
Woven wheel stitch is made up of two parts: 
The spokes—created with ​straight stitches, odd in number to assure continuous weaving, and 

The weaving around them—in a spiral from the center out; needle and thread go over, under, over, under, around, and around to the outside (in the table above, we suggested using a blunt tapestry needle for weaving—it will help keep you from accidentally splitting other threads). 
Before we explain the entire process in steps, have a look at the video guide "How to do a Woven Wheel Stitch" by Cutesy Crafts:
In woven wheel stitch, it's easy to change colors throughout the stitch. So if you want to create a multi-color rose embroidery patch, go for it and let us know how it went!
Moreover, you can also leave the center open and fill it with other stitches (for example, French knots). To do it, stitch the spokes, so they don't touch in the middle.

Image source: YouTube
Embroiderers also use this impressive stitch technique with silk ribbon embroidery. 
Begin, as usual, stitching the spokes with a single strand of embroidery floss. Then, do the weaving using a ribbon. 
Important: Pay attention to the ribbon's twists, folding and turning it to achieve the desired look. 
With all this new knowledge and smart hacks at hand, you can take all types of clothes out of your wardrobe and give them a new, better life in an instant!
You can create by yourself or buy a ready:

Image source: Flamingo Toes
So, what are the steps to go through the process?
Getting ready 
This point regards both novices and advanced embroiderers. However, more beginners will use our advice: mark your embroidery fabric with a few practice lines for your spokes (five is a reasonable number), using a ruler and a water-soluble pen or a pencil. 
Pam Ash suggests starting drawing the design by tracing around the small circle-shaped object of your choice, for example, a nickel.
Domestika breaks down the process of transferring a drawing to fabric (leave it for when you start creating more complex patterns). 
Then, place your fabric in the hoop. Cut a 12 to ​14-inch six-strand embroidery floss. Thread it through the embroidery needle and knot the other end.

Image source: Domestika
      2. In step two, you start working woven wheel stitch; here is how:
Bring the needle up and down through the fabric, making five ​straight stitches that form a star. Each stitch should be evenly spaced and of the same length.

Now, bring the needle up through the back near the center. Weave the needle over and under each straight stitch spoke, being careful not to catch and pull any of the threads.

Keep weaving around the spokes until you completely fill in the circle and don't see any spokes showing. Take the needle down under the edge of the weaving at one of the spokes.
When working the straight stitch spokes, use a sharp needle. However, when you are already weaving, it's a good idea to switch to a blunt-tip tapestry needle to prevent the needle from catching and pulling the weaving. Switch back to the sharp needle at the end of the process. 
Your gorgeous embroidery pattern rose is ready to steal hearts!

Image source: Pam Ash Designs
A similar adventure awaits with bullion rose embroidery.
The bullion knot is an excellent stitch often used to make simple motifs.  
Sarah's Hand Embroidery provides us with a great video explanation of "How to do Bullion Knots" in general:
While on Needle Mantra, you can see exactly how "Bullion Knot Rose Stitch Hand Embroidery" is brought into being:
According to Embroidery RickSea, this "elongated" knot can be used to group and make dense textures. In addition, it gives an embossed look (doing its part for the Brazilian embroidery that uses stitches of 3D nature). Check out the terms "bullion and Brazilian embroidery" on Pinterest if you aren't sure what we are talking about and want to get inspired quickly. 
Also, the cast-on stitch and the bullion knot came together to form this excellent project by Crewel Ghoul Embroidery that you have to get familiar with:
Ensure to make this delightful stitch using a Milliners needle to cut down on potential frustration. This needle has the same thickness throughout its length, thus making the passing of the wound thread through the needle effortless.

Image source: Jane Lightfoot
And here is how it goes:
| | |
| --- | --- |
| Steps | Description |
| 1 | First, bring the needle out through one point of the fabric and put the needle through another point at the desired length. |
| 2 | Bring the needle out through the first point again and wind the thread around the needle—that's the secret of bullion rose embroidery. The length of the wound thread you are making should measure the same as the distance between the first and the second point you designated on the fabric (where you brought out the needle in the first step). Too few wraps will spoil this stitch, so pay attention to doing it right. |
| 3 | Hold the wrapped thread with your fingers and pull the needle out through the fabric with the other finger. Keep pulling the needle upward—you want the wraps to lay on the fabric. Next, adjust and straighten the wraps of your newborn flake of rose stitch embroidery. Then, put the needle back through the second point you made on the fabric. |
Read more (with pictures) on Embroidery RockSea. 
Head to Sew Guide for instructions on how to make elaborate designs with bullion stitch, among which:
bullion stitch 8 petal flower,

bullion knot wild flowers, and 

a more traditional bullion stitch rose embroidery design;
But making rose embroidery designs on your fabrics isn't the only way to let your garments and accessories shine. 
Super Label Store offers a bunch of options created to enhance every piece of textile you work with. 
So, if you want to customize your 
textile, 

clothing, 

towels, 

sheets, and/or

accessories 
With these neat custom woven labels, care labels, and hang tags, go on and give it a try!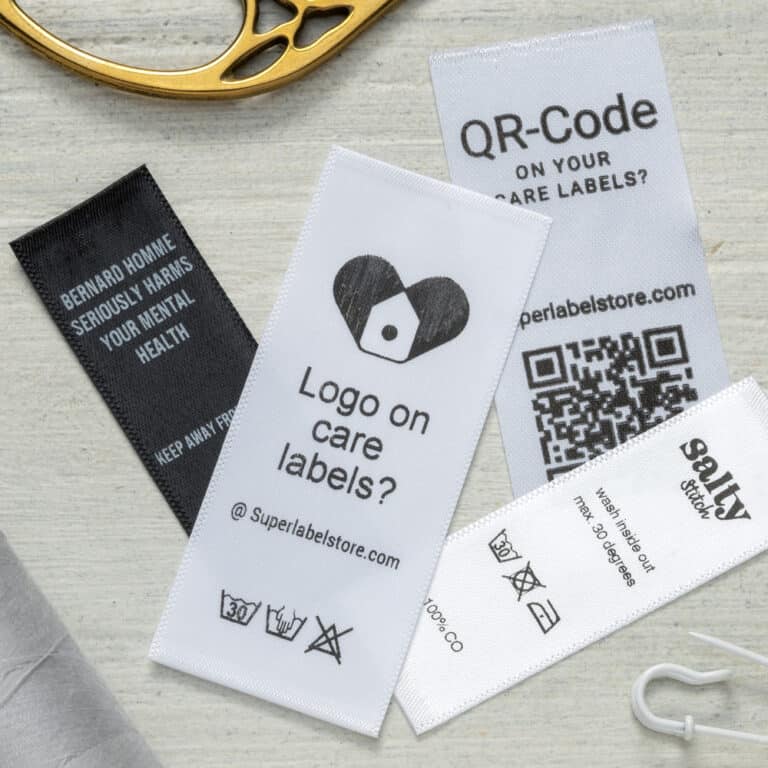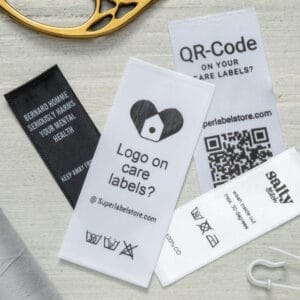 Super Label Store is open to working with everyone, from:
DIY/clothing crafters at home, 

textile/sewing fanatics,

(small/starting) clothing brands,

fashion designers, to

hotels, bars, and hospitality businesses;
We went through the most popular stitches for rose embroidery, but this long-life rose embroidery adventure hasn't finished yet.
If you don't like keeping it simple, let's have some fun!
Watch "Most Beautiful 3D Rose flower with the new trick" by Sahina Arts to learn how to embroider an actual three-dimensional embroidery that will leave everyone in awe. Or at least, they will say: Did you actually make it?
Do you know what you need now? "Rose Embroidery – 12 ways to make embroidered roses easily" (yes, we do read our readers' minds!) by Sew Guide. We hope you like it!

Image source: Stylist
Rose embroidery designs—hand and machine embroidery
In the previous paragraph, we discussed various ways to make embroidery roses using embroidery floss and certain embroidery stitches. 
But the internet is full of embroidery patterns for machine and hand embroidery that we can't forget about. 
Click to discover 
For example, if you are crazy about rose bud embroidery, go to this Etsy page to explore your embroidery rose bud options. 

Image source: Pinterest