Is a Portable Sewing Machine Only for Those Who Can't Sit Still? Discover Its Advantages
With the introduction of a portable sewing machine, sewing became more convenient. 
While the first practical electric sewing machine was invented in 1889 by a Singer sewing machine manufacturer, the first portable electric sewing machine appeared on the market over thirty years later, in the 1920s.
Probably the cutest is the Singer Mini Sewing Machines, Hand Crank, designed for children in the 1950s. See Lost and Loved for more pictures of this incredibly charming vintage kids sewing machine. 
Also, look at "The History of Sewing" on Jones Sew and Vac to discover more exciting dates.
A typical compact portable sewing machine looks similar to a regular sewing machine, except it's lighter and smaller. 
There are two different types of portable sewing machines
These basic sewing machines typically have only a few stitch options, and minimal effort is put into their styling or features. Generally, every sewing machine comes equipped with a versatile zigzag foot, enabling you to effortlessly create a straight and zigzag stitch.
We're attracted to this sewing appliance choice predominantly for its portability. This unique quality can pump up our sewing experience, providing us with opportunities impossible to achieve with stationary machines. 
Now you can simply throw your machine into your bag, take a bus, and carry your magic sewing tool with you everywhere!

Image source: Stitcher's Source
A portable sewing machine can also have a different-than-regular build; in this case, we're talking about a handheld sewing machine. 
Some sewers use handheld sewing machines to learn to sew. If you're beginning your sewing journey and seeking your first sewing machine, or if you're an experienced user seeking a second device, this compilation of top affordable portable sewing machines will assist you in selecting your next companion. Catch a glimpse of our review of the best sewing machine for beginners. 
Are you excited about this stapler-like device? Have a look at "Best Handheld Sewing Machines Reviewed" on Love Sewing to become acquainted with the models worth knowing. 
Handheld machines are trending, but they tend to disappoint both beginners and advanced sewers. These sewing devices feature many limitations compared to regular portable machines. 
So, if you travel a lot or frequently mend your kids' sports uniforms, consider this option. But don't expect the quality or the flexibility of stitching.

Image source: Love Sewing
We mentioned that portable sewing machines sound like the right choice for newbies. 
If you're just learning how to sew, check helpful YouTube videos on the subject; such as "How to Operate a Portable Mini Sewing Machine FHSM 505 – NEX Sewing Machine" by Easy Sewing for Beginners (if you're dealing with this particular model):
or, for differently-wired portable sewing machine models, check "How to Operate a Mini Sewing Machine – Tutorial" by the same author:
Portable sewing machine—pros and cons
Why would you bother looking for a portable sewing machine if you can have a regular one?
That's a good question, and we'll respond with a couple of good answers!
Here are several reasons to choose a portable sewing machine over a regular one, described by Stitchers Source:
Reason
Description

Space

There are as many

sewing room ideas

as people, but as a rule of thumb, having lots of space favors a traditional sewing machine. A portable device is the best choice for sewers that often find themselves sewing on the run. Whether mechanical or computerized portable sewing machine, it's handy and easy to move around the house. So, consider this option if you don't have a dedicated sewing space at your place. 

Expectations

Review your sewing style and needs: Will you use your machine a lot or only occasionally to do alterations? Are you mainly into minor repairs, or do you plan to sew, quilt, or work with specialty fabrics? Traditional, heavier sewing machine models feature powerful motors, sew faster, are generally more durable, and can handle heavy fabrics or several layers of textile. If you're going to demand a lot from your machine, even the best portable Singer sewing machine can have problems meeting your expectations.

Skill

What do you feel you need at this point in your sewing skills development? Portable machines will make the first steps into the complex sewing world simpler for those who

learn to sew

. For now, you wouldn't use all the bells and whistles of a big model anyway. However, if you've been sewing for a long time, more functions and the diversity of a regular machine are excellent for professional evolution. 

Budget

It's essential and common to consider costs, but don't make it your top reason for buying a particular machine. The most notable brands offer a variety of reasonable-price models. Do you need a computerized machine with hundreds of stitches? Choose wisely. 

Portability

We don't need to explain this point, as it's a leitmotif of this article. Do will need a machine that you can easily transport back and forth? If you know the answer, you'll know which one to pick.
Dealing with these five reasons: space, expectations, skill, budget, and portability will reveal if a compact portable sewing machine is your go-to type of sewing device. 
If working on the go speaks to you, but you also want to face the disadvantages of this type of machine before purchasing your favorite model, keep reading. We've got it all covered in the following paragraphs. 

Image source: The Week
Let's start with the difficulties that come with using a portable sewing machine. 
According to Sewing Your Style, 
A typical portable sewing machine lacks the sophisticated features of industrial-grade sewing devices. It means that handling heavy fabrics or bulky projects may become an issue. 

Portable sewing machines tend to be made with more plastic parts and less metal to keep them lightweight. No wonder it compromises their durability and quality.

Since their compact size, don't expect an extensive work area. And at some point, it may become a concern for you. Also, if you have bigger hands, a tiny work area will make working with stitching projects challenging.

Threading the needle—this part may also be tricky (and again, threading a tiny portable machine is not the simplest thing to do for bigger hands); portable machines require more precision for threading the needle and bobbin. Read

how to thread a sewing machine

in our blog.
Always better than hand sewing, right? Sewing supplies will be helpful in both cases. 

Image source: Glitter Design 
Luckily, the list of advantages of portable (also known as a travel sewing machine) is longer than the list of its disadvantages. 
Let us explain: 
There is a straightforward reason why this device is called a travel sewing machine. Its compact size simply makes it easy to store and carry around. Choose your best lightweight sewing machine and do the repair jobs anywhere and anytime. Some of us just love to feel needed and irreplaceable!

Despite rumors that portable sewing machines can't handle tougher fabrics, the best portable sewing machine will allow you to sew anything on all types of fabrics—think garments, costumes, leather goods, home decor, paper items, and accessories. It's just a matter of tracking down the suitable model (keep reading to find your second half in the "Best portable sewing machine models" paragraph).
You can now customize all of your 
textile, 

clothing, 

towels, 

sheets, and 

accessories
with care labels, hang tags, and different types of woven labels by Super Label Store. 
The idea is simple. Click on Super Label Store, configure your custom woven labels, and order any quantity. 
Then, let us know how excited your customers were to see your professional growth!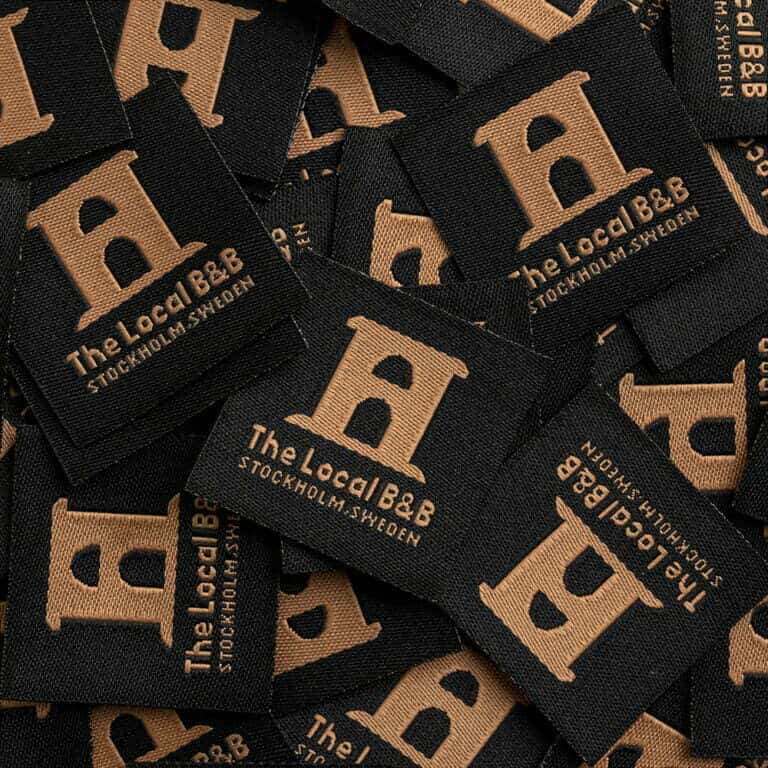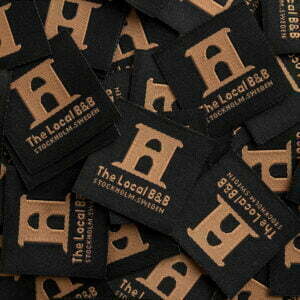 3. Another advantage of portable modern sewing machines, as noted by Sewing Your Style, is that they're so compact you can use them easily in small areas of your sewing fabric. Handheld sewing machine models are taken to the next level concerning this feature—you don't even have to take your garment off to sew on it! 
      4. Some portable sewing machines come with different design features. These functions allow you to get your creative juices flowing and enhance artistic expression. 
Yearning to get more creative? See these "10 Simple Ideas to Get Your Creative Juices Flowing" on Interaction Design. 
      5. Another advantage is that everyone can purchase a sewing machine small online, without much planning or spending. It means that you'll be able to do much-needed alterations and repairs without visiting the tailor. An average household portable sewing machine is much more affordable than an industrial-grade machine. So even if you're on a budget, you'll have your favorite sewing passion going! 

Image source: YouTube
Handheld sewing machines are a subset of the family of portable sewing machines. 
They have their own characteristics that differ from the regular small lightweight sewing machines category. 
According to Stitchers Source, handheld sewing machine models feature the following pros and cons:
Pros
Cons

Small

Most people find it challenging to use

Affordable

Cheaply made, not durable

Portable

Not good at stitching heavier materials such as denim, leather, etc.

Read how to sew on our blog. 

Able to repair clothes without taking them off the person

Stitches don't hold as well as those made with a proper sewing machine

How about picking the best sewing machine with our guide? 
Among the machines from this category frequently evaluated by various websites, 
Singer Stitch Sew Quick,

Singer Mini,

Lycheers Mini 2-in-1,

Sunbeam;
Jump to Sarah Scoop for "The 7 Best Handheld Sewing Machines."

Image source: The Creative Curator
A handheld sewing machine of quality will be excellent for making quick repairs around your house or outdoors; after all, its portable feature lets you toss it into the bag and travel freely!
These machines are relatively inexpensive, and they typically have a limited use case. 
So keep in mind the limitations of these cheap machines for small sewing jobs and take them with you wherever you go.

Image source: Easy Life
Best portable sewing machine models
What should we look for when selecting a portable machine? 
Sewing Your Style comes with a few pieces of advice:
Build quality—overall feel, how much plastic in relation to metal, etc.

Variety in stitches—another crucial factor when making your customer choices is checking whether your portable machine has different types of stitch capacity, including zig-zag stitch, straight stitch, and decorated stitching.

Speed control—it's a must-have feature that allows you to set where to stitch when it starts jamming and quickly stop for readjusting the fabric.

Types—electronic or mechanical portable sewing machine? The mechanical type needs manual settings, while electronic ones make most adjustments automatically. These extra features make stitching and sewing faster and more comfortable. Yet, many sewing enthusiasts prefer mechanical sewing machines; this option makes their work quicker and more efficient.

Image source: The Independent
Here's the Sewing's list of the best portable sewing machines:
Singer Start 1234 Portable Sewing Machine

Brother XM1010 Portable Sewing Machine

Janome Lady Lilac Basic Portable Sewing Machine

Brother CS6000i Feature-Rich Sewing Machine (unwrap our

Brother sewing machine

secrets)

Singer Simple 3232 Portable Sewing Machine

Brother XM2701 Lightweight Full Featured Sewing Machine

Janome Arctic Crystal Machine

EverSewn Charlotte Machine

Singer 4432 Portable Machine

Janome JW8100 Portable Sewing Machine

Image source: NY Mag
Does this selection overlap with other websites' top picks?
Suzy Quilts have a slightly different opinion about this subject:
Portable machine model
Description
More Info

Brother CS5055PRW

It's one of the lightest machines (10.1 lbs) that easily fit in the crafting bag (19.5 x 10.8 x 16 inches). It's also easy to use and versatile. 

This Brother model features 50 built-in stitches and sews at a speed of 850 stitches per minute. On top of it, it's sturdy enough to handle stretch materials and bulkier fleece.  

EverSewn Maker 200

This machine is relatively heavy (16 lbs) because of its metal interior frame, which makes the construction robust. It's also small, measuring 14.5 x 6.5 x 11 inches.

EverSewn is a sister company to Bernina. 

Janome SEW MINI

Famous for its super low price (89 $ on the official Janome website) and super small size and weight (10.5 x 9 x 5.8 inches and 6.9 lbs).

Even though it looks like it's not a toy. It's a real and standard sewing machine manufactured together with other Janome masterpieces. 

Its capabilities are limited (our heavy-duty projects will have to wait for a bigger model), but you can lift this Janome machine with two fingers. Moreover, it works great for beginners. Not to forget the delightful diversity of color options!​
Suzie Quilts asks about the craziest place you have taken a sewing machine and continues to list her favorite portable models.
Brother ES2000 brings to the table different strengths than the previous examples. This 13.5 lbs light Brother model features 
a free arm option, 

a computerized screen to shuffle through tension adjustments, and 

the option to switch to free-motion sewing. 
No other machine of this size from the same price category has such a set of sophisticated features.
Michley LSS-202—with 7 x 4.5 x 8.5 inches and 2.2 lbs (you have to take our word for it), this portable sewing machine model has its own category. It will sew; it's fast and easy to operate, but don't expect this specimen to do what your standard machine will do. 
Other models to mention and consider are
Easy Stitcher Table Top Electric Sewing Machine (

Amazon

),

Singer START 1304 Mini Sewing Machine,

Magicfly Mini Sewing Machine,

KPCB Mini Sewing Machine,

Zest

Baby Lock sewing machine

, 

Singer Simple 3232 Sewing Machine,

Varmax Mini Sewing Machine with Extension Table,

Jem Platinum 760 (

Janome

), and others!

Image source: Quilters Review
Portable sewing machine price
To start with the good news, expect to spend somewhere between $20 to $200 on a new portable sewing machine. 
With more costly sewing devices, we recommend getting a used model, but we suggest not to in the portable sewing machine department. These machines are meant for one person and also not for long.
When it comes to the two types of portable machines, the price of the mechanical one is much lower than the electronic machines, which feature extra functions. 
It doesn't come as a surprise that the better the brand and the more features your portable sewing machine has, the more money you'll have to spend. 

Image source: We All Sew
Moreover, with the portable sewing machine's small size price, it may not be as simple as it looks initially. 
Do you expect the machine's price to decrease along with its size? 
This dynamic seems reasonable, but, as we know, the sewing world has its mysterious ways, especially when notable brands are involved.  
So while mini sewing machine Amazon search exhibits mainly models that range from around 26 to 250 dollars, many more costly machines are labeled as "portable," as well, such as
Janome sewing machine

Horizon Memory Craft 9850 Embroidery and Sewing Machine going for 1,899 $,

Janome Skyline S5 Computerized Electronic Sewing Machine for 1,666.58 $,

Juki sewing machine

Computerized Electronic Sewing Machine for 1,609.43 $,

EverSewn Computerized Electronic Sewing Machine for 1,119.99 $,

Janome Computerized Electronic Sewing Machine for a whooping 3,499 $, currently 2,404.60 $ with 31% off, and

Bernette

Bernina sewing machine

Airlock Serger for $1,739.99;
Or is "portable" just a keyword used to improve the visibility of these sewing devices online? See more of these costly "toys" on WayFair or Walmart sewing machine and decide for yourself. 

Image source: Artisan Stitch
Frequently asked questions
Can a portable sewing machine handle heavy-duty sewing tasks?
While portable sewing machines are generally not designed for heavy-duty sewing, some models do have the capability to handle thicker fabrics or light upholstery projects. However, it's important to note that their smaller size and less powerful motors may limit their performance for prolonged heavy-duty use.
It's best to check the specifications and reviews of a particular portable sewing machine to determine its suitability for your intended projects.
Can I sew different types of fabrics with a portable sewing machine?
Yes, portable sewing machines can handle a variety of fabrics, including cotton, linen, silk, lightweight denim, and synthetic materials. However, it's important to consider the machine's specifications and capabilities.
Thicker or heavier fabrics may require a more powerful machine, so make sure to choose a portable sewing machine that can accommodate the types of fabrics you plan to work with.
What is the difference between full-sized sewing machines and portable sewing machines?
Full-sized sewing machines are larger and heavier, designed for more advanced sewing projects and typically used in a dedicated sewing space. This type of device comes with an adjustable stitch length feature that allows you to increase or decrease the stitch length according to your specific sewing needs.
Portable sewing machines, on the other hand, are smaller, lighter, and designed for convenience and portability. They are suitable for on-the-go sewing and occasional projects.