What's the Best Thing About an Overlock Sewing Machine? Professional-Looking Projects It Makes
Who hasn't heard about an overlock sewing machine? This machine is a hero of numerous sewing stories.
Neat edging that will not fray is not so easy to achieve after all!
This article reveals
how an overlock sewing machine works,

overlock sewing machine parts and functions,
and the most intriguing:
what is th

e difference between a sewing machine and an overlocker?
Keep reading to discover the overlocker mysteries.
What is an overlock sewing machine?
As you have already noticed—if not within your practice, then in the photo above—an
overlock sewing machine looks slightly different from a regular one. It's because it features slightly diverse functions.
An overlock sewing machine is a specialty machine that creates an overlock stitch using three or more thread sources.
Overlocking is more visible than a standard straight seam, so it's a good idea to pick a thread color that closely matches your fabric—suggests
Yesterday's Thimble
. If you're working with a busy print, try to match the most prominent color. You can also go with a contrasting thread, but sew a sample first in case it doesn't look as expected.
Do you
learn to sew
and wonder what differentiates overlockers and sewing machines? Both are used for sewing, but they make different types of stitches.
"They are not the same and can't replace each other"
—
Threads Monthly
responds to the commonly heard question.
An overlock sewing machine (also known as a
serger sewing machine
) can
trim,

stitch, and

overcast seams as it sews,
which makes it perfect for
inserting a zipper, and

creating delightful decorations with certain stitches;
(read more on
ACES
)
Achieve decorative effects by using special threads in the loopers. Choose from
metallics, silks, and perle cotton, which are great to sew seams or finish garment edges,

fine knitting yarn, buttonhole twist, crochet thread, and even narrow ribbon for special effects;
Speaking of threads, discover our take on
sewing machine thread
and read
how to thread a sewing machine
.
An overlock sewing machine is synonymous with a
serger sewing machine
. These terms are interchangeable—"overlocker" and "to overlock" are used mainly in European countries, while "serger/to serge" are common in stateside.
An overlock sewing machine does a great job of
saving us time—a typical overlocker sews faster than a conventional sewing machine; it gets to 1,700 stitches per minute,

giving a professional appearance to constructed items—there is no better option that an overlocker sewing machine to achieve seams similar to those in store-bought clothing;
So if you're on your way to conquering the fashion world
—
you know what to do!
Another easy way to upgrade your DIY garments is by designing and ordering
different types of woven labels
from
Super Label Store
.
Ensure you get familiar with these
on the
Super Label Store
website, where you can
upload your logo
or
design it from scratch
.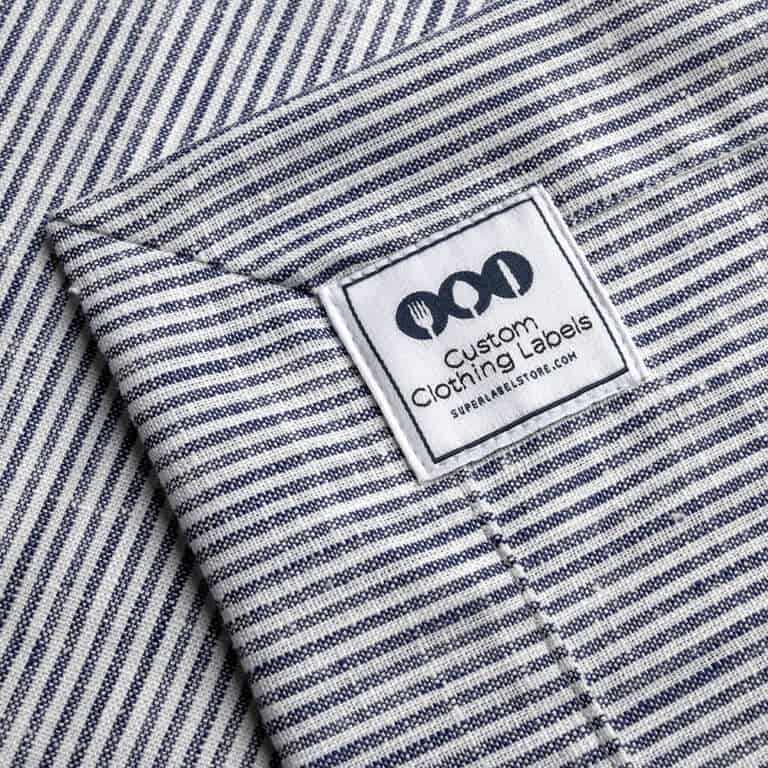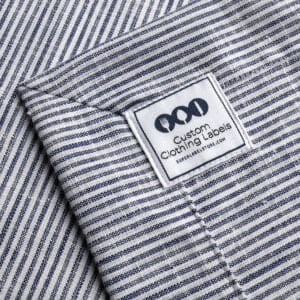 An overlocker produces overlock stitches to sew over one or two pieces of cloth. Some of these machines come with built-in blades and trim off excess fabric along the edges to prevent fraying—notes
Overlocker Guide
.
You can use this machine to sew an array of items, from sportswear and draperies to placemats and napkins. With its superb speed, you'll finish simple items like a T-shirt or jogging outfit in minutes.
Despite all their handy features, overlock sewing machines don't replace the conventional sewing machine. Yet, an overlocker compliments and enhances your sewing room, making your projects look more professional and last longer. Also, if you're looking for
sewing room ideas
, check our review of
sewing machine table
types.
According to
Treasurie
, you'll usually:
sew a seam with your regular sewing machine and

finish the seams with your serger;
We'll get to the differences between both types of machines in the next paragraph!
Overlocks form interlocking stitches using
(keep in mind that the price of this device increases with the number of threads and loopers it features; choose the configuration that suits your needs best)
"This specialized machinery is more like crochet or knitting than the stitch of a conventional machine. Loopers replace the traditional bobbin and interlock threads together.

"
—explains
ACES
.
Blades trim seam edges ‌in front of the needle or needles. In some overlock sewing machine models, the upper knife can be rotated to disengage the cutting action. In other models, you need to remove a blade to stop the machine from trimming.
Image source:
Overlocker Guide
Overlocker vs sewing machine
We mentioned that an overlocker and a regular sewing machine are different devices with features that complement each other.
Let's get more precise and tackle the differences between regular machines and overlockers.
Here's an engaging video take on "Sewing Machine vs. Serger" by Nadira037
In the meantime, read
how to sew
and
how does a sewing machine work
on our
blog
.
Let's have a look at the comparison chart by
Threads Monthly
:
| | | |
| --- | --- | --- |
| | Regular sewing machine | Overlock sewing machine |
| Straight stitch | Yes | No |
| Zig-zag stitch | Yes | No |
| Embroidery stitches | Yes | No |
| Create buttonholes | Yes | No |
| Insert zippers | Yes | No |
| Overlock or mock overlock stitch | Yes | Yes |
| Rolled hem | Yes | Yes |
| Attach piping | Yes | Yes |
| Gather fabric | Yes | Yes |
| Blind hemstitch | Yes | Yes |
| Mock flatlock stitch | No | Yes |
| Cutting knife | No | Yes |
When it comes to the stitching speed, a regular sewing machine typically features 300-800 stitches per minute, while an overlock sewing machine reaches a whopping 1300-1700.
A sewing machine uses one thread, and an overlocker uses more than four.
Your regular sewing machine may have a mock overlock stitch. What does it mean for your sewing experience? These machines can do a stitch similar to an overlock (but there's no cutting knife in the machine).
If you aren't sure whether your sewing machine has a mock overlock stitch, search for these indicators:
Image source:
Threads Monthly
You can do all sorts of tricks, but the truth is there is no sewing machine with an overlocker.
A professional sewing room will often have both options to be prepared to handle all kinds of sophisticated projects.
Don't give up on your sewing machine, either! You still need it for basic sewing needs, cuts, angles, and other techniques that a serger cannot perform.
Image source:
Mood Fabrics
Let's see what are the differences between a sewing machine and an overlock machine according to
Sewing Machine Buffs
:
Sewing machine
Overlock machine

Speed

Depending on

sewing machine brands

, but typically slower

Faster—an average overlock can produce professional work about half the time it would take a sewing machine.

Neck

(Not sure what is it? Check our sewing machine parts article)

Shorter

Longer

Threads

Up to two cones of thread

3-8 cones of threads

Operating method (

sewing fabric

)

Allows sewing your cloth from any side

Only allows one side serging (left side)

Operating method (seams)

You'll first have to sew your cloth after cutting it

Reduce excess seam and binds fabrics simultaneously

Flexibility

More flexible(allow any side sewing)

Less flexible

Decorative stitching

Can perform decorative stitches

Makes some decorative stitching techniques look easier and simpler
What about
sewing machine repair
? Will you be able to fix your serger at home? Check what there is to know about
overlock sewing machine repair
, maintenance, setting, and replacement of different parts on
Textile Learner
.
Image source:
Wiring Database Info
Can you do an overlock stitch on a sewing machine?
An overlock stitch is a combination of a straight stitch and a zigzag.
It sews backward and forwards in a straight line, but between every set of straight stitches, it sews a zigzag—like in serging, a technique used to sew most store-bought clothes.
(read more on
Yesterday's Thimble
)
Can you overlock on a sewing machine?
Overlocker Guide
mentions that a standard sewing machine features various overlock foot attachments for overcasting fabrics.
The problem arises because a regular machine only uses only two threads at a time.
Image source:
We All Sew
Therefore, an overlock stitch created with the use of a regular machine
cannot create the stretchability and durability needed to prevent the edges from fraying, and

lacks the precision required for seam-finishings;
To make it perfect, we need overlocking equipment with multiple threaders, stitch locks, stitching loops, and blades. Not to mention that a typical overlocker performs all three overlocking steps in one go.
How to use overlock stitch on sewing machine?
Let's glance at the video by oxmanagain where he reveals "Why You Will Never Need A Serger Sewing Machine – Learn Overlocking & Overcasting":
Overlock stitch sewing machine models
All in all, an overlocker, alias serger, is a special-purpose machine that produces professionally finished seams, using between two and nearly a dozen threads. (read more on
Sewing Brighton
) We use it to clean-finish the seam allowances and much more.
An overlocker encases the raw edge of the fabric with an overcast stitch while trimming away the seam allowance—operating at pretty fast speeds. Instead of a bobbin and single needle as in regular machines, the overlocker has a cutting blade, "loopers," and multiple needles.
Luckily, overclockers aren't those historical, heavy, industrial overlock sewing machine constructions, impossible to use in our home sewing practice. Nowadays, overclocking devices are diverse in their stitch capability, easy to operate, and affordable.
Where to find a cheap overlock sewing machine?
Threads Monthly
notes down the following "4 Best Cheap Overlockers for Beginners."
Brother 3034dwt,

Brother 2104d,

Brother m343d,

Elna 664;
We tackled ‌
sewing machine for beginners
,
kids sewing machine
, and the
best sewing machine
options here.
Image source:
Pinterest
There are several "Best Serger Machines for Clean Seams" indicated by
Art News
:
Brother 2340CV Coverstitch Serger,

Singer ProFinish 14CG754 Serger,

Juki MO654DE Serger,

Juki MO-1000 Serger,

Janome MyLock 634D Serger,
The top three sergers in the market come as a recommendation from
Overlocker Guide
:
Juki MO – 734DE Overlocker (higher price),

Janome Cover Pro 2000 CPX (medium price), and

Jaguar Starter 098 Overlocker (low price);
How about a sewing machine overlocker combo? Is there an all-in-one machine that has it all? Having one machine instead of two is a sure way to save your precious space in the sewing room.
Singer Professional 5 14T968DC is said to respond to this need, but is it really that great? Read what's behind this ingenious invention on
Sewing Is Cool
.
And if you're still hungry for sewing knowledge, look how we broke down topics of
Image source:
Garage Sale