Small, Portable, and Not Really for Children. Ready to Learn About a Mini Sewing Machine?
Although "mini sewing machine" sounds like a device designed to play or kids sewing machine, its entertaining exterior actually hides a different set of talents.
Compact mini sewing machine—pros and cons
For starters, a mini sewing machine is useful for quick repairs and crafts. You can carry it around with ease, so it's always ready for sewing emergencies. 
With mini sewing machines you can do basic sewing activities: join fabrics or attach or reattach buttons using thread (few words about sewing machine thread and sewing machine tension here).
What's unique for this type of sewing machine is that 
some repairs can be made while the garment is being worn,

you can repair furnishings, drapes, and other items while they are still hung;
If you need a sewing machine repair, check our guide. 
Also, having a small portable sewing machine allows you to travel with your sewing equipment without a hitch. This kind of machine is particularly convenient if you sew in various locations.
Consider that if you learn to sew, you probably participate in lessons outside of your kitchen table or a sewing room (discover our sewing room ideas and hacks regarding sewing machine table). Therefore, having a little sewing machine instead of a regular one makes it easier to handle journeys from the organizational point of view. 
The same with the sewing space—if you work on a limited space, and a conventional sewing machine seems too large, heavy, and cumbersome for your working area, a smaller machine will be a salvation. 
Read "How to Travel with your Sewing Machine" on Stitched in Color.
What else can I do with my little sewing machine?—you'll ask. It's useful for
scrapbooking, 

quilting, 

home decor,

for children who enjoy learning

how to sew

and make doll clothes. 
It's a substantial relief that parents don't have to worry about this affordable sewing machine being damaged by their kids!

Image source: Sew My Place
No less significant are the downsides of such a machine. 
Mini, compact sewing machine doesn't offer the full range of sewing functionalities, such as automatic threading or embroidery patterns. To learn how to thread a sewing machine, check our blog. 
Limited will also be the number of types of stitches, so be aware that your mini sewing machine may miss zig-zag, chain stitches, and decorative stitches.
Secondly, the conventional machines last for long and give off a vibe of reliability, while mini sewing machines are more prone to breaking down prematurely and may feel a little clumsy for professionals (especially if you're accustomed to high-quality appliances). 
These smaller machines aren't powerful enough for challenging fabrics and a heavy load of sewing. If you enjoy sewing and do it often, you'll find a regular sewing machine more useful.  

Image source: Ooni Crafts
Also, if you need more sophisticated sewing options—let's say you enthusiastically engage in sewing leather or other demanding sewing fabric—you'll be happier with a conventional machine. A leather sewing machine is the best choice in this case.
Find the best sewing machine or a sewing machine for beginners that ideally responds to your needs.
Mind that good machines lead to quality sewing; Moreover, high-end DIY garments lose half of their charm without professional custom care labels, woven labels, and hang tags. 
Invest in different types of woven labels by Super Label Store to enhance your clothing, towels, sheets, textile, and accessories. 
it's super easy,

in super quality,

with super custom design, and

in super low quantities;
Not sure where to start? Click Super Label Store and start your journey!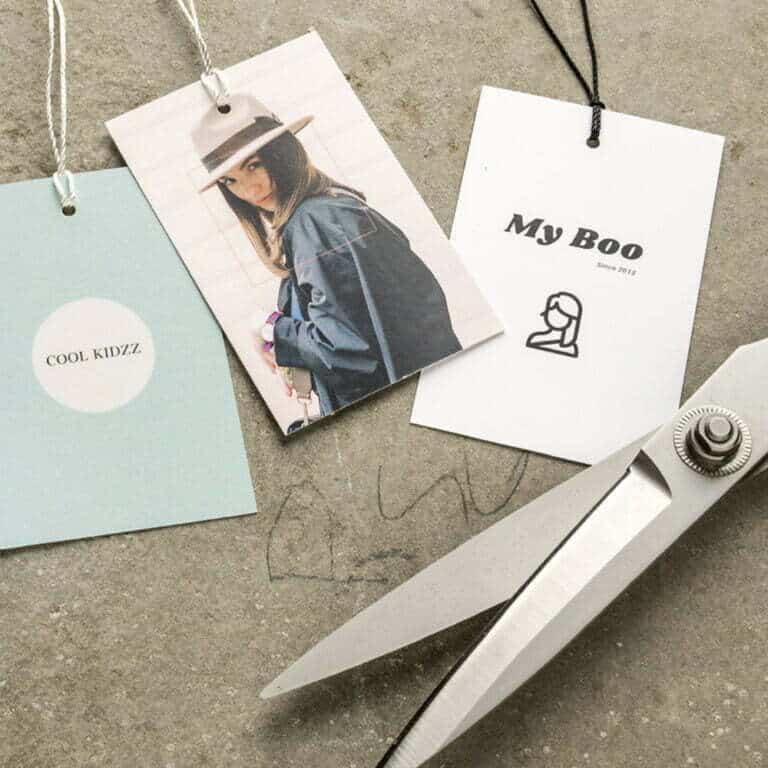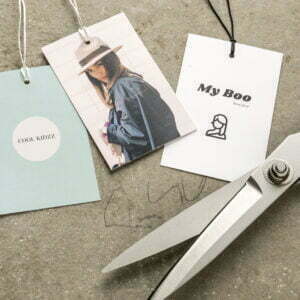 As a rule, an average mini portable sewing machine is
lighter,

smaller, 

less expensive, and

has fewer features
than a conventional home sewing machine. 
It doesn't mean that you can't have both of them, though! For example, some people who sew a lot buy small sewing machine for fast and small sewing tasks while using a regular option for their primary work.
When it comes to other features, a small sewing machine has several options regarding its energy source and structure:
Energy
Structure 

Electrical plugin

Tabletop 

Battery-operated (generally works on A3 batteries)

Read "How To Operate Mini Sewing Machine Tips & Safety" on

Handheld (discover

handheld sewing machine

)

Manual

Combination styles
How to use a mini electric sewing machine?
Now that we know what to expect from a tiny sewing machine let's get down to business, i.e., the practical part of the story. How to use such a device? Let's see how Syafa Saurus tackles this issue in her video:
The whole process boils down to a few simple steps. As listed by House and Beyond, you need to:
connect the power supply,

thread the machine:
wind the bobbin,

thread the top,
As underlined regarding mini sewing machines:
"Tension discs follow the first thread guide. Pull the thread firmly through this disc before proceeding to the next thread guide. Then, go through one or two more thread guides before you put the needle through the take-up lever."
thread the needle,

insert the bobbin,

raise the bobbin thread;
      3. adjust the settings,
      4. test the stitches, and
      5. start sewing!

Image source: CS Monitor
If you're about to buy (or bought already) a mini sewing machine for beginners, visit the YouTube channel titled Easy Sewing for Beginners. 
"How to Operate a Mini Sewing Machine – Tutorial" is an excellent and simple introduction to the theme:
Best mini sewing machine overview
Which features of a sewing machine are essential to your activity? Do you even need a small sewing machine? If so, how to choose the best mini sewing machine? 
According to Bob Vila, it's worth paying attention to the following features: 
Feature
Description

Standard vs. handheld

A standard small electric sewing machine has many characteristics of its full-size counterpart. For example, it has similar features and can tackle larger projects. Yet, when using a standard mini sewing machine, you have to exclude thick fabrics such as denim and leather from your sewing menu.

Handheld options are lightweight and operate by batteries, so nothing stands in the way of their portability. Yet, their compact size sacrifices even more functions than standard mini machines, such as sewing thicker fabric or major output. Nevertheless, these machines are helpful for crafts, practicing light sewing, and mending loose seams and tears.  

Read our essay on "How does a sewing machine work?"

Size and weight

Full-size sewing machines can be pretty hefty (15-30 pounds), while mini versions weigh much less (2-13 pounds). Handheld machines are the lightest (up to less than a pound!). On average, mini sewing machines measure 7-15 inches; those with quilting options and expandable arms are a bit longer. This feature allows us to set our "sewing station" everywhere, even on the train or in the waiting room. 

Material

Mini sewing machines are rarely made from anything else than plastic—it's light and cheap. Full-size sewing machines are made from either plastic or metal. Industrial models used for sewing and mending thick materials use metal (steel and brass) in their construction for greater durability and a longer lifespan.
Size isn't the only difference between a regular and a mini portable sewing machine.
But besides standard vs. handheld, size and weight, and material, we have several more features to consider. See the table below and go to Bob Vila for a deepened commentary on the subject.
Skill level

Many mini sewing machines are destined to be used by beginners. These options have straightforward parts and dials, not to overwhelm newbies. In addition, they possess features facilitating learning, such as an easily adjustable stitch speed, drop-in bobbin, and automatic needle threader. More experienced sewers will also benefit from mini machines; automated features are convenient for everyone. Yet, professionals will go for a sturdy machine with more stitch options and added features (presser foot, free arm, etc.).

Stitching

Beginners will be content with straight and zigzag stitches—two main stitches typically available on mini sewing machines. This small stitch selection works well for new users, but a topstitch or backstitch for anyone more experienced than this will be just as essential. Similarly, with the machine's stitch length settings—some will have standard and others variable options. Most mini sewing machines feature buttons or an easy-to-use dial with visual indicators of each stitch speed. Better models may include digital settings.

Needle and bobbin features (read about

sewing machine needles

)

Manual needle threading is a hassle for everyone. Learn how to thread a needle, but ensure your machine has an automatic threader to save time and reduce effort. Most mini sewing machines come equipped with this handy feature. Thanks to different needle positions, the user gains varying degrees of control so that the stitch lands in the right place. Some machines feature a stitch width dial that allows users to set the needle on the right, left, or centrally.

A bobbin is a small cylindrical spindle that holds the thread. It might go in the front of the machine or drop into the base to provide thread from the bottom part of the machine for a full stitch. The thread feeds through a loop and up to the needle plate. The simplest method is a drop-in bobbin system, typically present in mini sewing machines.
Lastly, additional features. Mini sewing machines can (yet, usually will not) feature:
a presser foot (assist in holding the fabric flat as it feeds through the machine and stitches), or/and

a free arm (a smaller work surface built into the machine for stitching hems on narrower fabrics, such as sleeves or pant legs); 
A lighted work area works thanks to built-in LED lights, ensuring you avoid eye fatigue while sewing. 
An extension table helps create an efficient workspace.
Now you know the features to help you decide whether a mini sewing machine is an option.  
In the meantime, become familiar with "Surprising Facts About Mini Sewing Machines (You Probably Didn't Know)" by She Loves 2 Sew:
Fact #1: They're simple to use,
Fact #2: They have different designs,
Fact #3:  They come in beautiful bright colors,
Fact #4:   Most machines have two speeds,
Fact #5:  Generally speaking, they are relatively inexpensive,
Fact #6:  They offer fewer stitch options,
Fact #7:  They are not toys,
Fact #8: They can't handle large projects,
Fact #9: You can pretty much carry them anywhere;
So, if you've decided to go for it, it's time to proceed to the mini sewing machine buy online! 
Let's review leading sewing machine brands and particular models worth considering. 

Image source: House and Beyond
Mini sewing machine review and comparison
How would we know anything about sewing machines if not from online reviews? 
Getting to know sewing appliances from the relations of fellow sewing enthusiasts is essential. After all, will we ever be able to test every machine there is?
Luckily, websites like Gathered can give us some helpful perspective. So, what are the best mini and portable sewing machines?

Image source: While She Naps
Magicfly mini sewing machine
Available on Amazon for about $85. This handy starter machine features
12 built-in stitches (straight stitches, zig-zag, decorative, and buttonhole),

easy-to-adjust tension dial, 

42 piece set of pre-threaded bobbins and spools, plus scissors, assorted needles, and a tape measure (discover our list of

sewing supplies

),

three different sewing feet, to sew zips, invisible zips and buttonholes,

an extension table to support sewing larger projects;
Invest in this model if you're curious about sewing but not ready to dive into overlocking or sewing heavyweight fabrics.
Bob Vila put this machine in the category "Best bang for the buck," and he may be right! 

Image source: Re Fashionista
      2. Singer Start 1304
Singer mini sewing machine reviews are spread all over the internet, so no wonder this trendy model also appeared on mini sewing machines charts. Singer Start 1304 is Free Needle's Editor's Choice, and here's why.
This small Singer model has 
six stitches, selected by a simple turn of a dial (the stitch width and the stitch length are preset, so there is no guesswork; a feature appreciated by beginners), so you can
choose a straight stitch for basic sewing, 

fix a hem using a blind hem stitch, 

sew a zigzag stitch, or 

sew a decorative scallop stitch which can embellish almost anything you touch;
four-step buttonhole feature to easily add buttonholes in four easy steps,

removable extension table, which you can slide off to expose the free arm (hem sleeves and trousers or other minor projects), 

ample stitch speed,

reverse lever,

dual spool pins for twin needle sewing, and

bright LED lighting;
As with every sewing machine referred to as "mini," the Singer Start 1304 is portable and lightweight. Using it is a child's play, and it costs only around a hundred dollars (not precisely the one if you're in search of a mini sewing machine lowest price)
This metal-body, sturdy-built Singer machine will stay with you for long, serving you well both for new projects and garment alterations. 
When it comes to cons, some users noticed irregular thread jams.

Image source: Insider
      3. Brother CS5055 Computerized Sewing Machine
We've talked a lot about beginners, but what about experienced sewers? Is there any mini sewing machine that responds to their needs?
Brother CS5055 Computerized Sewing Machine may be the go-to machine for professionals interested in a small sewing device. 
As explained by Bob Vila in "The Best Mini Sewing Machines for Your DIY Projects," Brother CS5055 Computerized Sewing Machine is user-friendly and stands out for its
60 built-in stitches,

automatic needle threader, 

jam-resistant drop-in bobbin, 

seven sewing feet included,  

seven auto-size buttonholes,

LCD screen, 

several needles, bobbins, and other

sewing supplies

,

fixed needle bar (enables precise stitching),

small free arm (helps to handle cuffs and pant hems);
The unit is known to be durable, with a solid metal frame. This mini sewing hero will help you tackle a wide array of projects.

Image source: YouTube
      4. BTY Mini Sewing Machine
We said that an average mini sewing machine is not suitable for heavy fabrics, right? Guess what? We've just changed our minds. 
BTY Mini Sewing Machine is the best mini sewing machine for thick fabric, according to Free Needle, and it costs only $50.99 on Amazon. 
This compact mini sewing machine model is designed to repair most thick fabrics; it's actually explicitly manufactured to do that. In addition, this machine's design is robust, which ensures it can last for a long time as your go-machine in the case of troublesome situations.
With the BTY Mini Sewing Machine, you can stitch sturdy materials quickly, including leather, backpacks, tents and other camping equipment, and even rough car ceilings!
This reliable mini model comes with 
several needles with different shapes, 

metallic needle holder, 

a firm wooden grip,

a waxed thread that can hold together even the thickest fabrics (only one waxed thread included),

LED sewing light, 

reverse sewing and overlock stitches;
"This machine can be kept around your premises for emergency tear as they can allow you to "do it yourself" especially when it comes to repairing damaged gear."
—confirmed authors at Free Needle.
Among the downsides, it doesn't function as well with thin fabric.
The "Best Beginner Mini Sewing Machine" according to Free Needle is Michley LSS-505+ Lil' Sew & Sew, and their "Budget Pick" became KPCB Mini Sewing Machine.

Image source: Ooni Crafts