A Tough Ride with a Leather Sewing Machine? Not If You Drive the Right Model!
A leather sewing machine is higher math in the sewing industry. 
So, in this article, we won't necessarily be talking about a sewing machine for beginners. 
Whether you're on a hunt for a used leather sewing machine or you're currently storming through stores in search of the best sewing machine for thick leather—in the following paragraphs, you'll surely find something to fall in love with. 
We will discuss a few examples of a Singer leather sewing machine and a couple of other inexpensive leather sewing machine models. 
We'll also reach out for valuable information about the idea of a sewing machine for leatherwork.
So whether you're looking to sew leather bags, belts, upholstery, wallets, clothing details, or other leather items, we'll crack in several handy pieces of advice throughout this article.  
Are you ready? Let us begin the research!
Leather sewing machine—basics
Is leather difficult to work with?
According to Sailrite:
"It's unforgiving, is sometimes thick, and can be difficult to pierce with a needle, but the results of sewing with leather are absolutely stunning and, for a lot of artisans, very gratifying."
For starters, let's watch "How to Sew Leather – Tips and Tricks" by Melly Sews:
You can sew leather both with the machine and by hand. 
Are you now wondering which one is better? 
While there's no real answer for such a question, Two Ravens Trading offers an exhaustive report on the case, taking into account various sides of the matter:
| | |
| --- | --- |
| Hand stitching leather | Machine stitching leather |
| The most common hand-stitching technique is called a saddle stitch. It uses a single piece of thread that is passed through both sides of the leather over and over. If one side of the thread breaks, the leather is still held together by the second string. | A sewing machine uses two pieces of thread to form a "lock stitch." One thread is dependent on the other for being held in place. If one thread breaks, they will both begin to unravel. |
| You need to achieve quite a level of skill to make a hand stitch look good. With the sloppy or unfocused techniques, it can go bad very quickly.  | Even a cheap leather sewing machine should be able to handle simple leather stitching.  |
| If done by hand, it's easy to repair a piece. Simply sew right over the top of the area with the break (extending a few stitches on either side). You use the exact same holes that were punched originally, so you can barely see the repair.  | Machine sewing can't use the same holes. It means that it often must have the thread removed to work on the area. |
Read also about sewing machine repair, which is a whole different story. 
What else should you consider when it comes to basic leather sewing knowledge? 
It's high time to have a look at the machines.
Sewing machine for vinyl and leather
Now, what do you need to sew leather? The best sewing machine or a talented hand, obviously. 
But if your machine isn't dedicated to sewing leather, equip yourself also with:
needles,

thread, 

feet,

proper machine settings,

tools, such as utility knife, cutting mat, metal ruler, glue, mallet, hole punches, lighter, Cobblers hammer, edge beveler, Beeswax or gum Tragacanth for edge finish, and others; (read more on

We All Sew

)

Image source: Grampas Honey
In the following paragraphs, we will tackle a couple of leather sewing machine options to feed your sewing inspiration and update your sewing room ideas. 
Are you ready? Let's go through topics such as:
a sewing machine that sews leather, 

hand leather sewing machine, and

heavy-duty sewing machine for leather;

Image source: Craft O Maniac
A sewing machine that sews leather
Let's say you already own a machine (maybe you've even bought it lately), and purchasing a new model only for the sake of sewing leather isn't your plan for the near future. 
Fair enough!
As we learn from Brooklyn Craft Company, any good-quality home sewing machine should be capable of handling leather. You only need to introduce a few modifications to get your machine leather-ready:
Modification

Description
Extra tip

Change presser foot

If you leave a regular presser foot, it will stick to leather, holding it back from feeding correctly through the machine. 

Change a regular presser foot for a roller or a Teflon foot to ensure they glide easily over leather.

Change a needle

A leather needle is a heavy-duty needle with a special tip—made especially to pierce leather easily. 

Get used to breaking needles while sewing thick areas.

You should always have extras on hand.

Read about sewings supplies here.

Change your stitch length

For leather, use a longer-than-normal stitch (for example, about a 3.5).

The stitch should be shorter than a basting stitch.

Use the right thread

For various types of leather, use polyester or nylon. Try also a heavy-duty top-stitching thread—it makes leather look even more admirable.

The tannins in the leather could erode the thread over time, so avoid using cotton thread when sewing leather.

Tape, don't pin

This rule should be placed on the cover of every "how to sew" guide. 

Never use pins in leather as they leave a permanent hole in the fabric. 

Instead, hold pieces in place before sewing by taping them together with double-sided tape. 

You may like the idea of double-sided tape in a dispenser.
You may want to get acquainted with "Leather Sewing Needles – Choosing The Right Needles For Leather Projects" by Sewing Artisan, where they thoroughly explain the usage of needles for sewing leather.
To use a double-sided tape with leather, simply apply a line of tape between the two pieces of leather that you're going to sew. 
Ensure the precision of the whole operation by placing the tape along the edge of your leather within the to-be seam allowance. 
Leave it during and after sewing—there is no need to remove it. 
Leaving the tape inside is a standard leather construction method that works great for many commercially-made leather goods. Why wouldn't you do the same that professionals do?

Image source: Brooklyn Craft Company
Speaking of professionalism, what your DIY fashion projects may miss to truly shine (while you may be well unaware of it) are woven labels. 
Luckily, Super Label Store offers fully customizable gadgets that take your newborn clothing to a higher level.
Now you can order custom care labels and hang tags, as well as different types of woven labels in seconds, in every quality and tailored precisely to your needs.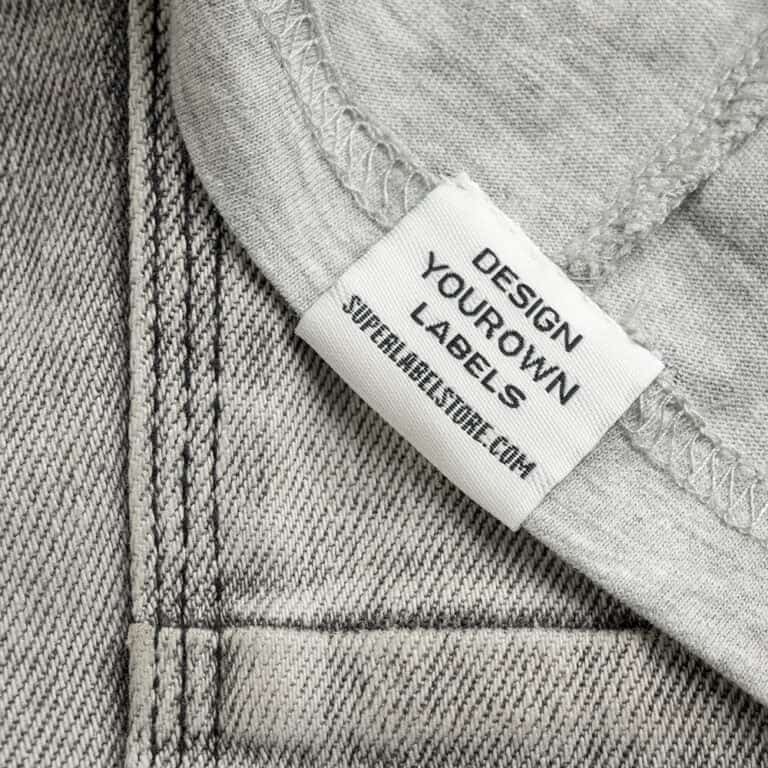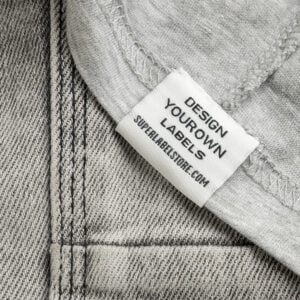 You have probably noticed that, in the leather department, experts put much importance on the needle and thread.
If you're wondering how to thread a sewing machine or what you should know about sewing machine needles, check these articles on our blog.
When you learn to sew leather, don't forget to update your skills and habits regarding the needle and thread. Checking the following three key points should make part of your sewing leather routine from now on:
the size of the needle that your machine can handle (see in your owner's manual),

the thickness, size, and type of thread that your project requires, and

the thickness of the leather and the needle size required for a particular material;

Image source: Sewing Artisan
There are two more tips regarding the adjustments needed to learn to sew leather on a regular machine:
Always test first  
As Brooklyn Craft Company puts it, any stitches you sew will leave a permanent mark on the leather. Forget that any mistake goes unnoticed. Sewing leather is unforgiving. 
"Always use scrap leather to test your thread, stitch length, tension, and general performance of your machine before beginning your actual project."
—the authors underline.  
      2. Plan well
Remember that we're dealing with regular sewing machines at this point.
They won't handle sewing through many layers of leather. They can sew, on average, through a maximum of about three layers of medium-weight leather. Count all the areas you'll be sewing across seams; they count in the total number of layers! 
So if you don't have a sewing machine for canvas and leather: 
choose simple projects without a lot of detail or bulky areas, and 

avoid any patterns or designs with very thick layering;

Image source: Sew Bake Decorate
"Which Sewing Machine Is Best For Your Leatherwork?"—Harry Rogers tries to respond on his terrific YouTube channel. 
Keep in mind that some sewers don't agree with the common belief that you can sew leather with a regular sewing machine. 
For example, according to Sailrite:
"Home sewing machines aren't equipped with enough of the features you need to sew leather. […] Most home sewing machines have an inferior friction clutch, which is likely to slip and cause stitching difficulty when sewing thick, hard-to-penetrate materials. Also, home sewing machines are limited in the thread thicknesses they can handle, reducing the type of leather projects they can sew."
The author also mentions that most home sewing machines are designed with low-quality plastic parts.
All in all, handling dense materials like leather is not their job.
What we need to handle leather masterfully is a solid cast-iron body and robust, all-metal internal components. 
A walking foot—or better yet, a compound walking foot—the machine should have a presser foot, designed not to damage the leather.
On the one hand, leather is thick and tough; on the other, its surface is delicate. So, the wrong presser foot can damage, mar, or scuff it. 
The machine should easily accept a needle deflection or hitting a grommet and keep doing its job, which is unlikely with "weaker" regular machines. 

Image source: We All Sew
Hand leather sewing machine
What about the machines with leatherworking capabilities designed to be used by hand? Have you ever heard of a manual leather sewing machine?
While they differ from electrically powered models, they are highly specialized, quality stitching appliances. Conveniently, these models are also nowadays within everyone's economic reach.
Let's take, for example, the CowBoy OUTLAW Hand Operated Leather Stitching Machine. 
It's a big, high-quality guy that costs $1,395.00. 
Unfortunately, currently not available in the Walmart sewing machine department.
While it's a far less economical alternative than regular sewing machines (not to say: awfully costly), with this model, you get what you pay for. 
Surprisingly (or not?), this type of machinery is much more expensive than dedicated, specialized heavy leather sewing machines powered electrically. 

Image source: The Spruce Pets
This CowBoy OUTLAW hand leather sewing machine will meet the needs of:
Professional saddle makers and leather artisans,
With a hand leather sewing machine, you can work on gun holsters, knife sheaths, leather harnesses, saddles, custom handbags, horse tack, bridles, etc.
Leather goods manufacturers
If you want to create leather belts, wallets, briefcases, leather bags, and shoes, etc., this sort of machine will be good to go. 
Mobile military workshops
In conditions with no electricity when military equipment needs to be fixed, you can use this machine to sew:
nylon and Kevlar straps, 

harnesses, 

tow straps, 

slings, and 

lifting harness and slings, and

ballistic nylon;

Image source: Pinterest
Beginner in leatherwork
There is a low probability that your first machine will cost one and a half thousand bucks. Yet, you can work with most hand leather sewing machine models even at a novice stage. 
They are effortless to operate.
In CowBoy OUTLAW hand leather sewing machine, one lever pull at a time creates a precise lockstitch. The machine doesn't run fast, so it's unlikely for the operator to make errors. Also, the operator regulates the speed by the handle pull.
On Sewing Crafters, you'll find several "Maintenance and Operation for Hand Operated Machines" tips, such as:
activating the machine daily, 

adjusting the stitch length depending on the sewing material, and 

tightening the tension spring nut when working with a thicker material;
(There is also a graceful selection of the "Top 7 Best Hand Leather Sewing Machines" on the same website)
Children and young adults
It may startle you, but children can quickly learn to use, operate, and maintain the Cowboy Outlaw machine. 
The chance of injury is reduced due to the simplicity of this appliance. 
When using any hand-operated machine, its straightforward design makes it safer than in motorized machines.

Image source: Cowboy Sew
This model has solid cast iron construction with heat-treated high carbon steel parts.
See below what its user say about CowBoy OUTLAW:
According to Tandy Leather, it offers reliability and long-lasting performance.
"Featuring many industry-first refinements in the design such as titanium nitride coated hook, shuttle race, and bobbin case covers, as well as a larger, more powerful shuttle hook and bobbin case, the Outlaw features many design elements that make it a much better choice than other machines in the same class."
CowBoy OUTLAW Hand Operated Leather Stitching Machine has a sizeable nine-inch throat depth with a true nine inches of usable space to the right of the needle. As a result, you can finally sew larger leather items with ease.
You may want to check the complete offer that the CowBoy leather sewing machines brand shows on Automatic Sewing.

Image source: Leather Worker
Heavy-duty sewing machine for leather
What is it and who needs it?
Heavy-duty sewing machines handle extended daily use. 
Every heavy-duty sewing machine for leather is meant to deliver long-lasting durability and dependability. 
No wonder they are typically found in the industry. 
Disclaimer: Don't get into a familiar but misleading train of thought: heavy-duty and industrial sewing machines are not the same thing. 
So, what is typically a heavy-duty sewing machine great at? 
It's perfectly suited for heavy fabrics, such as denim and leather. 
If you feel like going deeper into the subject, read "Are You Shopping For An Industrial Sewing Machine? We Can Help!" by The Leather Guy. The author focuses on the industrial sewing machines that deal specifically with heavy-duty fabrics (such as leather and denim).  

Image source: Leather Worker
Also, before you invest in a new machine, ensure your sewing machine table can handle the mass of these robust babies. 
Otherwise, refresh your sewing room ideas and come up with new ones, including more functional furniture (these heavy-duty sweethearts can actually be heavy). 
Now, it won't surprise you that most of the best-performing top-selling sewing machines for leather have "heavy-duty" in their name. Basically, "heavy-duty" is almost a synonym for "for leather." 
Let's delve into models that are particularly worthy of our attention.
The best sewing machine for leather 
The moment has come; we're getting to the heart of the matter! 
Which is the best sewing machine that can sew leather? 
Let's see what we've got here. 

Image source: The Leather Guy
There are as many answers as sewing-related blogs and authors-users involved in the issue. 
However, we managed to identify a few top-notch selections of the best sewing machine for leather. 
We've already discussed the hand leather sewing machine section, so let's move on to these more popular, energy-supplied machines. 
Since they come both in domestic and industrial versions, let's put the top picks in one neat table:
| | |
| --- | --- |
| Domestic | Industrial |
| Janome HD1000 Heavy-Duty (not industrial but industrial-grade) | Juki DNU 1541S Industrial Walking Foot Machine |
| Singer 5532 Heavy Duty (Singer sewing machine) | Juki DNU 1541 Industrial Walking Foot Machine |
| Singer Heavy Duty 4432  | Janome HD3000 Heavy-Duty (on Sewing from Home described as "the perfect hybrid between a domestic and industrial leather sewing machine.") |
| Singer Heavy Duty 4423 Sewing Machine | Sailrite Heavy-Duty Ultrafeed LSZ-1 |
| Brother ST371HD heavy duty sewing machine (Brother sewing machine) | Juki DDL-8700-Servo Industrial Straight Stitch Sewing Machine |
| Singer Quantum Stylist 9960 Computerized Portable Sewing Machine | Juki DU-1181N |
| Reliable Barracuda 200ZW Zig-Zag Sewing Machine | Juki TL-2010Q 1-Needle Lockstitch Portable Sewing Machine (it's not industrial but it has the industrial quality) |
Let's dig into the subject and explore one hero from each category!
Singer Heavy Duty 4432
Loved by everyone; Singer 4432 has what it takes to sew leather favorably. 
Discover the Singer sewing machine article on our blog for the general view on Singer's inventions! 
With Singer Heavy Duty 4432, you know this color, you know this design—it's a versatile machine that's been on everyone's lips since it was first created. 
It's a simple, intuitive one. Threading and winding the bobbin are easy. Just check out the video:
You can read about all the exciting Singer Heavy Duty 4432 features on Sew Insider, but for us, its first advantage comes in with a $249.99 affordable price.  
But why is this Singer model, among other heavy-duty machines, if it's so straightforward it almost looks like a regular sewing machine? (for the record, Singer Heavy Duty 4423 Sewing Machine appears on the top positions in charts just as often).
Singer 4432 is powerful, but at the same time, not intimidating. 
It's fair to say that it's an excellent machine, equipped with an electric servo motor. It's able to sew through multiple layers of leather, canvas, and denim.
It can sew through tough fabrics but is also perfect for beginner and intermediate sewers.

Image source: Sew Insider 
According to By Curated, it's the best heavy-duty sewing machine. 
It comes with an enjoyable dust cover for protection during storage and transportation. Yes, the machine is portable, even though it's at the heavier end of machines. 
You'll love the stability it ensures during high production leather sewing.
Since this Singer is designed for intermediate sewers and beginners, you can slow down and speed up sewing with the foot pedal.
Meet also other prime picks from the Singer family: 
Singer 5532 Heavy Duty

Singer Heavy Duty 4423 Sewing Machine

Singer Quantum Stylist 9960 Computerized Portable Sewing Machine
Two of them are waiting for you to discover them on DIYs.

Image source: Tactile Hobby
Juki DU-1181N
As domestic sewing machines for leather come in various shapes and brands, the industrial sewing machine market got crazy almost exclusively about Juki. 
Juki here, Juki there!
So let's see what all that fuss is about. 
As Horse and Beyond summarizes it:
"Industrial machine made for light and medium leather and sewing up to 3/8″ leather thickness."

Image source: Sunny Sewing Center
What about a shocking (for an average user) 2,000 stitches per minute?
In general, it's quite a lot. 
However, it's also average for this category of appliances.
"An industrial machine might sew at speeds between 1,000 spm up to 5500 spm or higher while a standard machine may sew between 250 and 1,000 spm."
—confirms Stitchers Source.
This industrial leather sewing machine costs $1,395.00, which is equal to the previously mentioned manual leather sewing machine CowBoy OUTLAW, and at the same time way over the domestic machine budget. 
You really don't need to spend so much if you sew at home for family and friends.  
Is Juki DU-1181N  the best industrial sewing machine for leather? There are many candidates, so it's hard to point out only one winner.  
"With its powerful top and bottom feed mechanism, the machine smoothly feeds a difficult to feed material or a multi-layered part of the material without stitch errors, achieving consistent seam quality. The automatic lubricating mechanism dramatically improves maintainability of the machine."
—we learn from the Sunny Sewing Center.
What we also know is that Juki DU-1181N sews light, medium, and heavy fabrics, including leather, which Steve from Sewing Gold channel beautifully demonstrates:

Image source: Makers Valley
Don't forget that besides this one, there is an impressive collection of other Juki family members, just at the top of the best industrial sewing machine for leather selection:
Juki DNU 1541S Industrial Walking Foot Machine,

Juki DNU 1541 Industrial Walking Foot Machine,

Janome HD3000 Heavy-Duty,

Sailrite Heavy-Duty Ultrafeed LSZ-1,

Juki DDL-8700-Servo Industrial Straight Stitch Sewing Machine,

Juki TL-2010Q 1-Needle Lockstitch Portable Sewing Machine, and so on!
Read about some of them on Free Needle.