How to Learn to Sew and Conquer the World? From Sewing Beginners to Fashion Heroes Now
To hit big in the fashion business, you'll have to learn to sew. That's inevitable. 
Yet, hard as it seems, sewing is a hell of fun. Moreover, it: 
helps you to save money, 

helps you support ethical causes, 

lifts your observation skills, 

lowers your levels of stress, etc
Read these 10 reasons to start sewing clothes to get an extra kick of inspiration before you start! 

Image source: Maria Krasnova on Unsplash
Beginners guide to sewing
We know how many of you are dying to start sewing and get to know all the sewing hacks. Yet, a significant part of us will delay taking the first step. And we understand why: you don't have your sewing supplies yet! Just kidding; people use to procrastinate when they're about to face a complicated task and want to excel at it. We know that the procrastination mechanism's worst enemy is a step-by-step method. This way, with minor advancements here and there, you'll reach success in no time. 
So do worry not―paraphrasing Master Yoda―we're here to guide you through the sew know how from the beginning to the end. 
There's no point to postpone the first step of this fantastic sewing adventure. 

Image source: Kelly Sikkema on Unsplash
The very first step to start sewing
How to start sewing? Whether you want it or not, you'll need to equip yourself with sewing kit essentials. 
The faster you get yourself a pretty sewing kit, the better. As experts in the field, we firmly believe that it should be your first step in sewing. 
As soon as you have your tools and start to understand them, the rest of the process will fly. There are many blogs about it. Check, for example, MarthaStewart or sewings supplies by Super Label Store. A lot has been written so that we won't get into the subject at lengths. 
Let's watch together this "Sewing supplies you need" video material with Wendy to be sure to get things right:
Sewing tutorials for beginners are loads of fun. Read about sewing threads types and tips to explore this unknown area. Read also Seams like a dream to get to know more! 
There are several materials that threads can be made of:
cotton, 

silk, 

denim, 

polyester, 

and so on;
But what also differentiates them are their other characteristics:
As you get acquainted with the basics of sewing, you'll discover: 
when to use which thread, 

which one will make your fashion project stand out from the others,

which to choose first―the needle or the thread; 
Later, you'll also discover an abundance of options and variations on other sewing supplies. 

Image source: Ripley on Unsplash
Remember that you don't have to achieve mastery at sewing to sell handmade items locally. Being good is just enough to enter the market. And who wouldn't like to shine in front of the public, selling effects of their brilliant imagination and skilful creation?
The possibility of selling clothes to strangers is one area where upcycling clothes enters the game. There is plenty of fabric and other materials waiting. We can create marvellous pieces of fashion using the resources we've already utilised, instead of further abusing the planet. As a society, we're farther and farther from the idea of fast fashion, where you have to visit a store to get yourself a piece of clothing.  
Whether you're experimenting with easy beginner sewing projects or advanced sewing techniques, you may want to get to know SuperLabelStore.  

Image source: Julia Maior on Unsplash
The company's mission is to supply
sustainable, 

affordable, and 

customised 
solutions for customers of various preveniences:
DIY/clothing crafters at home 

textile/sewing fanatics

(small/starting) clothing brands

fashion designers

hotels, bars and hospitality businesses 
The idea is to make it easier for them to customise their: 
textile, 

clothing, 

towels, 

sheets,

accessories 
with custom (clothing) woven labels, care labels, and hang tags.
Sewing for beginners―getting hands-on experience.
The previous paragraph was just foreplay; now, let's get to business. We want to learn to sew clothes today! (Isn't it the reason you're here?)
Learn to sew by hand
As we read on StitchAndSew:
"The foundation of all hand sewing hasn't changed since the first time someone decided to join two pieces of something together. […] Sewing by hand remained the primary way to join fabrics together for centuries. […] Clothing and household items were generally loose-fitting and shapeless, but decorated with ornamentation from nature, like seashells."

Image source: Kris Atomic on Unsplash
Opinions on where to start to teach yourself to sew vary depending on the tutor we chose.
Let's have a look at these basic sewing skills you need to know. We created the list with the help of TheTailoredFit. 
It will help us learn the prerequisites at the beginning of our learning how to sew for beginners. Another one, from a sewing hobby to successful sewing business, is waiting around the corner.  
Learn sewing terminology
Whenever you look for new ideas to sew a garment, you'll need to go through instructions. And these will be hard to go through without the base―terminology. Familiarise yourself with it if you want the process to go smoothly every time. 
Read:
our blogs (like this

learn to sew

one), 

other professional websites, 

blogs, 

social media, 

books, and 

other texts by sewing enthusiasts. 
It will provide you with a good understanding of sewing vocabulary. 
Thread a needle
Obvious as it sounds, you'll go nowhere without this initial step. 
Plus, it takes some practice to master. When you're sitting on the train or waiting for a visit to your doctor, give it a try. Any extra pieces of advice on this one?
Use sharp proper sewing scissors to cut your length of thread, 

Use the correct length of thread, 

Use the right size needle for your project and the correct thread; 
When it comes to a needle, you want to look for a good one. 
Every sewist knows that a needle that:
doesn't bend,

doesn't break, and 

keeps its point
is an extraordinary tool.
Sew a straight stitch
Sew a straight stitch skill is basic. It's the essential "word" in the "vocabulary" of hand sewing. The one that appears in every sewing "sentence". Straight stitch is imperative for sewers. Don't skip this one, or it will take revenge later. 
Read about nine basic hand-sewing stitches on Kresent. 
| | |
| --- | --- |
| Skills to have | Why are they important? |
| Learn sewing terminology | Terminology is the base. You'll find it on blogs, social media, books, and so on.   |
| Thread a needle | Practice this step as it will serve you through the whole sewing experience. Find the good one; it will make the whole process run smoothly.  |
| Sew a straight stitch | Again, basic as it sounds, this skill is crucial and you'll need to learn it by heart.  |
Let's have a break here to break down a question of sewing a straight stitch by hand with CyberSeams:
As you've seen in this brief video, sewing a straight stitch is not a nightmare to learn. And after you got this one, you can say that you've got the question of "how to sew basics" covered.
Are there any other useful steps on your road at the beginning of learning to sew? 
Let's crack more of them below:
Sew a button
Yes, this was unavoidable. You can say teach me how to sew a dress, but you won't go far if you don't know how to sew a button. Learning how to sew is a process made of steps. Sewing a button is one of the most-used skills in sewing. 
Sooner or later, you'll have to get how to:
add a button onto outfits,

replace a button on a garment; 
Buttons are everywhere. Have a look around, and you'll notice their omnipresence. 
Read all about sewing a button on SewCraftyMe. 
Use a pattern
Do you remember the first time you got inspired by a piece of clothing? Do you remember getting excited to the point of wanting to start sewing and have this garment all for yourself? It's normal; most of us started like this. 
It's easy to use sewing patterns. Easier than you think. Using a pattern, whether you like it or not, is a must in the sewing business. You can compare it to music: you need to know how to read musical notes to play an instrument. (this rule has some exceptions, but still, we are aiming at the classical musicians level)
Tools
We've tackled this one at the beginning. A ride through sewings supplies is basic sewing lessons for beginners. 
Every industry has a typical set of tools that we need to be successful at completing the job. 
Whether you're a swimmer, writer, physician, or sewer, you'll need your tools in place. 
You can do many things without the best quality tools. Yet, it's not worth it. You'll be surprised how much the quality of the final product can dive down because of that. 
Tie a knot
While performing every hand-sewing activity (from button to mending stitch), you'll need to know: 
how to thread your needle,

how to tie a knot,

how to finish a stitch by tying a knot;
| | |
| --- | --- |
| Skills to have | Why are they important? |
| Sew a button | Learning how to sew is paved in stages and sewing a button is a central one (one of the most-used skills in sewing).  |
| Use a pattern | Using sewing patterns is easier than you think. It's also a must in the sewing business.  |
| Tools | We need a solid set of tools to be successful at completing the job. It's incredible how much they affect the final quality of the item.  |
| Tie a knot | It's a part of every hand-sewing activity. |
With this practical background, off you go straight to the sewing mastery!
Also, you don't want to miss these best sewing tips and tricks. You never know when they can appear helpful. 

Image source: SewCraftyMe
How to sew for beginners―basic hand stitches
Is it easy to sew? Of course, you only have to listen carefully and learn, step by step. Don't worry; everything comes with time! 
For starters, let's have a look at one of the first competencies to get: sewing a stitch.
Knowing how to sew a stitch will be necessary to start sewing fabric. Yet, you don't have to do it by hand. It's also possible, and even more common, to get your hands-on experience in the field with a sewing machine. Read on FleeceFun how to make it happen. 
We believe that it's crucial to get the basics before getting to the higher levels of this game. We'll focus on learning to sew with a sewing machine in another article. 
Let's concentrate on hand sewing to the full to do it the best we can. 

Image source: Willian Justen de Vasconcellos on Unsplash
To sew a stitch, you'll need to get yourself materials such as:
Thread or embroidery floss in the appropriate colour/type

Needle

Fabric

Scissors
Now let's go through these 6 basic stitches tutorial with Homedit:
The video took us through the creation of:
backstitch

slip/ladder stitch

whip stitch

catch stitch

running stitch

running baste stitch
You can also read about this on Homedit if you prefer the written version.

Image source: TheSpruceCrafts
In the table below, designed based on Kresent, we'll break down:
nine types of stitches, 

the use they are best for, and 

the process of making them; 
Sewing a stitch may seem a little monotonous at first, but remember: it's all for the greater good! Keep to the musical metaphor we've conceived earlier in this article. 
Also, don't forget that sewing machines have a much greater potential to create complex stitches. Read about it on Coats.com. 
Yet, we'll learn hand stitches at this stage because we want to pick up all the "musical notes" by heart. Keep reading and be patient with yourself! We're not far from learning 35 intermediate sewing projects. The final stage is ordering custom woven labels created especially for your first piece of clothing. Mind that there are different types of woven labels. The range of options is vast. Thanks to this, everyone will find something for themselves.
Let's go through these elementary types of hand-stitches, one by one:
Straight/Running Stitch
Let's start with the encyclopedia of sewing basics. The running stitch, aka straight stitch, is the most popular one for hand sewing. It has many variations.
Where is it used?
gathering

mending

tucking
To make this stitch, follow the points below:
Insert your threaded needle from the wrong side upwards.

Insert it down into the fabric according to the marked design.

Bring the thread back up. 

Repeat.
Basting/Tacking Stitch
This one is easy to learn as it's almost the same as the running stitch (see above). 
The difference is that it has longer stitches (1/4-1/2 inch). 
Uses:
tacking

holding seam

temporary stitch
It can be helpful with 
lightweight (silk and chiffon), 

heavyweight (leather and Melton) wools;
Let's break down the procedure of making basting/tacking stitch (read more about it at AllFreeSewing):
Pierce your threaded needle from the wrong side upwards.

Pierce it down into the fabric according to the marked design with longer stitches up to 1/4 inch to 1/2.

Bring the thread back up and repeat.
Backstitch
A backstitch (just as a "blacksmith", which somehow sounds similar) is solid and reliable. 
Before sewing machines, all clothes were sewn by hand by layers of backstitches.
Where are backstitches used?
to attach fabrics

to outline shapes for embroidery designs

to writing
Making a backstitch is pretty straightforward. Let's see how to do it:
Working from left to right, take a small stitch.

Insert the needle at the end of the previous stitch, bringing it out beyond the point where the thread emerges.

Continue, consistently inserting the needle at the end of the previous stitch.
Read how to sew to polish your skills. 
Catch stitch (Cross-Stitch)
Catch stitch is a large cross-stitch used in finishing seams and in hemming.
What to use it for?
finish hems with fabric that doesn't fray, 

tack facing invisibly;
Main uses:
hem,

seam allowances,

lining garments;
Procedure:
working from left to right, take tiny stitches on the hem,

take a tiny stitch on the garment.

they will appear as crosses on the wrong side and tiny stitches on the right;
Read this complete step-by-step guide with photos on TheSpruceCrafts. 
How did it go?
Are you excited to have the first part of the adventure behind your back?
Take your time and practice these simple sewing stitches (if they're not simple now, soon they will be). 
This experience will be helpful throughout all the sewing training that you'll face in the future. 

Image source: Pinterest
If you feel strong with the previous ones, let's have a look at further options. As before, they are designed based on Kresent research. Sewing is a vast field to discover. 
Slip Stitch (Blind stitch)
It is used as a stitch for hems and other finishes, thanks to it being almost invisible and clean (when done right).
Uses:
join two pieces with stitch thread being invisible

hem
A way to make it:
Bring the needle through the fold of the hem.

Pick up a thread of fabric at the same point.

Make the stitches about a 1/2 inch apart and reasonably loose.
Blanket Stitch (Buttonhole Stitch)
A buttonhole stitch is perfect for sewing eyelets or buttonholes by hand. 
You can use it to:
enclose the raw edges of heavy fabrics

decorative stitch
To create a blanket stitch, follow the steps below:
Secure the thread on the wrong side of the fabric, 

Insert the needle from back to front through the fabric 1/8 inch from the edge.

Wrap the working head around behind the eye end of the needle,

Repeat the same behind the point,

Pull the needle through, bringing the knot to the fabric edge.

Continue, making stitches in tight spaces and knot.
Fell Stitch
What's the procedure of making it happen?
Emerge on the folded edge. The stitch should be about 1mm away from the fold.

Insert the needle into the fabric next to the fold.

Run it diagonally so that it emerges beyond the first stitch.

Pull the stitch closed.
Check TheDailySew for the thorough guide with pictures. 
Fell stitch is known for working well with: 
an appliqué stitch, which is one layer of fabric (generally a folded or selvedge edge) that is a stitch to another,

a sew lace―either as appliqués or appliqué seams,

millinery work and clothing such as attaching hat bodies to brims, to attach hat bands to hats.
Fell stitch is quick, strong, and flexible. The pieces sewn on with a fell stitch can move somewhat like a hinge. This feature makes it suitable for installing linings. Fell stitches sit 90 degrees to the edge, or they can be angled slightly.
Overcast Stitch
It's best for enclosing raw edges of a fabric
This stitch has one primary purpose: preventing the unravelling of the fabric.
Whip Stitch
You can use it in:
sewing, and

crocheting,
for
quilting,

appliqué making,

closing the sides of pillows and cushion,

making jeans garments,

hemming the sides of carpets;
You take this technique on board to sew together two pieces of material with flat edges. 
In crocheting, the whip stitch is nearly invisible. 

In sewing, it's a little more visible, but you can mask it.
Is sewing easy? Sewing FAQ
As you could notice, you can learn to sew online in no time. It's only a matter of a fair amount of enthusiasm and putting some work into it! 
SuperLabelStore is a great place to start and the one to keep walking with along the road. 
Check, for example, these blogs about sewing chair and sewing room ideas or sewing crafts to sell on Etsy (by the way, what to sell on Etsy?). As you expand your sewing abilities, you'll also need to get these pieces of information. Same, when you finally get to know how to make an exciting garment, you're invited to check these different types of woven labels.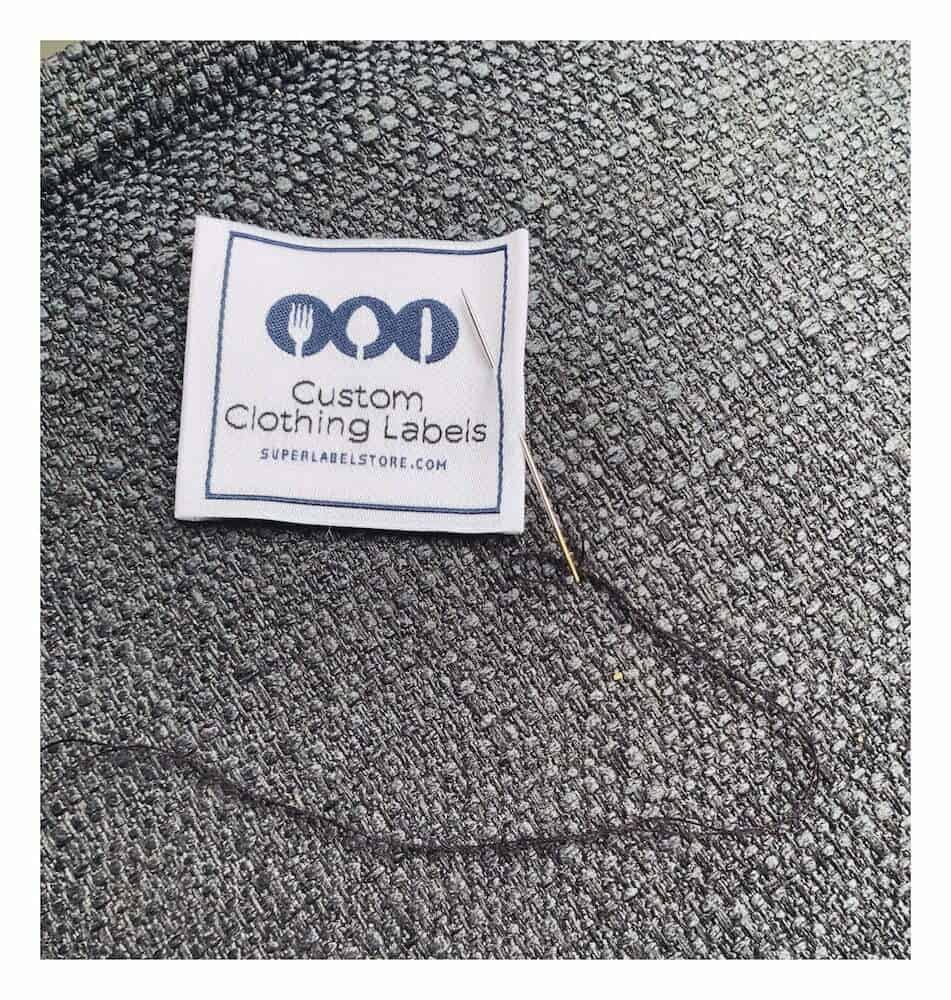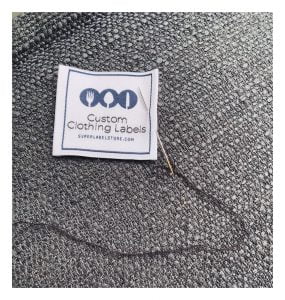 How to sew for dummies: What Comes First–Pattern or Fabric?
Having a sewing pattern in your hands (experts call it "reading", again, as in musical notes) will help you choose the best pattern for your clothing idea. It will also serve as well as helpful advice on the choice of the best fabric to use. 
Where to find the best patterns for beginners? Go for: 
These brands will do great if you want to find patterns designed on purpose for newbies. 
Look for sewing patterns that suggest they're for beginners. They use easy techniques without complex tailoring and fitting.