Use these iron-on labels instructions (for woven labels) to express your creative vision on your handmade items.
Iron-on clothing labels are the most suitable way to boost your handmade items' professionalism. These labels are great for adding to items that you want to sell online or even just give away as gifts.
They can help you create a more professional product and make it easier for customers to learn about your brand.
Iron-on labels also help you communicate specific details about your products, for example, origin and sizing information. This can be important if you sell on Etsy or eBay marketplaces.
Whether you're looking for a new way to brand your shirts or want to add something extra to your dress, iron-on clothing labels can help you make the most of your clothes.
Read on to learn how to attach iron-on labels instructions for woven labels and apply them to your clothing piece.
How to Iron-on clothing labels – Step-by-step Instructions
Step 1: Remove the backside foil
Step 2: NO STEAM!
Step 3: Set your iron to the hottest setting – NO STEAM!
Step 4. Place the label on a garment in the desired position.
Step 5. Cover the label with a pressing parchment square or a thin dry pressing cloth.
Step 6. FIRMLY press the heated iron on a pressing parchment square or a thin dry pressing cloth for 10-15 seconds.
Step 7. Allow the garment and label to cool to room temperature. Then try to peel the label off with your fingernail. If you can peel it off, your iron is not hot enough. Use another iron or reapply it for 10 -15 seconds.
In this article, we will cover:
Iron on labels – for every garment

How to apply an iron-on label

Tips On How To Iron On Labels
Let's explore.
Iron on Woven Labels – for Every Garment
Before we jump to instructions for applying iron-on labels, let's understand what these labels are and the benefits of using them.
What Are Iron-on Labels?
Iron-on clothing labels are a type of label that is made of woven fabric (cotton), which is then coated with a special adhesive. This label can be ironed onto clothing, but it also has the advantage of being more durable than other labels.
A good iron-on label can help you promote your brand. They can boost professionalism and make your handmade items stand out from the crowd. It can just give your customers a sense of security when purchasing something from an unknown seller.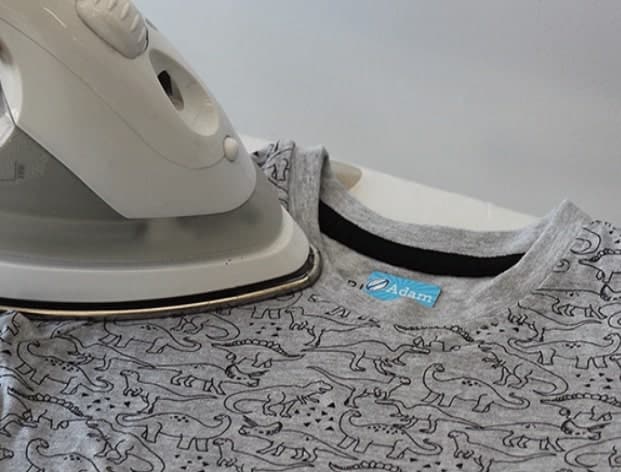 Image Source: The Hero
There are many different types of iron-on labels, but they all serve the same purpose. They allow you to add a professional touch without having to embroider or sew. This makes them perfect for adding a unique touch to your handmade items.
Some people prefer using heat transfer labels because they're easy to apply and don't require any special equipment. Other people like embroidered labels because they give their products a more professional look than other types of iron-on do.
No matter what kind of label you choose, it's important to choose one that matches the quality of your product!
If you're selling handmade jewelry made with high-quality beads and gemstones, then it makes sense for your label to reflect this in both appearance and durability (don't use cheap materials or fasteners).
Benefits of Super Label Store's Iron-on Woven Labels
If you're looking to customize your clothing products with iron-on labels that are easy to apply, look no further than Super Label Store.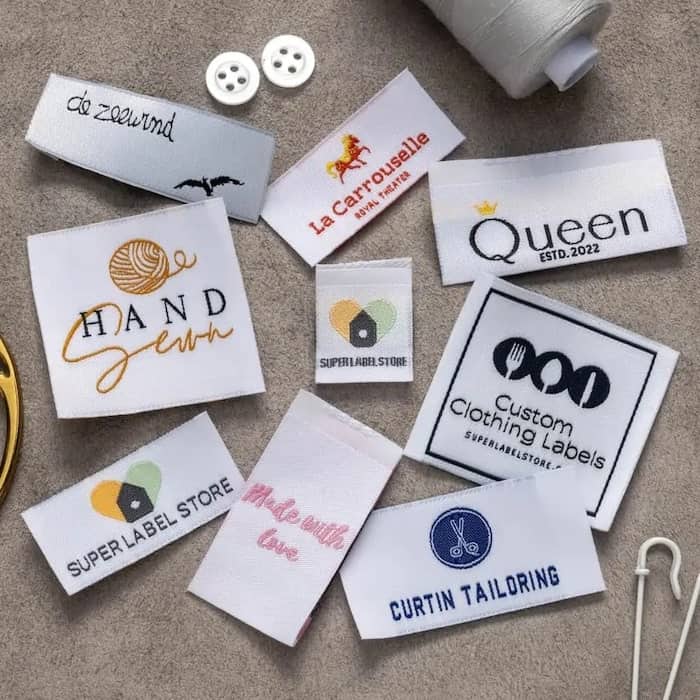 Super Label Store offers a wide selection of iron-on woven labels that are super customizable and easy to apply. At Super Label Store, we know what it takes to create a label that works for your business.
With years of experience in the label industry, we know that the most successful labels are made with superior-quality materials and attention to detail. We also know that labels need to be easy-to-apply so you can get back to work in no time.
That's why we've created our own line of super customizable, easy-to-apply iron-on woven labels. These labels are perfect for all kinds of applications, including embroidery and sewing projects.
They can be used to label clothes, shoes, backpacks, and other personal items. The labels are easy to apply and remove, making them ideal for temporary labeling.
We believe in helping businesses grow—that means providing high-quality products at an affordable price point so you can focus on what matters most—your business!
The benefits of Super Label Store's iron-on woven labels include:
Easy-to-apply labels to clothing and other materials
A cost-effective way to label your products
Durable, long-lasting labels
How to Apply an Iron-on Label?
Iron-on clothing labels are an excellent way to boost the professionalism of your handmade items. They're easy to apply, so that you can get them on with ease. They're also durable and long-lasting, so they'll stay on through washing, drying, and repeated use.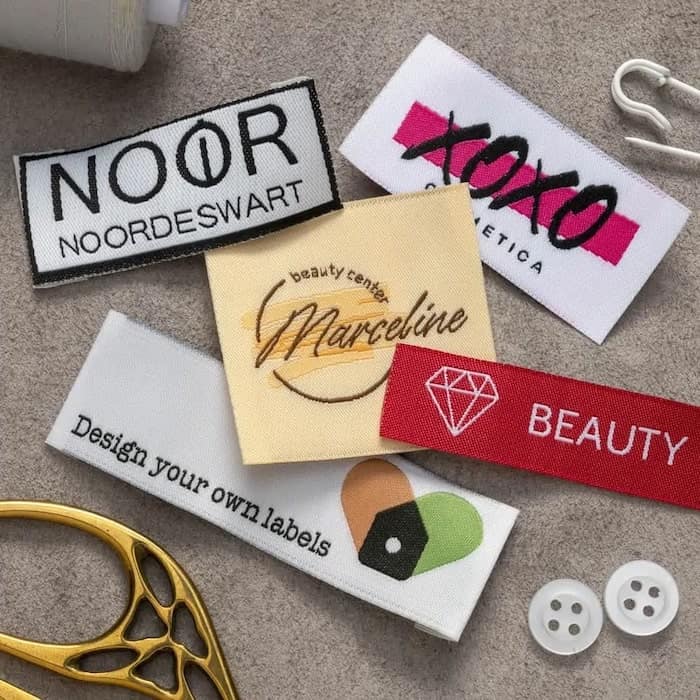 You can use these labels as a way to brand your items as yours or as a way to add information about the product itself.
For example, if your business has a logo or slogan that describes what you do (like "We make hand-made embroidery pieces"), then you could use that as part of your label design.
In this iron-on labels instructions section, we will help you learn how to apply an iron-on label with utmost ease.
Check Fabric's Heat Resistance Properties
The first step of how to apply an iron-on label is to check your fabric's heat resistance properties. Make sure you read the care labels of the fabric or garment that you want to label and understand how much heat it can tolerate.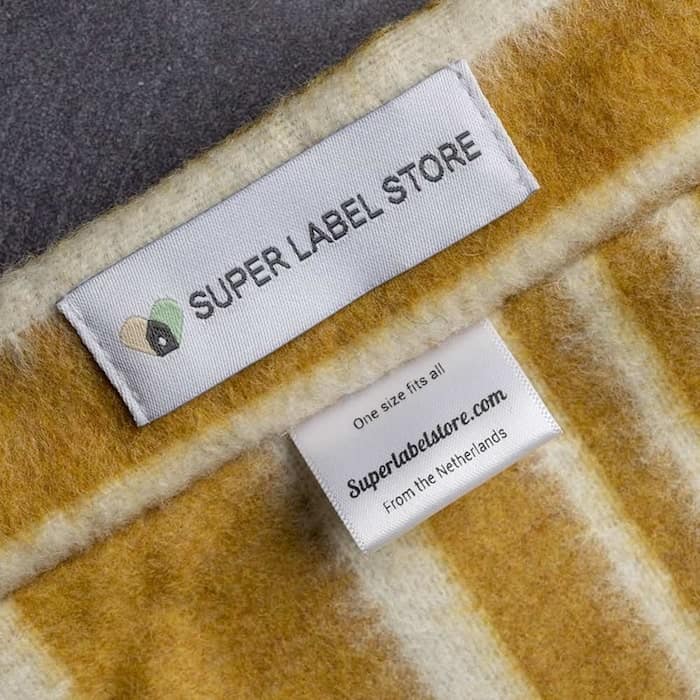 Set Iron to Heat Setting
If you're using a traditional household iron, chances are you won't get the results you want with its standard cotton setting. A professional laundry iron will usually have a steam setting which is better suited for applying the label to your shirt.
The steam also acts like a dry cleaner's pressing cloth, which prevents moisture from softening the adhesive backing on the label while it is being applied. Make sure you set the iron settings as per your fabric requirement.
Place Your Labels
Cut out the label, making sure that the design is not reversed and place it at the exact spot where you want it to be before you start ironing it on.
Make sure the label is facing the right way (the adhesive side should be facing up). If you are using multiple labels, make sure they are spaced in a proper way. Use a ruler to measure and mark the desired placement of the label.
Iron Label for 10-15 Seconds
Now, run an iron over the entire surface of the fabric and label for about 10-15 seconds per inch of fabric being ironed. 
Be sure not to apply too much pressure when applying the label because this may cause damage or mess up the design, which would spoil the look of your product. This will ensure that all parts of your fabric are heated enough to bond together in a proper way.
Finished
Once finished with your pressing session, let your item cool down for at least two minutes before handling it again. The longer you wait after applying your label, the better!
Tips On How To Iron On Labels
When applying iron-on woven labels, it's important to ensure you have the right tools to do the job.
Image Source: Abby Lawson
Here are our tips to consider for how to iron on labels done in the right way:
Make sure you have a good iron that gets hot enough for this purpose. Iron with steam will make things more efficient and easier for you as well as for your label.
Be sure that when you place your label on your garment, it's not overlapping any other piece of fabric or another area. It could get stuck in the wrong place and cause trouble later.
Use an old towel or piece of fabric to protect your iron from heat damage while you're working (and be careful not to burn yourself!). This can also help protect against accidental burns if something goes wrong while you're working with hot iron-on settings!
Head to Super Label Store for Iron-on Woven Labels
Are you looking for the perfect label to make your product stand out?
Super Label Store is here to help. With easy-to-apply iron-on woven labels, you can create a custom look for your products to make them stand out from the crowd. With our wide range of customizable options, you can create a look that's perfect for your brand!
Iron-on woven labels come in many different colors and sizes, so you can find what you need for your project with utmost ease.
Whether you need small labels for clothes or large ones for backpacks, we have a wide selection available at any time!
Get started today by visiting Super Label Store and placing your order.