No Sewing Machine and You Can Still Do Magic? Learn How to Tie a Quilt
You can master how to tie a quilt to create effective quilt decorations. 
But it's also a useful method to handle larger quilts—as you may lack the strength to hand or machine quilt them.
Tying a quilt is affordable—notices Suzy Quilts—and it gives you countless artistic options to get your creative juices flowing!
Sounds like something you wish to try out?
Keep reading to explore the hand-tied quilt category to the core!
Check out also our articles about how to bind a quilt and how to make a rag quilt. 
How to make a tie quilt?
So, how to finish a quilt with the quilt tying technique? 
Check out the simple and captivating video introduction to how to hand-tie a quilt. An experienced quilter Jenny mentions, for instance, that the key to tying a quilt is to keep stitches a hand width apart. 
To discover more hand quilting tips, watch "How to Hand Tie a Quilt with Jenny Doan from the Missouri Star Quilt Co":
With this method, you can quilt your quilt without 
longarm quilting;
Also, it's a faster way of doing it by hand—notices Melanie Khan. This technique provides a completely different result than straight-line stitch in the ditch quilting (which, however, would be an even faster method). 
What's probably the most exciting about making a hand quilted blanket, coaster, or wall decoration (check out these "12 Tried and True Ways to Repurpose Old Quilts" on Primitive Quilts and Projects) is that there are endless options for ties. 
You can use
to achieve jaw-dropping results dripping with creativity. 
How to bury threads when machine quilting?—explains Shannon Fraser Designs.

Image source: YouTube
Other inventive hacks?
play with your color choices, 

make clusters of multi-colored ties or use them alongside some hand quilting, or

use more than one yarn type;
Read how to make a necktie quilt on Crafty House to pump up your creative experience. 
Your sole limitation is that the quilt tie must be able to fit through the eye of a needle, which must manage to be pulled through the quilt.
Added texture is possibly the most compelling reason to engage in tying a quilt. 

Image source: Suzy Quilts
If genuinely impressing your friends or buyers sounds like something you want to pursue, catch up with Super Label Store and its
You can create them using several options
Super Label Store excels at supplying sustainable, affordable, and customized solutions for
DIY/clothing crafters,

textile and sewing enthusiasts,

small/starting clothing brands,

fashion designers,

managers or owners of hotels, bars, and hospitality businesses 
Customize your textile, clothing, sheets, towels, and other accessories with a few simple clicks!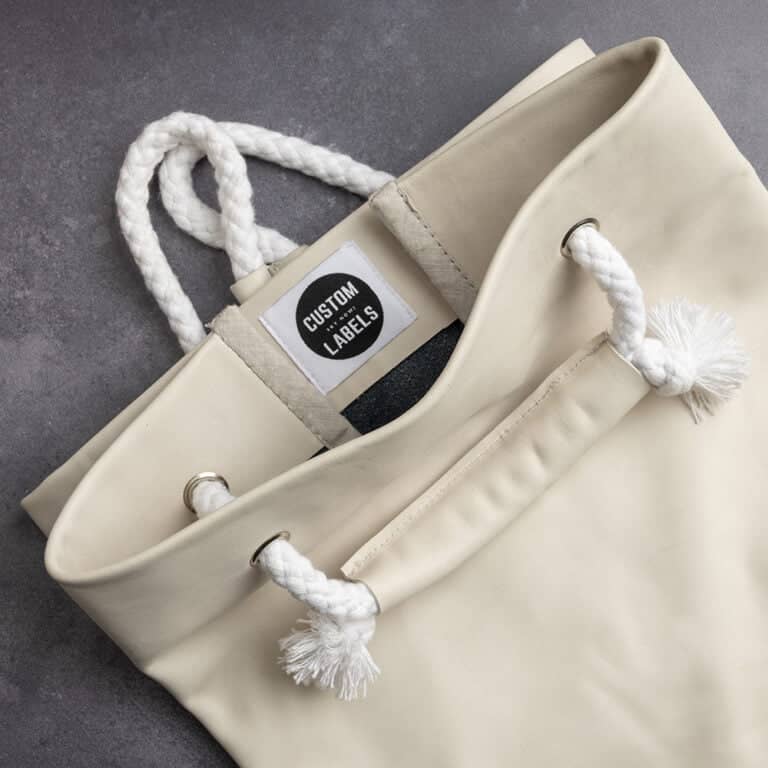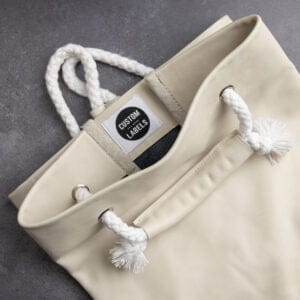 Getting back to our hand quilting tutorial.
Before you learn how to hand stitch a quilt and how to knot a quilt, Suzy Quilts suggests preparing the following sewing supplies:
Pearl Cotton Thread No. 8 (a

quilting thread

for this quilting enterprise can be as thick as you want—you can also use yarn or other options that we listed above),

embroidery needle,

needle threader (optional but you'll love it),

snips;
All you'll really need is embroidery floss or yarn and a tapestry needle"—states Crafty Gemini. 
If you're tired of continuously completing sewing supplies and matching fabric, get yourself a quilt kit. We write about quilt kits here. 

Image source: Suzy Quilts
How to hand-tie a quilt with yarn?
Let's explore some smart hacks on how to tie a quilt with yarn.
Yarn made with natural fibers may fray more than synthetic, especially if it's thicker. There is no doubt that threads unraveling or coming untied over time on our meticulously created tied quilts are far from what we desire. 
Luckily, you can purchase products for fray prevention such as a spray or a liquid in a bottle and use them adding just a small drop to each knot.
Also, if you suspect that your yarn dye might bleed once the quilt is washed, be sure to run a quick bleed test before using it. Toss some of the yarn into a bowl with hot water along with a scrap of white fabric and check what happens. 

Image source: Home Stratosphere
Remember to equip yourself with a needle with an eye that's big enough eye for your yarn to pass through. Yet, the bigger the eye of a needle, the bigger a hole it is going to leave behind in your fabric (discover our articles on types of fabric, types of cotton fabric, and types of polyester fabric).
Another word of caution is that the bigger the needle is, the harder it is to pull through the fabric.
"The 5 Types & Sizes of Hand Quilting Needles" by Suzy Quilts is a good guide on the topic. 

Image source: Pinterest
Here are the five steps explaining how do you tie a quilt:
Decide what will be a quilt tie placement
Even before you thread your needle, spend a minute deciding where you're about to place your ties. 
Most batting for hand quilting requires quilting at least every 8″ or 10″. With a tied quilt, lower that number closer to 4″ or 5." Keep in mind that these ties are just single places of stability holding the quilt layers together.
Take a marking pen and make a small dot in places where you plan to make each tie.
If you're a risk-taker, do it randomly and have fun with it! Just keep it approximately 5″ apart.

Image source: Craftsy
Thread your needle
A hand sewing needle rarely breaks the woven threads of fabric—it rather pushes them to the sides.
To keep your fabric sewing quilting as untouched as possible, pick the smallest needle that will still allow your thread or yarn to pass through its eye.
Suzy Quilts suggests twisting the yarn until its fibers are very compressed, and then flattening it between two fingers to make it easier for it to pass through the eye of the needle.
You can also use a needle threader but find a solid one. Cheap models will break in an instant when juxtaposed with yarn. 
Cut a genuinely long piece of yarn (10′ will do) to avoid retreading your needle after every quilt tie.
It may be a good idea to buy a needle slide for hand quilting if it's not your last quilting adventure 
Don't knot your yarn on a needle yet. 

Image source: YouTube
Pull the yarn through
We're almost there!
Now, you can insert your needle into the quilt all the way through to the back, choosing one of two options:
pull the needle entirely through the quilt top and reinsert it through the back of the quilt about ⅛" away,

use a rocking motion (like in hand quilting) to take a ⅛" stitch in the quilt;
Then,
trim your thread, leaving two 2″ tails sticking up through the quilt top on either side, or

use a chain method (if you've previously prepared a long 10′ piece of yarn), where instead of clipping your thread after each stitch, you leave them all connected. Only after you've made all stitches, do you cut the yarns between every two connected points.
It's handy to use the pliers to pull the needle through the fabric.

Image source: Crafty Gemini
Double knot
Use a double knot on each of the thread ties.
Pass the right thread over and under the left and pull it tight. Then pass the left thread over and under the right and pull it tight as well.
Read "Using a Quilter's Knot to Secure Hand Quilting Stitches" on The Spruce Crafts. 
How to make a knot quilt?
Connecting Threads explains how to tie a square knot. Trim the finished tails down to approx 1 1/2″ long (or how you prefer) and start knotting!
Since it can be pretty tiring to do all by yourself, schedule a knotting party or do it with kids while sitting on a blanket in the garden during one of the long, summer evenings!

Image source: Fabric
Trim the threads
Finally, holding both thread tails together, trim them to your desired length. Leave at least 1/2″ tails!
For an even fancier implementation of the quilt tying technique, read "How to Tie a Quilt… with a Modern Twist!" by Suzy Quilts.

Image source: Suzy Quilts
How to put a quilt on a frame?
Using a frame gets your quilt up off your lap. It creates a desired, even tension on your quilt to work with, essential to ensure the quilt lays correctly when it's done—explains eHow.
Watch the video about "Attaching A Quilt To a Frame" by sweetpetalstitchery and follow the instructions
Finishing the piecing of a quilt top can be challenging already, but according to some quilters, it's nothing compared to what comes after. On eHow, we read that making a finished top is only the halfway point in making a quilt. 
Here's how to put a quilt on a frame in steps:
Steps
Description

Prepare layers and discover

how to tack a quilt

lay your

quilt backing fabric

flat, with its pattern side facing down, 

smooth away wrinkles of the fabric, 

place the batting over the backing, followed by the quilt top with the right side facing up, 

pin or sew baste (find out

how to baste a quilt

) all the layers together with a stitch or

sewing pins

placed at least every 6 inches,

Drape your quilt sandwich over the entire quilt frame

In case your frame isn't able to hold the entire quilt, position the center of the quilt in the frame and start working your way toward the outside.

Secure the quilt to the frame

Depending on the type of frame

oval and round frames have a hoop, which clamps the quilt on, while

square frames have 

pins to tack the quilt backing to or 

leader cloths to pin the backing to;

Check the tension on the quilt

Ensure you have an even consistency of pull on your quilt. It should be flat, not droopy, but also not too tight that it doesn't have flexibility while you're quilting.

Attach leader cloths

Attach leader cloths as necessary—all three rollers of the frame should have a cloth. Find the centers of your cloths, take a pen or marker and place a small mark on the leaders along the edge of the fabric.

To assess the length of a leader cloth for machine or hand quilting frames you need, measure your quilting frame rail, and subtract 6 inches.
Explore the remaining steps on eHow. 
How to stretch a quilt without a frame? See how to tie a quilt without frames in this video by Lauren Terry:
If your frame has a form of a circle, you'll need to find out how to hand quilt with a hoop. 
"A frame supports the quilt's weight, ensures even tension, and frees both your hands for stitching. Once set up, however, we cannot disassemble it until the quilting is complete. Hoops are more portable and less expensive,"
—mention the authors on All People Quilt.

Image source: Minick and Simpson
Hand quilting without a hoop
No wonder most of us prefer a hoopy, hands-free approach to quilting. It reduces the quilt's stress on your hands. 
Yet, if you're conjuring up a tiny project, hand quilting without a hoop shouldn't be an issue.
How to hand quilt without a hoop?
Lay two layers of the fabric against each other,

Use one hand under the quilt to guide the needle, 

Place your other hand on top, keeping the fabric firm in place,

Start stitching, pulling the knot through the fabric towards the back of the quilt;
This way, you'll make a small quilt within up to 12 hours, while the making of the massive quilt may last for months—explains Just Crafting Around. 
How to make a tshirt quilt? Check out our blog to discover this and other topics, such as 

Image source: Craft Joys