You'll wonder how to square up a quilt block at some point in your quilting enterprise.
"Squaring up blocks is my least favorite part of quilting,"
—admits Rachel Rossi Design, and she's not the only one to claim it.
So how do you deal with the "how to square a quilt" problem? How to make this challenge more approachable?
Let's find out together
how to fix uneven quilt and

how to make a square in a square quilt block!
How to fix an uneven quilt?
If your quilt project doesn't want to lay flat, you'll ask how to fix a wonky quilt.
No worries, things like this happen even to professionals who already know
For starters, in sewing and quilting, everything can be fixed! It's just a matter of how to do it. Also, you don't have to learn from your mistakes; you can learn from the mistakes of others!
Read "5 Common Quilting Mistakes (and How to Fix Them)" on Craftsy to get familiar with some common errors that quilters commit along the way, such as
free-motion follies,

running out of fabric,

inaccurate seam allowances,

mismatched rows,

wavy borders;
Sewing Machine Buffs points out that common reasons for uneven quilts are:
Reason
How to get out of it 

Free-motion quilting mistakes

When you realize halfway through your quilting that you haven't allowed an out, you may get stuck in the corner of your quilt block without a way to go. Or when you want to pass to the next block, but you're stuck in the wrong location. To fix this deadlock, just "travel" along a seam or previously quilted line until you reach the proper place of "departure."

Inappropriate seam allowance

Have you ever made quilt blocks that are too small even though you've meticulously followed the instructions? Then you should check your seam allowance. Add ¼ inch of seam allowance across the board of your quilt patterns or blocks—you can use your sewing machine with a quarter-inch foot. Check out the

best sewing machine for quilting

. 
Another cause described by Raige from Quilting Wemple is inaccurate cutting, which, however, is a relatively rarer reason for uneven square blocks in a quilt than inappropriate seam allowance. 
She also mentions her "5 Ways to Get the Perfect 1/4" Quilting Seam Allowance":
use a header scrap,

use a raised guide,

don't sew over pins,

cut off tips of triangles before sewing,

do a test before you start;
Click on Quilting Wemple to explore this topic.

Image source: Just Jude Designs
Since your quilt has two or more layers of fabric, any uneven layer of blocks can cause discomfort to the whole picture. Johnny and Kim from Handi Quilter explain how to fix a wonky quilt in their YouTube video:
Sewing Machine Buffs explain what equipment is good to have before you discover how to fix an uneven quilt top:
| | |
| --- | --- |
| Tool | Use |
| Sewing scissors | Get yourself a sharp-edged scissor to cut  |
| Pencil | Use a sharp pencil to draw lines on the freezer paper. |
| Ironing board | A simple ironing dashboard with an even and flat surface that you have at home will do. |
| Grid or plain freezer paper | Don't fret about its quality. Use the most basic freezer paper from a local or online store. Grid freezer paper makes the job a little easier, but plain will do as well. |
| Applique pins | These pins are short, easy, and efficient to stab and attach to any fabric or quilt block. Regular straight pins are fine, but they won't be easy to press without removing. |
Getting all warmed up? Let's see what to do with the accessories you prepared! 
But first, have a look at what 
DIY/clothing crafters at home, 

textile, sewing, and quilting enthusiasts,

small/starting clothing brands,

fashion or accessories designers,

managers/owners of a hotel, bar, or hospitality business,
can do to improve the professionalism of their clothing, towels, sheets, and other textile accessories.
Whether you work with quilt kits, create garments, or are simply passionate about various types of fabric, check out these 
by Super Label Store to boost the feel of your projects.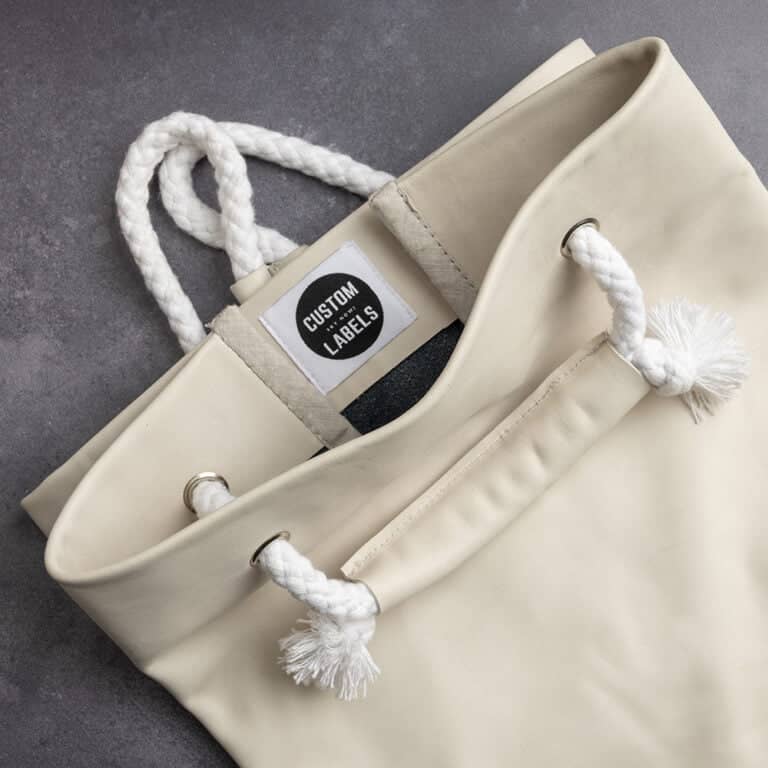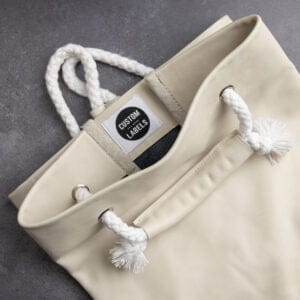 First, try pressing the block again. In case it doesn't help, or the patches on the outer edges of the block are skewed/uneven, you'll have to try another method—suggests Lonesome Pine Quilts:
Cut a piece of freezer paper
Make sure it has the exact size as your quilt block should be.
Draw two straight lines on the freezer paper (on the side that is not shiny)
one line one along the vertical center and 

one line along the horizontal center;
Draw two diagonal lines—each on them from one corner to the opposite corner.
Draw more lines 
If you think some other lines will help you position the block on the freezer paper, draw them, including the outer 1/4″ if you don't use grid paper.

Image source: Crazy Mom Quilts
Place the block on your ironing board 
Put it with the right side down and the freezer paper on top of it, with the shiny side down.
Align the quilt block with the freezer paper 
Be careful to match up strategic parts of the block with the drawing. You already know how crucial it is to have all the parts lined up, don't you? 
Take your short applique pins and use them to keep the two from shifting apart (check out how to applique on a quilt).
Press the paper onto the block and remove the pins.  
Inspect the edges of the block
How to square up uneven quilt blocks? First, check the edges of the block. They won't all reach the edges of the freezer paper but should extend well enough into the outer quarter-inch area to catch the seam as it's sewn.
Repeat for all blocks 
Now that you know how to set quilt blocks on point, do it with those that need to be squared up.  
To sew blocks together, align the edges of the blocks pressed to freezer paper and ensure you match the patches under the paper.
Secure with straight pins to keep them from shifting. Sew a seam 1/4″ inward from the edge of the paper.
Assemble into rows, then join rows 
You've got one step left to fully tackle this "how do you square up a quilt" enterprise, following Lonesome Pine Quilts. All you need to do is assemble into rows and then join rows.
Don't remove papers until you've sewn all adjoining blocks together. Leave them around the outer quilt's perimeter until you add the quilt's borders. Remove them only if you plan to make a quilt sandwich without adding borders.
How to cut quilt borders? Check out these tips on Generations Quilt Patterns. 

Image source: Quilt Dom
Elisabeth from American Patchwork and Quilting shares "3 Tips for Fixing Blocks that Aren't the Right Size" in her YouTube video below:
How to square up a quilt block?
Squaring up a quilt refers to when all corners of your quilt are cut square at a 90° angle, and all the edges are straight.
It will ensure attaching your binding is much easier (read how to bind a quilt), and your quilt will look professional and neat lying on your bed.
So square up your quilt blocks to make sure they are perfect squares before you start showing off your projects. 
Quilt Dom has a couple of hacks to share before you begin:
iron out any creases in each block before you cut into it to make it square,

measure twice, cut once,

it's always possible to cut more off, so take it slowly and check your ruler doesn't slip,

don't panic if at any point you cut too much; 
"Quiltmaking is an art form, so treat it as such. Perfection is different for everyone"
—repeat authors of a Quilt Dom article. 

Image source: Wombat Quilts
So, how to square a quilt block?
Explains Carolina Moore:
Gather these sewing supplies to square up your quilt:
quilt sandwich (completely quilted),

rotary cutter,

square ruler for your corners (check out these square up rulers for quilting on

Amazon

),

long ruler (or anything that will be useful to make a straight edge),

water-soluble marker (optional);
Cut the first corner
Lay your quilt out on the table or floor—advises Quilt Dom.
Place your square ruler on your first corner and line it up, making sure you have fabric on the entire 90° angle.
Ensure your lines on the quilt top are straight with the lines on the ruler. 
Cut both edges of the corner, making sure your ruler doesn't slip. Cutting a crooked line when everything else is perfect can be really frustrating.
If you're a cutting novice learning how to cut quilt squares, check out cutting quilt squares for beginners on Needle Pointers. 
Cut the horizontal edge
How to square up a quilt top? In step two, you'll have to cut the horizontal edge using a long ruler; it can be, for instance,  24" long. 
Overlap part of the line you have already cut, line up your ruler, and slowly cut along the edge up to the next corner.

Image source: DIY Ways
Cut the second corner
Now overlap your square ruler over the line you already cut with your long ruler and line up the edge of your square ruler with the vertical edge of your quilt top. Cut a 90° angle on the second corner. 
Then, rotate your quilt, so the next edge is closest to you. Finally, repeat these steps to trim all the corners and edges.
Bind and enjoy
You were asking how to make a block quilt, and now you have one in front of you. 
With all your corners at 90° angles cut perfectly and your edges ideally straight, binding your quilt is a piece of cake.

Image source: Nancy Zieman
You may also be interested in topics such as
how to cut triangles for a quilt (how to quilt triangles)—check out these three proven methods by

Alanda Craft

,

how to handle folded fabric quilt blocks (check out these "folded quilt blocks ideas" on

Pinterest

), 

what's there to discover about