How to Sew Stretchy Fabric? Let's Take it Slowly and Make Impossible Possible
A popular response to "how to sew stretchy fabric" refers to a reader's mental health. 
So we'll often see titles like:
"How To Sew Stretchy Fabric Without Going Mad—A Beginner's Guide," by

Contrado

, or

"

How To Sew

Stretchy Fabric Without Falling Into Despair," in a different

Contrado

blog;
Both articles seem to take the right direction. Staying calm will be crucial for this ride!
Of all the sewing tools, you'll need most:
a dash of patience, and 

a pile of brilliant

sewing hacks

;
We'll take care of the latter!

Image source: Sewing Is Cool
Sewing stretch fabric
Stretch fabrics are not any odd branch of outfits. On the contrary, they make up a vast majority of our wardrobes. 
Most pieces of clothing that:
are comfortable to wear, 

are soft,

move and grow with us, and

require minimal care
are made of stretchy fabric.
So, what is the result of this equation? Knowing how to sew stretchy fabric is a way to grab a few crucial tips about sewing clothes in general.

Image source: Sew Daily
As Contrado authors explain:
"Stretch fabric is a generic term for any textile, knitted or woven, that has a greater amount of recovery and stretch than is normally expected. These textiles can be stretch-woven fabrics, single knits, some double knits, and even bias-cut fabrics. Most stretch fabrics are knits. Jersey fabrics make up a large percentage of this group."
WonderFil Threads introduces us to sewing stretch fabrics with a piece of advice. 
It says: Get acquainted with the types of fabric you're going to use. 
Our sewing style will differ depending on whether it's:
cotton,

spandex,

fleece, or

jersey;
For the best sewing tips and tricks on sewing stretchy fabric, see the WonderFil Threads video:

Image source: My Textile Fabric
Sewing stretch fabric: types
To gather all types of stretchy fabrics in one place, we prepared two tables:
one, with the general division of stretchy fabrics' types,

the second one, with all the stretchy fabrics and their uses; 
We created them using the information from the Sewing Is Cool:   
| | |
| --- | --- |
| Type of stretch | The way it works |
| Two-way (also called one-way stretch material) | Only stretches in one direction and then bounces back to its original size |
| Four-way | Stretches in both directions |
All the stretchy fabrics belong to one of the two categories listed above. 

Image source: Treasury
Of all the daily fashion wear, for:
practical everyday use, and 

athletic activities,
the most stretchy fabrics are spandex, elastane, and lycra—according to Sewing Is Cool.
There are also a few other candidates: 
nylon—which, however, isn't the stretchiest, 

rubber—that doesn't work great for daily wear; 
Rubber has limited applications. It's very thick, so it doesn't have much stretch, but it's strong. 
Be careful! When you make a rubber thinner, it can snap back on you.
Let's see the list of stretchy fabrics in the table below (by Sewing Is Cool):
Name of fabric
Examples of use
Type of stretch (see the explanation in the table above)

stretch jersey knit

two- or four-way;

cotton jersey knit

any clothing item

two-way

stretch cotton poplin

summer dresses,

blouses, 

skirts, 

shirts;

two- or four-way (depending on the stretch fibers blended in)

stretch cotton

blouses, shirts, etc., with heavier weights for jackets and pants;

two- or four-way

stretch cotton shirting

shirts and dresses

depends on the construction

stretch cotton sateen

blouses, formal dresses, with heavier weights for suits

depends on the construction

stretch cotton jacquard

jackets, 

skirts,

dresses;

depends on the construction
This table continues with the other ten stretchy fabrics. Check the complete list and subcategories of stretchy fabrics on Sewing Is Cool.  
Also, read detailed descriptions of the types of knit fabric on Treasurie.  

Image source: Pinterest
How to sew stretch fabric by hand?
How to sew knit fabric? What are the best tips on sewing knits? How to sew jersey fabric?
In the following paragraphs, we'll learn to sew particular fabrics with a sewing machine.
Things may get tricky, as you can experience fabric getting hung up on the needle. 
Also, it's hard to tell how much tension you should use.
So, as an alternative, is it possible and, if so, how to sew stretchy fabric by hand? 
Here are the sewing supplies and tips you will need on the way (according to Textile Tuts): 
Thread
Needle
Stitch type

A polyester thread is the best because it's inherently elastic. It will stretch with the fabric.

The best choice is ballpoint needles (i.e., Dritz) because they have rounded tips. 

They won't snag or break your fabric's yarn the way a sharp needle would. 

To sew stretch fabric by hand, use a zigzag stitch.

At least, when the seam doesn't need to be very strong.

Make the stitches longer, so they can stretch with the fabric smoothly.

Learn here about sewing stitches and types of seams.

Cotton thread is a no-no. Being less elastic than polyester, it can easily snap when pulled.

Another option is a stretch needle for lightweight or tightly knitted fabrics.

You shouldn't use a straight stitch unless you need a very solid seam.

A straight stitch is a row of stitches running all in the same direction. 
When sewing stretch fabric, you want your stitching to follow the natural lines of the garment's movement. You don't want to position them against these lines. With straight stitches, puckering or rippling of the fabric may occur.
Now you know how to sew stretch fabric without puckering! Sewing Machine Buffs has a few more tips on that matter.
According to Textile Tuts:
If you are using a straight stitch, you should place one or two stitches per inch, 

if you are using a zigzag stitch, place four to six stitches per inch;
Let's get to five steps by Textile Tuts to learn how to sew stretchy fabric by hand.
Pre-wash your fabric first before cutting it into pattern pieces.
Otherwise, expect some shrinking along the way.
Here's a trick for a single jersey fabric: Use cornstarch to stiffen it up. 
Single jersey knits often curl at the edges, which is even harder to handle when we're sewing them by hand.
      2. Place the fabric with the wrong side up. 
Read on The Ruffled Purse how to recognize the wrong and right sides. 

Image source: The Ruffled Purse
      3. Take the needle and position it, maintaining at least 1/2 inch of the seam allowance.
      4. Start sewing in zig-zag patterns. 
Make the stitch length longer than usual. Don't apply extra tension to the sewing thread; keep the stretch fabric relaxed instead.
      5. Finish your stitching at least an inch away from where you started. 
Cut off any excess with sharp scissors.
And here's a video description of the process:
How to sew knits?
In the 1960s, the chemical company DuPont developed a new process for manufacturing fabrics. 
The idea was that fabrics could stretch without damaging their structural integrity.
DuPont created stretch knit fabrics, which advantages such as
malleability, and

durability;
This fabric can be distorted and return to its original form later. 

Image source: Pine Crest Fabrics
Stretch fabrics differ from woven fabrics in the knit pattern.
As you see in the image above:
the stretch fabric uses interlaced loops, while 

woven materials have a grid pattern of fibers.
Read more about the technology of producing stretchy fabrics on Pine Crest Fabrics. 
When it comes to woven fabrics, we recommend you check these woven labels. 
Super Label Store specializes in producing custom:
Figure out how to sew stretchy materials and embellish your projects with these labels. 
It's a sure way to lift your DIY garments to a professional level in no time.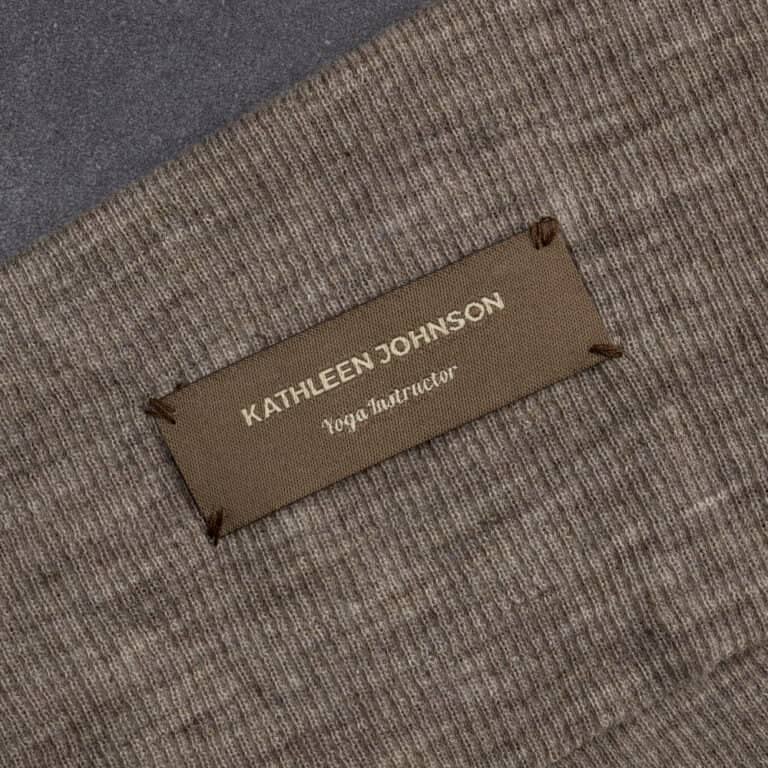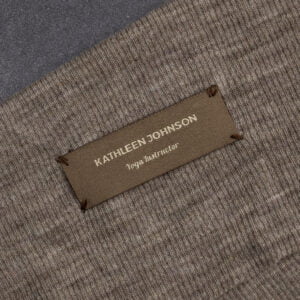 Stretchy fabrics are less complicated to deal with using a sewing machine than with hand sewing. It's easiest to manage fabric and yarn tension during sewing in an industrial sewing machine.
Let's tackle the question of sewing knit fabric with We All Sew.
You can sew knits with a serger or overlocker. But you can also go for a stretch stitch or a narrow zig-zag on a sewing machine. 
Check this sewing with knits tutorial called "Take The Fear Out of Sewing with Knits" on We All Sew.
      2. Sewing with knits still intimidates you?
Here is some practice: "Three Ways to Hem Knit Garments" on We All Sew. 
Also, Craftsy explains how to do it; this time without a serger:
      3. Learn how to stabilize the edges of a super stretchy fabric with We All Sew. 

Image source: We All Sew
      4. How to create a strong seam that lays flat with your serger? Discover it on this We All Sew blog. 
      5. To create a pro finish to your custom-made swimwear, learn the following technique. It explains "How to Sew Swimwear Elastic with a Coverstitch" (by We all Sew).
      6. With We All Sew, you can also learn:
Learn also from the Super Label Store blog:
what are the

types of shirts

, and 

how to

upcycle T-shirt

; 

Image source: Baby Center
If these articles weren't enough, My Golden Thimble is all about tutorials. Click the link to crack "20 Tutorials About Sewing Knits Fabrics You Need to Know Today."
The same qualities that make knits unique also require us to handle them specially. Stretchy fabrics move with our bodies and grow with us. Yet, they will also move and stretch with the gravitation and unfriendly pulling of the machine. 
Follow these rules noted by Seamwork to keep your jersey in perfect condition. 
Don't stretch as you sew or resist your machine's feed by pulling the fabric toward or away from you.

Pay attention to supporting the weight of your project while sewing. 
You may think that letting it fall to the ground as it passes through your sewing machine makes no difference. It does. This innocent movement will stretch your fabric. Not to mention it puts unnecessary stress on your sewing machine. Try to position your sewing machine to leave enough space for your fabric. Guarantee that it has support behind your sewing machine.
If some stretch occurs during the sewing process, hover your iron 1″ above the stretched seam and apply steam. It will help to shrink the seam back to its intended size and shape.

Image source: Speed Queen
Sewing jersey knit
Jersey is a knit fabric that can be made of:
wool, 

cotton, and 

synthetic fibers;
The name of a jersey fabric comes from the place where it was first produced—in medieval times—Jersey, Channel Islands.
In 1916, Gabrielle "Coco" Chanel started using jerseys for a variety of projects. Before, people strongly associated it with underwear. The famous designer transformed the course of the jersey in fashion history.
What to sew with jersey knit fabric?
It depends on the material:
Wool jersey knit fabrics are great for cardigans, sweaters, coats, ponchos, jackets, and dresses. 

Wool blended with lycra and spandex fabrics is more suitable for tight-fitting clothes.
How to sew jersey knit?
Here's what we've learned about how to sew jerseys from KnitWit.
Stage
Commentary
Extra Tip

Before you start

When you're preparing any cotton knit fabric for sewing—like jersey—

pre-wash it to allow for possible shrinkage.

Do it with every fabric that contains:

cotton, 

wool, or 

viscose;

Check if your chosen fabric is:

low stretch—less than 25%, 

medium stretch—25-35% stretch, or 

high stretch, 50% stretch;

A particular pattern may be designed only, for example, for low stretch knits. Still, there are tricks to find the way around it when working on your project. 

After all, flexibility is one of the most enjoyable features of stretchy fabrics. Literally and metaphorically.

Cutting out

Use a pair of scissors with a serrated lower blade to:

grip the fabric while cutting, and 

minimize stretching the fabric during the cutting process; 

Check the direction of the stretch. Cut out your garment so that the maximum stretch goes around the body. 

On the back of patterns designed for knits, there is often a gauge to test the stretch of your fabric. Use it before you cut out your fabric.

Machine

You can use any sewing machine. A narrow zig-zag stitch will allow your stitches to stretch with the fabric.

For a more professional finish, go for an overlocker.
Read a few more hacks on a thread, needle, and hemming regarding sewing on jersey fabric on KnitWit. 
Sewing jersey fabric without a serger is doable.
Hand sewing and traditional sewing machines are enough for sewing on jersey fabric. 
"With a traditional sewing machine, we can sew from stable knits like Ponte Roma to drapey knits like ITY and rayon jersey to high stretch knits like swim fabrics."
—as we read on Make It Just Sew. 
A few tips about how to sew jersey fabric, you'll also read on Seamwork and Sew Essential.  

Image source: Sew Essential
How to sew slippery stretchy fabric?
Stretchy fabric is one thing, but what if it's also slippery?
Make sure that you prepared your sewing machine for what is about to come.
According to The Spruce Crafts, it means:
using an even feed or walking foot to help feed the layers of fabric evenly through the sewing machine,

setting the stitch length to 10–15 stitches per inch,

adjusting the sewing machine pressure—to check if more or less pressure on the presser foot helps to hold the fabric in place;
Anika from Made to Sew explains "How To: Sewing with Silk / Slippy Fabrics" in her YouTube tutorial:
Check The Spruce Crafts for a few more handy tips on how to sew soft fabric.

Image source: Blog for Better Sewing