The First Day on a New Path: Learn How to Sew Pants and Stop Being a Beginner
To know how to sew pants means to "avere le mani in pasta" ("to have hands in the dough"), as Italians say. 
If there's anything that takes you up from the beginner's stage in sewing in no time, it's pants making. 
So let's get to grips with it! The sooner, the better. After all, "The devil's not so black as he is painted," to continue with sayings.

Image source: Merick's Art
Sewing trousers for beginners 
Everybody loves pants, and here's why: they can completely alter your figure. 
For a quick review of what you have to do to emerge victorious from this fight, reach out to:

Image source: Alterations Boutique
"Trousers have the effect of outlining the bottom, stomach, thighs, and legs."―we learn from Fabrickated.
And the way of dealing with legs that don't correspond to the world-spread ideal image would be to go for:
vertical lines on

sewing fabric

,

plain, deeper colors,

darted shapes (rather than gathered type waists),

the right length,

the right width,

the right style;
Keep in mind that choosing the fitting pants for your figure is a topic for the size of an encyclopedia. So let's leave it for another blog.  

Image source: Sewing Is Cool
Also, fitting. 
We don't mean fitting great visually, thanks to optical illusions. 
We mean fitting well and being comfortable, i.e., well-tailored.
Johanna from The Last Stitch presents "Fitting Trousers Best Tips Tricks" to check out. 
Also, elastic waist wide-leg style is what all of us need from time to time. So why not sew a bunch of this sort of pants for the entire family then?
Craftsy and Angela Wolf are all about comfort in this YouTube tutorial:
What else can you do to make your DIY wardrobe look fancier? 
Spice it up with professional, dedicated Super Label Store labels!
Seems like an enterprise only for professionals? Not anymore. 
Super Label Store is eager to collaborate with everyone who wants to customize their:
textile, 

clothing, 

towels, 

sheets, and

accessories 
with custom woven labels and tags.
You can be:
DIY/clothing crafter at home 

Textile/sewing fanatic

(small/starting) clothing brand

Fashion designer, or even

Hotel, bar, and hospitality business;
Customized different types of woven labels, care labels, and hang tags are waiting for your order!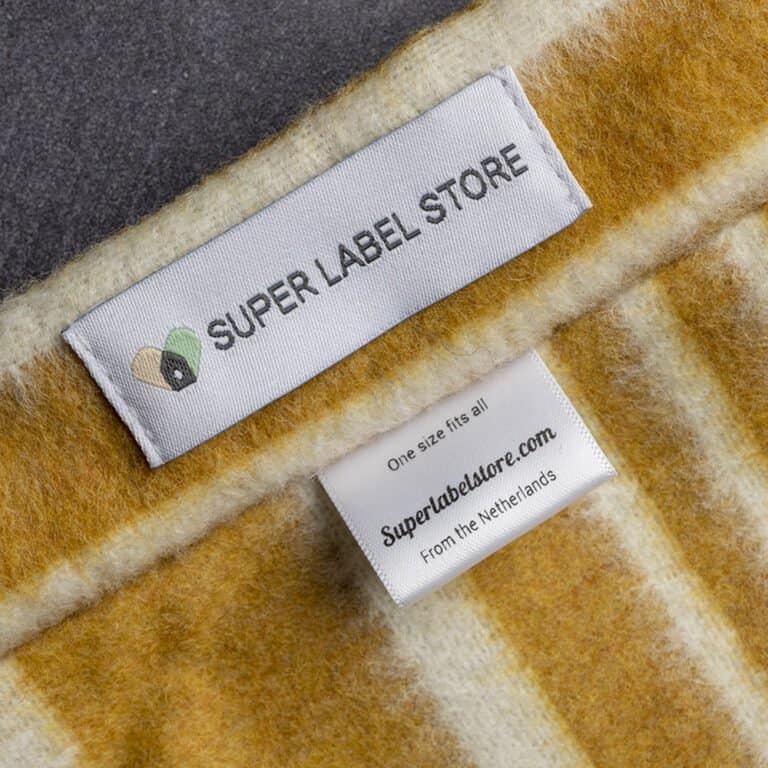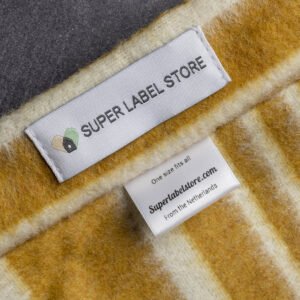 On the Super Label Store, you'll find not only labels to purchase but also a fair amount of sewing information.
You can read about, among others:

Image source: Ready to Sew
How to sew a pair of pants?
We know that finding the right style, sewing pattern, and color for your new trousers can be challenging (also consider upcycling clothes already in your wardrobe).  
We have also learned that crafting elastic waist wide-leg style pants is not only possible but also pleasurable. 
What about making your comfy pajama pants or PJ pants? It can be your first not-so-serious garment and still be fabulous! Cucicucicoo will guide you through it.  
Now, let's take a step further.
We dare to say that there are as many types of pants as there are people! 
New styles and new mens pants' patterns are waiting to be discovered. 
Join the ride and learn to sew:
a couple of

advanced sewing techniques

with us! 

Image source: Sew Over It
How to sew slacks pants?
So, here we are, making actual trousers or free range slacks. 
But before we cut and sew pants with a bit of help from Legit, let's see what sewing supplies we need:
a pair of you well-fitting old trousers,

a piece of paper for sewing patterns,

a pencil, 

sharp

sewing scissors

, 

a ​piece of chalk or a thin soap, 

a sewing fabric (discover

types of fabric

) of your choice. 
Purchase anywhere from one to five meters. Of course, it's better to have more than less. Later, you can always use it for something else.
      8. a sewing machine (read about the best sewing machine for beginners), 
      9. A string of elastic for sewing; 

Image source: Maker Gardener
So, let's take our sewing tools and get down to business and learn how to cut and sew a trouser with Legit.
We have six steps to go through, so we divided the process into two parts. 
Down below, we're tackling the first part of knowledge at your complete disposal:
step one
step two
step three

Fold the trousers that you already have in half along the crotch line.

The front parts should be on the outside. 

Take your sewing fabric.

Cut it into two halves and fold them in two.

How to sew pant legs? 

Take one front and one back part of the fabric. 

Place them inwards and align them together along the long side, pinning the long edge.

Sew your trouser leg and leave a half-inch seam allowance.

Sew the leg seams of the inside part until you reach the leg's crotch area.

Now, give finishing to the raw edge of the legs. The best stitch for this is a zigzag stitch. If you don't have a zig-zag stitch, you can go for a serger stitch. 

Put them on your paper. 

Outline your pants with a pencil. Don't forget to add about two centimeters around the created shape. Add another centimeter around your waist and feet.

Pin your patterns (the effect of step one) into the pieces of fabric. 

Unfold your half-sewn creation and turn it right side up.

Run an extra seam on the outside. 

Fold it back, pin the inseam and sew it together. 

Refold your trousers so that now the back of the pants is on the outside 

Cut around your patterns. Try to be as precise as possible. 

You should end this stage with two identical front parts and two identical back parts. 

Remember not to sew the crotch seam together! 

You should end up with a tube of a sewn trouser leg.

In the end, you should have two slightly distinct outlines of your pants on the paper. 

Cut them both out. 

Use chalk or soap to mark the places where seams should go: 

2 cm on the sides, 

3 cm near waist and feet;

Now, do the same to the other one. 
Do you feel inspired?
We're in the middle of this demanding pant-sewing adventure, so we deserve a brief pause. 
Not to mix things up too much, but what about grounding knowledge about making a pants pattern piece?
Follow Thoughtful Creativity – CRAFT, SEW, DIY for "How to turn your PANTS into a pattern – easy tutorial!."
It should have given you all the answers.

Image source: Merricks Art
We ended the first part of this "how to sew pants together" tutorial with two pant legs sewn.
Are you ready for the next steps?
Here we go with Legit pieces of advice again. 
We love finding the best sewing tips and tricks for you! 
step four
step five
step six

Take:

one of the pant legs turned the right side out, and 

the other turned the wrong side out. 

It's time to hem your pants.

We're getting there! Cut a piece of elastic waistband according to your preferred hip measurement that would both:

suit your waist, and 

hold your pants in place (Cut the elastic approximately 0.5 inch to 1 inch lesser than your waist measurement to hold in place); 

Put the one facing the right side inside of the other one. 

Fold the 3 cm you reserved for the waist and leg hems. A straight stitch with medium length works well to hem pants. 

If your pants-to-be are giving you the impression that they will be too long or too short. Now it's time to adjust accordingly. 

Take a safety pin and pin it to the elastic string on one side. 

Put it inside the opening and thread the string through your waist hem. 

Align the crotch. 

Pin them together. 

Sew the rise.

Sew around the hem stitches of the waist hem. Leave a 2-3 cm opening in the middle (it's where the elastic string comes in later). 

Sew the two ends of the elastic and hide them in the opening. 

Unfold your half-finished trousers so that they are on the wrong side. 

Check the inseam.

Sew the leg hems. 

An opening is a detail, but the devil is also in the details! Sew the opening to shut it or leave it open. With the latter option, you can always adjust the string if the trousers are too loose. 
Do you fancy your new garment?
To discover more sewing tips, check these upcycling fashion ideas.

Image source: Pinterest
Sewing pants of various types
We've tackled the basic pants idea for trousers. It won't come as a surprise, though, that there are hundreds of others left to get to know!
Let's uncover a few sewing pants tutorials for a better understanding of this fashion branch:
Papao wrap pants
Papao is a type of trousers with asymmetric peg pants, having a unique wrap closure (no zipper, buttons, or snaps!). 

Image source: Ready to Sew
The Indian dhoti and the Thaï Shan Baun-mi inspired the style of these pants. 
This quick and straightforward project likes natural fabric such as linen, hemp, or ramie canvas. You can also use light denim, twill, chambray, poplin, gabardine, batik, or hemp. Avoid fluid fabrics like rayon, tencel, and cupro;
Read more about the project at Ready to Sew and discover the set of tutorials related to this design on another page of Ready to Sew. 

Image source: Ready to Sew
      2. Long pants with a flat front
How to sew long pants with a flat front?
Here's another smart step-by-step guide to your new favorite garment. 
Go through these ten steps of assembly instructions on CloData. It will lead you to make a fantastic piece of clothing in a few hours. 

Image source: Sew Over It
      3. Jeans
How to sew trousers such as jeans?
The Last Stitch will be helpful again, sharing "The Ultimate Guide to Sewing Jeans." 
It's a selection of super useful tutorials such us:
7 Time-Saving Tips For Sewing Jeans

8 Great Tools and Notions for Sewing Jeans

10 Tips for Sewing Jeans

How to Sew a Jeans Waistband

Sewing Jeans Buttonholes and Buttons

Sewing Jeans Belt Loops the Easy Way

How to sew jeans back pockets the professional way

How to sew the jeans yoke and side seams

How to sew perfect topstitching

Image source: Alicia Petresc on Unsplash
      4. Cropped wide-leg pants
We're dying to know how to sew cropped wide-leg pants! 
Are you as well?
So let's discover this beginner sewing tutorial by Merricksart. 
The author serves these pants in a menu with:
your swimsuit at the beach, 

a plain t-shirt, and cropped jacket, or

a blouse and heeled sandals for the office; 
It's worth having one and using it on every occasion!
The quantity of sewing tools isn't overwhelming, so you'll handle it with ease: 

Image source: Merick's Art
First off, you need to cut pattern pieces:
two pant leg pieces (one for each leg), 

a waist tie (4″ thick and as long as you'd like), and 

your belt loop strip (3″ wide, 15″ long);
If you don't make them yourself but prefer to find them online, you still need to get to grips with using ready patterns. The pattern can be accustomed to make dress pants, pajama pants, or lounge pants.
"How To Cut Fabric with a Pattern Like a Pro"?
LTRL Trend – Fashn Guru explains it (like a pro) in her video tutorial:
After you have your pieces cut, get to the pattern instructions provided by Merrick's Art.
Make these wonders see the light of day!
How to sew pants seam?
In sewing, a seam is a joint where two or more layers of fabric, leather, or other materials are held together with stitches.
We classify seams by their:
type: 
plain, 

lapped, 

abutted, or 

French seams;
position in the finished garment: 
center back seam, 

inseam, 

side seam;
With pants, an inseam is a seam that binds the length of the inner trouser leg. Inseam is the distance from the bottom crotch to the lower ankle. 

Image source: JK Signature Styles
All trousers-making processes above were composed of inseam-making. So we already have a taste of sewing inseam on pants. 
But for the matter of having theory at hand, Sew Over It explains sewing the seams thoroughly.
Also, "Understanding Pant Seams when Sewing" with Lori Griffiths is a fantastic introduction to the topic:
Sewing pants: creating pockets and button flies
Let's not forget about details such as pockets or button flies.  
They are a massive part of the "operation" of crafting pants. 
You need to check these tutorials as a quick introduction to the next saga. 

Image source: Sbs Zipper
Frequently Asked Questions
What are the easiest pants to make?
The ideal starting point would be the Pomona Pants and Shorts, offering a seamless sewing experience with three distinct views, providing abundant options for creativity. Embracing a loose-fitting design, these pants feature an elastic waist, a comfortable high rise, and the added convenience of no side seams. Notably, you can find patch pockets on either the front or the back, enhancing both style and functionality.
What is Pocket Facing in pants construction, and why is it important?
Pocket Facing refers to the fabric piece used to finish the raw edges of the pocket opening on pants. The facing fabric is usually cut from a sturdy material that matches the main fabric and is sewn along the pocket opening, enclosing the raw edges and preventing fraying.
What is the most comfortable knit fabric for pants?
Cotton fabrics are the most comfortable fabrics due to their exceptional softness, breathability, and weightlessness.
What tools are essential for sewing pants?
To sew pants effectively, you'll need a few essential tools, including a sewing machine, fabric scissors, sewing needles, pins, measuring tape, a seam ripper, and an iron.