How to sew on a patch? Ways to transform your outfit with a single powerful intervention
Discovering how to sew on a patch is likely to appear helpful at some point in your sewing adventure. 
Maybe you began to sew by getting yourself a shiny new sewing kit or researching sewing room ideas? Or maybe you had to learn how to sew a button because the situation required it. Is it where your sewing path took off? 
Many of us started to sew by applying hand-sewing patches. It could have been both for fashion entertainment and clothing urgencies.
We know sewing patch activity is common, and that's why we bring to you a handy "how to sew on a patch" guide below. 

Image source: Blog Weavabel
Patches aren't only pretty gadgets with the potential to spice up your look in an instant.
Sewing patches on shirts and other garments is the easiest way to cover unwanted spots or holes on our favorite pieces of clothing. 
Let's crack more information about this never-ending trend in the article below. 
Discovering: 
how to sew on a back patch,

how to sew a patch on a uniform,

how to sew a patch on a sweater,
and many other sewing hacks are only one section on the long and bumpy road from the sewing hobby to successful sewing business. Keep in mind that "bumpy" doesn't mean it's not pleasurable! 
Visit the Super Label Store blog to get to know handy tips on how to sew. Also, check what the different types of woven labels are. 
But now, keep reading to crack how to sew on a patch from start to finish. 

Image source: Thomas Tucker on Unsplash
Where to sew patches?
How to sew on patches on particular pieces of clothing?
Before we arrive at the core of this practice, let's go through a quick introduction. Then, we will tackle the question of where to sew patches. 

Image source: RebelsMarket
How to sew on a patch―an introduction
Just as there are several helpful sewing threads types and tips, there are also a couple of practical rules regarding patches (following Polaroid Foto Bar):
Patches come in different types:
embroidery, 

sequin, 

fabric, 

beaded;
      2. The choice of the correct type of patch to use depends on the fabric you're going to attach it to.
      3. The most appropriate method of attaching the patch? It depends on both the kind of patch and specific clothing material. 
      4. Not every piece of cloth will look good with a patch.
How to sew on a patch―when will it be useful?
Learning to attach a patch to an outfit will come in handy in plenty of cases. Among them, there are situations such as:
Your kid has an ugly tear on the garment, and you don't know how to cover it,

Your teenager wants to attach a school or club badge to their bag to identify with the team,

You're a fashion enthusiast and eager to attach a trendy patch to your clothing;
In the paragraphs below, we'll let you know how to sew on a patch effectively. If you follow our advice, your patch will look:
chic,

professional, and

neat;
Also, when your brand-new item is ready, why not decorate it with a professional custom label?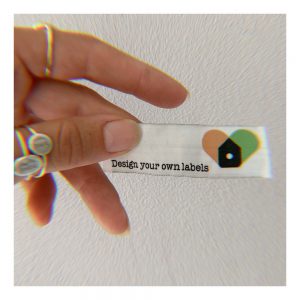 Go for:
And observe your garment starting to shine with a professional demeanor.
Why should you choose a Super Label Store?
There are at least four reasons:
It's super easy―you can make use of configurators on the website. They'll help you design and order custom labels in minutes.

The quality is superb―premium quality from start to finish.

Customization option―your labels will be 100% unique.

Low quantities―the brand is open to working with individual DIY sewers and big fashion brands. 

Image source: Robbie Noble on Unsplash
Where to sew patches and how to sew on a patch?
In the YouTube video below, Sew Anastasia explains how to sew patches onto anything: 
Yet, before we learn how to attach our patches on all the possible fabrics, let's review a couple of regular locations. Where can we usually find patches on outfits?
We asked several experts for good pieces of advice and a couple of handy ideas:
Mind that options are never-ending. In the table below, we collected only a few of them:
A piece of clothing

Description

Extra tip

An unexpected elbow patch

A lot can happen to the classic sweater elbow if you decide to add an exciting patch sample to it. 

Keep in mind that the elbow patch will greatly influence the overall look of your garment, even though it's so small. 

Upgrading a cap

Give your worn-out baseball or bucket a second life by updating it with a fancy patch. 

Use iron-on adhesive to adapt these fashion gadgets to your current taste. 

Denim bottoms

Go for an abundance of various patches to make your old pieces of denim emanate with retro punk vibes. 

Read more about it on Marie Claire and InStyle.

Poncho

Following the typical method, you'll use wool felt or other warm and sturdy fabric. Both are highly suitable for adding patches onto for display. 

Look at these easy patterns about sewing a poncho on the Sew Guide. Remember to use a heavyweight needle and thread. 

Handbag

Don't be afraid to customize your leather handbag in your unique chic style. Original patches will be great for it. 

You can add:

aviator shades,

studded flats,

a hat;

Tote bag

To keep your patch display simple, decorate a plain canvas tote bag. 

Tote bag is flat and smooth, so you can use a sewing machine to sew patches on with ease.
There is another surprising trick on how to sew decorative patches on jeans and other fabrics. 
Watch out because this method is a deal-breaker! Instead of attaching a patch, you can make a removable pin and stick it to the patch. This way, you can attach your new gadget to any clothing! 
How to make it happen? Simply glue a pin to the back of the patch. When your item is ready, you can use it with as many garments as you wish instead of attaching it only to one of them. 
As we got so inventive, what about making a patch all by ourselves? 
Get your creative juices flowing and learn how to:
create a tremendous heart-shaped patch with

MrKate

, or 

follow another step-by-step guide to making an innovative patch (by

Create To Donate

).
Keep in mind that you don't have to do long research online or spend millions to buy original patches in stores. If you want to show off with an innovative patch, you can make it from scratch all by yourself. 

Image source: MrKate
Sewing patches on sweatshirts and sewing patches on a jacket: How to attach patches? 
Here comes a crucial question about patches: Which method is the best for attaching a patch?
In this article, we're dealing with the question of how to sew on a patch. Yet, we should be aware that it's not the only method. 
Basically, there are two general approaches to attaching a patch. We won't go deep into the subject, but let us share the primary division and a couple of options for both types. 
You can attach a patch to the garment: 
with sewing, or

without sewing;
Below, you'll see what methods there are within both approaches. We prepared the table with the help of Polaroid Foto Bar: 
| | |
| --- | --- |
| Attaching patches without sewing | Attaching patches with sewing |
| Glue on patches | Sew-on patches |
| Heat-sealed patches | Applique patches |
| | Heat seal and sew patches |
| | Reverse applique patches |
| | Darning |
| | Set in patches |
| | Beaded patches |
Is it better to iron, glue, or sew on a patch?
According to Sewing Machine Buffs, there are significant advantages to sewing a patch instead of gluing or ironing it. 
Sewing gives you extra flexibility when you're deciding where to place the patch. Gluing or ironing will exclude some areas of a garment that you cannot work on using this technique,

Sewing gives an option to sew a temporary patch on and remove it later (check out this article on "How to Remove Sewn On Patches" by

The Creative Folk

);
To choose the best one from all the available options, go for the one that fits your project better. 
What is the difference between the two no-sew opportunities? Fabric glue holds tighter than iron-on patches. Glue is also believed to be simpler to use (than ironing or sewing) and less time-consuming.
If you work with glue, remember that a majority of patches are made from fabric. The glue of your choice must be suitable for fabrics. To know more, read these six gluing tips in the article "What is the Best Fabric Glue for Patches" by Sewing in Cool. 

Image source: Girl with red hat on Unsplash
How to sew on a patch by hand?
First off, let's see how Shmoxd from YouTube makes his appetizing hand-sewing patches. 
We bet it will encourage you to start working on patches by hand:
"Do it yourself" (DIY) is a popular trend, and we love it. Upcycling clothes and upcycling fashion are probably one of the leading 10 reasons to start sewing clothes. 
Among the best sewing tips and tricks, we found this handy guide through making sewing patches happen (by Sewing Machine Buffs):
| | |
| --- | --- |
| Advice | Explanation |
| Neaten | Make your hole in the cloth gorgeous before you start the "patch operation." First, inspect the hole and ensure you trim any free edges. |
| Feel free to be artistic | Be creative with patches. Cut a heart or square shape; it's all about improving the look of your garment (and yours), not about being proper. Brainstorm, cut, and create, create, create!  |
| Choose fabric | If you want the blend between the patch and cloth to be invisible, choose the fabric that blends well. Otherwise, for a sexy disparity look, use a different color. Mind also the pattern.  |
| Backing | Only light materials will need backing. Denim will be good to go without any because it's thick. A light fabric needs a double-layer material for a more sturdy patch (pay attention to the knee or elbow area).  |
| Learn hand sewing method | Learn to sew embroidery patches to make the finish ornamental. Original, fancy finishes need handwork. So take a sewing needle in hand, read about sewing fabric, and start practicing.  |
 If you've found yourself in front of a hole in your cloth that is nothing but irreparable, get ready for a patch-sewing trip. 
Also, if you're a youngster or a punk-oriented fashionista and you want to:
show appreciation to your favorite band or sports team or 

impress your friends, 
you need to get yourself a patch. 
Or maybe you were wondering how to hand sew a patch on jeans? Not to mention many other cases when knowing how to sew on patches to denim or how to sew on embroidered patches might be helpful.

Image source: Sewing Machine Club
And do you know what links all the cases mentioned above?
You don't have to be a fashion freak to be in such a situation. It's possible that you don't own a sewing machine and don't even know how to sew when you're wondering how to sew patches on a jean jacket and other fabrics. Maybe sewing on a patch is the only sewing activity that you'll take up in your whole life!
In other words, you need to learn how to hand sew a patch.
Discovering how to hand sew a patch will make us prepared to face such situations and come away unscathed!

Image source: In Style
When it comes to the materials central to the practice of sewing a patch by hand, you'll need to get equipped with: 
the fancy patch of your choice,

the fabric or cloth that you are going to sew the patch onto,

a thread that should be the same color as your patch. Otherwise, try a transparent one,

sewing pins

a tape or ruler for measuring

embroidery needle

scissors
Read on Sewing Machine Buffs what are the steps to follow. Look at tips and tricks that are worth knowing for practical sewing on a patch by hand. 

Image source: MrKate
To conclude the most crucial points of how to hand sew a patch:
Think where you want to place the patch. 

Use sewing pins to attach your patch in place for stability. 

Do the regular stitching, i.e., pass the stitch all around the edges of the patch.

In case of thick cloth and patch, insert the needle from the back of the fabric. Then pull it back again from the front.
How to sew a patch on a shirt?
We bet that at this point, you can't wait to take your favorite patch in your hands and start working.
That's why we found this eye-opening YouTube video. It describes "How to Easily Sew a Patch onto a Shirt or Jacket Sleeve". 
Take a look at this brief online training:
Read also "How to sew a patch on a cap" on Colman and Company. 
For a couple more tips on:
how to sew a patch on a jacket,

how to sew a patch on a shirt,

how to sew a patch on a sleeve
dig into this complete manual by the Sewing Machine Club. 
Challenges like sewing a decorative patch with the sewing machine and sewing a patch over a hole or tear will have no secrets from you. 
Let's tackle the second one below. 

Image source: Sewing Machine Club
How to sew on a patch over a hole or tear?
Thanks to the person who invented patches, now we aren't forced to throw away our beloved garments only because they have a tear or a hole in them. 
A curiosity by American Patch: embroidered patches first began in China in the 5th-3rd century BC. 
Look at the table below (by the Sewing Machine Club):
Steps

Description

An extra tip

Get the correct patch

The patch should match the garment on many levels. Think about a suitable fabric and color. 

You don't have to get a new patch from the store. Go for upcycling fashion if you care for the planet. 

Prepare the hole or tear

Take your scissors and cut out loose or frayed edges of your (about-to-disappear) hole in the garment. 

Get rid of the remaining thread around the edges. Otherwise, your patch will stand out or get in the way when sewing.

Cut the patch

The trick is to have it larger than the hole to cover (about one inch, i.e., two and a half centimeters). 

The shape of the patch and the hole should be the same.

Pin your patch

Turn the garment inside out. Lay your patch to cover the hole. You need to hold the patch in place. 

To hold the patch in place, use:

straight pins, 

double-sided tape, or 

fabric glue.

Sew the patch

Sew around the edges with a machine using a straight stitch. Go over the edge of the patch several times to secure it.

Try to use a thread that most matches the garment. Another option worth considering is an invisible thread. Consider the correct gauge of the thread for your fabric and patch. 
As you see, now you can use a patch to repair your outfit in no time, thanks to a few simple maneuvers. You'll be stunned by the outcome.
Enjoy!

Image source: RebelsMarket