Learn how to sew jeans that fit you in the perfect way and are cost-effective.
Let's face it: shopping for jeans can be a frustrating experience. You never know when you're going to find the perfect pair, and you also want to save time looking for them.
What if we told you that it doesn't need to be this way? What if we told you that there's an easier way to get the jeans of your dreams?
The answer is simple: learn how to sew jeans at home!
Once you've got some basic skills under your belt, buying a pair of jeans will no longer be a stressful ordeal—because now you can make your own!
With just a few tools and patience, anyone can learn how to make their own jeans in no time. Then they'll never have to go through another frustrating shopping trip again.
In this article, we will help you learn how to sew jeans at home.
If you're new to sewing, then making your own jeans may seem like an impossible task. After all, there is so much involved in creating these denim wonders. Don't worry. We will also cover some tips for making your DIY jeans a successful project.
What Materials Do You Need to Sew Your Own Jeans?
To sew your own jeans, you'll need a sewing machine and other basic tools.
Image Source: Teona Swift On Pexels
Fabric and Patterns
You can buy denim fabric in a variety of colors and styles, or you can make it yourself. You'll need to use a pattern designed for sewing jeans, and you should follow all the pattern instructions.
Image Source: WeAllSew
Sewing Machine
A sewing machine is an essential tool for you if you want to sew your own jeans. It will help you create clean seams and hems that are sturdy enough to be worn with confidence—and it'll save you time in the long run!
Sewing Tools
A good pair of sharp scissors and some thread (either cotton or polyester) will help keep your project running in a smooth manner.
Image Source: Pixabay On Pexels
You may also want some pins for pinning together sections of material before sewing them together into one piece. If something goes wrong during construction, you will need a seam ripper for removing stitches.
Needles and Thread
You can use any type of needle and thread you like, but we recommend using a sharp needle and a sturdy thread. That way, your jeans will hold up better and last longer.
Hardware
The other supplies you'll need are the hardware—the buttons and zipper for closing the fly. If you don't have those, ensure you get them before starting your project.
Image Source: Pixabay On Pexels
Step-by-step Instructions for How to Sew Jeans
Making your own jeans is easier than it may seem at first glance! The instructions for how to sew jeans are simple enough for beginners to follow.
Image Source: Mica Asato On Pexels
We'll walk through the entire process step-by-step, from choosing your fabric to sewing up the finished product. Let's get started!
Step 1: Choose Your Fabric
When choosing the types of fabric for your jeans-making project, there are a few things to consider. First and foremost, choose a fabric that will be comfortable to wear.
Jeans are an everyday garment that you will want to be able to move around with utmost ease, so avoid picking something with stiff or heavy materials.
Image Source: Dalston Mill Fabrics
If you're working on jeans for yourself, consider whether they fit your lifestyle and body. Do you need something that's more durable or more resistant to stains? Are you planning on wearing them during colder seasons?
Step 2: Wash and Dry the Fabric Before You Sew
It is safe to wash your jeans with a load of dark-colored towels or T-shirts.
The dye in dark fabrics will not run faster than light ones. Be sure to wash jeans inside out and tumble dry them on high heat, so they're dried before cutting or sewing them in any way.
Step 3: Get a Pattern
There are several ways to learn to sew jeans. You can buy one or use an existing pair of jeans and upcycle jeans in your own way.
Image Source: Angela Kane
If you want to learn how to sew jeans from scratch, follow these steps:
Lay the jeans flat on a tabletop with pockets facing up and layering them together, so they don't shift while you mark them. 

Place a paper sheet on top of the layers and trace around each side, including pockets and seams.
If you need more than one piece, repeat this process for all pieces needed, such as the front right, and then front left pieces, etc.,
Once all pieces have been traced onto paper, remove the original pants from under the paper. Do not disturb the placement of pocket marks unless you add additional ones that may need further adjustment later on during the sewing jeans process itself!
Now take off any labels from the outside bottom hem area where it meets the seam line along the center back seam line between the outer leg area. This should be done for the other side as well, if needed.
Step 4: Cut Out the Pattern Pieces
With utmost care, let's proceed to the next step of "how to sew denim."
Start cutting out the pattern pieces from your paper pattern. To ensure you get a perfect fit, cut out each piece in order and with accuracy.
Step 5: Pin Pattern Pieces to the Fabric and Cut Them Out With Scissors
Make sure you have two of each pattern piece (front, back, waistband) and that they are the same size. If you're learning "how to sew your own jeans," then make sure to cut out two pairs of the same pattern!
Image Source: Sewing With Nancy
Step 6: Sew Seams Using the Overlock Stitch or Zig-zag Stitch
Now that you have your pattern pieces and fabric ready, it's time to sew!
First, make sure your machine has an overlock stitch option. This stitch is ideal for jeans because it prevents fraying at the seams. Use a zig-zag stitch if this option isn't available on your machine.
To ensure your seams are as strong as possible, use an ironing board and cover it with newspaper or an old towel. Place the main fabric face down on top of the ironing board so that its raw edges are exposed.
Now to learn "how to sew fabric onto denim," you will need to lay down one piece of lining fabric next to each side of the main fabric.
This way, the raw edge will be exposed by three inches or so—the amount will vary depending on how many pockets you're adding to your jeans.
Now take one seam allowance strip and place it above one pocket lining piece. Then take another seam allowance strip and place it above another pocket lining piece in vertical alignment.
Make sure the raw edges should touch each other but not overlap them. Next is sewing jeans by hand. Pin all four layers together along these edges before sewing them together using either an overlock or zig-zag stitch.
Step 7: Sew Darts on Back Pockets
You need to use a straight stitch to sew a dart on each side of the fabric, ensuring that you place the darts at their correct height and width.
Image Source: Pinterest
Press darts open with an iron. Start pressing from both sides so that they form sharp points in the seams.
Step 8: Sew Side Seams Together
The next step of how to make clothes like jeans is to sew the side seams together.
This will create two fabric sections connected at a 90-degree angle. One section will be equal to the width of one leg, and another section equal to the other leg.
To learn how to sew your first seam, you will need to set your machine to straight stitch and pick up both pieces of fabric at once with your hand on top.
Now start at one end and sew until you reach halfway through.
Stop here and repeat this process with another straight stitch or zigzag stitch (based on what type of look you're going for).
Once you've finished sewing all four sides together, press them flat using an iron so they lay flat against each other without any bumps or creases between them.
Step 9: Sew Crotch Seam Together, Creating the Inseam of Jeans
Place the two legs of your jeans on top of each other with the seams facing up and toward you so that you can see both hems at once.
Image Source: Fit For Art Patterns
Match up all four corners as best as possible by pulling out any wrinkles or folds that may have formed while sewing them together earlier in this process. Now pin them down with straight pins at each corner to keep things in place while you sew.
Sew along both sides using a straight stitch (or zigzag). This will create an even seam line running through both legs near their base, where they meet up at a right angle.
You'll want this seamline to be flat against your leg but not too tight or puckered up. You should be able to fit just one finger between it and your skin when wearing whatever garment these jeans will become!
Step 10: Press Seams Open With an Iron to Create a Flat Seam
This finishing step of "how to sew men's jeans" is important.
If the seams are left as they come out of the sewing machine, they will be bulky and uncomfortable. When you press them open, it allows the fabric to lie flat, which prevents wrinkles from forming in the fabric.
Step 11: Use Labels to Give It a Professional Look
You've spent hours on your jeans, and now you are ready to wear them at parties or casual meetings. Don't let them look like they were made by someone who doesn't know how to sew!
Use woven labels, care labels, and hang tags from the Super Label Store.
Our super customizable, high-end clothing labels are designed for jeans and other clothing items. They are an excellent way to add some polish to your handmade jean collection and help your jeans stand out from the crowd.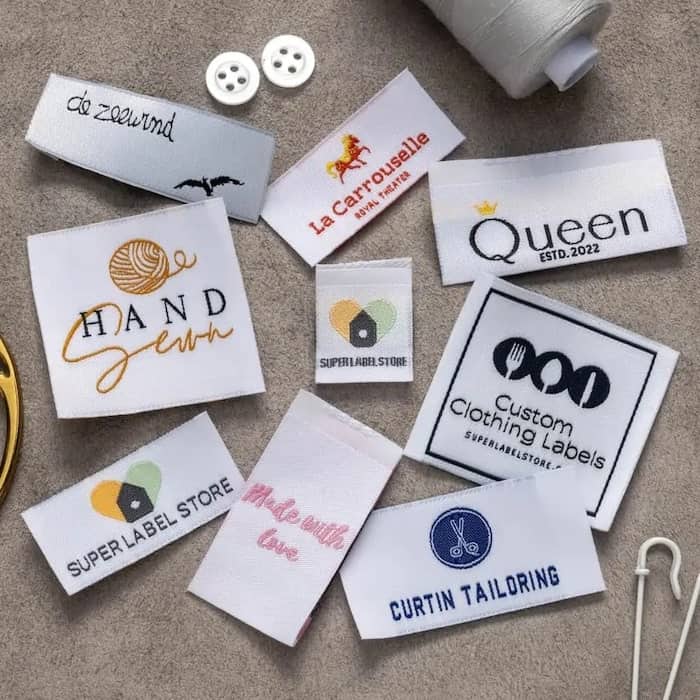 Our labels come in all shapes, sizes, and colors—and they're made from durable materials that will stay with your jeans through multiple washes and wears.
Explore our clothing labels collection today!
Top 5 Tips for Sewing Denim
You've got the perfect pair of jeans in mind. You've found the perfect fabric and are ready to sew!
Wait a minute… What if it's not so easy? What if your jeans don't fit right, are too stiff, or look terrible?
We know how frustrating that can be—and we also know that it doesn't have to be this way!
That's why we've collected a list of the top five tips for sewing denim so that you can ensure your project goes in a smooth manner every time.
Image Source: Rogerio Martins On Pexels
Prewash Fabric
You have to do this once, but it's important. Prewash the fabric to remove excess dye and shrink the denim, making it easier to sew. It also removes any wrinkles that might have come from sitting in storage or being folded at the store.
Image Source: Whirlpool
If you skip this step and sew on your garment without pre washing, you may have some very noticeable wrinkles in your finished garment.
Use a Sharp Needle
You might think that needles are a boring topic. When it comes to sewing denim, the needle you use can make or break your project.
Use a sharp needle to sew through all that denim. The dull ones also don't bite into the fabric and may break during construction due to overuse/breaking points.
Use Jeans With Weight Thread and Topstitch for an Authentic Look
To achieve an authentic look, you should use jeans-weight thread and topstitch for your sewing projects.
Image Source: DenimsandJeans
The Jeans weight thread is heavier than regular sewing thread, making it a thicker and more durable quality.
Topstitching adds a decorative touch to garments with jeans and reinforces seams that are prone to wear and tear.
This type of stitch is great for adding extra strength to seams where there might be strain from pulling or tugging at your garment's fabric. Topstitching can be used alone or as part of double-needle stitching (also known as overlock).
Interfacing Can Help Add Structure to Your Denim Project
You can add a layer of interfacing to your denim project to give it more structure. This can be a good idea if your fabric is soft or floppy or if the garment will be worn by someone who needs extra support.
It's also important to test-stitch the interfacing before you start sewing. If it's too stiff and thick, it will make your stitching difficult and may tear through the denim when you're wearing it.
Ditch the Pins. Use Clips Instead.
Pins are a pain to remove and leave holes in your fabric. They can also get lost under the presser foot and make a frustrating mess.
Image Source: Pinterest
Sewers should use clips or bulldog (or hair) clips to hold the edges together. Clips are easy to work with, do not leave marks on your fabric, and are easier to use on curved seams.
Conclusion
Sewing your own jeans can be a fun and rewarding project. It's a great way to save money, build up your sewing skills, and have something unique that no one else has.
Who doesn't love a reason to wear their favorite material on their legs?
If you don't want to sew jeans from scratch and just looking for ways to make adjustments to your store-bought jeans, then these articles are for you:
Do let us know your experience in the comment section.
Happy sewing!