How to Sew a Zipper? With This Guide, Professional Sewing Will Have No Secrets from You
Many of us wonder how to sew a zipper. 
Yet, it seems so sophisticated that we often prefer to outsource it to professional sewers. 
But wait. After we went through:
aren't we ready to gain this skill as well? 
It looks like it's just the right time for sewing a zipper adventure!

Image source: Doina Alexei
Sewing a zipper—types of zippers
When you learn to sew, you come across a bunch of unfamiliar words and categories. 
With this guide, we make it simple. 
Let us show you a few handy tables, links, and videos, and the sewing process will become painless.

Image source: Do It Better Yourself
Zippers differ in:
materials and techniques they're made of (metal, molded plastic, coil, etc.),

uses (water-resistant; read

how to sew a hidden zipper

) 

shapes, sizes, widths, and lengths,

types of opening (closed bottom, separating);
You can identify different types of zippers with Colleen G Lea on her YouTube channel. 
Before we get to tackle particular types and learn how to sew a zipper, let's see what it comprises. 
According to Do It Better Yourself, the parts of the zipper are: 
Parts of a zipper

Description

Teeth/chain

It's what we imagine when we think of a "zipper." It holds the entire zipper construction together.

Tape 

It's the fabric around the teeth/chain. The chief part of the zipper is attached to it. 

Slider body

It's a part that moves. It joins and separates the teeth as it slides up and down.

Pull tab

It's what you keep between your fingers when you move the slider body up and down.

Top stop

It prevents a slider from coming off the top of the zipper

Bottom stop 

It prevents a slider from coming off of the bottom of the zipper. 

This part is present in closed bottom types of zippers but not in separating types.

Retainer box

Present in separating zippers only. It secures the zipper together and prevents a slider from coming off of the bottom of the zipper.

Insertion pin

Present in separating zippers only. It secures the opposing side of the zipper in the retainer box.
Visit Do It Better Yourself to read more about zippers.
According to Sew Guide, there are at least 15 types of zippers, among which:
two-way separating zippers, 

exposed zippers, 

fly zippers, etc.
From Plush Addict in "Everything You Need To Know About Zippers," you will learn:
how to use particular zippers, and 

which type of garment calls for which zipper;
Do It Better Yourself mentions a couple of zipper categories and tools to work with zippers:
zipper foot,

pliers for shortening,

invisible tape, and

stabilizing tape;

Image source: Chris W Designs
The easiest way to sew a zipper
Isn't it the right time to get our hands-on experience with sewing a zipper?
Let's start with the easiest beginner techniques. 
"You will never have to be scared off by zippers again,"
—promises Sarah from Hobby Lobby in her YouTube tutorial. 
Sarah uses a sewing machine (and a handful of other sewing supplies), but it's not the only option.
Stephanie Rubletz explains why knowing how to sew a zipper by hand may appear handy. She also reveals how to do it.
The best-known and also the easiest method of sewing a zipper is the central seam method. 
We'll get into this technique in detail with the help of Treasurie.
Here is what you'll need:
Your zipper (if you need to adjust its length, check these instructions on

Treasurie

)

Sewing machine with a zipper foot

Sewer's tape or scotch tape 

Image source: Heather Hand Made 
"Learning how to sew a zipper gives the seamstress a real sense of achievement."
—we read on Treasurie, and we couldn't agree more!
Are you ready? Let's browse these Treasurie steps to get skillful at sewing a zipper:  
Steps

Description
Extra tip

Finish edges

Finish the edges of the sewing fabric that are about to be closed with a zipper.

You can use a serger or a regular machine with a simple zig-zag. 

When using a serger, do not cut too much of the seam allowance off. You risk making the edges too short to insert a zipper in them.

Sew edges

Sew the two pieces together with the right sides together up to where you're going to insert the zipper.

Backstitch the endpoints.

Use a regular length stitch and the seam allowance stated in your pattern (typically 1/2 inch, 12mm, or 5/8 inch, 15mm).

Baste gap

If you're not familiar with some sewing terms, check this Super Label Store blog.

Use a long basting stitch (length 4.0) on the part open for the zipper. 

You don't need to backstitch the ends, as you will unpick them later.

Press open

Read "The Whys and Hows of Pressing Seams Open" on Craft Nectar.

Turn the sewing fabric to the wrong side and press open the seam allowance.

Glance over these sewing hacks to get familiar with other curious sewing techniques. 
We're right in the middle of sewing a zipper. There will be no better moment to mention how your DIY fashion outfit can gain with one unique extra accessory. 
Customized woven labels by Super Label Store are the best method to enrich the atmosphere that your projects exude.  
Order: 
fully customized by you and in any number of copies. 
If you were looking for the best sewing tips and tricks, you've just found the top one!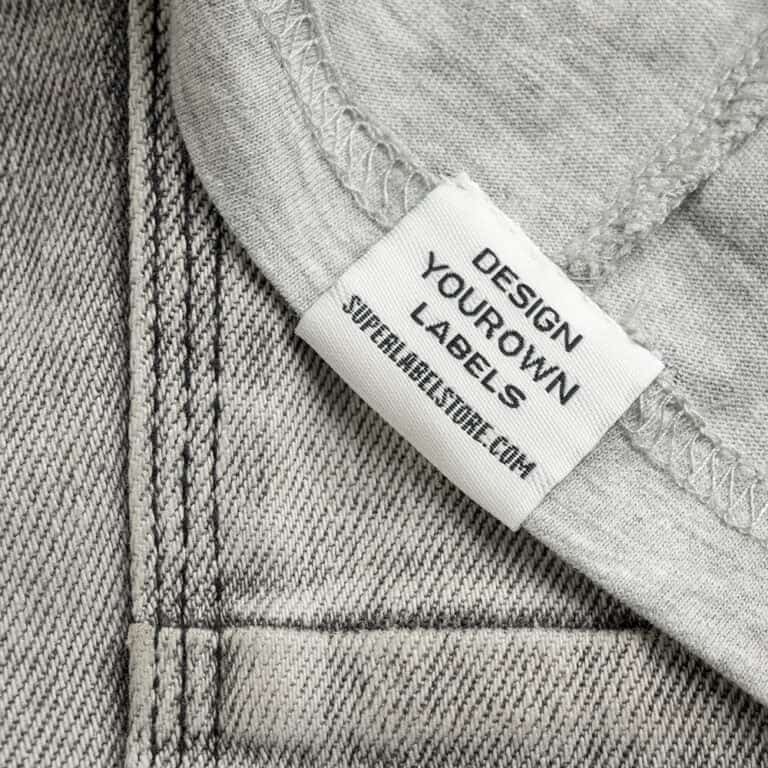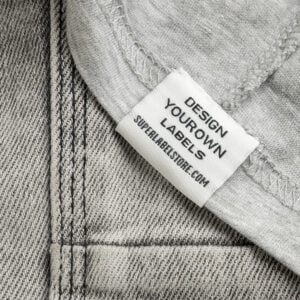 Let's get back to discovering how to sew a zipper with Treasurie. What's the next step?
Steps

Description
Extra tip

Place zipper

Place the zipper face down along the basted seam on the wrong side.

Start at the top. Align the top of the zipper with the top raw edge.

Baste zipper

Put temporary tape across the zipper at the back at intervals to keep it in place. Use scotch tape or sewer tape. A zipper will stay flat with tape than with pins.

Tape well, especially the ends, to keep them relatively straight. They will separate a bit either way because of the bulk of the zipper head. When a zipper head faces down, this neuralgic point will be less bulky when sewing over it.

Pin bar

Turn the

sewing fabric

over.

Put a pin across the end (just after the metal retainer bar). 

It's a guide to sew over. Thanks to this tiny signal, you won't hit any metal with your needle.

Read about sewing needle and sewing threads types and tips.
We're almost there. Now we need to stitch the zipper.
You can also try out this tutorial by Dina on the MADE Everyday channel:
She shares two ways of sewing a zipper: 
The first one works great if you need to find out how to sew a zipper pouch. 

The second responds how to sew a zipper on a dress.

Image source: Sew Can She
Now, as you are ready to sew, let's get into it with Treasurie. 
On your sewing machine, change to your zipper foot.
Be sure to check the settings of your needle. It should be on the correct side to sew in the zipper.
There are two methods to sewing a zipper.
| | | |
| --- | --- | --- |
| | 1st method | 2nd method |
| 1st step | Start on one side and stitch down the zip to the bottom. | Stitch the bottom in place at the width you need. |
| 2nd step | Turn and then stitch a couple of rows over each other. This way, you secure the end.  | Stitch one side to the top.  |
| 3rd step | Make the stitches the width you require at the bottom before stitching up the other side to the top. | Lift the foot and cut the threads before stitching the other side.  |
When choosing your favorite method, you can try both on the scrap before you get to deal with the actual garment. 
In the last step, open the seam. Take the seam ripper to open the seam to open and close the zip freely.

Image source: Treasury
Various types of zippers require various zipper stitch sewing methods. 
Treasurie covers other two techniques in the blogs below:
How to sew a zipper in a pillow?
Learning how to sew a zipper in a pillow is among easy beginner sewing projects. 
Failing to be extremely precise here is not a crime. Feel free to experiment at the beginner stages of learning how to sew a zipper.
Let's reach out to Instructables to find out how to sew a pillow cover with a zipper.

Image source: Instructables
Prepare: 
sewing machine and a zipper foot,

pinking shears or

sewing scissors

,

ruler,

zipper (regular or invisible),

seam ripper;
      2. Mark and cut your fabric
If you're working from an existing pillow, measure it from seam to seam, both 
horizontally and 

vertically. 
Add one inch to each measurement (i.e., for a 15×20 inches pillow, you'll need two 16×21 inches pieces of fabric).
You can fold your fabric over and cut both pieces at once. 
To do that, draw the shape on the wrong side of the fabric, pin the two pieces together and cut it out.

Image source: Instructables
      3. Sew across the edge where you want the zipper to be
Have a look at your fabric and decide where to sew the zipper in. 
It may depend on the pattern. 
You may want to show off your new zipper by putting it in the top part of the pillow cover. 
You may prefer to hide the zipper, placing it on the bottom. 

Image source: Instructables
Now, place the two pieces of fabric right sides together and pin. 
Lay the zipper on top and mark inside both edges (with a vertical pin).
For sewing, use a standard stitch length and 1/2 inch seam allowance.
Backstitch at the beginning of the seam to the first vertical pin. Backstitch again.
Change the stitch length to the longest basting stitch and sew to the next vertical pin. 
Change back to standard stitch length and backstitch again. 
Sew to the other edge and backstitch one more time. 

Image source: Womans Weekly
      4. Place the zipper into the seam
We're almost there!
Are you looking for some other step-by-step guide on how to sew a zipper in a pillow? 
Check these articles:
Press open the seam you just sewed and place the zipper right side down into the seam (ensure it's centered). 
Then, pin it into place.
      5. Sew the zipper in
Start with sewing in the zipper ends.
Use the regular presser foot to sew the ends of the zipper. It will help to keep the rest of the zipper in place later. 
Install the zipper foot on your machine and roll up the edges of your pillow (it will be easier to sew it). Leave the zipper shut. 

Image source: Instructables
Backstitch at the start and sew down one side until you're a couple of inches from the zipper pull.
Stop sewing when you get to the needle placed down in your fabric. 
Raise the presser foot and unzip the zipper past the foot. Then, put the presser foot low again.
Continue sewing until you hit the line you sewed across the end of the zipper. Then, backstitch and close the zipper again.
Backstitch and sew down the other side until you get to the zipper pull and can't go any further. 
Backstitch, remove the fabric from the machine, rip the seam open and then finish sewing the zipper up. 
      6. Rip open the seam to expose the zipper
At this stage, starting at the end of the zipper, insert your seam ripper. Next, remove the stitches between the two vertical rows of stitching at each end of the zipper.
Catch only the basting stitches!
Pushing the seam ripper too hard can result in cutting through the zipper, and we don't want this to happen.
Try the zipper to check if it can move along easily.
Use a lint roller to get rid of the threads' strings that are left.

Image source: Womans Weekly
      7. Finish off the zipper
Unzip your project to sew the last part. 
Start sewing where you stopped before and continue to the end.
Apply some backstitching at the beginning and end.
The pillow cover zipper will have a lot of pressure, so it will benefit from extra security. 
      8. Sew up the pillow cover, turn right side out, and stuff
Unzip the zipper halfway to be able to turn it out to the right side later.
Keep the cover in the right sides together position. 
Pin around the edges. 
Sew around the edges with a 1/2-inch seam allowance.
Backstitch at the beginning and end.
Clip the corners to make them look nice once the pillow cover is right side out.
Added stuffing from a pillow you don't use anymore or buy a new one.

Image source: Womans Weekly
Was it as hard as you expected?
We believe that knowing how to sew a zipper is among the 10 reasons to start sewing clothes. 
That's why we can't wait to show you one more technique.
This way, you'll become even more experienced with this precious skill. 
How to sew a zipper on a skirt?
Sewing a zipper may be a necessity for many types of garments or accessories. 
You may need it for pillows, dresses, skirts, coats, or bags. 
If you want to find out how to sew a zipper in a bag, check:
For the skirt project, keep reading because we have some tasty bits not to miss!
Learn a quick and easy technique for putting in a zipper in a skirt by Professor Pincushion:
"Zippers are most times a really nice addition to any item, from clothing to bags or pouches. A zipper can really add a nice pop of color and an interesting design feature to any of these."
—we read on These Aman Mom. 
We believe a zipper can become not only a functional necessity but also a lovely addition to your fashion project. 

Image source: Blog.Colette.HQ
From mini to midi to maxi, there are many options to explore!
Check out:
"Creating a Lined Lapped Zipper," tutorial on

Blog.Colette.HQ

,

"How to Sew a Zipper on a Skirt to Look Concealed," on

These Aman Mom

,

"How To Make a Circle Skirt Zipper," on

Treasurie

,

and a video "How to Sew a Flat Waistband on Skirt with Zipper,":