How To Sew a Buttonhole? Meet The Smallest and The Most Important Part of The Garment
While knowing how to sew a buttonhole seems only a tiny detail, it's a crucial point of the sewing process.
In the following paragraphs, we'll reveal all you need to know about sewing buttonholes.
By the end of this article, you'll have all the buttonhole-related information at your fingertips.

Image source: The Spruce Crafts
Sewing buttonholes―first steps
To grasp the general idea of sewing buttonholes, we reached out to The Spruce Crafts. 
For starters, let's browse nine simple steps on our way to learn to sew buttonholes.
Here is what we have to do:
Measure and mark the button size

Mark the slit and stitch around the buttonhole markings

Cut the buttonhole opening

Begin buttonhole stitch

Make the next stitch

Continue making buttonhole stitches

Stitch the buttonhole ends

Finish the buttonhole

Add a button
The list above comes from The Spruce Crafts. Reach out to them for a detailed description of the process. Otherwise, stay with us for exciting tips on how to sew buttons and buttonholes.
Best sewing tips and tricks on how to make a buttonhole sewing are about to come in the paragraphs below. 

Image source: The Renegade Seamstress
What else may be useful in the learning process? 
A couple of well-prepared YouTube videos will add to your inspiration. It's useful in the initial phases when the effort seems the biggest.  
Below is the lesson by BlueprintDIY on how to sew consistently perfect buttonholes every time!  
The lady from the video tutorial claims that her sewing button holes process used to be so "hit or miss" that she decided to perfect it. 
Now, she shares her skill in the energetic tutorial below. 
Sewing buttonholes isn't among advanced sewing techniques, yet it's worth paying some attention to it. Everyone knows that the devil is in the details.
How to:
sew one-step buttonholes,

sew manual buttonholes,

space buttonholes,

size buttonholes, and

open buttonholes?
Learn to sew a button from the YouTube video below:
How to make a buttonhole sewing―guide
The previous paragraph was only an introduction; now, let's get down to business.
In the following chapters, we're getting to grips with how to sew a buttonhole:
by the machine, and 
by hand;

Image source: Craftsy
How to sew a buttonhole with a machine
At first, look how eHow explains this process in a one-minute-long video:
The video shows that a straight and zig-zag stitch is all you need to sew a successful buttonhole. 

Image source: Sew4Home
How about more details? 
At this point, Create Kids Machine comes with a handful of tips for your easy beginner sewing projects. 
When it comes to machine sewing, people need to know how to sew a buttonhole without a buttonhole foot. It's because almost no one has it at hand. 
Fortunately, there are a lot of tips on how to make a button hole using a standard zigzag foot and stitch. 
Let's review some of them:
A tip
Description

Read the section that applies in your machine's manual 

Not necessarily the whole manual but read at least the applicable section. All machines are different. When you get to know the right settings, everything becomes simpler in the blink of an eye.

Check your settings every time

Do it before working on each buttonhole. Even a quick glance will resolve all the doubts and save a great number of potential issues.

Make sure the fabric has stability

Making a buttonhole requires going through at least two layers of the sewing fabric. In case there's no second layer in the project, you can add: 

a scrap of interfacing, or 

a stabilizer; 

Think about it, especially when sewing buttonholes on the knit fabric.

Clearly mark your buttonhole before sewing

While it may seem redundant, it's actually important at every level of advancement in sewing. This buttonhole marking will result in even-width sewing buttonhole stitches. 
We're still in the preparation phase, and everything already seems crucial. 
What will happen next? 
Here's another collection of sewing tips and sewing supplies we need to grasp while sewing buttonholes. 

Image source: The Renegade Seamstress
Create Kids Machine discovered these and shares them with us:
A tip
Description

Do a practice run for the size of your buttonhole

While it's unnecessary for some machine models, for some it may be useful (to make sure that it has the right length). It doesn't happen often to find this measurement off. Yet, "not often" may not please a person who has just finished an outfit and wants only to add buttons. 

A practice run helps make sure that we set our tension right for the fabric we're using. 

Before sewing, lower the needle by hand.

This is thought to make sure you're starting where you want to. Mind that not starting in the right place is a rather silly and easy to avoid mistake. It's better to stay away from inconveniences by keeping this step in mind.

Are your buttonholes sewn and ready to cut? Then take your seam ripper, remembering to put a straight pin at the top of the hole. 

Read about sewing pins here. 

What is it all about? If you want to avoid tearing through your outfit, then cut a buttonhole safely by putting a pin in the right place. Even if your cutting hand slips, the pin will stop the seam ripper from going farther than necessary.

Professionals often lower their "feed dogs" while doing the ends of the buttonholes so the stitch isn't moving forward at all 

A really low stitch length can also work wonders.
What is a handy tip on how to do a practice run for the size of your buttonhole?
You can take a folded-over scrap of the fabric you're using for the project. 
When it comes to creating a neat cutting of your sewn buttonhole, follow these video instructions:
We have all the significant tips gathered in one place. Now, we can check these 35 intermediate sewing projects, and not be afraid of buttonholes!

Image source: Reddit
Let's conclude the entire process in a few words (still with a help of Create Kids Culture):
Here is how to make a buttonhole with a sewing machine and standard settings:
In you use a sewing machine with a zigzag foot, set the stitch:
length as low as it will go,  i.e. 0.5 on your machine

Set the Stitch width to 2.0 as a standard settings 

wide zigzag;
Sew a few stitches to create the wide end of the buttonhole. 

Change to a narrower zigzag and sew a line the length of the buttonhole (stop when you get to the other end). 

Switch back to the wide zigzag and sew a few stitches (as you did on the first end). 

To sew the last line of our buttonhole, carefully slide the fabric over by hand and switch back to the narrower zigzag.  

Sew in reverse, creating the parallel line that takes us back to where you started. 
Fleece Fun is great at explaining how to work on making a buttonhole happen with a machine:

Image source: Timeless Man
Another way to level up your clothing project nicely is to add customized labels by Super Label Store. 
If you are:
DIY/clothing crafter at home, 

textile/sewing fanatic,

(small/starting) clothing brand,

fashion designer, or

hotel, bar, or hospitality business 
and wish to have a high-quality product for your textile, clothing, towels, sheets, accessories that:
is super easy to use with online configurators that help you design a label and order it in minutes,

has super quality from start to finish,

is super custom (100% of your personal choice),

comes in super low quantities, from working with big orders to the smallest,
Consider choosing from these:
and your garment will gain quality and professionalism in a blink of an eye.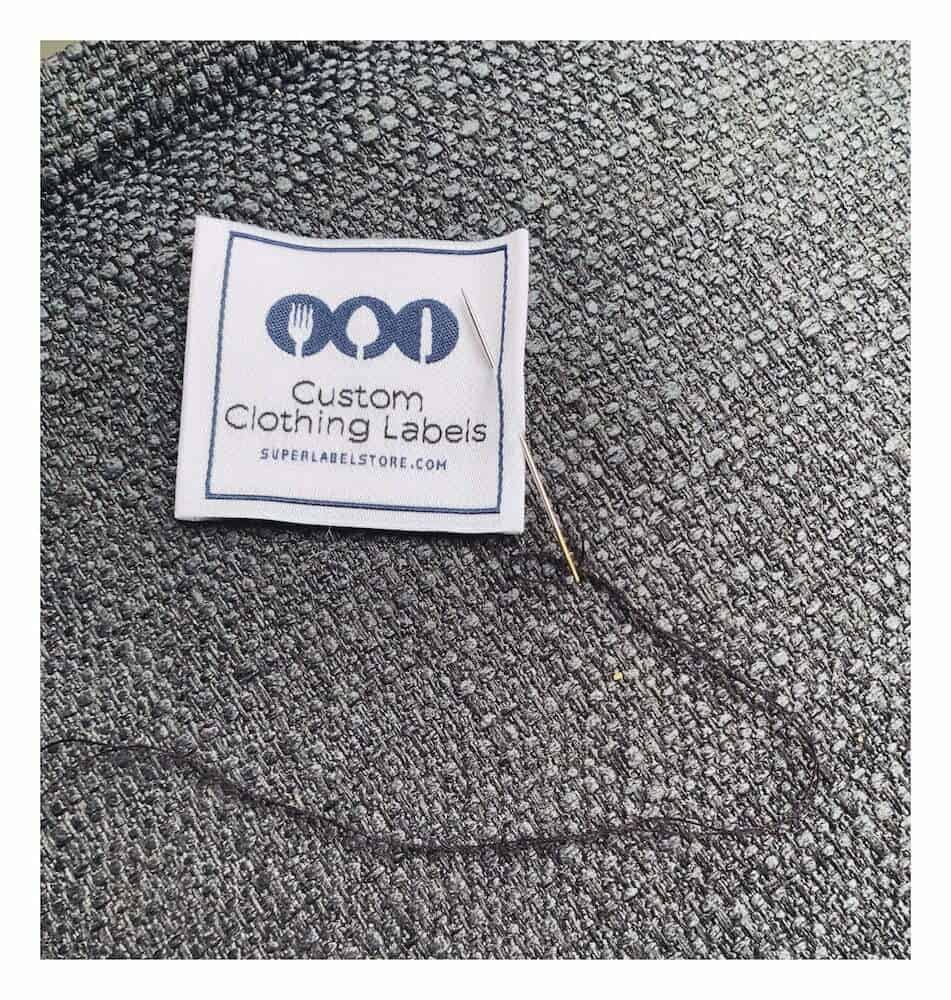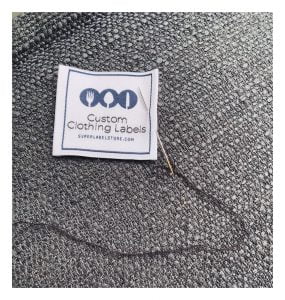 Also, keep up with Super Label Store to learn 
What are the

types of fabric

, and

All you need to know about

upcycling fashion

;
How to sew a buttonhole by hand
What's the difference between a machine-sewn and a hand-sewn buttonhole?
This way, we'll also discover how to make buttonholes without a sewing machine
Let's see how Craftsy explains the characteristics of both of them:
machine-sewn
hand-sewn

There is a specific sequence of steps to follow.

Here, the concept is different than in machine sewing. 

You mark the opening of the buttonhole, 

Sew a bar tack at the top and at the bottom of the buttonhole, and 

Sew a series of tight zigzag stitches on either side of the opening. 

The opening for the buttonhole itself is cut afterward. 

First, you mark where you want the opening to be (the same as in a machine-sewn). 

Then, instead of sewing first and cutting second, reverse the order. Cut the opening first. 

Only then, the threads are sewn over the raw edge of the fabric. 

The threads on a machine-sewn buttonhole stop before the opening. A bit of fabric always remains between the stitching and the opening. 

It usually frays off after the first washing unless it's sealed with a fray check. 

Discover sewing threads types and tips. 

Threads wrap the sewing fabric and it creates an edge that never frays.

It's finished along with the opening. 
A fancy tip from Craftsy: if you want to play creatively with your buttonhole by making a keyhole or fan end, draw or baste an extra line as your guide. When you're there, instead of forming a bar tack at the ends, stitch in a curve until you reach the other side. 
But the question to ask is:
Why would we even bother with sewing buttonholes by hand if we have machines at our disposal?
Here's a neat opinion from Timeless Man:
"Pick-stitching, hand-sewn buttonholes, embroidery, are all aesthetic improvements, but make no discernible improvement in the performance and wearability of a suit (or shoes). Where hand sewing improves how a suit performs is in giving softness and flexibility to critical areas, including the armhole, collar, chest, and lapels".
We'll say it again over and over: the devil is in the details.

Image source: The Spruce Crafts
How to sew a manual buttonhole?
There aren't many sewing tools that you'll need:
practice fabric or a project that needs a buttonhole,

a button of your choice,

a fabric marking pen,

thread in a color that matches or contrasts with the fabric,

small, sharp scissors,

hand sewing needle;
Professor Pincushion is great at explaining how to add a buttonhole by hand to the piece of fabric:
Types of buttonholes
Do you like to pimp up your interiors (check these sewing room ideas) and upcycling clothes? 
A buttonhole stitch is in no way comparable to a blanket stitch. So, take a scrap fabric and start practicing. Once you try, and become successful at sewing buttonholes, you'll crave to extend your practice.
Getting your juices flowing with buttonholes is as possible as it is in other sewing areas. We just need to dig into it. 
First off, review various types of buttonholes with Sew4Home. 
They also have different orientations as we read on Sewing Machine Fun:
Horizontal buttonholes―run perpendicular to the fabric edge in a sideways direction. 
This type is more secure as buttons are unlikely to be released during garment wear.
Buttons on waistbands should be situated horizontally (in the direction of greatest pull). It will prevent the buttons from slipping out.
A horizontal buttonhole usually has a flat short end on both sides (as we read on Craftsy). Still, you can opt for either a fan or a keyhole end on the side that is closest to the inside. 
When working on a suit coat, you would go for the side pointing toward the middle of the coat to add this fancy ending. It's where your button rests when the coat is closed. 

Image source: Jane White Tuition
A try to solve the buttonhole direction conundrum appeared even in the Sunday Telegraph on 11.1.15! Check it out here Jane White Tuition.
      2. Vertical buttonholes―go up and down.
We use this type, for example, when a placket contains the buttonhole. 
They are common on:
dressy shirts, or blouses, and 

with smaller-sized buttons in larger quantities;
With large numbers of buttons, each buttonhole receives less strain. That's why buttons are less likely to slip out. 
Here, the short end on the top and bottom are usually both flat. But 
Yet, if you decide to go for a curved fan or keyhole end, there's still an option to do that!
We usually effectuate the curve on both ends. This differs from a horizontal buttonhole method, where it's only sewn on the most inside end. 

Image source: Seamwork
When it comes to types, here are a few exciting examples:
Bound buttonhole

Frogging buttonhole

Decorative buttonhole

Rouleau buttonhole loops (check the delicious step-by-step guide on

Seamwork

)

Piped buttonhole

Hand sewn buttonhole (see above)

Keyhole buttonhole

Machine buttonhole (see above)

Rectangular buttonhole

Stretch buttonhole (for stretchy fabric)
Check:
to discover all the types of buttons that we can use to make our garments stand out. 

Image source: Seamwork
Frequently Asked Questions
Can I sew a buttonhole on delicate or stretchy fabrics?
Yes, it's possible to sew buttonholes on delicate or stretchy fabrics. However, you may need to adjust the settings on your sewing machine and use stabilizers or interfacing to prevent stretching or distortion during sewing.
How do I prevent the fabric from fraying around the buttonhole?
To prevent fraying, you can apply a seam sealant or fray check along the edges of the buttonhole after sewing it. Alternatively, using interfacing on the back of the buttonhole area can also help reinforce the fabric.
How do I sew a buttonhole if my sewing machine doesn't have a buttonhole foot?
If your sewing machine lacks a buttonhole foot, you can still create a buttonhole using a zigzag stitch in a controlled manner. Practice on a scrap piece of fabric to get the hang of it before attempting on your project.
How do I achieve beautiful buttonholes on heavy-weight fabrics with my sewing machine?
To create beautiful buttonholes on heavy-weight fabrics, make sure to select the appropriate presser foot designed for heavy materials. Additionally, adjust the machine's settings to accommodate the fabric's thickness. Utilize the stretch buttonhole feature if available, as it ensures the buttonhole's size remains consistent despite the fabric's density. Finally, for a clean finish, consider using a buttonhole cutter to open the entire buttonhole neatly.