How to Sew a Button?―This Guide Will Take You Through This Powerful Skill
Knowing how to sew a button is sometimes seen as an ultimate expression of independence. The one who knows how to do it will survive even if lost in the forest! 
The claim above is slightly too dramatic. Yet, being able to act in the face of a clothing emergency of a ripped-off button is a skill worth acquiring. 
And we're here, as always, to guide you through the process.

Image source: Roberto Sorin on Unsplash
The basic question is "how do you sew a button", but it's not all that we're gonna discover. Doing this is among the best sewing tips and tricks but there are variations not to overlook:
how to sew a 4 hole button,

sewing a button on pants,

how to sew a button on a shirt,
and so on, and so on…
Knowing how to hand sew button is among easy beginner sewing projects rather than advanced sewing techniques. It doesn't mean, though, that no effort will be required. 
Especially if you're an enthusiast of upcycling clothes. Watch out! Knowing how to hand sew a button may take you further than you expected. Check, for example, these DIY ideas with buttons―from funky flip-flops, to button necklaces and headbands.

Image source: Livemaster
Sewing buttons―a skill worth having
There are at least 10 reasons to start sewing clothes. 
While: 
are some of them, let's not underestimate the feeling of freedom.
Isn't "freedom" a slightly exaggerated term in this context? Not at all! Imagine wearing what you like and how you like it any time―without a need for tailoring services or buying new clothes every season. Knowing how to sew a button is a terrific beginning to the never-ending sewing adventure. 

Image source: Olesia Buyar on Unsplash
How to sew a button with two holes step by step?
The faster we get the actual sewing button lesson rolling the better. 
So let's get to the action. 
A few words of explanation (with a little help of a giant accessory) you'll get from this sewing on a button video from YouTube. Mind that this instruction explains how to sew a four hole button. There are also simpler versions of this experience. We'll discover how to sew a 2 hole button later.
With this visual instruction on how to sew a button, you can be sure to be able to learn it. And that's only the humble beginning. The Internet is waiting for enthusiasts like you with a tone of further handy advice. You can also, for instance, learn to sew or read about sewing threads types and tips from other articles by SuperLabelStore. 

Image source: Vignesh Moorthy on Unsplash
Now let's tackle how to sew a two hole button to have our new super skills in order. 
Sewing buttons―materials
We won't go anywhere without it. We need to equip ourselves with a fair set of accessories.
These are:
Sewing buttons―as for now, there's not much to add

,

Hand-sewing needle―armored with a sharp point. It has to fits easily through the buttonholes,

All-purpose sewing thread (its color can match the button or not―choose your option),

Scissors―always alert and present;
For those willing to show off like professionals, there are a couple more sewing supplies (according to Heddels):
Seam ripper

Fabric pencil

Thimble

Needle threader

Image source: Blog.Treasurie
We're going to learn how to sew a flat 2-hole button below. First, let's check other options available on the market:
4-hole buttons―utilized for many shirts and jackets, 

2-hole buttons―this type and method work best for thinner fabric. It also handles well situations when the garment (and its buttons) is not going to be heavily used, or used i.e. for decorative purposes, 

Image source: SunMeiButton
      3. shank buttons―they are common with coats, jackets, and other thicker fabrics. They have no holes on the top. Instead, they can have them through an extra barrel-shaped piece at the back of the button. You can sew shank buttons only by hand. This kind of button features a flush front with no holes. We attach it via:
on the reverse of the button. 
Find the ultimate guide to button shank types here. 
     4. metal buttons―there is nothing to do with sewing in this type of buttons, but, being so popular, they are worth mentioning. Metal buttons are commonly used with jackets and denim trousers. They take two forms when it comes to attachment:
rivet―the most popular method. It involves pressing a metal rivet through the back of the fabric and down the shank of the button on the other side of the fabric. Usually done by machine, but can also be by handheld riveter or a hammer (ouch!).

by using a metal ring attached to a shank on the back of the button. Seen on vintage workwear, denim, and military garments from the first half of the XX century. Here, the fabric needs to have a pre-sewn hole. The button shank can go through it and attach to the metal ring which, in turn, stabilizes the button the piece of clothing

Image source: Daiga Ellaby on Unsplash
Sewing buttons―a step by step guide
So what's the best way to sew on a button?
Let's have a look at this brief guide by AllPeopleQuilt to discover how to get to the business:
steps
description

Thread the needle. 

Cut an about 60-cm piece of thread. Fold it in half. It will make the two cut ends join and at the opposite end, there will be a loop.

Thread the cut ends through the needle's eye. 

You may need extra supplies like

a needle threader.  

Pull the thread.

Pull about 8 centimeters of thread tails through the eye of the needle.

Position your button on the fabric.

Now you're:

holding your button in place with one hand and 

the needle and thread in the other, 

The good news is: you're ready to start sewing. 
When you're ready to go, have a look at this quick sewing on a button video. It explains how to sew a flat 2-hole button to the fabric in just about a minute. You don't want to miss that: 
For more sewing tips on all kinds of buttons check also Blog.Treasurie.  

Image source: Pinterest
How to sew a button
―useful pro tips
Now we know a lot about sewing. We have our little sewing hacks covered in the pages of SuperLabelStore. We know how to sew a button on pants and we are aware of the steps to take on our way to sewing a button on a shirt. 
What else is there to learn? That whenever we're done with an outfit, we will do best to finish it with professional custom woven labels. It's going to add a touch of expertise to our brand-new garment. Not to say luxury! 
Keep in mind that there are different types of woven labels, so it's almost impossible not to find the one for you.  
As you continue to develop your fashion ideas (for example with these 35 intermediate sewing projects), check also these care labels.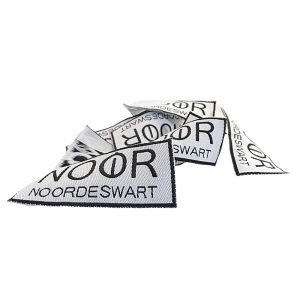 What professional tips are there when it comes to sewing a button? We already know how to sew a button on a dress, why not use this knowledge to our advantage and level up? After answering how to sew a button step by step in the previous paragraph, let's check these pro tips by DoItBetterYourself:
It's better to choose a color of a thread that matches your fabric rather than your button. You can use the same color of thread as your topstitching if you have any on your garment or a contrasting thread.

Use a 2-hole button for light to medium weight and a 4-hole button for medium to the heavy-weight fabric. Shank buttons are perfect for bulky fabrics. You can also use them on garments with flow and drape. 

It's great when stitches on the backside look just as nice as the top side. Make sure that you take care of the backside to create ​a uniform appearance of the whole item.

Image source: Shridhar Vashistha on Unsplash
How to sew a button with a sewing machine
Sometimes knowing how to sew a button on shorts is not enough. We may also need to be fast and efficient. 
This step-by-step instruction by LetsLearnToSew provides us with an abundant explanation on how to sew a button with a sewing machine. 
It seems like doing it by hand is not a problem. Yet, no one knows what will happen in the future. This fast, automatic method may appear handy one day. 

Image source: Tomáš Petz on Unsplash
Whether you're sewing a button on shorts or developing one of your advanced sewing techniques, take a look at our instructional table. 
Phases
Description

Preparation

Experts say that the easiest way to avoid costly repairs to your sewing machine is to keep it clean. Don't let any pieces of, for example, the tape got into it. Why tape? Well, some people believe that attaching a button to the fabric with tape may help to sew it in. Be aware that's not the case. 

Prepare a couple of flat button types 2 or 4 holes.

When you have them in your hand, measure the distance between the holes in them. 

Raise the presser foot lever, slide the feed dog position lever, and remove your regular presser foot.

When it's all set, place a button between the presser foot and the fabric. When working on 4-hole buttons, first sew the two holes closest to you. Then, slide the button so that the needle goes into the two holes toward the rear of the sewing machine, and repeat.

Adjusting the stitch

Select the Zig-Zag stitch or the button stitch and set its width so it equals the distance between the holes in the button. Set the stitch length to the shortest setting by pressing the stitch length adjustment key. Turn the handwheel toward you (counterclockwise) to see if the needle correctly goes into the two holes of the button. 

Start sewing!

Stitch about eight back and forth stitches. If your machine has an automatic button stitch it will stop at this point.

Finishing

Pull the upper thread at the end of the stitching to the wrong side of the fabric and tie it with the bobbin thread. 

Cut the upper thread and the bobbin thread at the beginning of the stitching. 

Raise the feed dogs and set the machine back to straight stitch.