Quilt As You Go sounds like an invitation on a trip, but let's all calm down and get back to our sewing room chairs. 
We're not actually "going" anywhere! 
Also, check out our sewing room ideas to ensure you sew and quilt all comfy and satisfied.
The quilt-as-you-go-technique (QAYG) simplifies quilting for beginners—explains Seasoned HomeMaker—being an easy way to join quilted pieces by machine.
It still sounds mysterious, doesn't it? Keep reading to discover how do you quilt as you go!
According to Seasoned Homemaker, the quilt-as-you-go technique is a way to quilt blocks before putting a quilt together. So instead of handling bulky quilts if things go wrong, you can quilt your project one block at a time!
Check out this straightforward QAYG explanation by Allison from Quilts and More magazine:
Now that we know what this technique is about, let's tackle how to quilt as you go in practice. 
How to quilt as you go blocks?
You can transform any quilt block into quilt-as-you-go by quilting the finished block to a matching square of batting—advises Stitched in Color.
Authors recommend a quilt-as-you-go approach to new and experienced quiltmakers.
Working on making a quilt for a queen or king-sized bed can be challenging, but it's much less so if you use your standard home sewing machine and the suitable, approachable finishing technique. 
Get to know also the best sewing machine for quilting to get inspired. 

Image source: Hello Sewing
QAYG is also ideal for machine applique projects—quilting over the applique design can otherwise cause skipped stitches. 
Shiny Happy World suggests ironing your quilted block nice and smooth and letting it cool without moving before adding your applique. This extra step can really make a big difference!
Read how to applique on a quilt on our blog. 
Also, the quilt-as-you-go technique will work great for people with arthritis, as with this method, they won't have to wrangle a large quilt through a domestic sewing machine.

Image source: Blog Compassion
So how precisely to put into practice this well-known method of making a quilt sandwich with the finished quilt blocks or rows, batting cut to the finished size and backing, and then quilting the finished block?
Stitched in Color offers wise guidance along the way:
Steps to follow
Description

Quilt blocks

To transform any quilt block into quilt-as-you-go, just quilt the finished block to a matching square of batting. Don't attach

quilt backing fabric

! Only quilt to one layer of batting. Trim all of your quilt blocks to a homogeneous size after quilting.

Join blocks

How to join quilt as you go blocks?

You're going to simply join your blocks with right sides together, creating seam allowances with quilt top and batting.

"It is essential that you use 100% cotton batting because you will be using a hot iron with steam to press open the seams."

—adds

Seasoned Homemaker

. Remember, at this stage, there is still no backing involved. Press the seam allowances open to distribute the little bulk evenly if it shows up. The authors suggest joining blocks with a wider-than-normal seam allowance (for instance, 3/8″) to make it easier to keep straight when dealing with thicker seams. Moreover, a wider seam allowance and batting in your seam allowances result in a more durable quilt!

Baste to backing

Once you've joined all blocks, you have a quilted quilt top with batting and no backing. So, now, take a backing and tape it to your floor with the wrong side up. Next, lay your quilted quilt top on the backing, right side up. Finally, you can baste the two layers together using basting spray or pins. Pins will work better for quilt-as-you-go as the quilted top is heavy. Pin only along the block seams, as you will only quilt or tie along the block seams instead of within the already-quilted blocks.
All clear till now? As we read on Shiny Happy World, "you must use cotton batting." 
Here's why you should use Warm & Natural 100% cotton batting, according to the author of the blog:
it doesn't beard—sometimes fibers of the batting migrate out the front of your quilt, 

it has a perfect weight,

it's beautiful for hand or machine quilting,

you can quilt up to 10″ apart,

the amount of shrinkage is perfect,

it doesn't shed cotton—some battings shed cotton fibers all over the outside of the quilt while you work; this one doesn't,

it holds up to lots of machine washing and drying, continuing to look like new, with no shifting or bunching;

Image source: Quilting Tutorials
How to sew quilt blocks together with sashing? We'll get to it in the next paragraph. 
You almost have your QAYG quilt ready. What are the next steps?
Steps to follow
Description

Quilt or tie

Now you're going to securely attach the quilted top to your backing, quilting along the seams that joined the blocks to each other. You can also explore the option of tying the quilt for a spontaneous, machine-free finish. If tying, use a heavy-duty, durable thread and consider a triple square knot for extra security.

Check out our take on a quilting thread and read how to tie a quilt. 

Bind to finish

So, you've attached the backing to your quilt. Now, trim the excess backing around the edges and bind with any binding method to finish your work. Have a look at our

how to bind a quilt

tutorial. 
The only goal of the quilting phase in the quilt-as-you-go method is to attach the backing.
That's different from a typical quilt, where the goal is to 
reinforce the patchwork, 

attach the batting to the patchwork evenly, and 

attach the three layers;
In the QAYG technique, when you quilted your blocks, you already reinforced the patchwork and evenly attached the batting to prevent shifting or bunching.  
You can use a forgiving zigzag stitch over block seams to attach the quilted top to the back. It will flatten the slight bulk of the pressed open batting seams, getting rid of all traces of the batting-in-seams method.

Image source: Geta Quilting Studio
The process described above wasn't that tough, but are there even easier solutions?
June Tailor Quilt As You Go kits enable you to work on your quilt in several easy steps:
cut

fabric sewing quilting

(tackle

types of fabric

,

types of cotton fabric

, and

types of polyester fabric

in our guide),

sew by number, through all layers,

join or bind;
Patterns printed on the batting of June Tailor Quilt As You Go kits allow you to create a complete layered quilt project: top, batting and backing fast and easy. 

Image source: Spring Leaf Studios
How to quilt as you go with sashing?
When you use the QAYG technique, at a certain point, online guides may instruct you to add sashing strips between the blocks to frame the designs.  
What is sashing on a quilt? 
According to The Sewing Directory, sashing strips are rectangles of fabrics placed between your blocks; they can have extra squares or cornerstones where the different strips meet. 
The goal of sashing is to 
unify or frame your blocks, or 

add a new design element to your amazing quilt;

Image source: Pinterest
Other useful accessories to add to your projects are custom woven labels by the Super Label Store.
Are you 
a DIY/clothing/textile enthusiast,

a (small/starting) clothing brand,

a fashion designer,

an owner or manager of a hotel, bar, or hospitality business
who wants to customize their textile, clothing, towels, sheets, and accessories? 
Don't hesitate to design your label project on the Super Label Store website and order 
care labels

, and
to make your sewing and quilting projects even more appealing and professional!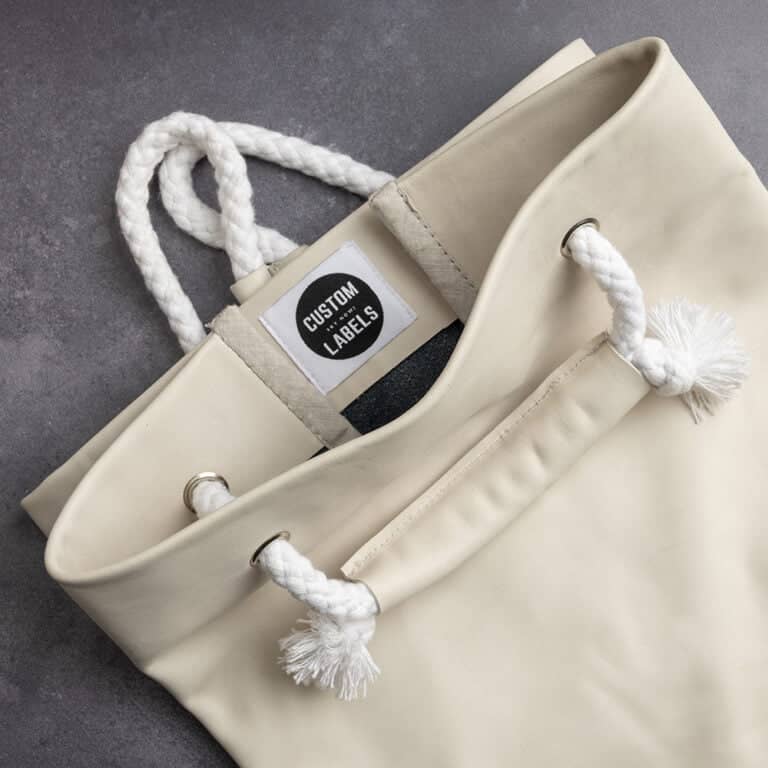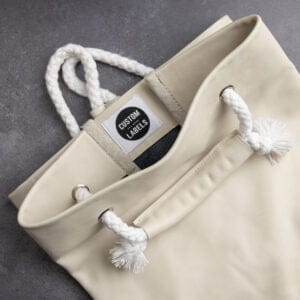 To discover how to add sashing to quilt blocks, let's watch "Quilty: How to add sashing to your quilt block" by Fons & Porter's Love of Quilting:
How to add sashing to a quilt? Geta's Quilting Studio, in the Quilt As You Go tutorial, advises that for joining two blocks, you'll need two strips:
1 strip—1 1/8" wide and as long as your block for the front sashing,

1 strip—1¾" wide and as long as your block for the back sashing; fold it in half lengthwise and press. 
These can be scraps leftover from block fabrics—this way, you ensure your sashing will blend into the blocks rather than have the "floating" effect—we learn from The Sewing Directory.

Image source: Geta's Quilting Studio
How to quilt as you go without sashing?
Now that you know how to sash a quilt let's think about if you really need to do it. 
We've previously described the quilt-as-you-go technique, which is what quilting without sashing boils down to. 
According to Craft Tribe Online, there are two methods:
Joining quilted blocks
create a strategy,

determine the size of your blocks, batting, and backing,

assemble your quilt sandwich and start quilting,

connect your blocks and press your seams,

complete your back seams and connect the rows;
      2. Quilt-and-flip
cut out your pieces,

attach your backing to the batting,

lay your strips in order,

sew and flip,

trim and bind;
For thorough instructions, go to Craft Tribe Online. 

Image source: Seasoned Homemaker
QAYG is an excellent option because 
you are working with one block at a time,

you don't overrun your sewing space with fabric and supplies, and 

you can easily cut, sew, and quilt a project in a tiny area;
—Leslie from the Seasoned Homemaker sums up the advantages of this quilting method. 
Another pro is that there is very little waste with QAYG. You can purchase smaller amounts of batting or even use your batting upcycle fabric scraps. 
Read our article about upcycle meaning (and definition) or visit our blog to deepen your knowledge on:
what

pre-quilted fabric

is;