You Don't Feel Fulfilled with Regular Quilting? Learn How to Applique on a Quilt
You're not alone if you're puzzled over how to applique on a quilt. Thousands of quilters ask themselves the same question daily! 
If you're wondering how to applique, you most probably know what applique is, but let's clear things out from the start. 
The word "applique" comes from French and means "applied or laid on another material."
Applique is a needlework technique in which we attach one or more pieces of fabric to a larger background fabric. 
This piece of fabric sewing quilting creates pictures or patterns on the surface of the larger fabric—as The Quilt Show writes about this fancy technique.
It's worth knowing that applique is both a noun and a verb. (read more on The Spruce Crafts)
| | |
| --- | --- |
| Part of speech | Description |
| Noun | Applique describes a quilt or other textile-related project where additional fabric pieces are already attached. |
| Verb | Applique is the process of sewing (or attaching in another way, like fusing with glue, etc.) smaller pieces of fabric onto a more extensive background. We use templates to cut the patches. |
You can attach textiles by hand or machine or get them fused. 
Depending on your chosen method, you can use 
templates, 

stabilizers, 

starch, 

glue, 

fusible adhesives, 

freezer paper (we explain

how to use freezer paper in quilting in the next paragraph)

, 

special needles, 

special stitches, 

lightboxes, and 

fabric turning tools; 
Basic hand applique can be accomplished with simple sewing supplies, including 
a needle, 

thread (read our article about

quilting thread

), 

thimble, 

scissors, and 

various

types of fabric

;

Image source: Wise Geek
How to make an applique quilt?
In this article, we're interested in the particular, narrow applique category. We want to find out how to do applique quilting. 
To get into the mood of doing beautiful applique on a quilt, let's see this YouTube video by Jenny from Missouri Star Quilt Company. 
You don't need applique on your quilt—in fact, your quilting project can do great with no added decorations. 
Yet, applying these realistic, geometric, or abstract designs can add a unique charm to your quilt creations, whether clothing, blankets, or other accessories.  
Unless, if you're
a DIY/clothing crafter at home, 

a textile, sewing, or quilting enthusiast,

a small/starting clothing brand,

fashion or accessories designer,

manager/owner of a hotel, bar, or hospitality business,
and you're looking for a way to boost the professionalism of your quilts, head to Super Label Store, design, and order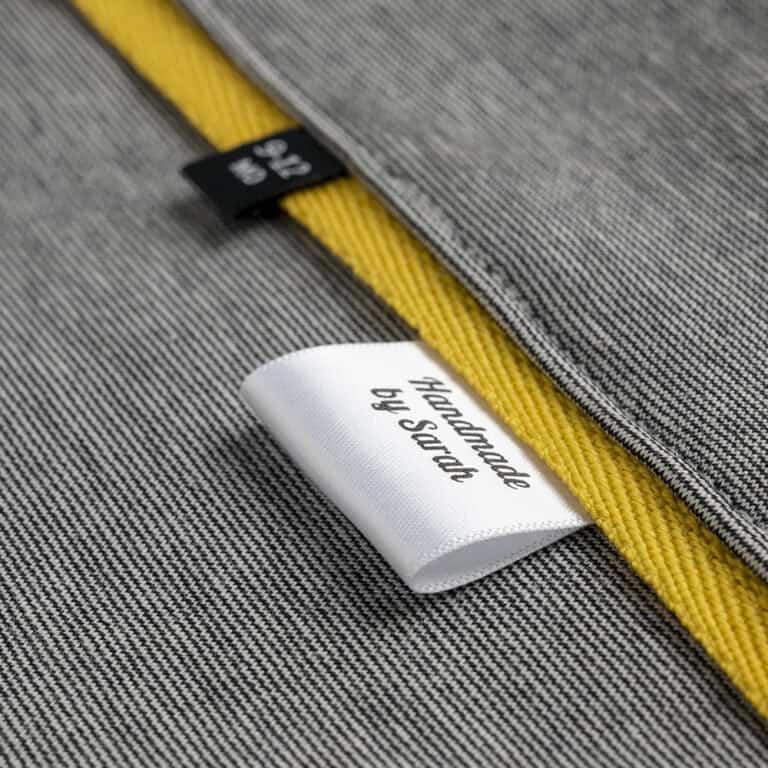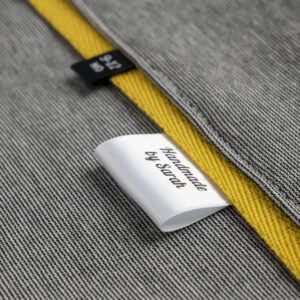 Looking at Kate Middleton's wedding dress' applique lace, it's hard to believe that appliques first came to prominence to cover ripped areas on clothing. 
The sewers used whatever fabric they had at hand to apply patches to the ragged fabric. Now, we call this technique "patchwork."

Image source: CBS News
Quilters use applique to achieve a unique depth and texture. 
The Spruce Crafts shares a few hacks before you get down to applying applique on your quilt:
implement invisible or decorative stitches to surround your applique shapes,

use freezer paper (you'll find it in every grocery store) to prepare your applique shapes; the paper's shiny side sticks to the fabric when pressed,

backgrounds for appliques have to be cut oversize because it's expected that they shrink and get distorted as you add applique shapes to them; 

Image source: Pinterest
You can applique the patches you created by hand or by machine sewing. As listed by The Spruce Crafts: 
Applique technique
Description

Needle-turn applique

It's the traditional hand applique method, where you cut shapes (including a seam allowance) from fabric and pin them to the background. How to sew applique on a quilt?

"Use the end of a sharps needle to turn under the seam allowance of each patch as you sew the patch in place with a blind stitch,"

—suggests The Spruce Crafts. 

How to hand applique on a quilt? Quilt Dom adds that the needle-turn technique is the most delicate type of applique. After you cut your piece, including a seam allowance, hand stitch with a blind stitch onto your quilt top, turning the edges under the piece as you stitch so there are no raw edges exposed.

Sew and turn applique

It's a simple method where you don't have to turn under seam allowances before sewing shapes to a background. Position two identical shapes right sides together and sew a seam around the shapes, along the seam line. By making a slit in the material, it will end up on the reverse side of the pair before turning the motifs inside out. Use any technique to add shapes to the background.

Fusible web applique (also called iron-on applique)

How to use fusible web in quilting? Here, you don't need seam allowances. Take a thin sheet of sticky webbing and press it on the reverse side of the shapes using a hot iron.
A word of advice? Even though the manufacturer of your fusible web states that you don't need stitches, we recommend hand or machine sewing the edges to the background to keep them from curling away from the fabric.
There are two more techniques to applique on a quilt, as listed in Quilt Dom:
machine applique—stitch down edges using your sewing machine with a satin stitch or blanket,

raw edge applique—you'll end up having the raw edges exposed for a more frayed look of your project,
Did you like the hand quilting applique techniques mentioned, or do you prefer learning how to machine applique a quilt? Also, what's the best sewing machine for quilting?

Image source: We All Sew
Let's see some pros and cons of these techniques as pointed out by Gathered:
Technique
Pros
Cons

Raw edge fusible appliqué

suitable for complex shapes,

gives you a flat, clean look,

quick and easy to do,

you can do stitching by hand or by machine;

iron is required,

a fusible web is required;

Needle-turn appliqué

traditional method with stitching by hand,

great for sewing on the go (read

how to quilt as you go

here),

no additional tools are needed;

"Inside out" method appliqué

creates a turned edge,

looks a bit like a needle-turn technique, slightly three-dimensional,

you can do stitching by hand or by machine;

iron is required,

lightweight interfacing or fabric is required;
Read the step-by-step guides to learning your favorite applique techniques on Gathered. 
You may also want to tackle

Image source: Diary of a Quilter
A lot has been said about the fusible method, but let's see this "Simple Fusible Appliqué: Quilting Tips" video by Laura Stone Roberts from McCall's Quilting to learn it inside out:
So, now we know how to make an applique quilt block and how to hand stitch applique on a quilt, so let's get to something more specific, such as
how to make fabric letters for a quilt, or

how to sew circles on a quilt?
To make applique letters for quilting and then apply them as usual, you can use this Free Applique Alphabet Pattern from Shiny Happy World. 
Just download the pattern and have fun applying it to your clothes (read how to make a tshirt quilt), blankets, or your kiddo's accessories. 

Image source: Shiny Happy World
If you're curious about how to applique circles onto a quilt, read this comprehensive guide by We All Sew, full of valuable suggestions. 
Also, watch "How to Appliqué – 3 Simple Ways + a Free Pattern" by Ellis and Higgs:
This is what you need in order to consolidate your freshly acquired knowledge. 
How to quilt an applique quilt?
The question may seem complex at first, but it's actually pretty basic: What if you already have a lovely quilt with applique and want to quilt it? Do you sew through appliques when quilting?
Luckily, Stitched in Color has all the answers!
Should you quilt over the applique or around the applique? 
Let us explain. 
Quilt around the applique, 
For starters, you may want to use free motion quilting, which yields stunning results but also requires some state-of-the-art skill. If you don't feel like you've got there yet, consider hand quilting instead. Quilting around the applique is a traditional approach, and its results are truly delightful to the eye. 
This method emphasizes the applique and lets it stand out with this distinctive, puffy, raised appearance.

Image source: Stitched in Color
Quilt over the applique
Otherwise, you can try quilting over the applique, but remember that you give up the unique raised appearance that we described above. 
With this method, a regular, all-over quilting texture will optically fade into the background, even though we apply it over the applique.
There are many pros to this method:
it's faster and easier to implement on your home machine, 

it's cheaper than custom quilting if you go with long arm quilting,

your applique is physically reinforced by the quilting, which protects your hard work;
This pattern has gentle curves and an open style, enhancing the applique and helping the quilt to remain soft.  
Choose a quilting pattern that 
doesn't distract from the applique,

suits the applique thematically or with its shape;

Image source: Blog Nina Paley
Quilt before the applique
The final tip, turn back time and quilt your adorable blanket before applying your even fancier applique.
But seriously, for large-scale applique work, consider quilting in advance. 
Simply quilt the background fabric as a whole-cloth quilt, with regular batting and backing fabric. (what are quilt backing fabric and pre-quilted fabric?)
Then, learn how to hand sew an applique on a quilt and add your project over the top of the already-quilted work. 
This method emphasizes the applique, which proudly stands out on top and is quite affordable if using a long arm quilting service. It also requires less skill than the quilting-around-the-applique technique.
Yet, consider that the stitches will show on the back with machine applique. 
Also, since you're working on a bulky quilted background afterward, applique may not be as enjoyable as other methods. 
Read the stimulating article "Hot-to: Stitching Applique Before or After Quilting?" by Allison Richter, the owner and partly a creator of a dragonfly below—Campbell Soup Diary.

Image source: Stitched in Color
We love sharing our knowledge on Super Label Store, especially when it concerns an activity as exciting and creative as quilting!
Read how to bind a quilt, how to square up a quilt block (also tackle quilt blocks for beginners), and how to baste a quilt, and let us know if you like it!