Get a deep dive into free embroidery software that you could use for personal and professional embroidery projects. 
The world of handiwork is changing. 
Handiwork is being replaced by embroidery digitizing, and it's happening all around us.
Embroidery digitizing has been around for a while now, but it has become more popular than ever before. This is because the technology that makes embroidery digitizing possible has become more accessible to those who want to use it.
A machine can digitize an embroidery design faster than a person can create it, and it's more accurate. Embroidery digitizing also allows for more design options, such as different colors and patterns. 
The digitized design can be used for a variety of fabrics, including clothing, towels, napkins, tablecloths, curtains, pillows, and other soft furnishings.
The best thing about digitizing embroidery is that it does not make mistakes as humans do. It also helps in saving time and money in production costs.
If you want to leverage digitized embroidery, then the first step towards using embroidery digitizing is finding software for your computer or tablet that will allow you to create designs for embroidery. There are many free embroidery software available on the market today, all of which will let you create designs with ease and accuracy.
Let's explore everything about embroidery software. 
What Are the Types of Free Embroidery Design Software?
Embroidery software is used to design and create embroidered textiles. The free embroidery design software allows you to edit and customize your designs, producing a stitch pattern that can be used to create the embroidery on fabric.
If you are out in the market looking for the best free embroidery design software, then you must know their types. Understanding different types will help you choose the best digitizing embroidery software free and as per your needs. 
File Conversion Software

Image Source: Zdigitizing
The file conversion software converts embroidery designs from one embroidery sewing machine format to another. This is not the same as converting an image file to an embroidery design file. 
Editing and Customization Software
When you first create an embroidery file, the image may not look quite right or be too big for the design space. In this case, editing software can help you adjust the size and shape of the image so that it will fit in your space without distortion or loss of quality. 
Thumbnail Viewers
The downloadable machine embroidery designs are in particular file formats such as .pes, .jef, or .dst. These file formats are not recognizable by your computer. It will show a nondescript, generic icon. 
Thumbnail viewing software will be helpful here. They can tell your computer to display the actual image of an embroidery design. 
Digitizing Software
This type of software lets you convert digital images into embroidery files. They are the perfect replacement for time-consuming hand embroidery.

Image Source: Cre8tiveSkill
Embroidery digitizer software is a computer program that uses an embroidery machine's internal settings and capabilities to create an embroidery file from an image or pattern. It can be saved to a memory card or hard drive and then uploaded onto the machine later. 
The free embroidery design software is used by many people. They use it to create their own designs or sell them online or they can use it to make personalized items such as t-shirts and bags for themselves or their friends.
If you are looking to sell your homemade clothing pieces or want to give them professional touch, then you need labels. Head to Super Label Store and place your order for high-quality, super customizable, and easy-to-design,
We encourage all sewing professionals, small business owners, and sewing enthusiasts to boost the professionalism of their homemade clothing items and start their own clothing line. Labels will help you differentiate your product and brand in the competitive market.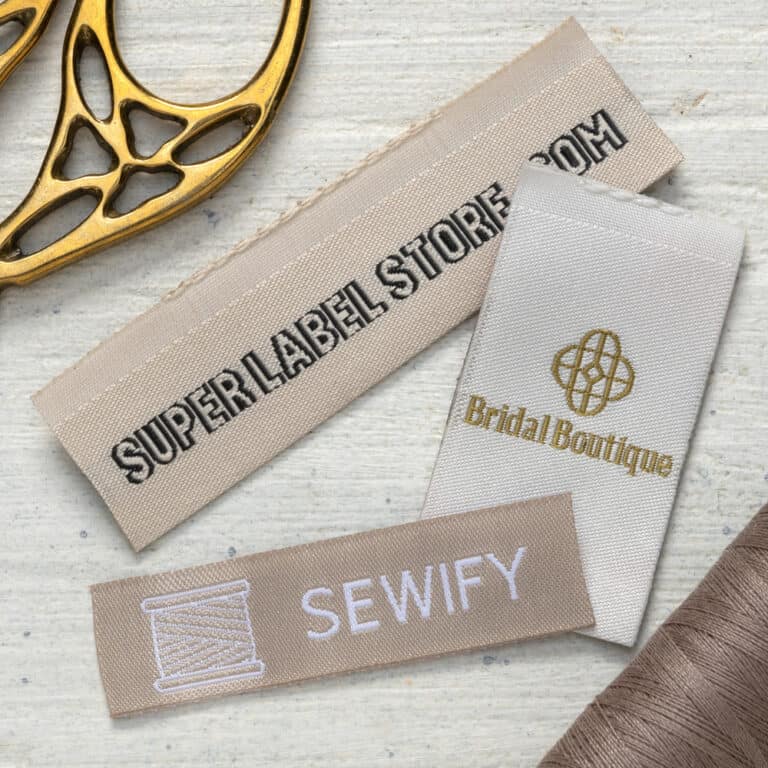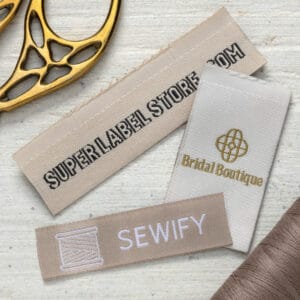 Image Source: Super Label Store
7 Free Embroidery Digitizing Software for Windows/mac (Perfect for Beginners and Intermediate)
Free embroidery digitizing software is a great way to get started in your sewing business. It will allow you to quickly create designs that can be used on any kind of embroidery machine.
Many different types of free embroidery software for Mac and Windows are available today. Some of them are easy to use, while others require some technical knowledge. You can download the embroidery software from their website at no cost or purchase it and install it on your computer.

Image Source: Hatch Blog
Here are some of the best options for free embroidery digitizing software: 
Hatch Embroidery 3

Image Source: The Deer's Embroidery Legacy
Hatch Embroidery 3 is an incredible free embroidery digitizing software package that allows you to create your own embroidery designs and patterns.
This is excellent software for beginners and people who have experience with embroidery. It comes with a number of pre-made designs and multiple embroidery thread options. 
It also has plenty of room for experimentation and creativity. You can use Hatch Embroidery 3 with any kind of machine, whether you are using a traditional sewing and embroidery machine for beginners or an industrial-strength computerized embroidery machine. 
You can also import photos in Hatch Embroidery 3 and turn them into digital embroideries! You don't have to worry about wasting paper or any wasted space on your screen. 
This free embroidery software for windows will resize images, so they fit on your embroidery fabric. The best thing it does is without distorting the image quality or making it blurry, pixelated when printed out onto fabric or other material. 
It's easy to navigate through the menus and will help you find everything you need with utmost ease. Easy-to-follow instructions are included in case you are unsure how to start. It's intuitive and self-explanatory. 
Once your pattern is ready for stitching, you can send it to the machine via a USB cable or WiFi connection. This means no need for expensive cartridges or discs! 
Embird
Embird is another great embroidery software free that allows you to design and create your own embroidery projects. This embroidery software is easy to use even for beginners and comes with an extensive library of designs and embroidery stitches that you can use for inspiration. 
This embroidery software for beginners offers many features that make it easier to create the perfect project for your needs. 
For example, it has a built-in color palette that allows you to choose various colors and shades. You can get what you want without spending hours searching through different websites.
This embroidery software supports over 50 languages and contains many useful features such as pattern creation, photo editing, font management, and more. 
The user interface is divided into sections, including the main screen, toolbar, workspace, and editor window. 
You can also import files from other software like Photoshop or GIMP if you want to add special effects or colors to your embroidery ideas.
There are several modules available for specific modes or modular designs. Users will need to purchase the module at an additional cost. 
After creating your embroidery design, Embird lets you export it as a DST file that can also be used in most babylock embroidery machine. 
Bernina Artlink

Image Source: Bernina
The Bernina Artlink 8 Embroidery Software is a great embroidery design software free for anyone who wants to create embroidery designs from scratch. 
With this free embroidery software download, you can import images from your computer and convert them into embroidery files, then use the included fonts to add text to your design. 
You can also use the software's built-in image editing tools to change the colors of your image or adjust its brightness and contrast. 
The Artlink 8 Embroidery Software comes with several preloaded embroidery designs that you can use as templates for your own embroidery fabric. You can add more designs as needed by downloading additional packs from Bernina's website.
This embroidery software is available in two different versions: Artlink 8 Standard Edition and Artlink 8 Pro Edition. 
The Standard Edition is designed for beginners who want to create simple designs without any extra features or options; Pro Edition has all these features and additional tools like mirroring, scaling, lightening/darkening, and rotating images. 
Brother Embroidery Software

Image Source: Brother
Brother has always been a company that has strived to provide the best products and services available. This is why they have been able to stay at the top of their industry for so long. 
They are looking for new ways to improve their current offerings and make them even better. One of the latest additions to their sewing and embroidery product line is Brother Embroidery Software. 
This brother embroidery software free download allows you to create embroidery designs from scratch or from an existing image that you have saved on your computer. It can also be used to edit existing designs or add additional colors or stitches to an existing design.
This free embroidery software for brothers also allows you to import files from other programs. This helps you create more complex designs that would not be possible using just one program alone. 
| | |
| --- | --- |
| Pros | Cons |
| Step-by-step instruction manuals | Designs are not compatible with Mac OS |
| Review your designs in the realistic color preview | The memory card is 4 MB |
| Three different frame size support |   |
Dime Embroidery Toolshed
Dime Embroidery Software allows you to digitize embroidery designs and then edit them on your computer.
This easy-to-use free digitizing embroidery software makes it easy to design, digitize, and stitch your own projects. 
It's designed for use with the Dime Embroidery Machine, but it can be used with any type of embroidery machine, embroidery floss, and embroidery needle.
The software has a few tools to help you create your designs. You can draw shapes, fill them with patterns, add text, and even import photos or images from other programs. 
Once you've created your embroidery design, you can export it as an image file that you can send to your embroidery machine or load onto the machine itself. 
| | |
| --- | --- |
| Pros | Cons |
| 3D Realistic view | Purchase add-ons for stitching and quilting |
| Virtual design redraws |   |
| Design optimization |   |
| Resize with stitch regenerating |   |
| Supports several file formats, including TXT, DXF, JEF, MGL, PCS, PES, CSD, VIP, ART, etc. |   |
Embrilliance Express

Image Source: Oma's Place
Just want to get started without any hussle? Try our Embrilliance Express software. This embroidery digitizing software free is an excellent choice for beginners! 
For the advanced package, you'll gain access to thousands of embroidery fonts and create more complex projects. 
One of the best things about Embrilliance is they offer a free trial before you purchase. The downside is you can't save your work until you buy the software. 
If you are looking for free digitizing software for embroidery that lets you work with .bx fonts, then Embrilliance Express is the perfect choice. 
SophieSew
SophieSew is an embroidery digitizer software free that allows you to create your own designs and then convert them into patterns for use with your sewing machine. 
It's a great option for getting started in the world of embroidery or for expanding your skills once you've gotten a bit of experience under your belt. 
SophieSew is easy to use and has an intuitive interface that makes it suitable for beginners and experts.
It features various tools such as deletion, rotating, duplication, re-sizing, etc. Use them to enhance your embroidery elements at once. 
This free embroidery software is great if you're doing basic embroidery projects. You can get started right away without any training or experience! 
How to Choose the Best Free Digitizing Software for Embroidery
If you're looking for the best free digitizing software for embroidery, there are a few things to consider. 

Image Source: TshirtProfessional
Choose the Right Type
The first thing you must know is that there are different types of embroidery free software available. 

Image Source: The Spruce Crafts
While some programs might be free in the sense that they don't charge anything to use them, they may require additional purchases to do certain things. 
Easy-to-use Interface
You should check out the user interface. Is it easy for you to navigate? Can you find what you're looking for? Does it look like something that would make your life easier or more difficult? 
Compatible with Your Embroidery Machine
Make sure the program will work with your machine. For any free software embroidery to be useful at all, it must be compatible with your equipment—otherwise, what's the point? 

Image Source: Bernina Blog
Support Availability
Make sure you find out the kind of support the software company provides. Who should you contact if something goes wrong with the software, like bugs or glitches? 
Does the software company offer user manuals or help guides on its website? Are there any videos available on YouTube? 
FAQs Related to Free Embroidery Software
Here are a couple of additional answers to your questions related to free embroidery software.
What Skills Do You Need to Be an Embroidery Digitizer?
You don't need to be an expert or technical wizard to be an embroidery digitizer. If you have basic computer knowledge, then it will be great. 
What Are Machine Embroidery File Formats?
Many embroidery file formats are available as different manufacturers use their own file type. For example, brother embroidery software free will read the PES file format while Janome embroidery software reads the JEF file. 

Image Source: EMDigitizing
Do I Need an Internet Connection When Using Free Embroidery Software?
Yes! While some embroidery software allows for offline usage, most require an internet connection to access their full functionality, meaning they won't work unless they are connected. 
Why Should I Use the Embroidery Software?
Free embroidery software allows you to create unique designs for any garment. It saves time because you don't have to draw each stitch by hand. The software does that for you. 

Image Source: Hatch Blog
Conclusion
Digitizing software is a tool that allows you to digitize a design onto a garment. This can be done by outlining the design on paper and then scanning it into the computer or taking photos of your designs and importing them into the program.
Using digitizing software is an important part of embroidery because it allows you to transfer your artwork onto fabric in an easy and accurate way. You can also use it to change colors or add effects like shadows, making it easier to create a realistic-looking design.
The above listed are some free embroidery software available for beginners, intermediate, and experts. Look at both pros and cons and choose your best match. 
Once you have found an appropriate embroidery software for your needs, you can start designing! 
Happy embroidery!