A Flower Embroidery Pattern That Impresses. How to Conjure Up Your Fantasy World with Embroidery?
People have tried out various flower embroidery pattern options throughout the centuries. Yet, flower-related embroidery ideas still ignite our imagination!
Truth be told, a significant part of embroidery patterns used by crafters around the world is related to fauna (check butterfly embroidery and others) and flora (for instance, this rose embroidery). 
So, what are you waiting for? Take your embroidery supplies:
and follow the exciting flowery path with us!
Flower embroidery pattern examples
Flower embroidery designs mark the beginning of your embroidery projects. 
An embroidery pattern acts as a guide for 
to create embroidery on the embroidery fabric (find our take on the types of fabric under this link).
A typical embroidery pattern isn't only a drawing you copy to your textile. It also shows what stitches to use and how to fill the chosen design. The stitches range from simple to complex ones. Find your favorite pattern online in the embroidery library.
Speaking of stitches, satin stitch is probably one of the most popular stitches for flower embroidery. 
It works great as a filler stitch and will mold itself to the shape of the flower. A padded satin stitch (satin stitch variation) will give more fullness to the flower. 
Read about this one and other stitches useful for flower embroidery on Blog Treasurie:
Stitch 
Description
How to use it

Backstitch

This stitch is an easy way to outline flowers, leaves, and stems and create simple designs. Backstitch is a strong stitch with a short stitch length, so its threads are unlikely to catch, making it more durable than some other stitches.

You can use it combined with other stitches, such as the satin stitch, to outline and define the edges of the flowers.

Blanket stitch

It's perfect for covering petals and providing an edge or outline for the flower petal.

You can stitch close together or far apart—simply observe what gives the best effect for your embroidered flower.

Buttonhole stitch

If you want to create a nice defined edge, go for this stitch. You can work the buttonhole stitch around a circle to make wheel flowers and 

close the center, or 

leave the center open to add French knots;

What's the difference between blanket stitch and buttonhole stitch? The buttonhole gives a more defined and knotted edge.

When you put this stitch into practice on your embroidery project, draw a donut shape and work your way around the edge. When wrapping the embroidery thread around the needle, don't forget to pull outwards to form the knotted edge.

Chain stitch

Use this stitch for your embroidery flowers when you want to outline designs or create stems and long petals, using single chain stitches or rows of chains.

To conjure up a closed chain stitch, make points 1 and 2 of a given stitch as close together as possible. Place these points further apart if you want to open chain stitch more.
If you are a novice, look for free embroidery designs. Initially, it's wise to invest your time, but not money. You will be glad to discover that this "sport" is highly affordable.

Image source: Cutesy Crafts
Here are several more stitches that are perfect for flower embroidery (as reviewed by Blog Treasurie):
Stitch 
Description
How to use it

Couching

While a couching stitch may not be considered an ordinary stitch for embroidery flowers, you can use it to sew chunky, textured outlines.

Read the "Working the Couching Stitch" article on The Spruce Crafts.

For this stitch, use several strands of

embroidery floss

or yarn for the surface thread.

Cross stitch

Use cross stitch to create embroidery flowers, incorporating multiple thread colors (it looks way better than using block colors). You can either buy floral cross stitch patterns or create your own. 

You will use open weave fabrics (for example, linen or Aida) for cross stitch, as they make it easier to count the threads across. To find your way out from the situations when larger areas need to be covered, read "How to Cross Stitch" on

Blog Treasurie

for instructions. 

Lazy daisy

Lazy daisy or detached chain stitch is an obvious decision when making embroidery flowers (did you spot the magical floral connection?). You can use this versatile stitch to 

create a round flower shape or 

spread it along a stem for a spray of petals;

To conjure up fuller petals, be aware not to pull the loop too tight. The length of the petal is determined by the length from point 2 to 3.
Is it all? We are not at the halfway point yet!
Other stitches worth our attention, whether you work on your sunflower embroidery flower embroidery template project or others, are:
long and short stitch, 

French knots, 

outline stitch, 

running stitch,

satin stitch, 

seed stitch, 

straight stitch, 

web stitch;
Explore them all on Blog Treasurie. 

Image source: Pinterest
Now, let's go straight to the point and learn how to make these hand embroidery patterns flowers see the light of day!
Something adorable to get you on the enjoyable, creative track? 
Check this pencil-drew design and steps to make it into an embroidery project, explained by Shagufta Fyms.
"Hand Embroidery: Very Cute Spring Flowers Embroidery – Neckline Embroidery – Universal Embroidery" is a way to fall in love with the first of an array of DIY embroidery flowers:
This video doesn't share a pattern, but it gives you the rare opportunity to observe the entire process of making a fabulous embroidery project. Use it to your advantage!
Another helpful hands-on guide is "How to embroider woven flowers" on Pumora. 
The photo below shows what you will end up creating if you carefully follow a few simple steps. 

Image source: Pumora
Ready to give it a try?
To make a woven flower, spiral the thread around a center point. This technique makes these designs look perfectly round or oval—explain Pumora's embroidery experts.  
Mind that it's best to use larger or medium-large circles in these woven/whipped spider wheel flowers. Avoid making really tiny ones, as they are not suitable for this stitch. The foundation embroidery stitches define how huge this flower will become. Stitch only 2-3 rounds if you want to make tiny flowers.
On Pumora, you will find the images guiding you through every step of doing this project. Follow them and create your beautiful embroidery in an instant without a pattern!
When you spiral around your whipped spider wheel towards the end, you notice previous stitches begin to cuddle and bulk together the more you add on the outside. The more rounds to the flower you add, the more raised it becomes.
So, if you want your flower to be flat instead:
ensure to let the threads lay loosely, and 

don't pull them too tight;

Image source: Pumora
The stem stitch used for this floral embroidery is one of the most common and basic of all embroidery stitches.
The stem stitch is mainly used for line stitching, but you can embroider it in a spiral to conjure beautiful flowers. It is also often used in 
surface embroidery, 

freeform embroidery, 

whitework, 

redwork, and more—lists

The Spruce Crafts

in "How to Work the Stem Stitch in

Hand Embroidery

." 
Since this stitch creates a thin line, you can also use it to: 
outline embroidered shapes, or

form flower and plant stems;
The "Looped Stem Stitch Flower | White Work Embroidery by Cozy Little Hollow Embroidery" video below is an example of the use of the above methods to create phenomenal floral hand embroidery patterns:
If it wasn't enough, other "Stem stitch and variations" (Needlework Tips and Techniques) in the service of hand embroidery flower designs flourish all around the internet!
Here is another example: a "Portuguese Knotted Stem Stitch" by Needlework Tips couldn't have been more delightful:
Were the examples we presented easily for you to implement so far? If you are a novice and find them too hard, we would love to hear from you! 
Also, let us reach for floral embroidery designs that leave no doubt they are doable for everyone.
Speaking of doable for everyone, Super Label Store offers these customized:
to every crafter who creates all types of clothes and accessories and wants to increase the level of professionalism these items represent.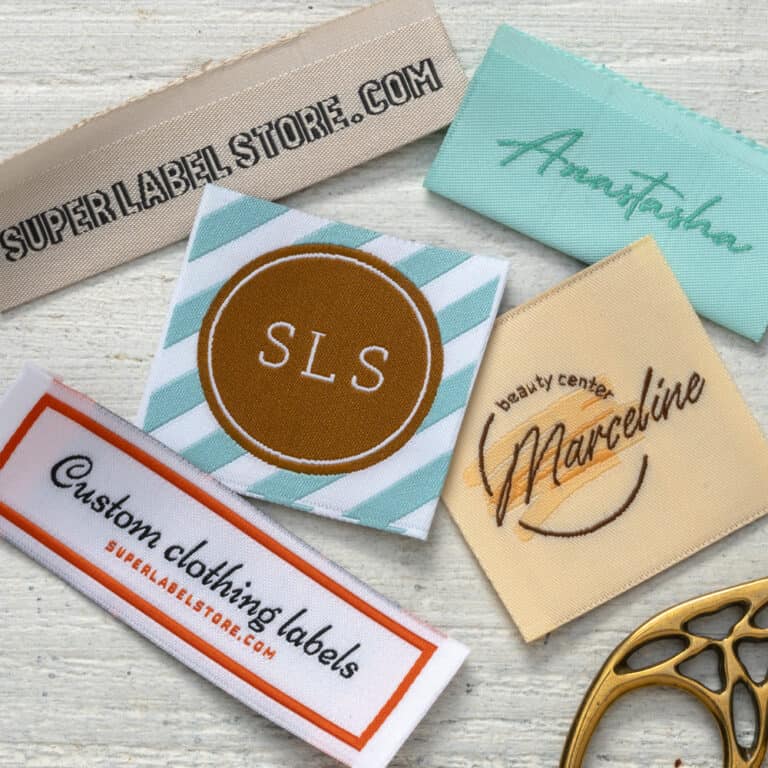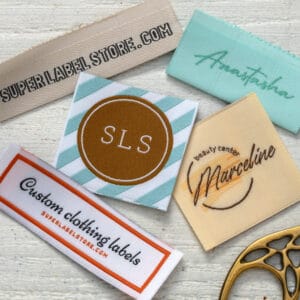 Assuming you work hard on your beautiful flower embroidery designs and sew them on your self-made cotton skirt (we elaborate on types of cotton fabric here), you will want your projects to be irresistibly professional.
With Super Label Store, customizing textile, clothing, towels, sheets, and other accessories with custom clothing labels and tags is affordable and accessible. These labels and tags work great not only for
DIY/clothing crafters at home, but also 

textile/sewing fanatics,

(small/starting) clothing brands,

fashion designers, and

owners and managers of hotels, bars, and hospitality businesses; 

Image source: Frankie Magazine
Getting back to floral embroidery patterns, we can't wait to share with you a few websites with examples of free printable flower embroidery patterns to check out on your embroidery hoop right away.
One cute "Free Flower Embroidery Pattern" is provided by Jessica from Cutesy Crafts. So if you were dreaming about practicing various shapes, forms, and colors, here is a one-in-a-lifetime opportunity to do it smoothly!

Image source: Cutesy Crafts
To download the author pattern, follow the instructions at the bottom of the Cutesy Crafts post.
"How to Transfer an Embroidery Pattern" (you will find this article on another page of the Cutesy Crafts blog) will also be helpful for every embroiderer working with printable flower embroidery patterns. 

Image source: Cutesy Crafts
Now relax and watch this fancy "Hand embroidery easy rose flower design" by Dian Media:
Where do you get such a rose embroidery pattern free from? 
One sure way to have it exactly how you want is by drawing it by hand! Your flower embroidery template can be:
Let's not forget that doing is one thing, but keeping your creative senses vigilant and always looking for more is another desirable attitude in this business.
Stay in the flow and keep digging! 

Image source: Charles and Elin
Just think about it:
Embroidery traces back to 30 000 B.C.—archaeologists actually have found fossils of heavily hand-stitched clothes and boots. Ancient works, such as chain stitch on silk, have been found in China and India.  
We can find embroidery appliqué worldwide, across all cultures—confirm Charles and Elin.
No wonder Pinterest is glowing with the most compelling examples of floral embroidery designs to get inspiration from. Not to mention the amount of printable floral embroidery patterns you can get from this Pinterest search.  

Image source: BuzzFeed
The critical question is, especially if you are a beginner, where to find free floral embroidery patterns?
You will find them on:
Website's name
What you will find there

DMC

A collection of neat free flower embroidery patterns;

Love Crafts

Other free downloadable bouquets, jungle designs, green leaves, and mimosas;

Cutesy Crafts

Over twenty propositions of flower embroidery patterns, out of which many are free;

Crewel Ghoul

 

16 flower embroidery patterns; four of them to download gratis for users;
There are so many floral embroidery designs that it seems impossible to get bored stitching them.

Image source: Crewel Ghoul
With the "Free Flowers Embroidery Pattern," you can now update a plain top with beautiful stitches and embellishments. Read what embroidery supplies you will need (who knows, maybe they are all included in your embroidery kit) and discover how to work on this project step by step on Gathered.
There is probably a no more refined way to pump up the looks of your garments (besides ordering woven labels from the Super Label Store).

Image source: Gathered