Tackling the topic of embroidery thread includes discovering 
Embroidery thread, next to 
embroidery needle

(read "Everything you need to know about hand embroidery needles" on

Etm Designs

), and 
is one of the essential embroidery supplies. You won't go far without these embroidery accessories! 
Whether you're working on your gorgeous 
you need to find an appropriate embroidery thread to work with. 
So, where to start the journey through embroidery threads? 
Let's kick off this adventure by tackling "embroidery thread" in the following paragraph.
What is embroidery thread?
Wikipedia turns out helpful in explaining the basics:
"Embroidery thread is a yarn manufactured or hand-spun specifically for embroidery and other forms of needlework."
While it sounds logical and simple, embroidery thread comes in different types. 
For hand embroidery, you may use various threads (according to Wikipedia):
Type of thread
Description

Crewel yarn

It's a fine 2-ply yarn of wool or, rarely, a wool-like acrylic.

Embroidery floss

or stranded

embroidery cotton

It's a loosely twisted, moderately glossy 6-strand thread, usually of cotton but can also be manufactured in silk, linen, and rayon (read about the types of cotton fabric on our blog).

cotton floss is often used as an

embroidery thread

for cross-stitch,

shiny rayon floss is typical for Brazilian embroidery; 

Filoselle

This embroidery floss is made using the leftover waste from reeled silk. You can buy it on

eBay

.

Matte embroidery cotton or French Coton à Broder

It is a matte-finish (meaning not glossy) twisted 5-ply thread. Read about this embroidery thread on

Fleur de Paris

. 

Medici or broder medici

This one is fine, lightweight wool.

Perle cotton, pearl cotton, or French coton perlé

It's an S-twisted, 2-ply thread with a high sheen, sold in five sizes or weights (no. 3, 5, 8, 12, and 16 (Finca)—the lower the number, the thicker the thread, so 3 is the heaviest and 16 is the finest).

Persian yarn

It's a loosely twisted 3-strand yarn of wool or acrylic. We frequently use it for needlepoint.

Tapestry embroidery yarn or tapestry wool

These are tightly twisted 4-ply yarns.
Regarding machine embroidery, the suitable embroidery thread is typically made of polyester or rayon but can also be made of cotton or silk, although less commonly. 
Get familiar with our selection of embroidery sewing machine and embroidery machine, such as the Brother embroidery machine. Then, to get the hang of nine of the best embroidery machines, visit Gathered. 

Image source: Gathered
But hey, among all these practical pieces of information, do you still remember what makes embroidering your favorite hobby?
Check out the following pros of embroidery by Laura Radniecki to keep in mind when times get tough:
Pros of embroidery
Explanation

It requires a small investment 

The embroidery supplies you need to make any hand embroidery project are unbelievably cheap. A basic embroidery kit costs only a couple of bucks, and free embroidery designs are easily accessible online to quickly turn even the craziest or most sophisticated idea into reality. 

Plus, you'll likely have your embroidery supplies left when you're done with your current project. So your next crafty enterprise can come with no costs whatsoever!

It is easy to learn

Easier said than done? Not this time. You can make incredible artwork using only one stitch. Then, you can learn more stitches, become more advanced (click for more

embroidery stitches

), and amp up your options. But, using only the satin stitch and backstitch is enough to do some impressive embroidery magic tricks.

 

It is portable

All the embroidery supplies you need for a remarkable hand embroidery project fit in one hand and weigh less than a wallet; most projects use a 9″ embroidery hoop or smaller. 

Projects done using an embroidery machine are naturally a different kettle of fish, as they require a heavy machine to see the light of day.

It is meditative

Following a predetermined pattern with a single stitch has a meditative quality that many of us are aware of. It's pleasurable—you're watching something special that slowly but surely comes into being! Also, when you get through the initial learning phases, you can do your embroidery while watching TV.

Easy to stop and start

Put your project down into the drawer and pick it back anytime later. For example, start embroidering if you are a busy mom but want to have some fun every now and then. Your project will be waiting as you leave it.
Now you know why embroidery is or will soon be your go-to passion forever.  
Keep reading to learn more about this crucial part of the embroidery equation: embroidery thread.
Choosing embroidery thread
According to Paraffle Embroidery:
"Choosing embroidery threads is, as you might expect, the key to creating a successful final piece."
So how do you choose the best embroidery thread for your project?
While the color of your thread is vital for the outcome of your embroidery efforts, there are a few other things to bear in mind.
For starters, watch Sarah Homfray's video outlining the types of threads and floss used in hand embroidery and ways to handle them. Sarah is a professional hand embroiderer, tutor, and graduate of The Royal School of Needlework's three-year apprenticeship.
Popular embroidery thread brands are:
DMC—is probably the most significant player in the thread game, according to

Paraffle Embroidery

. DMC was founded in France in 1746, and along with its excellent quality, it has grown to offer around 500 colors of hand embroidery thread. Classic cotton threads are composed of six individual strands twisted together to form one. 

Anchor—similar to DMC, Anchor threads are also made of six separate strands and come in a range of gorgeous colors. The company's origins reach back to 1866 in Paisley, Scotland, but currently, the manufacturing process takes place in Hungary. There are 450 shades to choose from, and the quality is as brilliant as the previous brand we mentioned.
Both brands meet Oeko-Tex Standard 100—which attests they are free from chemicals that can harm humans and the environment. Your choice between these two brands will be based mainly on colors and disponibility.
For our readers interested in sustainability in fashion, we recommend the following readings:
upcycling fashion

(get familiar with all

types of clothes

),
Super Label Store wholeheartedly engages in ecology matters, supplying customers with sustainable, affordable, and customized solutions.
You can choose from 
to enhance your embroidery projects and ensure their uniqueness and professionalism stand out!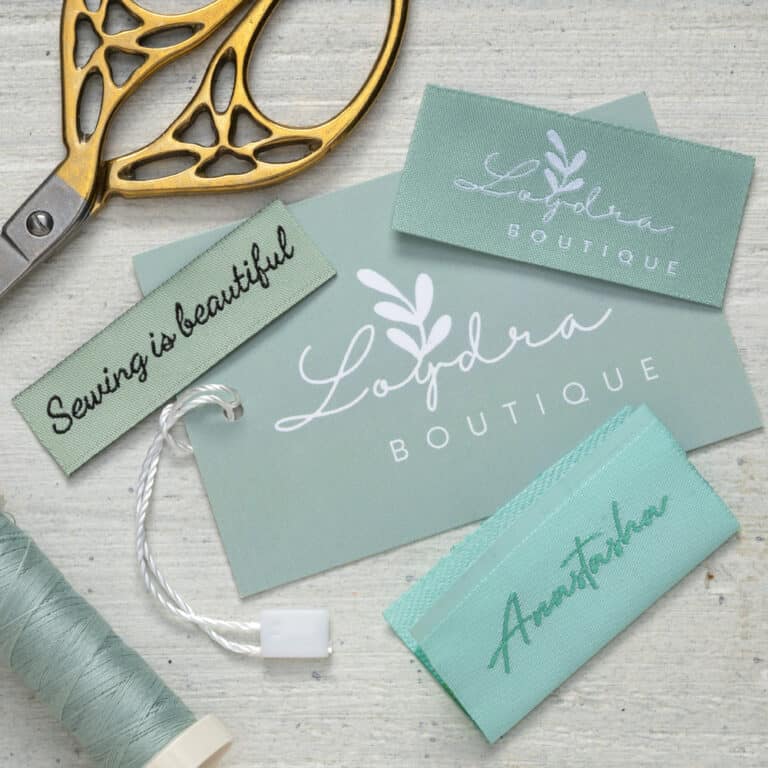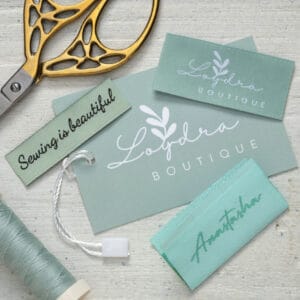 We mentioned DMC and Anchor, but there are more embroidery thread brands that you may find helpful for your hand embroidery projects. 
DMC and Anchor are the main high-quality threads on the market, but there are other, slightly cheaper brands. Add a little side note that their quality isn't always guaranteed. You risk breaking them more easily and frequently and they aren't always color-safe. Also, they may not have been tested for chemical safety. 
So, be sure to test the quality of your unknown-brand thread before going for it entirely. 

Image source: Laura Radniecki
Getting back to the title question about choosing the best embroidery thread for hand embroidery, here is what Kim Jamieson-Hirst from Chatterbox Quilts responds:
Read this "Helpful Guide to the Best Threads for Hand Embroidery" on Craftsy. 
But many of us don't hang out with hand embroidery for too long and instantly pass to machine embroidery. 
How do you choose a suitable sewing machine embroidery thread?

Image source: Publish Illinois
Whether you're about to create a fancy sunflower embroidery, rose embroidery, or other flower embroidery pattern, you'll need the right thread for your machine. 
"How to Pick the Right Embroidery Thread for Machine Embroidery?" Cre8ive Skill comes in with suggestions. 
To pick the right embroidery thread, consider 
what kind of embroidery machine do you have,

what type of stitch you will be doing,

what is your desired outcome, 

how much time your project will take, and 

what is your budget;
In the machine embroidery thread department, rayon and polyester embroidery thread are constantly at the top of the embroiderers' list of choices. 

Image source: The Embroiderist
On the other hand, there is relatively costly embroidery silk thread used to make luxury clothing. 
Keep in mind that a thicker thread like wool will need thicker needles. Yet, using them on a delicate fabric can mess up the embroidery design. 
So what are the types of embroidery machine threads? 
According to Cre8ive Skill, we will come across:
Embroidery Rayon Thread—high and shiny shine and beautiful hues; this embroidery thread is often used for both hand and machine embroidery and consists entirely of viscose rayon. Rayon is extremely popular because of its wide range of colors, low cost, durability, and adaptability. It comes in various sizes and two weights (regular—40wt, and thicker—30wt) and is the best for machine embroidery push and pull.

Image source: Dawn B Creative 
      2. Embroidery Polyester Thread—is the most popular after rayon; bright, synthetic thread. These threads are bleach-resistant and difficult to fade, making them very beneficial for machine embroidery. In addition, they consist of many strands, which makes them strong.
We use polyester threads typically for children's apparel because of their long-lasting quality.
These embroidery threads are also easy to handle for embroidery beginners. 
These polyester embroidery threads are slightly lighter weight than standard polyester threads. Their lighter weight 
helps avoid needle breakage on multi-layer machine embroidery projects and 

allows the thread to lay flat on your embroidery projects.

Image source: Ever Sewn
      3. Embroidery Silk Thread—the most lustrous for machine embroidery; used for elegant and opulent gowns; these threads are elastic, sturdy, robust, and delicate but also relatively expensive. These threads come in various weights, with the 30wt and 50wt as the finest for machine embroidery. 
Filament embroidery silk threads are made up of several twisted strands. These threads are remarkably stable; they don't break while embroidering on clothes. 
You can use Embroidery Silk Thread for 
tailoring, 

decorating, and 

finishing the edges of buttonholes; 
Tackle the difference between loose twist filament silk and spun silk on Medieval Silkwork.

Image source: Medieval Silkwork
      4. Embroidery Cotton Thread—especially beneficial for a hoop-less machine; Cotton is a plant fiber, making this 100 percent cotton yarn a biodegradable and sustainable solution. In addition, this natural embroidery thread is long-lasting, light, and fresh. 
Machine embroidery cotton threads are the most natural and delicate. 
You can use them for:
cross-stitch, 

redwork, 

quilting, and 

bean stitch patterns;
These threads aren't as popular as polyester and rayon threads because of their delicate and slightly brittle feel. 
What makes them excellent for machine embroidery?
These embroidery threads are high-quality and fine and always provide a pleasant and tidy appearance when stitched. 
You can see them in traditional attire, mainly Egyptian clothing. 
Embroidery Cotton Thread is gentle on the fragile fibers and gives them a more refined appearance. They come in the 40 wt to 50 wt range for machine embroidery. 

Image source: Bustle and Sew
      5. Wool Thread For Embroidery—this material isn't generally used for machine embroidery, even though it is commonly a part of traditional garments throughout many nations. 
Wool Thread (obtained from sheep and rams) is a bit thicker than other embroidery thread options, and we use it in the scenery, canvas, and decorating for embroidery on home décor such as pillows, wall art, curtains, etc. We tackle embroidery on canvas in this blog. 

Image source: Anchor Crafts
      6. Metallic Thread For Embroidery—designed to give your machine embroidery creations a distinct vibe with a clever, professional look; remember to use the appropriate needle with a large eye hole to make threading more manageable.
Unfortunately, the metallic thread is prone to breaking, so you will need a needle with a large eye hole to prevent the thread from shredding or breaking. Not a good idea for newbies, as working with it might be frustrating initially. Use this thread with high-quality digital patterns (you will find them in the embroidery library). 
Read on The Embroiderist "How to Machine Embroider with Metallic Thread."

Image source: Cre8iveSkill