Embroidery Supplies. Are You Familiar with All the Embroidery Tools Your Splendid Projects Need?
Embroidery supplies are like a fork and knife for meat lovers—you can figure out a way to handle the task without them, but why should you. These handy accessories make embroidering run smoothly (and some of them are essential).
This article tackles useful embroidery stuff that every experienced crafter already has, and every novice is about to get. 
Read what you need to conjure up the gorgeous sunflower embroidery (one of these cute embroidery flowers is waiting to be downloaded from Love Crafts).
Hand embroidery supplies
The embroidery equipment you need to create an embroidery project can be as affordable as 15$. 
Hard to believe?
That's the beauty of embroidery—it's an extraordinarily cost-effective hobby.
Of course, we are talking about hand embroidery. Embroidery products such as an embroidery machine (see Brother embroidery machine) will be a much more costly venture.
A typical embroidery kit from Amazon is a comprehensive set of all the embroidery supplies you need to bring to life various embroidery ideas. 
Some such sets can even comprise a video guide explaining how to use the items included.  
Look at "The 9 Best Kits for Beautiful Embroidering," published on The Spruce Crafts by Julia Fields. But, first, let's browse through some of the author's picks:
Embroidery kit
Why you should get one

Stitch Sampler Beginner Kit available at

Etsy

for less than 12$;

Marked as the "Best Overall," this embroidery kit is excellent for beginners. It walks an inexperienced crafter through all the fundamental 14 stitches and has instructions included. One minus is that 8 x 8 inches color printed fabric and instruction sheet is all you get here (no embroidery hoop, needle, or floss included). It means you will need to arrange other materials outside the kit for your project to come to life. 

The resulting project is a beautiful and helpful guide for your future embroidery undertakings.

Purl Soho

Beginner Sampler Kit for $65;

This embroidery adventure is a bit more costly. Yet, it contains a whole lot of embroidery items, which makes the price understandable. Called the "Best for Beginners" by The Spruce Craft's authors, this 14.5 x 12 inches big embroidery kit includes:

With this embroidery kit, you will create a simple but stylish wall hanging that combines modern design and traditional stitches. The only inconvenience is that it comes only in three color options (by producers referred to as "color stories"): yellowish Sunny Day, a more balanced Window Box, and grayish Coneflower.

Heidi Boyd

Stitch-a-Tote: Under the Sea for 32$;

By purchasing this kit, you are setting yourself to create a stitched masterpiece you can take wherever you go. This "Best Tote Bag" comprises: 

a 13- inch by 13-inch by 8-inch tote bag that is hand silkscreened with the nautical design (no transferring this time),  

a

6-inch

wooden embroidery hoop, 

DMC

floss, 

illustrated stitch guide, and 

color guide;

While this nautical design looks so detailed (and actually is), you will embroider your new favorite tote bag entirely with beginner-level stitches. All the supplies required for the project are included. You will only have to find yourself a pair of scissors! This kit is recommended for ages 13 and up.
For more examples of fantastic embroidery kits, check with The Spruce Crafts. 
Whenever you stitch a tower, a tote bag, or any other embroidered beauty, another recommended method is to make your effort seen by adding a minor detail in the form of:
This small but not insignificant decision will take every crafting project you carry out to a higher level of professionalism.
So, whether you are:
DIY/clothing crafter at home, 

textile/sewing enthusiast,

(small/starting) clothing brand (if you are launching your crafting business, consider reading "How to Start a Brand: 4 Simple Steps to Success" on

Ecom Academy

and "

How to Start a Sewing Business from Home

?" on our

Super Label Store blog

),

fashion designer,

manager or owner of a hotel, bar, or hospitality business, 
and want to customize your
textile, 

clothing, 

towels, 

sheets, or

accessories 
Super Label Store will be happy to help you stand out by producing precisely the labels and hang tags you need.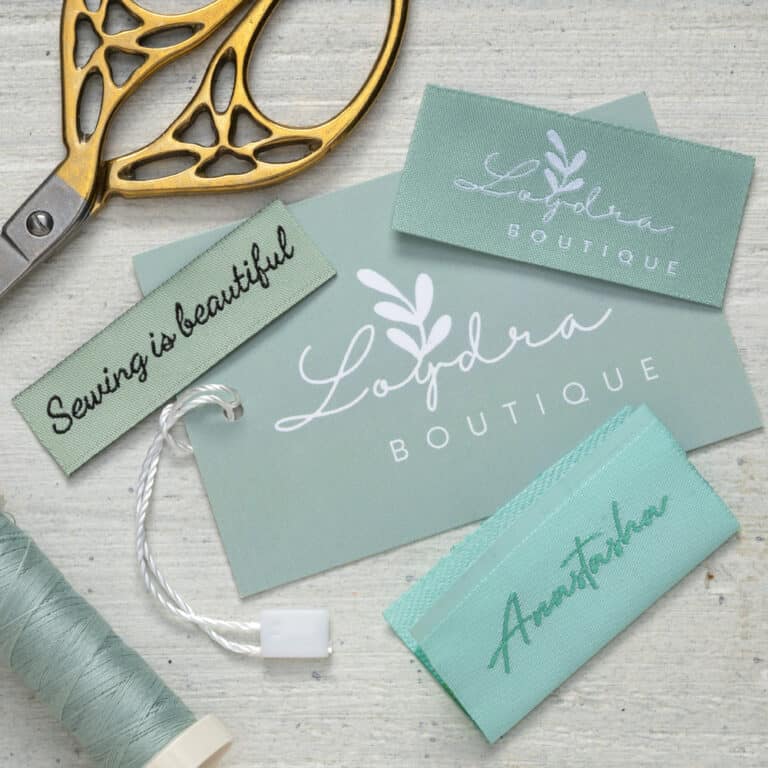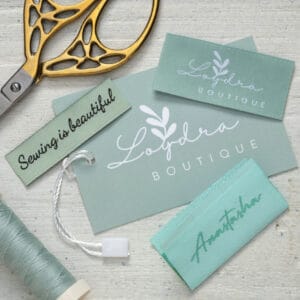 Yet, embroidery supplies are crucial to get this party started, so let's give them some attention.
Below you will find "Tools and Supplies For Hand Embroidery," explained by Eric on the Three Inches Hand Embroidery YouTube channel:
There are only a couple of basic hand embroidery supplies, and they are generally inexpensive. So to make your first rose embroidery, you practically don't need more than an embroidery hoop, a needle, and floss. It also wouldn't hurt to learn a few embroidery stitches, for instance, with Jessica on her Instagram profile. 
Yet, as noticed by Sara Barnes in "11 Must-Have Embroidery Supplies to Buy If You're Going to Start Stitching,":
"The longer you embroider, the more you'll realize that there are many supplies that, while not required for stitching, make the craft easier and more enjoyable."
So, before you head to an embroidery library to find your dreamed-up flower embroidery pattern or butterfly embroidery, let's break down embroidery supplies one by one to have them all sorted out.
Embroidery equipment
Description

Embroidery hoop

Are you going to embroider on fabric? Unfortunately, the answer isn't as apparent as it may seem. Crafters stitch on all sorts of materials, from a traditional and highly-recommended muslin, cotton, Aida, linen, Flour Sack, and Osnaburg to a leaf. You've heard us; some creative embroiderers stitch on a leaf!

If you are going to stitch on fabric, invest in at least a couple of embroidery hoops of varying sizes—suggests My Modern Met. Embroidery hoops are typically wood or plastic and range from just a couple of inches to over a foot in diameter. When your fabric is in the hoop, tighten a screw at the top to keep your project taut as you work.

Fans of embroidering on clothes should get familiar with "All You Need to Know About Embroidery on Clothes" on Charles and Elin's website and read our article on types of clothes to orient themselves with their options. 

Embroidery needle

A needle is essential for embroidering. Yet, to extend your knowledge on the topic, it's worth tackling the sizing issue. Manufacturers number embroidery needles from 1 to 12; the lower the number, the bigger the size. Numbers 6-8 are the most commonly used.

Embroidery needles are medium length with a sharp point and a long narrow eye, which makes threading the needle easier when using multiple strands of thread. Even though there are embroidery projects with instructions to use a tapestry needle, you will generally reach for embroidery needles. They are helpful, among others, for surface embroidery, crewel work, whitework, and goldwork.
Has it all got cleared up a bit? We hope so!
We created the table above with the help of My Modern Met.

Image source: YouTube
Check out a few "Essential Hand Embroidery Supplies" hacks shared by Domenica on the Easy Sewing for Beginners channel:
Getting back to our craft embroidery supplies. What else do you need?
Embroidery equipment
Description

Embroidery thread

Embroidery thread is a yarn manufactured or hand-spun explicitly for embroidery. DMC is the industry standard when it comes to the right embroidery store to purchase this supply. The most popular thread size is #8—the ideal weight for every hand embroidery stitch.

You can choose various embroidery threads, such as Perle cotton (by far one of the most common hand embroidery threads), rayon (used for decorative purposes, such as appliqué or decorative quilting), metallic, 12wt cotton, and various others, depending on your project. Jump to "13 types of Hand Embroidery Threads—How to select the best for your project" on Sew Guide to tackle your choices. Stranded cotton, also known as "embroidery floss," is the most popular thread used in hand embroidery. 

Embroidery floss

Embroidery floss, i.e., stranded embroidery cotton thread, is the most preferred thread for embroidery. It has six strands of thread throughout the skein. You have two options:

you can thread your needle with all six strands of floss (for needlepoint), or 

separate the thread and use only some strands (one for lines and delicate work, such as a needle painting; two strands for cross stitch), depending on the effect, you want to achieve;

The embroidery floss comes in different fibers: cotton, rayon, and silk.

Six-stranded, mercerized cotton floss is the most economical and standard of all embroidery flosses. The range of its color variations is jaw-dropping. You can use this floss for most embroidery works on nearly any medium.
You can do your embroidery with regular yarn or sewing thread. Each has its charm
—notices the author of the Gathering Thread article and adds—
if you can thread it through a needle and pull it through the material, you can embroider with it.

Image source: Sew Guide
Moreover, if you have issues with "Embroidery Floss Organization" (and it may happen), pay attention to these handy hacks by Hailey from Hailey Stitches:
Getting back to our list of embroidery supplies, there are a few more essential embroidery products not to forget:
Embroidery equipment
Description

Embroidery fabric

Clearly, without the fabric or other surface to embroider on, your embroidery project won't have a chance to come to life. You can embroider on any fabric, be it cotton, wool, linen, felt, or even denim and leather, and not only fabric (Have we mentioned that an actual leaf from the tree is also an option?).  

Keep in mind that thicker fabrics require sturdier needles. In comparison, thinner fabrics tend to pucker, especially when stitching bold embroidery letters or abundant filled-in shapes, which reminds Wandering Threads Embroidery. Stick with cotton or linen-cotton blend fabrics with a medium weave if you are no expert. But don't limit yourself to white surfaces—colored fabrics are a way to experiment and have fun. Have you tried stitching dark fabrics with bright-colored floss? The next adventure awaits!

Scissors

The thing with scissors is you don't need them for embroidery but to:

cut your thread ends, 

trim the fabric around your hoop, and 

snip out a mistake stitch if it happens;

So get a pair of sharp scissors with small, narrow blades between 1-2 inches long and comfy wide handles. Also, keep around a pair of larger dressmaker scissors for cutting fabric on hand.

Ensure to have sharp scissors so that the floss doesn't fray. Threading a needle with frayed floss is a nightmare!
While the embroidery items we listed above are essential, a few that follow are less necessary.

Image source: Brynn and Co
As "Beyond the Basics Embroidery Supplies," My Modern Met enumerates:
Stick and stitch stabilizer paper
It's a pack of special paper to put in your printer. 
Let's say you purchased embroidery supplies online and have a few pdf files with free embroidery designs at hand (the most enjoyable moment, just before the hustle). Now you can print a chosen design of, for instance, a rose embroidery onto the special fibers of your stick and stitch stabilizer paper. It's destined to be then peeled and stuck onto your fabric. Then, wash it away with warm water when you're done stitching.
      2. Fabric marking pens and pencils
Speaking of transferring patterns, whether you do your embroidery on canvas or Aida, you typically need to place your pattern on the fabric. 
Fabric marking pens and pencils offer a smart way to do it. 

Image source: Reddit
Such pens and pencils are available in an array of options: 
air-erasable pens and pencils that disappear over time, 

water-erasable pens and pencils that stay on your fabric until you remove them by running your project under the faucet or dabbing with a damp cloth, 

a special pencil used for iron-on transfer;
Pens, unlike pencils, tend to make sharper lines and are typically easier to erase. 
For embroiderers who take time to breathe life into their project, air-erasable options can disappear too fast for their needs.
Regarding the brand, Leonis Water Erasable Pens is one recommended solution. Where to buy embroidery supplies? Click to find this product on Amazon!
According to Wandering Threads Embroidery, Leonis pens 
feature a nice sharp tip, 

last for a long time, and 

their ink is easy to wash away with a dab of water.

Image source: Charles and Elin
      3. Needle storage
Good organization is key. And needles aren't the best things to look for around the house.
If you are worried about losing your needles, start using a cute little needle minder.
There is nothing sophisticated about it—it's essentially an enamel pin with a super-strong magnet. 
Every time you are on a pause or simply changing a thread, place your needle against a needle minder so that it stays in place.
Get yourself this embroidery stuff, especially if you constantly find your needles on the floor, couch, or even garments.

Image source: Dream a Little Bigger
An excellent needle storage solution for crafters who operate with several needles may come in the form of a needle book.
The book made of fabric features pages made of thin batting that keeps the needles and other notions in place. 
You can also go for a magnetic needle box that contains a magnet inside to hold the needles. 
Otherwise, there are needle storage tubes, excellent for long-term needle storage. Again, each plastic tube has a magnet at the bottom designed to hold the needles in place. 
Flip the tube upside down, and the needles slide out in a fan shape (while attached to the magnet).

Image source: My Modern Met
Two more supplies that we strongly recommend are 
Project notebook or spreadsheet for your best ideas and critical notes, such as floss colors, stitch choices, and any changes you would make if you were to repeat the project, and

Good lighting!

Image source: Needle N Thread
Machine embroidery supplies
To keep this paragraph light, let's start with the video "Embroidery Machine Basics | Hooping Tips, Stabilizer, Needles & Thread" by Jennifer from Sewing Report:
According to We All Sew, there are "7 Essential Supplies" for machine embroidery. This list doesn't include embroidery machine, embroidery sewing machine, and embroidery hoops that came with it, which are self-evident.
Let's first tackle "Machine Embroidery Hooping Basics" with the Baby Lock USA & Canada Sewing Machines YouTube channel:
So, essential machine embroidery supplies, as listed by Kay Hickman on We All Sew, are:
Stabilizer,

Temporary adhesive spray,

Needles,
An eye of an embroidery needle is one size larger than the shaft of a needle (so, a size 80 embroidery needle has an eye the same size as a regular size 90 needle). That extra room keeps the thread from fraying when you embroider at high speeds.

Image source: Edu Tech Wiki
Embroidery thread
Embroidery threads for machine embroidery are available in a variety of thread weights. The most popular is 40wt (your go-to thread size for general needlework), followed by the finer and lighter 60wt for creating embroidery patterns with fine details.
For a super elaborate article that tackles the question "What Thread Weights Should I Use For Machine Embroidery?" visit this Cre8ive Skill link.
Bobbin thread

Small scissors or snips

A housekeeper and personal chef—as, according to the author of the article, once you get your hands on embroidering for good, you will stop doing everything else;