Ready for a Long but Enjoyable Ride Through Embroidery Patterns? We Are Here for You!
A lot has been said about embroidery patterns, but if you wonder if it could stop us from digging into the topic, you already know the answer. 
So, whether you are in search of 
simple embroidery patterns, 

sophisticated embroidery templates, or 

fancy embroidery stencils
explore our guide below!
Are you ready for a colorful stroll through the embroidery land? Jump in!
We'll look at plenty of cool embroidery patterns in the following paragraphs. Hang on—there's a lot to learn!
Machine and hand embroidery patterns
For starters, let's deal with vocabulary. 
Embroidery patterns and designs refer to the same thing. An embroidery pattern is a "guide" for a machine or human hand to create embroidery on the embroidery fabric (read about types of fabric and embroidery on canvas here). 
An embroidery pattern indicates what stitches you should use and how to fill in the design. 
Patterns range from basic stitches to complex techniques used by experienced crafters—explain the authors of My Modern Met. 
Whatever your skill level is now, you can continually improve by choosing a more challenging design each time. Embroidery is a lifelong journey!

Image source: BrwnPaperBag
In the article embroidery library on the Super Label Store blog, we recall:
Whether you plan to do it by hand or with a machine, you'll need embroidery designs patterns to start embroidering. (there is also free hand embroidery, but we'll talk about this option later)
Most novices think at this point: "Where do I get free embroidery patterns to download?" 
According to Digitizing Made Easy, it's not necessarily the best approach to looking for free patterns, especially if you download your free embroidery patterns for beginners from an unknown source. 
What do you risk?
Your

free embroidery designs

may stitch out looking different on the fabric than on the computer screen,

And the entire experience may have disastrous results on your precious embroidery appliance; "If the digitizer didn't know what they were doing, it could cause multiple thread breaks, bird nests, and sometimes even broken needles,"—underline authors. 
If you are behind with the embroidery supplies' knowledge, check our blogs:
embroidery floss

(it's a special kind of

embroidery thread

),

embroidery needle

, and

Image source: Blog Hatch Embroidery
Free embroidery patterns may be a fantastic opportunity to kick off your embroidery career without further financial sacrifices. We know how much pain the embroidery machine was for your wallet. 
Yet, find the right online source if you decide to go for modern embroidery patterns free. 
For example, a reliable brand in the industry, Embroidery Library, shares a few free embroidery patterns to download on their website. Review also another 14 link sources with free embroidery patterns on Silver Bobbin.
Keep in mind that you generally get what you pay for in the embroidery pattern department, just like with other commercial products. 
So, if you are open to spending a few more bucks on embroidery (and let's say it, most designs don't cost more than $4), find affordable and recommendable small embroidery patterns on Embroidery or Embroidery Designs. 
Check out an alphabetized selection of around 30,000 machine embroidery designs on Digitizing Made Easy (including authentic vintage lace designs from the 1950s bridal industry). 
You'll also appreciate these adorable design ideas "meant to inspire creation and spread joy" on Designs by Juju. Our favorites are
Animals and Critters,

Word Art and Sayings, and

Fantasy and Fairytales;
On Urban Threads, you'll find some more complex designs to develop your craft. Then, Swpea sells this stunning embroidered bookshelf quilt pattern for $23.50.

Image source: We All Sew
If you are getting started with embroidery, you'll appreciate a few embroidery pattern-related blogs on All Stitch: 
"Top Tips & Tricks for Embroidering on Terry Cloth, Fleece & Fur,"

"How to Embroider On Leather,"

"How To Easily Embroider on Toilet Paper" (it may sound weird at first but think about an item for a gift basket, personalized toilet paper for a guest bathroom, as a novelty or gag gift, for bridal showers and holidays), and

"Best Advice For Machine Embroidery Beginners: Top 6 Tips";
In the last article mentioned above, one piece of advice is not to digitize your patterns if you start your embroidery experience.
Why shouldn't you digitize, and what does digitizing actually is?
To digitize means to convert a design into a digital set of instructions that your embroidery machine can understand. You can create a design yourself and make it readable and doable for your embroidery machine. 
Watch "Creating Embroidery Designs by Manually Digitizing with Hatch Embroidery Software" to have a better comprehension of the complexity of this process:
It sounds like a blast to have your own drawing project embroidered by a machine, so why shouldn't you do it?
All Stitch authors claim that, while digitizing is a good skill to have, it takes experience and expertise and, therefore, they don't recommend it for novices. It's very easy to digitize your design idea incorrectly—and it's not far from poorly digitized designs to poorly made stitches. 

Image source: Embroidery Digitizing Service
So, if you are just starting, put these technological innovations aside and get busy with a simpler alternative, such as ready patterns. Focus on learning to operate your machine and leave the digitizing to the more experienced players.
Unless you are one of them! In this case, read "How to Create Your Own Embroidery Designs?" at Blog Hatch Embroidery, and follow the software guide to do some magic!
The digitizing process doesn't seem so scary from the point of view of the creators of the software: 
"Even if you are a beginner, you can create machine embroidery designs relatively quickly and easily. What you will need is an easy-to-use embroidery software and a good embroidery machine to sew your designs out,"
—they underline. 
There is also the third option, between digitizing and not digitizing—let others do it for you! 
Embroidery digitizing services will convert your custom design or logo for you (Mig Digitizing is one of them). 
Again, ensure you are buying the service from a reputable site. You can ask fellow embroiderers or research theme-oriented forums for referrals. 

Image source: Digitizing Made Easy
You thought that was it, didn't you? Yet, there is another distinction in the digitizing department:
auto digitizing, and

manual digitizing;
 Read "The Truth You Need To Know About Embroidery Auto Digitizing Software" on Digitizing Made Easy to understand the topic thoroughly. 
Now, let's quickly tackle both digitizing options:
Auto Digitizing
Manual Digitizing
What is it?

Embroidery auto digitizing software utilizes computing to capture graphic images and transform (or "translate") them into machine embroidery design files. 

In manual digitizing, you manually use embroidery software to transform a design into embroidery. 

How does it work?

The software, based on the algorithms it uses, decides on the appropriate 

layers, 

stitch counts, 

colors, and 

other variables;

You choose 

how the design will stitch out, 

in what order the layers will come together, 

what will the stitch angles be, and 

which colors to use; 

Auto digitizing saves time and effort, but there is one downside. Expect some structural and stitching problems, especially with more complex designs. 

In manual digitizing, skills go a long way to help you reach the quality results you want.
 Machine embroidery designs come in many formats. Every embroidery machine is suitable with a specific format:
Janome: JEF.

Bernina: ART.

Husqvarna/Viking: HUS. & VP3. & VIP

Brother/Babylock/Deco: PES / PEC

Singer: XXX

Pfaff: PCD / PCM / PCS

Tajima: DST

Melco/Bravo: EXP

Image source: Bernina
There are three main types of embroidery file formats:
Type of embroidery file format
Description
Examples

Expanded File Formats

Formats for commercial embroidery machines. They are small-sized files that consist mainly of simple x and y movements and commands that your embroidery machine follows. They don't retain color information.

Machine File Formats

Specific to different

embroidery machine

brands. These files tell your machine the commands necessary to embroider designs.

.jef, 

.art, 

.hus, 

.vp3, 

.vip, 

.pes, 

.pec, 

.xxx, 

.pcd,

Native File Formats

No embroidery machine can read these files, but embroidery software does. These are the best "working files" that let you edit a design and convert it into a machine or expanded file formats later (which can run on your embroidery machine).
You'll learn the rest from "Understanding Machine Embroidery File Formats" on Digitizing Made Easy.
Also, no less important than 
making by yourself, 

letting someone make for you, or 

buying ready 
embroidery patterns is placing them correctly on the fabric later. 
Sew Daily explains "How to Achieve Perfect Placement for Machine Embroidery Designs." We All Sew in "Design Positioning in Machine Embroidery" describes the process in steps using an example of the embroidered pillow:
gather your embroidery supplies and other accessories and materials, 

cut the fabric,

fold the hem,

mark design position,

mark endpoints of design,

cut stabilizer,

prepare and hoop fabric,

set up the embroidery design—jump to

We All Sew

for a precise explanation of this essential phase,

position and stitch the embroidery,

sew the pillowcase;

Image source: We All Sew
If you are still not sure if machine embroidery is for you, have a look at the video "Kerala style machine embroidery design" by Aham Designer Boutique, and you'll know the answer in an instant:
According to Mr X Stitch,
"free machine embroidery, or freehand machine embroidery, is a type of sewing that allows you to draw with your sewing machine through drawing different shapes and profiles."
The Sewing Directory depicts the technique briefly on their website. Since we focused our article on embroidery patterns, let's underline that no patterns are needed for embroidering using this method. 

Image source: The Sewing Directory
The only tool you must have is a sewing machine with an embroidery presser foot and the ability to drop the feed dogs.
Your spontaneous creativity is the key driver of this enterprise.
A word of advice? Since you are so unrestricted in your doings in this department, remember that
tight stitches will keep your fabric from fraying and lying flat, and

loose stitches will let you create shapes impossible to make otherwise (like the hair of a person);

Image source: Emb Library
Janet Clare on Stitch Craft Create shares her knowledge in this "Freehand Machine Embroidery Tutorial":
Sewing and craft stores and the internet are full of machine embroidery designs and corresponding guides. 
We typically use machine embroidery to add logos and monograms to business accessories like shirts or jackets, gifts, and team apparel and decorate household linens and draperies.
But hand embroidery is still trending as well! 
It's also easy to find an array of hand embroidery patterns online. 
One good online place to download free hand embroidery patterns for beginners is The Spruce Crafts. 
With these "10 Free Embroidery Patterns for Beginners," you'll start a journey through loads and loads of designs to try out.  
So don't wait and get down to working on your garments or home décor accents such as napkins, tablecloths, table runners, or dish towels. And as soon as your embroidered item is ready, level it up with the
available to order from the Super Label Store. 
If you are 
DIY/clothing crafter at home,

textile/sewing fanatic,

(small/starting) clothing brand,

fashion designer,

owner or manager of a hotel, bar, or hospitality business,
invest in Super Label Store labels to customize your textile items, such as 
clothing, 

towels, 

sheets, and 

accessories;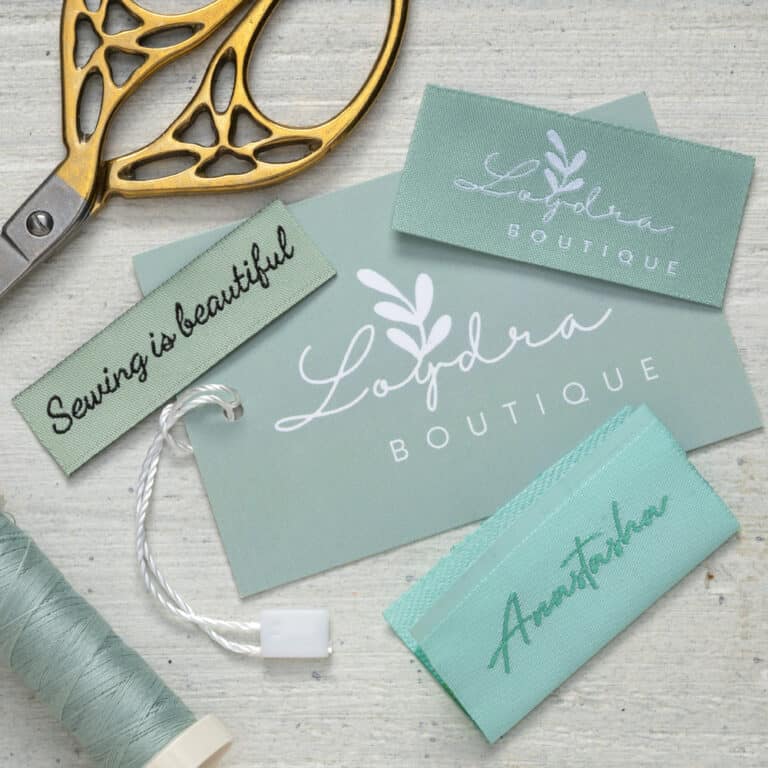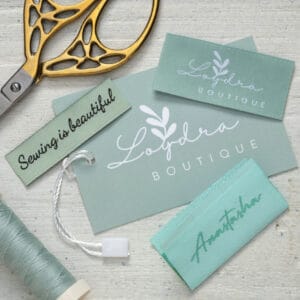 Let's now have a closer look at hand embroidery designs. 
Where to get them from and how to use them are the two most burning questions in the industry. 
Hand embroidery is all about embroidery stitches. On Sew Guide, you'll find over 60 various types of hand embroidery techniques, described and illustrated for a better understanding.
We won't name them all, but some examples are open work, void work, whitework, broderie Anglaise, dotting work, Hedebo embroidery, Chikankari embroidery, Sashiko embroidery, Chicken scratch embroidery, and many others!
As you get your first embroidery kit and, with time, dig deeper into hand embroidery, you'll notice that there are always some embroidery skills left to acquire and stitches you weren't aware existed. 
For example, did you know these "Five stitches for creating texture in hand embroidery"? Here, brought to you by Sarah Homfray Embroidery:
Not there yet? That's ok; let's get back to the initial phases. 
If you are a beginner, the best thing to kick off with hand embroidering is to get yourself a pattern that includes supplies. Such combos are called embroidery kit, and they comprise
an

embroidery thread

called

embroidery floss

, and

a fabric that may be stamped with a design or accompanied by a paper chart that shows the project's stitch pattern;

Image source: NJeffersonLtd
According to Sewing Insight, hand embroidery is all about mastering various intricate stitches and knots. Embroidery is a fantastic way to stay alert and keep the fingers nimble. It also lets you produce embroidery designs that a machine cannot duplicate.
If you are a novice, go only for these hand embroidery patterns that come together with instructions. Those without instructions (such as an abundant collection of patterns by Needle Thread) will be too challenging for newbies and potentially demotivate you quickly.
So, ensure that your embroidery patterns can guide you thoroughly and that you can rely on them. But, for now, leave your own creativity aside and let it flourish slowly. The time will come when you use various stitch patterns and knots freely to produce one-of-a-kind embroidery projects.

Image source: BrwnPaperBag
What if you want to use a cute pattern, but your embroidery skills are already advanced? Then, we recommend you try out a design Racoon Doll Embroidery Kit from Kiriki Press available at Store My Modern Met (it comes with an embroidery kit).
It costs $20 and comprises all the tools you need to make your plush raccoon doll. With various stitches, you will cover the fabric pattern in DMC thread, creating a fuzzy plush doll of four and a half inches. DIY embroidery has never been so pleasurable!
Hand embroidery patterns with instructions often include embroidery floss and detailed stitch and color charts (they tell the user exactly which color and stitch to use in each section of the design)—explain the author of the Sewing Insights article. 

Image source: Store My Modern Met
The traditional cross-stitch type is a suitable hand embroidery pattern for children and amateurs. It comprises a series of stitches that resemble x's arranged in various patterns to produce designs of embroidery flowers or animals and borders (just stitch over the little blue x's until you complete the entire pattern). With time, you can expand your options by adding different, more advanced stitches and knots.
Explore these "Cross-Stitch Blogs You Should Be Following" listed by The Spruce Crafts. 
What will you find on Cloudsfactory, Connie Gee's Designs, Stitch, and other embroidery-related blogs? Besides embroidery guides and tutorials, and even fun stitchy antidotes, you'll see a lot of printable embroidery patterns!
"Cross-stitch blogs range from traditional to more cutting edge—notice The Spruce Crafts—There is something out there for everyone." 

Image source: The Spruce Crafts
So, are you won over by the charm of hand embroidery or swayed by the speed and repetitiveness of getting the job done in seconds with the embroidery machine?
Some people say that a machine isn't able to duplicate the art of hand embroidery. Yet, let's see what the future brings!
Hand embroidered items stand apart from machine-made ones simply because of the time and tender human care that goes into making them—writes Vernelle from the Sewing Insights.
And what are your thoughts?

Image source: Blog Sulky
Where to find hand embroidery designs free download pdf? One worthy source is Love Crafts, with a selection of fun and free embroidery patterns pdf to download.
After you learn how to use them, you can create something for yourself and your close ones or bespoke items by embroidering your fancy patterns on accessories and clothes. 
The site offers hundreds of free printable embroidery patterns from a wide selection of 
themes,

styles, and

color combinations;

Image source: Sew Daily
Love Crafts is a design library with printable floral hand embroidery patterns and many more to suit the needs of every embroiderer.
Another online starting point for finding free hand embroidery designs is DMC. These striking embroidery pattern printable options are discounted from €3 to zero!
And if you need more "Hand Embroidery Patterns Ready to Download and Start Sewing," here are 26 pieces on one page. My Modern Met knows what you need (just as we do!). Trust us; these designs deserve your attention!

Image source: My Modern Met
Whether you bought them on a piece of paper or downloaded and then printed them, paper templates are invaluable for determining and marking fabric for embroidery designs. 
Tip: If you will use the same design in many places on your project, print out multiple templates.
Apart from traditional embroidery patterns on paper and digital ones that you can print, there are embroidery stencils—stitch templates you position where you want the embroidery to appear on the fabric. 
Then, you mark your designs with a quilter's pencil.
Embroidery stencils are an excellent tool for getting your embroidery off to a faultless start! 
Let's have a look at fast2mark Embroidery Stencils (available on Amazon) smoothly explained in this YouTube video on the C&T Publishing channel:
There is a lot you can do with a simple stencil:
use it in its original form,

transfer it to create a longer line (or a longer vine, as in the video example),

use the original form of the stencil and then flip it to create a different image, or

shadow the stencil so that you get the bottom edge and the top edge;
Fast2mark Embroidery Stencils described in the video are laser-cut, durable, translucent, medium-weight plastic, and easy to handle and work with. It sounds like a smooth ride, doesn't it?

Image source: C&T Publishing
Embroidery stencils by fast2mark are an easy-to-handle tool for creating an array of cute embroidery patterns, such as 

Image source: The Mom Creative
Using embroidery patterns
Now that you know everything about embroidery patterns let's see what methods you'll use to transfer them to the fabric (read about types of fabric, types of cotton fabric, and types of clothes).
The three primary methods used to transfer your embroidery patterns pdf to the fabric are  
tracing, 
transfer, and 
using a stabilizer;
According to Peacock And Fig, transferring embroidery patterns to fabric doesn't have to be difficult. It's a matter of choosing the best technique to transfer the pattern, which depends on the 
Let's tackle the three methods mentioned above with the help of Peacock And Fig:
Tracing
The tracing method will be best for light-colored, smooth embroidery fabric. 
First, print one of your free-hand embroidery patterns or trace it onto paper or tracing paper. 
If you are using a very fine fabric, place your fabric directly over your paper pattern and start tracing. 
A light source behind your embroidery pattern and fabric may be helpful to see through. You can also use a bright window or tablet as a light source.
If you are using a tablet, put a sheet of glass between a tablet and your embroidery pattern to prevent damage to your screen from pressing too hard while tracing the design. 
Which tool to use for tracing? Try
water-soluble pens (remove by washing when your embroidery is done), 

Frixion erasable pens (you remove the lines by running an iron over the pen marks after stitching), or 

pencils (draw lightly, just hard enough to see lines);
The marks made by these tools are supposed to get off the fabric later, but check it on a small piece before you mark the entire fabric. 
You can also trace your design with a permanent marker like a fine-tip Sharpie. However, make sure your stitching will fully cover your lines when you are done!

Image source: YouTube
      2. Transfer 
Instead of tracing your pattern directly onto your fabric, you can transfer your design. 
Trace with the iron on the pen/pencil on the back of the pattern, and flip the design onto your fabric (pen/pencil marks down). Iron until it's fully transferred. 
Keep your iron still while ironing so as not to smudge the lines. 
You can also use tracing paper to trace your embroidery pattern and then redraw the lines with the iron on the pen/pencil on the back.
Make sure you are drawing on the back of the pattern, as otherwise, your design will be reversed when you flip it to iron it onto the fabric. 
Mark which side of the pattern is right-side up. It will simply stop you from accidentally reversing the design when transferring it. 
This method isn't as delicate in the linework that you transfer to your fabric, especially if it's not a smooth fabric. Also, these techniques can end up being permanent on the fabric. Test it on a scrap of fabric to be sure how it behaves.
You can also utilize a dressmaker's carbon paper in a variety of different colors, so you can use it on any fabric. 
Simply place your carbon sheet face down (with a colored side down) onto your fabric, place your embroidery pattern face up on top, and trace your design using a hard pencil, pen, or tool. The dressmaker's carbon is washable. Check out, for example, this Clover Tracing Paper Chacopy on Amazon. 
Important: Don't use carbon paper from an office supply shop, as it will cause permanent color damage to your fabric.
This method works great on most natural-fiber fabrics with a flat surface. However, it doesn't show up well on dark colors.   
Watch "Tips & Techniques: Transferring a Pattern Onto Fabric With Carbon Paper," by kasia jacquot:
      3. Stabilizer
Use a photocopier if you are working with a slightly textured fabric or don't want to trace your design.
There are several options for sheets and rolls, such as sticky and water-soluble or water-soluble and tear-away. 
You can also draw onto the stabilizer directly or trace your pattern onto it, but let's underline that putting it into your printer is unique for this material and an exciting way to use it. 
Test your printer first to make sure you will print on the correct side of the stabilizer. 
Once printed, what's left to do is cut out your design, peel off the backing paper and stick it to your fabric. 
Important: Your embroidery fabric has to be stretched in your hoop or frame before sticking on the stabilizer. Otherwise, you risk buckling the design once you put your fabric in a hoop.
You stitch right through the stabilizer, put your stitching under running water and wash the stabilizer away when you've finished.
Then, let your embroidery dry naturally, or iron it gently.

Image source: E How
Stabilizers take their names after the method required to remove them from a piece of fabric:
tear-away, 

heat-away, 

wash-away, and 

cut-away;
Read "What Is a Stabilizer in Sewing?" on E How to learn more about it. 
Other excellent pieces of a lecture on using patterns are "Methods for Marking an Embroidery Pattern on Fabric" by The Spruce Crafts and "How to Transfer Embroidery Patterns" by Twig and Tale. 
Check out "How to Transfer a Design to Fabric Using Tracing Paper" on The Spruce Crafts.

Image source: The Spruce Crafts
When you finish working on your gorgeous embroidery, one option is to hang it on the wall to enhance your interiors. 
Learn "How to Frame Embroidery in a Picture Frame," published on the Thread Unraveled YouTube channel:
Also, did you know you can "Create Your Own Embroidery Pattern from a Photo"? Explore this mind-blowing idea with Dolin O'Shea from Make: