Embroidery needles are equally important as other crucial embroidery supplies, such as embroidery fabric, embroidery thread (embroidery floss), or embroidery hoop. 
If you are lucky, you get all of them included in a neat embroidery kit, but this solution isn't the most suitable option for everyone. Some of us get a thrill from 
deciding which

embroidery needle to pick, and 

making other embroidery-related choices by themselves

; 
"Needle is at the very heart of the stitch formation process"
—notice authors from We All Sew. 
What needle to use for embroidery?
Depending on the fabric, style of hand embroidery, and floss you use for your project, the right needle will make or break your carefully thought-of design. 
Embroidery needles are specialized sewing needles. While you can also use regular sewing needles for embroidery, they may cause embroidery floss to snap or fray more frequently.
The first question we need to ask when choosing an embroidery needle regards the characteristics of good embroidery needles.
To start from the very beginning: what is the difference between sewing needles and embroidery needles?
| | | |
| --- | --- | --- |
| Feature | Sewing needles | Embroidery needles |
| The scarf of the needle (the indentation or groove on the backside of a needle) | Regular | Specially designed to put less strain on the floss than regular sewing needles |
| The size of the eye  | Smaller eyes | Larger eyes—help to prevent the embroidery thread, which is usually much more fragile than sewing thread, from breaking or fraying; |
These two differences make embroidery needles better suited for embroidery work than regular sewing needles.

Image source: The Spruce Crafts
Embroidery needles come in a lot of options, where each has its uniqueness and is ideal for different projects.
Among them are sharps, crewel needles, beading needles, tapestry needles, quilting needles, darning needles, ballpoint needles, chenille needles, milliners or straw needles, etc.
As a rule of thumb, to embellish a piece of fabric, you will typically use one of three needles:
Embroidery (also known as crewel) 
The most commonly used embroidery needles.
Embroidery needles (the first on the left in the picture below) are usually long with a very sharp point. This feature helps them move easily through embroidery fabric, whether you use muslin, various types of cotton fabric, linen, or osnaburg. 
A long oval eye of embroidery needles is somewhat larger than a standard sewing needle, making it easier to thread with your embroidery floss. Moreover, The Creative Folk explains that embroidery needles' long eyes allow for multiple strands of floss to be threaded simultaneously.

Image source: Craftsy
      2. Chenille 
Chenille needles (in the picture, shown in the middle) also have sharp points, making them ideal for working with coarse fabrics. 
Their eyes are larger and thicker than an embroidery needle's, enabling them to accommodate thick fibers and ribbons. 
These needles work well on the same fabrics as embroidery needles. 

Image source: Vetty Creations
      3. Tapestry
Tapestry needles have a large eye, but their point is blunt, designed to glide through the fabric without splitting the threads. 
This structure works well with canvas work or counted cross-stitch on Aida fabric.
Tapestry needle sizes range from 18 to 28. 

Image source: Stitched Modern
What about different types of needles for embroidery?
Sewing mentions a few more hand embroidery needles to have a look at:
Type of needle
Description

Sharps

All-purpose hand sewing needles with a round eye and a sharp tip, are typically used for dressmaking and sometimes for embroidery. They come in sizes 3-12.

Beading needles

These needles are used for stringing beads onto your embroidery project. Beading needles are usually very thin and long, so you can thread many beads onto them. In addition, their tiny eye enables them to go through small beads.

Straw needles, or milliners

They are often used for making long bullion knots or Brazillian embroidery stitches. These needles have the same thickness from the eye to the shaft until they taper at a sharp point. They feature small round eyes, making them ideal for

embroidery stitches

where the needle needs to pass through many wraps of floss.

Darning needles

These needles have large eyes and very sharp points, slightly curved to make picking up stitches easier—perfect needles for darning and doll making. 

Quilting needles also called betweens

Short, sharp-tipped needles with round eyes, are used for quilting. Their blunt, round tips enable them to glide through needle lace work without piercing the threads making up the lace stitches—notices

The Creative Folk

. 
Choosing an embroidery needle for hand embroidery varies from picking a needle for an embroidery machine (such as a Brother embroidery machine) or embroidery sewing machine. 
As reported by The Spruce Crafts, the embroidery sewing machine needle is designed to handle dense machine embroidery stitching without shredding machine embroidery rayon and polyester thread. The needle sizes available for embroidery are 11/75 and 14/90.

Image source: Gathered How
Read about "Top three needles and threads for machine embroidery" on We All Sew:
Top stitch needles—have the larger eye made to accommodate thick running stitches. The extra sharp point makes it easy for the needle to penetrate all thicknesses of fabric. The most popular sizes: 80/12 and 90/14.

Embroidery needles—have a wider eye that allows the thread to go through smoothly for the higher speeds. The most popular sizes: 75/11 and 90/14, and

Metallic needles—designed to use when stitching with metallic threads. These needles have a large eye to help thread flow and prevent breakage. The most popular sizes: 80/12 and 90/14.; 

Image source: We All Sew
Now sit down, relax and listen and watch "Embroidery Needle | Which Needle to Choose for Your Next Embroidery Job" by ColDesi Inc:
Remember not to save on quality when it comes to embroidery needles. With an online embroidery library full of free embroidery designs, a needle is one thing worth investing in.  
So if you are working on your:
always go for the best needles for hand embroidery.
The better the needle, the easier it is to make your project and the more beautiful it will be. 
Read more in "The Best Embroidery Needles" by The Creative Folk.

Image source: Mediamatic
Sewing shares three more options regarding the "what needle for embroidery" question:
Ribbon embroidery needles have gracious larger eyes to accommodate varying ribbon widths. These needles work on almost all

types of fabric

, and having them around always comes in handy,

Huck embroidery needles are designed for huck embroidery. "They are longer than the typical needles and have an angled and ball-pointed tip, enabling the needle to effortlessly pass through and pick up the floating threads in huck toweling,"—notice authors of

Sewing

.

Gold plated needles—beneficial to use if you suffer from nickel allergies. Unfortunately, these needles get discolored quickly with natural body oils or sweaty palms. You must replace these needles when the plating wears off. 

Image source: Sewing
Embroidery needle sizes explained
The type of embroidery needle is one feature you need to figure out to select the best embroidery needle option for your project.   
Other features include 
the size of the needle, 

its point, and 

the material it's made of;
In needle sizes, the higher the number, the thinner or smaller the needle.
Choosing the correct needle size will ensure you create the right stitch, leaving a minimum size hole once you move the needle through the fabric.
What's the best size embroidery needle?
According to The Creative Folk, the needle you choose should be 
large enough to enable the thread to pass through the fabric without much abrasion, and 

small enough to ensure that it leaves the smallest possible hole in the fabric;
Use smaller needles for lighter fabrics and larger ones for heavier, thicker fabrics.
When it comes to the eye, go for a needle with an eye roughly 40% larger than the diameter of the thread. 
Luckily for our impatient nature and weakness of human eyes, embroidery needles usually feature easy-to-thread large eyes.

Image source: We All Sew
So, taking in numbers, what size needle for embroidery should you get? The most popular embroidery needle sizes are 7 and 9. 
Size 3 embroidery needles are, for instance, CLOVER Gold Eye Embroidery Needles, available on Amazon here. 

Image source: Etsy
Best embroidery needles
Now that you know the best size needle for hand embroidery let's focus our attention on quality. 
Typically, embroidery needles that work well for most sewing and embroidery purposes are made from chromium. 
For higher-quality needles, choose titanium-coated ones—they last longer than their chromium counterparts and are less likely to stick or catch on to fabric. 
Titanium-coated needles are stronger and more durable than regular needles.
Yet, don't forget to look after your needles properly to ensure that you keep them in good condition. Store them in their original packet or vials to prevent corrosion or damage. 
A friendly reminder: cheap needles are much more likely to bend or break. Do you want your embroidery project to get crooked or completely damaged? You know what to do.  

Image source: Groz Beckert 
Speaking of quality, we've got something that can take your embroidery projects a level up with almost no effort. 
If you are eager to achieve a sophisticated and professional look for your project, invest in:
to ensure your flower embroidery pattern is taken seriously by everyone who ever comes across it.  
Whether you are 
DIY/clothing crafter at home (check out the

types of clothes

that we describe on our blog), 

textile/sewing enthusiast,

(small/starting) clothing brand,

fashion designer,

hotel, bar, or hospitality business owner or manager, 
consider ordering these labels to customize your textile, clothing, towels, sheets, or accessories.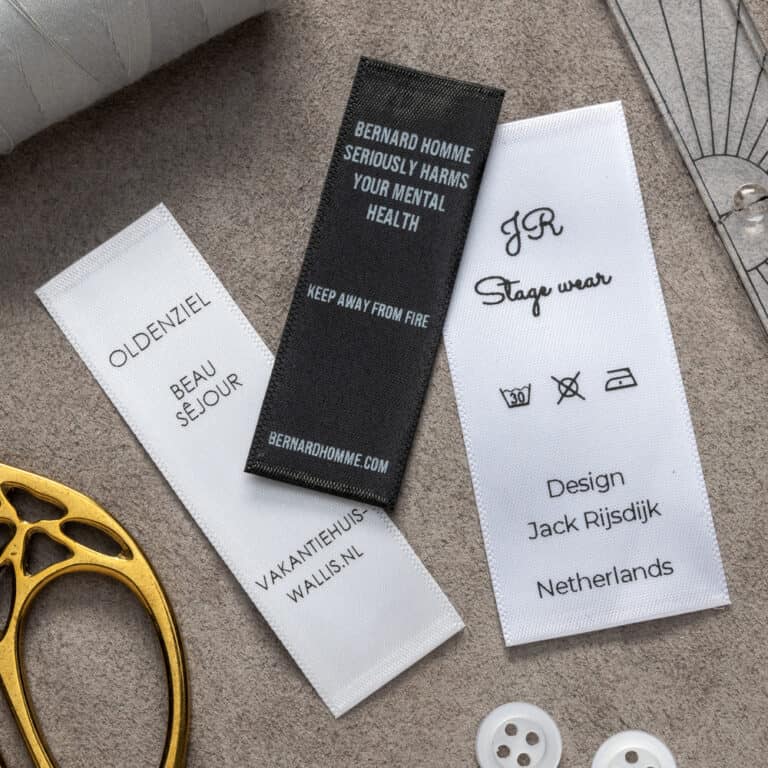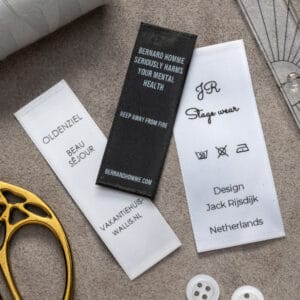 Best needles for hand embroidery, according to The Creative Folk, are:
Dritz Embroidery Hand Needles,

Colonial Needle Pebbles Embroidery Needles,

DMC Embroidery Hand Needles,

Dritz Crewel Hand Needles,

Colonial Needle Crewel/Embroidery Hand Needles,

CLOVER Gold Eye Embroidery Needles, and

Sewline Tulip Embroidery Needles;

Image source: Needle N Thread