An embroidery kit package combines embroidery tools and accessories that a crafter needs to create a piece of needlework. 
Inside such an embroidery set, you'll typically find:
enlists Wise Geek. 
Some embroidery starter kit options include an embroidery hoop used to stabilize and stretch the fabric that a crafter is embroidering at a moment.
Wise Geek authors also notice that these accessories are interconnected:
"Thick threads generally require thick needles, and heavy fabrics require a sharp needlepoint."
While the range of embroidery patterns available is incredibly vast (not only embroidery flowers and butterfly embroidery), you'll most often come across 
flower embroidery pattern

—we write about

sunflower embroidery

and

rose embroidery

, and 

easy embroidery kits with

holiday themes;
What else should you know about modern embroidery kits?
Keep reading to learn more about the DIY embroidery kit. 
If you want to explore other embroidery topics, jump to the Super Label Store blog to tackle
Discover embroidery kit
We've already shared some information about the content of an average embroidery kit, so let's keep digging!
Chloe Wen, in her video, underlines that having an embroidery kit is pretty handy for beginners because it has all that you need available in one place.
Watch "EMBROIDERY 101 // How to embroider for beginners – What you need to start – step-by-step tutorial" and get a dash of the author's enthusiastic approach to embroidery:
All in all, if you're thinking about starting embroidery, small or large embroidery kits are what you need to kick off smoothly. 
Sounds like a craft area you want to dive into? Otherwise, you wouldn't be here, would you? 
We're glad you dropped in! 
Further creative fun is still on the table with Super Label Store when your embroidery projects are done. And we're here to tell you how to use your options! 
Imagine you can transform your homemade garments into professional ones in a blink of an eye. 
Did we get you excited already?
Super Label Store lets you design and order   
in even the smallest quantities for your DIY projects.
But it's not only for newbies! Small/starting clothing brands, fashion designers, and owners of hotels, bars, and hospitality businesses will also benefit from this inspiring offer. 
Click on Super Label Store and make your order now!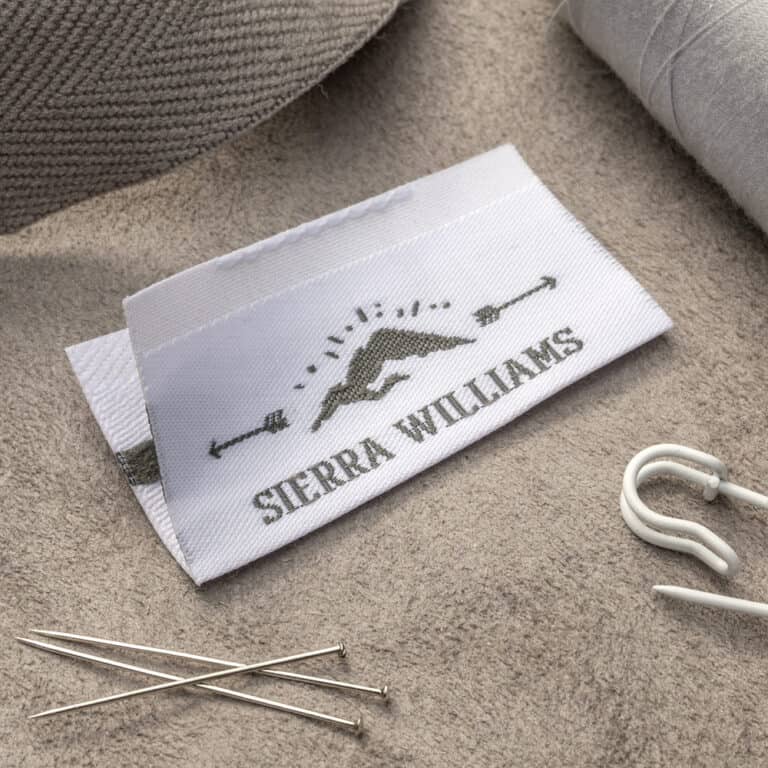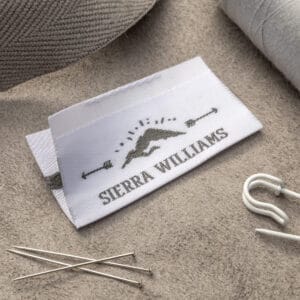 Martha Stewart points out that any embroidery project starts with a design stitched with a thread that takes the form of
lines, 

dashes, 

concentric circles, or 

knots 
able to transform your initially plain fabric completely. 
Beginners embroidery set will come with all you need for a basic embroidery project, that is: 
Some embroidery sewing kits may also include 
a wooden hoop, 

bobbin cards,  

a notecard of stitches, and 

an instructional guide—to help novices learn essential

embroidery stitches

and create their first project; 

Image source: Martha Stewart
You can try out several techniques using hand stitch embroidery kits:
Name of the technique 

What is it

Whitework embroidery

This technique, or rather a set of techniques, refers to projects where the stitching is in the same color as the fabric (usually white linen). 

Styles of whitework embroidery include 

drawn thread work, 

broderie Anglaise, 

Hardanger embroidery, 

Hedebo embroidery, 

Mountmellick embroidery, 

reticella, and 

Schwalm; 

Whitework embroidery is used in heirloom sewing for blouses, christening gowns, baby bonnets, and other petite projects.

Think that many skilled crafters at home can actually live off these beauties. Check A Vintage Shop to see a neatly embroidered handkerchief. 

On the other hand, we have blackwork. It's a form of embroidery that involves stitching with black thread. It's historically also called "Spanish blackwork" because of its connection to Catherine of Aragon. While this style is typically associated with the sixteenth century, European needleworkers were stitching blackwork at least eight centuries earlier. Read about the origins of blackwork on Alexandra Makin. 

Crewelwork embroidery

It is a type of embroidery that traditionally uses two-ply wool yarn in various colors in its stitchwork. 

This technique is at least a thousand years old!

Read "A Brief History of Jacobean Crewel Embroidery" on Well Embroidered. 

Ribbon embroidery

This method is also known as silk ribbon embroidery, and it's an embellishment technique that employs silk ribbon and thin woven ribbons.

Ribbon embroidery often depicts floral designs.
Which type do you fancy most?
Let's explore the ribbon embroidery technique with the video "7 types of leaves in Ribbon Embroidery" by Asnimar Embroider:
Now that you know all about modern hand embroidery kits, in the following paragraph, we'll review
the best embroidery kits for beginners, and

the most beautiful embroidery kits;

Image source: Queens Botanical
We talked about embroidery kits for beginners designed for our DIY embroidery on canvas and other minor projects. Still, we should also be aware of the notion of a professional embroidery kit.
A professional embroidery kit can cost even $999 (check it out on Colman and Company), and it serves as embroidery machine equipment.
Below, in the "Professional Embroidery Kit – Brief Overview" by ColDesi Inc., the authors enlist the content of such kits.
Best embroidery kits
Embroidery can be a highly rewarding craft. Yet, it requires some patience before you get there all triumphant.
On the bright side, the cost of embroidery is remarkably low in terms of financial input. 
Embroidery supplies included in an average flower embroidery kit will cost you less than a casual dinner!
And here's a dessert: 
We've reviewed some options for a hand embroidery kit for beginners to save you your precious time. 
Keep reading to discover how to make your embroidery a (very affordable) piece of cake! 

Image source: HuffPost
Let's start with "The 9 Best Kits for Beautiful Embroidering" by The Spruce Crafts.
Here's a quick look at the options that can give you the best experience:
Category

Description of the embroidery kit

Price

Best Overall

Etsy Stitch Sampler Beginner Kit (check it out on Etsy)

$12

Best for Beginners

Purl Soho Beginner Sampler Kit 

These embroidery kits for sale contain:

1/2 yard of linen-cotton woven fabric (read about

types of fabric

and

types of clothes

on our blog),

12 skeins of cotton embroidery floss in 11 colors,

12 paper bobbin cards,

four embroidery needles,

a 4-inch embroidery hoop,

a 12-inch dowel (for hanging),

a water-soluble fabric marker,

a Sampler Stencil,

a full-color Beginner Sampler Pattern booklet;

$65

Best for Kids

We discussed embroidery kits for adults, but what about our little ones? They get into the embroidery craze just as hard, don't they? ALEX Toys My Embroidery Kit is a great way to make them fall in love with embroidery. Read reviews of these unique embroidery kits on Amazon. 

$42

Best Tote Bag

Heidi Boyd Stitch-a-Tote: Under the Sea is where you should be heading if you're looking for not only some fantastic experiences while embroidering but also lovely, guaranteed results. 

Go to HeidiBoyd to create the best underwater experience you have ever participated in. 

Read our take on the embroidery library if you're looking for patterns. 

$32
Have you found your type?
It depends on many factors when it comes to the time needed to conjure up your embroidery project. 
What's the intricacy of your chosen design? 
What's your current skill level? 
Naturally, beginners need more time to complete a project than professionals. But, let's not forget that embroidery is meant to be relaxing—notice The Spruce Crafts.
Let's see some more hand embroidery kits designed to give wings to your creative side. 
| | | |
| --- | --- | --- |
| Category | Description of the embroidery kit | Price |
| Best Pillow | Etsy Cushion Cover Embroidery Full Kit is precisely what it sounds like, featuring the traditional floral design created to liven up the pillows in your house. This set is beginner-friendly, has high-quality string included, and allows you to practice multiple stitches. It may take a few weeks to be shipped, but a pattern is printed on the pillow, so you can start right away as soon as it arrives! So if you are looking for stamped embroidery kits for beginners, you have found your type! | $22 |
| Best Succulents | Every modern stitcher will love this Etsy 6 x 6 inches Floral Embroidery Kit featuring flower and succulent designs. You benefit from multiple choices to customize design and style with this option. Choose between a plastic, bamboo, and beechwood hoop to finish your project. This embroidery hoop kit includes a hoop, linen fabric, two needles, a set of embroidery cotton, and instructions. | $22 |
| Best Floral | It's hard not to notice that flower embroidery pattern and other floral motives in embroidery are trending. So no wonder crafters will appreciate this vibrant (it comes in various color combinations), flower-patterned Hand Embroidery Kit produced by Hoffelt and Hooper Co (you can buy it by clicking on this Etsy link). It's 5-7 inches big and includes cotton fabric (read about types of cotton fabric), an embroidery hoop, skeins of floss, and a handy instructional booklet. It's great for beginners, although it can be a bit time-consuming.   | $46 |
We brought up the concept of stamped embroidery kits for beginners. It's a sure way to have your pattern (and, consequently, your embroidery project) entirely under control. 
You can use these stamped embroidery kits by Oh Sew Bootiful, featuring 
bright colors and 

warm-weather motifs such as a bunch of lovely buzzing honeybees and vibrantly blooming hibiscus;
Make use of these pre-printed sets and practice incorporating six different stitches—challenging but satisfactory!
Oh Sew Bootiful embroidery sewing kits will make sure you have a lot of fun, and the entire enterprise will take your embroidery skill to the next level!
Each kit includes a list of embroidery supplies:  
a 6-inch wooden

embroidery hoop

, 

two needles (in case there's anything you didn't know about

embroidery needle

, check out our article), 

pre-printed fabric, 

padding, and 

thread;
In this embroidery set, you'll also get illustrated stitch instructions and a paper pattern to save you from the guesswork and guide you through a summer of stitching—promises Oh Sew Bootiful.
Choose your favorite pattern and give it a try!
Bees and Wildflowers, 

Pink Floral Heart, and 

Tropical Flowers;

Image source: My Modern Met
Getting back to our list of best kits, let's see two more options recommended by The Spruce Crafts:
Category

Description of the embroidery kit

Price

Best Double Hoop

Were you dreaming of embroidering a trio of chickadees surrounded by lovely cherry blossoms? Then Jessica Long Embroidery Spring Wreath Embroidery Kit is what you should invest in. These hand embroidery kits come in two options:

Double hoop style—this kit includes two hoops (9 inches, 4 inches) and light blue fabric. The pattern is not stamped on the fabric, so you must transfer the design yourself.

Regular hoop style—it includes one hoop (9 inches) and light blue fabric printed with the design on it.

These modern embroidery kits also include:

13 skeins of DMC embroidery floss, 

embroidery needles, 

the color printed embroidery instructions, 

the Beginner Guide to help you go through the consecutive stages of this undertaking;

One con is that the wood hoop may need staining or varnish.

$45

Best Monochrome

Getting back to more affordable embroidery options, TamarNY Blue Ocean Embroidery Kit allows you to experience the beauty of traditional embroidery while staying within the dimension of modern embroidery for beginners. 

This kit doesn't feature a range of fancy colors; in fact, there is only one, ocean blue, which not only lets you focus on the shape of your design but also brings a kind of majesty to the drawing.    

$14.90
Tamar NY Blue Ocean Embroidery Kit is available in three sorts of packages:
Printed Fabric—12 x 12″ embroidery fabric with a printed pattern (on the white background) and easy-to-follow stitch and color instructions. We recommend purchasing these unique embroidery kits if you have the necessary

embroidery supplies

at home; 

Kit Without Hoop—12 x 12″ embroidery fabric with a printed pattern (white background). It features easy to follow stitch and color instructions, DMC embroidery threads, embroidery needle, and an image of the finished piece;

Kit With Hoop—similarly to the second option, this kit features a 12 x 12″ embroidery fabric with a printed pattern (white background), easy to follow stitch and color instructions, DMC embroidery threads, embroidery needle, and an image of the finished piece, AND matching 8-inch high-quality hoop;

Image source: Pinterest
If you are curious about the history of embroidery, read "Beetle-Wing Embroidery in Nineteenth-Century Fashion" on Fashion History.
Embroidering on clothes does seem like a great idea, doesn't it?
According to Charles and Elin, you can embroider on anything!
Whether it's jeans, shirts, T-shirts, knitwear, or dresses, they will all exude this unique embroidery charm if you put in some work.  
Embroidering on the different clothes depends on the quality and characteristics of the fabric your garments are made of (thick, thin, stretchy, non-stretchy?).
Here's how you should get prepared to start embroidering on clothes:
First, choose clothes you want to embroider on. Then, check out the stretchy quality to know where you're standing with the fabric,

Get good quality

embroidery floss

—DMC or Anchor threads are good options; 
Why are good-quality threads so crucial to your embroidery activity? You need ones that 
don't color off or 

shrink in the washing 
when you embroider directly onto the clothes.
      3. Get a long, thin needle—to avoid creating too large holes in the garment with a top thick needle, it's profitable to have a thin needle; moreover, the length will make it easier to create resistant double-sided stitches;
      4. To transfer or draw your embroidery design onto the clothes, get yourself
a frixion pen, 

solvy paper, 

water-soluble pen, or

iron-on pen;

Image source: Charles nad Elin
Other things to think about if you are embroidering directly onto your clothes are to
use an embroidery hoop or a stabilizing backing,

secure your threads with tight knots so that you can wash the piece in the machine,

do not tumble dry embroidered clothes,

be gentle on your hand as you stitch to avoid creating bubbles if your fabric is stretchy, 

wash embroidered clothes at no more than 40 degrees Celsius (to avoid coloring off from the

embroidery floss

);

Image source: Fashion History
There are a couple of more inspiring and beautiful embroidery kits (suggested by Martha Stewart):
"Flora" Embroidery Kit by Brynn & Co ($40)
Brynn & Co's kit comes with everything you need to create an embroidered profile of a female face.  
It comes in two classy colors:
monochrome and 

vintage blush;
Neat instructions will guide you through the stitches on blush-hued linen, leaving you with a charming piece of art to put on the cupboard or hang on your walls.

Image source: Homes to Love
      2. The Crafter's Box Sashiko Kit with Digital Video Workshop ($80)
Sashiko is a traditional craft from Edo-era Japan developed to mend and strengthen garments—explains Nordstrom. 
Sashiko stands for "little stabs." This method was founded in rural Japan. People used sashiko techniques to create a design of running stitches through swaths of fabric to mend, strengthen, and reinforce garments. With time, the craft developed into more intricate patterns used for 
embellishing, 

quilting, and 

weaving 
fabrics together. 

Image source: The Crafters Box
How to create a beautifully stitched pillow sham? Use the tools included in this DIY embroidery kit, get familiar with an instruction book and follow the complete digital workshop that will guide you to make your project see the light of day.
Sashiko Kit includes 
16″-square pillow sham with envelope fold, 

a sampler of fabric squares for practice, 

four different cotton sashiko threads (specialty sashiko thread in 100 percent Egyptian cotton), 

two sashiko needles (Olympus sashiko needles in two sizes for varying techniques), 

a water-soluble pencil, 

a grid ruler, 

a thimble with a scalloped silicone, 

snips, 

Jessica Marquez's book "Make and Mend: Sashiko-Inspired Embroidery Projects to Customize and Repair Textiles and Decorate Your Home."

a detailed, digital workshop by Jessica Marquez,
Buy your embroidery kit on The Crafters Box. 

Image source: The Crafters Box
      3. Melbury Hill The Galanthus Collector Crewelwork Embroidery Kit ($48.45)
We spoke about traditional crewel embroidery before. This technique has at least a thousand-year-old tradition dating back to medieval times, and it uses two-ply wool yarn in various colors in its stitchwork. 
This kit is complete with top-quality British materials like linen twill from Scotland and Appleton wool.
Check-in with Etsy to get yourself one of these unique embroidery kits. 

Image source: Pinterest
      4. Trish Burr Embroidery Emperor Moth Needle-Painting Kit ($45)
Whitework embroidery refers not only to white (contrary to what it sounds like) but also to projects in which the stitching is the same color as the fabric. Traditionally, the fabric used is white linen. 
Thanks to Trish Burr, a self-taught artist who innovates in this specialty, we can "borrow" the strategic stitchwork in limited color.
      5. Cozy Blue "Lunar Blossom" Embroidery Kit ($24) 
Simple and elegant is this lunar vision embroidered on a piece of royal blue fabric. 
This kit comprises everything you need to create your own hand embroidered hoop.
Luckily for beginners, the fancy pattern design is pre-printed on 100% cotton fabric, so you won't need to transfer or trace your design. 
Simply pop the fabric in the hoop, thread your needle, and stitch!
With this embroidery set, you're invited and encouraged to practice the precision of stitches. 

Image source: Craft Industry Alliance