Embroidery fabric, embroidery thread (or embroidery floss), embroidery hoop, and embroidery needle are all essential embroidery supplies. 
So, before you start embroidering your beautiful project, select suitable types and sizes from the array of available embroidery supplies options. Of course, unless you buy a ready-made embroidery kit, you don't have to do anything but use the embroidery set as it is.
Picking suitable embroidery fabric is essential for the success of your project. 
In the following paragraphs, we will examine topics related to the fabric used for embroidery to help you make only the best choices along the way. 
Keep reading to learn all about the best fabric for embroidery!
Tackle also our:
articles on the Super Label Store blog. 
What fabric do you use for embroidery?
The first question all embroiderers ask when completing their set of embroidery supplies for the first time is what is the best cloth for embroidery.
In fact,
"Finding the best fabric for a hand embroidery project is one of the most important decisions you will need to make before you start stitching,"
—underlines Crewel Ghoul. 
The type of fabric you choose can either:
hinder you, or 
take your embroidery to the next level;

Image source: Beth Colletti
The idea is to steer away from less than ideal fabrics for embroidery and invest in those known for being a fit for this craft.  
Keep in mind that different types of embroidery may require the use of different types of fabrics. 
Let's start with a few golden rules: 
For starters, fabrics most suitable for embroidery contain natural fibers. These materials are easier to work with than synthetic fabrics.

Image source: Cutesy Crafts
      2. Secondly, pick a material that doesn't contain elastic and has no stretchy quality. Doing so is especially important if you plan to put your upcoming embroidery project in an embroidery hoop. 
Stretchy fabrics can lead to inconsistent stitch tension, an easy way to make the fabric wrinkle or buckle.
Once you're done with your embroidery, the last thing you want is for your fabric to lose elasticity and sag over time. While it happens to all types of fabric naturally, elastic fabrics will weaken more than average, leading to highly unsatisfactory visual results.

Image source: Crewel Ghoul
Luckily, there is a cure for sagging-prone fabrics. According to Beacon Fabric, you can use embroidery backings to stabilize your fabric while sewing designs. 
Whether you work with free motion embroidery or programmed stitching with the embroidery machine, you can always 
improve the end product, 

add a better-finished look, and

prevent puckering and bunching of stitches 
thanks to implementing embroidery stabilizers in your project. 
Embroidery stabilizers come as 
permanent—cut around after sewing the design and made to be washed with the garment, or 

temporary—removed after the design is finished;
Read about "Selecting the Right Embroidery Stabilizer" on Beacon Fabric and " discover "How to Keep Embroidery From Puckering" on Crewel Ghoul. 
Curious "How to Embroider Different fabrics WITHOUT puckering"? 
Embroidery Nurse's video advice comes in handy:
      3. To decide what type of fabric to embroider on, first decide on the way you are going to use your end product.
You will pick a different fabric if you are going to embroider a wall art or a pillow and a different one to embroider an item of clothing that you will frequently wash in the course of use.
For example, it's common to embroider on a denim jacket; it makes this classy garment fancy and unique. 
Since you will launder your jacket multiple times after completing the embroidery, ensure that you wash and dry your fabric before stitching. It will help to guarantee there is no potential shrinking of the fabric later, which could be fatal for your embroidery work. 
On the other hand, decorative items never end up in the washer, so you don't have to worry about the effects of laundering and shrinking. 

Image source: Pinterest
Best fabric for hand embroidery
Above, we briefly listed some features of the embroidery fabric. Now, you roughly know what to avoid and look for in this department.
Now, let's explore a few examples of hand embroidery fabric. 
According to Jessica from Cutesy Crafts, linen/cotton blends and 100% linen are the top choices every embroiderer should consider.
Here are some favorite embroiderers' materials with descriptions, following Crewel Ghoul's selection:
Fabric
Description

Linen

Linen is one of the most all-time popular choices for surface embroidery. This fabric is broadly available; you will find it at most craft stores and online.

If you buy cotton-linen blend fabric for embroidery or blends of other fabrics with linen, make sure they don't contain elastic. Mind also that some linen fabrics can have a challenging-to-stitch uneven weave.

Linen texture adds a top-notch classy look to your embroidery. Pair your linen fabric with crewel wool thread (to spot at Purl Soho) to add a dash of a vintage look to your embroidery.

Cotton 

Check these types of cotton fabric on our blog

Cotton, especially 100% cotton fabric, is an excellent choice for hand embroidery, being:

lightweight and 

has a tight weave;

Embroidery fabric cotton comes at a reasonable price.

Kona cotton is liked by many and comes in an array of colors to choose from. You can use white Kona cotton as a stabilizer stretched underneath your chosen fabric. A more affordable choice is a lighter-weight Muslin embroidery fabric—a natural woven fabric made of cotton. 

You will find everything you need to know about "Embroidering on Muslin," from design choice to needle choice and laundering, on EmbLibrary. 

Denim

Denim for embroidery comes in handy, especially when it comes to upcycling clothes. Denim is medium weight and durable, but at the same time, it's not too hard to pull a needle and thread through it. 

Check out "How to Embroider Clothes—Easy DIY" on Crewel Ghoul to learn practical essentials by heart. You can also browse through types of clothes to ensure you are familiar with them.
Beth Colletti advises that if your old jeans are too beat-up to wear, you can:
cut up the fabric and use the pieces for embroidery hoop art,

use it as a beautiful canvas for acrylic paint

, or

add fancy mixed media elements to your stitching;
The author is enthusiastic about the above-mentioned embroidery on cotton fabric, linen, and denim, but she has a few more ideas.
Other fabrics that she mentions in her "6 Great Fabrics (Plus Other Materials) to Use for Hand Embroidery Projects" are:
Fabric
Description

Duck cloth (aka canvas)

Read about embroidery on canvas.

Duck cloth is made of cotton, but we mention it as a separate genre because of its heavy weight and sturdiness. You can use this fabric to make a canvas tote bag, a painting, or use it as a stretched canvas. Like in denim, stitching on duck cloth (whether gessoed and stretched for painting or raw cloth) will take extra elbow grease. Remember to stitch it with a sharp, large needle (size 1 or 3) and thicker thread to ease working with this heavy fabric.

Wool

Another good fabric for embroidery is wool. You can embroider on garments such as baseball caps or wool felt. Wool doesn't stretch, nor does it have a weave. While this fabric has the advantage of not fraying, overcoming the fuzziness of some wool felt can be pretty challenging when trying to stitch details. Wool is lovely for ornaments, plushies, and appliqué work. When stitching on felt, utilize more strands of six-strand embroidery floss or pearl cotton threads to help the thread stand out on the fuzzy texture.

Burlap

Burlap, also known as hessian, is ideal for fans of rustic, warm, homespun looks. It is a loosely woven material made from jute, hemp, or other fiber. Burlap is used for sacks to ship coffee beans and other foods. 

This fabric's weave is very loose, which causes it to fray quickly, making it pretty tough to embroider on. Luckily, however, there are endless possibilities when combining burlap with other media and embroidery techniques. As Beth Colletti suggested, you can treat it like a plastic canvas and use needlepoint stitches or cover the burlap with a thick layer of acrylic paint and stitch through it when dry. Consider also cross-stitch projects with chunky yarn or needle weaving with tapestry wool. This fabric will display embroidery better than the coarse kind on its more delicate, tighter side. With a bit of special treatment, you can surprise the world with outstanding embroidery on burlap.
Tackle "Fabrics 101: Embroidering on Burlap" with tips and tricks on EmbLibrary. 
And that's not all. Helen D Wilde (Ovo Bloom) does her widely recognized stitching on velvet, organza, and more. 
You would be surprised that stitchable mesh and stitchable cork are also an option!

Image source: YouTube
Plus, as advised by Beth Colletti in the same article, you can attempt stitching on materials that aren't fabric at all. 
Examples? 
Danielle Clough

's experiments on surfaces such as
rackets, 

fences and 

punched steel, or 
Solange Nunes uses dried leaves for her gracious

embroidery ideas

(mostly

flower embroidery pattern

options);
You will be enchanted by these "Brittle Dried Leaves Brought Back to Life with Colorful Embroidered Bouquets" by Solange Nunes on BrwnPaperBag.

Image source: BrownPaperBag
For inspiration on alternative materials used for embroidery stitches, check the Pinterest collection "Embroidery & Mixed Media." "Creative Cross Stitch" is also a good Pinterest source.
Getting back to our fabrics. Crewel Ghoul has a few more fabric picks to share:
Fabric
Description

Aida

Aida cloth is a stiff fabric with an even weave. Even-weave means that its vertical and horizontal threads are an equal amount throughout the fabric. Aida cloth is meant for counted cross-stitch patterns, featuring a grid of holes perfect for this activity. Large holes in the fabric are useful for counted cross stitch, but hand embroidery typically won't go so well for the same reason. Read "Can You Use Aida Cloth For Embroidery?" on Crewel Ghoul to tackle this topic for the best. 

Aida fabric comes in different thread counts (the number of threads per square inch). The lower the thread count, the larger the weave, i.e., the more spaced out the holes in the fabric are; the larger the number, the more delicate the threads that make up the fabric.

Evenweave

Evenweave is another woven fabric with an equal number of vertical and horizontal threads, generally a cotton/rayon blend. You can use eavenwave for cross stitch or embroidery.

So, what is the difference between Aida and evenweave?—asks Stitched Modern in "How to pick fabric for cross stitch: Linen, evenweave, or Aida." The holes in the fabric are smaller than in Aida.

It has a higher thread count than Aida (25, 28, and 32). Evenweave's flexibility and stiffness are between linen and Aida fabric.

For a more sophisticated thread count and handy hacks, go to "Aida, linen or evenweave? Differences and count" on Clouds Factory. 
Read also about other types of fabric on our blog.
If you have found a fabric you like but aren't sure what it's made of, look at the top of the bolt where it is printed. You can buy your fabric in a quarter, half, or whole yard.   
What if you don't feel like looking for the most suitable fabric, but you still want to express your creativity in putting together a marvelous 
Go for a simple-to-use embroidery kit! Cutesy Crafts has a couple of embroidery kit options to share with embroidery lovers in the article "20+ Best Embroidery Kits for Beginners."

Image source: Vintage Mad by Muriel
Another smart move we suggest to our readers is creating a label for finished embroidered items with the Super Label Store. Visit the Super Label Store website and
update your logo, or

design your label from scratch;
Before you notice, this simple act will take your embroidered items a level higher in fanciness and professionalism. 
There is nothing that exudes such a top-notch vibe as your individually-created: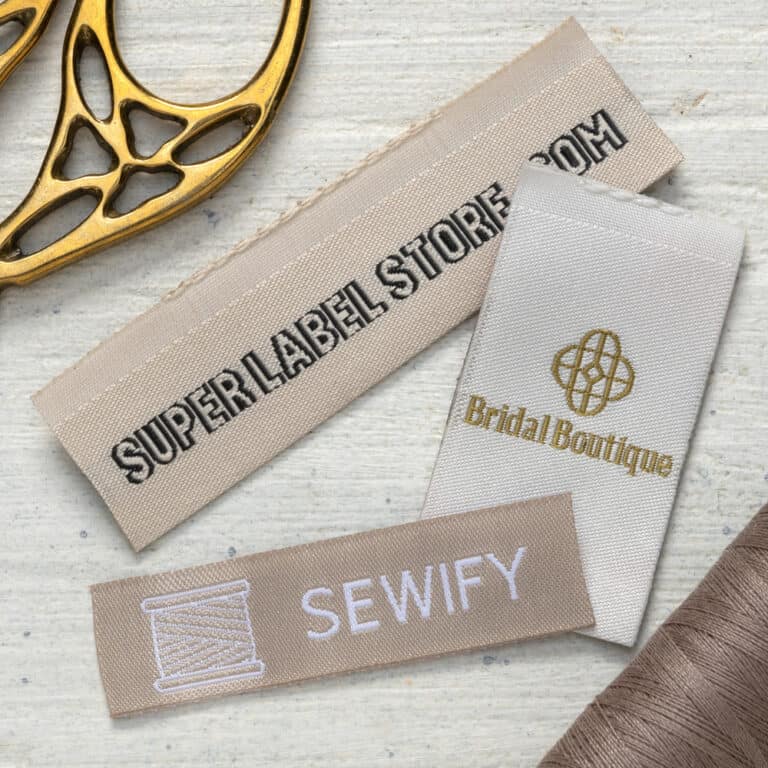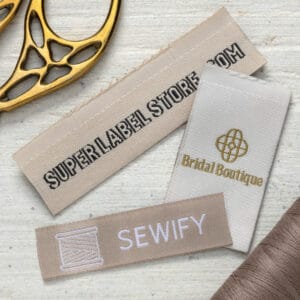 Have you decided what fabric to use for your hand embroidery? Charming Elisabeth from Epida Studio claims to have embroidered on many fabrics, including paper and wood. Down below, she kindly shares her opinion on the subject with us:
The best fabric for the embroidery sampler will depend on your preferences, but as a rule of thumb, natural woven fabrics are best for most hand embroidery techniques. 
"Choose from cotton, wool, linen, or silk for your background and select the appropriate thread count for your technique and threads you are using,"
—advises The Sewing Directory. 

Image source: Crewel Ghoul
Craftsy suggests that fabrics with thread counts under 150, be it muslin, cotton, Aida, linen, Flour Sack, or Osnaburg, will allow you to pull a needle and thread through with no problem.
Other commonly-used embroidery fabrics are Hardanger fabric and toweling (here, described by The Spruce Crafts).

Image source: The Sewing Directory
Best thread count for embroidery and type of weave
Regarding fabric weave, it's such an essential aspect of finding the best embroidery fabric that we should have a closer look at it.
Is your chosen fabric 
These characteristics will play a part in how your finished embroidery flowers or other designs turn out. You already know that the type and form of your embroidery material strongly influence the final look of your embroidery project. What matters is not only the background for your design but also (and more importantly) the way your embroidery gets built/structured on the fabric's surface.
Keep in mind that if a weave is too loose, it will create holes in your work when embroidering on it. On the other hand, if it is too tight, it will be challenging to pull the thread through the fabric.
As checked out by Crewel Ghoul, super lightweight fabrics aren't ideal for embroidery because they buckle and wrinkle when you embroider on them. The best choice is a medium-weight fabric—it can withstand the tension of your stitches but isn't too difficult to pull the needle through. 

Image source: Pumora 
Difference between plain weave and even weave embroidery linen
What is all that plain weave vs. even weave embroidery linen fuss about? Mary from Needle N Thread explains:
Even-weave linen
Plain-weave linen

Widely used in needlework, especially in counted techniques such as counted cross stitch, drawn thread work, pulled thread work, blackwork (its name refers to a black thread, not

black embroidery fabric)

, certain types of Hardanger, and similar.

The weave of plain-weave linen is not even. Therefore, this type of embroidery fabric is not intended for counted work.

The weave of the linen is even, meaning warp and weft threads number roughly the same in both directions (if there is a difference, it is negligible). While the warp and weft threads are not always exactly the same size, the count always works out even.

Plain-weave doesn't have the same number of threads per inch in the warp and weft direction. In fact, there is no "thread count" per se. Manufacturers might write somewhere on a package that there is a fairly high thread count, but it doesn't really matter.

Comes in various thread counts, i.e. the number of threads per inch in either direction. 

Plain weave linens are typically sold by "weight," such as "handkerchief weight," referring to 3.5 oz per square yard or "sheer weight," or directly to their actual weight. For instance, a canvas weight plain weave is heavy and weighs around 7, 8, or more oz per square yard. 

A low count even-weave linen is 20 (thick and easy-to-see threads), meaning you count 20 threads in one inch of the fabric along the warp or weft. 

Plain-weave is usually closely woven. As a result, the little holes present in the corners of the intersections of the warp and weft threads aren't as distinct as in even-weave linen.

What you understand by a high count even-weave fabric depends on what you are used to working with, but a 36 or 40-count linen for counted handwork is a reasonably high count.

Plain-weave linen is typically very smooth—a "smooth hand": when you run your hand over it, the surface feels nice and smooth.

Threads in this type of linen form a grid pattern, and there are apparent "holes" in the corner of each intersection. It makes even-weave linen work well for counted techniques as it's easy to accurately see where to work the stitches on the grid (provided by the fabric's weave).

Plain-weave linen serves great:

as ground fabric for surface embroidery that isn't counted, and

for bed linens, 

garments, 

table linens, and similar; 
What characterizes the best even-weave linen?
The closer the warp and weft threads are to each other in size. Top-notch even-weave linen will have warp and weft threads equal in size. You might only occasionally see a thread here and there that is "off" (slightly fatter or thinner) compared to those surrounding it. Yet, the threads are pretty even in both directions, in an embroidery cloth seen as a whole.
Cheaper linen will have more uneven and irregular warp and weft threads (with the correct count, however).
To sum up, even-weave linen has a very distinct grid pattern, open holes around the intersections, and broader woven threads, while the plain-weave option features threads that aren't as distinct, and the entire fabric has a smooth, close surface.
The size of the weave is measured by how many stitches can be made in one inch (the fabric's stitch count). Some fabrics provide the stitch count on the package.

Image source: Stitched Modern
Best machine
embroidery fabric
We wrote what fabric to use for the embroidery hoop, but there is a great part of embroidery freaks who go crazy about embroidery machine (for instance, Brother embroidery machine) or embroidery sewing machine. 
What is embroidery fabric for machine embroidery?
According to Digitizing Made Easy, there are three fabric categories used in machine embroidery:
nonwoven fabrics (such as felt),

woven fabrics (for example, cotton, linen, silk, wool, and polyester), and

knitted fabrics (such as yarn and French terry cloth);

Image source: YouTube
Your choice won't be so different from the one in hand embroidery. 
Craftsy suggests using natural fabrics with a tight weave, like cotton, linen, silk, and wool, for machine and hand embroidery. 
The construction of these fabrics ensures a sturdy surface that easily supports decorative stitching. 
Mind that satin-stitched edging (typical in appliqué) needs a solid foundation fabric.
From an embroidery digitizing standpoint (according to Digitizing Made Easy), you should digitize, i.e., create designs differently for various fabric types for clean-looking embroidery.
It means that you should go for different density and underlay settings if you were digitizing a design to sew on felt rather than leather. 
You can get intelligent software (like Hatch) that automatically changes these settings in finished designs for you. 

Image source: Full Press Apparel
Frequently Asked Questions
Is polyester good for embroidery?
Polyester is a synthetic fabric with a dense weave that can be embroidered on, but it is more challenging to stitch on than other fabrics. Additionally, it is less forgiving of mistakes, and visible holes may remain if stitches are removed.
What thread count is best for hand embroidery?
A thread count of 28-32 is readily available at most fabric and craft stores and is ideal for hand embroidery purposes.
Is Kona Cotton good for embroidery?
Yes! When it comes to hand embroidery, Kona Cotton is an excellent option, as it is comprised entirely of cotton. This fabric brand offers a wide selection of colors, making it a top pick among embroiderers.
Do I need to pre-wash my embroidery fabric before stitching?
Prior to stitching your embroidery, it is advisable to wash your fabric beforehand to eliminate any chemicals or sizing that could be present. This can assist in preventing the material from stretching or shrinking once it has been embroidered. It is crucial to adhere to the care instructions for your particular fabric type.