Carried Away by Butterfly Embroidery? Let's Come Back to Earth to Tackle the Basics
Butterfly embroidery is an exceptionally thankful subject. Butterfly embroidery designs can add a flutter of beauty to your creations, and with practice and patience, you can create stunning pieces that capture the enchantment of these delicate creatures. A skillfully picked butterfly embroidery pattern can transform the most boring robe into a jaw-dropping piece of art.
Are you ready to explore this terrific embroidery land? 
Keep reading to learn it all!
Butterfly hand embroidery designs
Embroidery patterns come in a variety of styles and shapes.
Remember that the form you embroider by hand on your embroidery fabric will always be a little different, even if you buy an identical embroidery kit twice in a row.
In hand embroidery, it really depends on your:
skills, 

style,

technique, and even

mood (have you noticed that projects tend to come out less superb on the bad days?);
To get inspired before this exciting adventure starts, check out this Pinterest collection of butterfly embroidery. But watch out! These cuties were made to steal hearts.
Funnily enough, butterfly embroidery designs often come next to embroidery flowers, such as sunflower embroidery or rose embroidery.  
Don't believe us? Here are some juicy YouTube examples by Artesd'Olga. The videos are in Spanish, but even if you no hablas español, you will have no problem following the process by just watching the moving images.
"Hand Embroidery: Decorative Border with Butterflies" will help you create the pattern composed of the prettiest little colorful butterflies combined with a bunch of tiny green leaves. This design isn't destined to be the first violin on your fabric, so use it wisely (as the title suggests, on the border).
Otherwise, try this gorgeous multicolored floral butterfly by the same author:
And if putting flowers and a butterfly together isn't enough and you want to unite those two in an eternal embrace, check out this floral butterfly project:
More ideas for a hand embroidery butterfly? 
On Makerist, you can purchase this 5$ simple embroidery pattern of a birdwing butterfly to get "a taste of combining embroidery with painting,"—as described by the author.
Embroidery stitches used for this project include:
running stitch,

split stitch, and

stem stitch;

Image source: Makerist
Moreover, there is a good old SewGuide with a couple of free embroidery designs.    
Choose from these ten butterfly embroidery patterns to make your projects stand out:
Embroidered butterfly—with the use of filling stitches, such as 
satin stitch, 

French knot, and

blanket stitch;
Ribbon embroidery butterfly—ribbons are shining, vivid and vibrant just like butterflies—notice

SewGuide

authors,

Felt butterfly—all you have to do to make it see the light of day is cut out felt in the shape of a butterfly and decorate it with cute beads,

Beaded butterfly—where embroidery meets beads, unexpected romance may begin,

Image source: Sew Guide
Easy felt butterfly—this time, you don't cut your felt to a form of a butterfly but create simple circles from it instead. Then, make running stitches along the middle to gather the fabric and tie it up with the thread,

Sequins butterfly—we love everything that sparkles. Make this delightful tiny butterfly with a bullion stitch and a few sequins. Find a step-by-step guide to creating a bullion knot on

Embroidery for Beginners

.

Image source: Sew Guide
Appliqued butterfly embroidery—attach a few different fabrics to create your perfect butterfly applique. First, cut out the shape of the butterfly, then satin stitch along the edge to join it to your background fabric (we tackle

types of fabric

in this blog). For detailed instructions on how to applique, head to

Molly and Mama

. 
You can also take it further and attach custom woven labels to your 
textile, 

clothing, 

towels, 

sheets, and/or

accessories;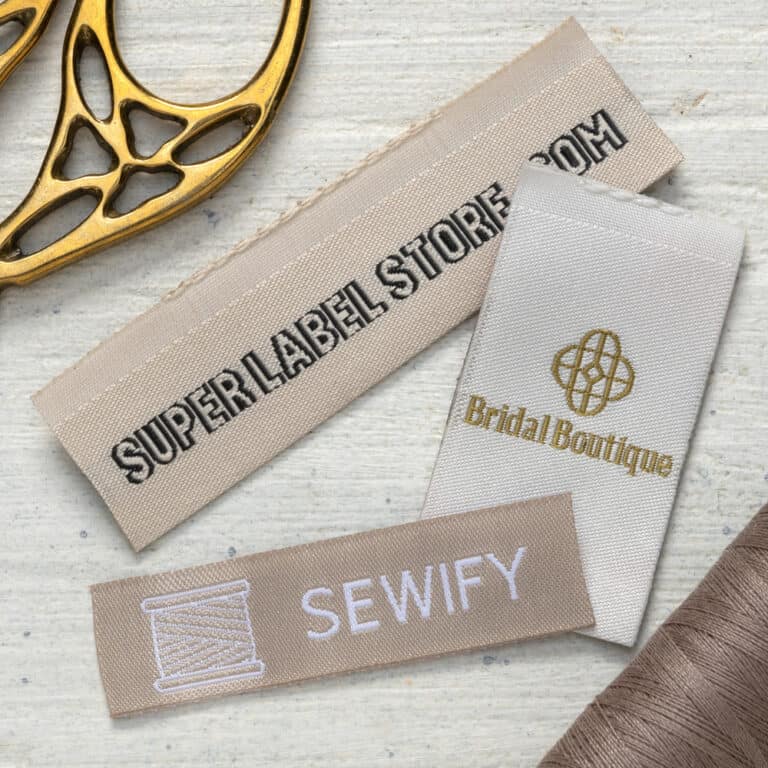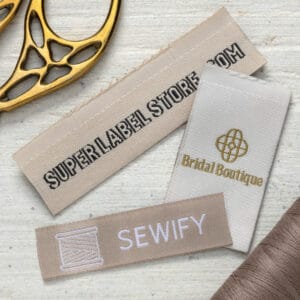 Super Label Store is happy to provide 
to 
DIY/clothing crafters at home, 

textile/sewing enthusiasts,

(small/starting) clothing brands,

fashion designers,

hotels, bars, and hospitality businesses' owners and managers;
There is no better way to ensure all types of clothes and accessories you produce or use in your business look neat and professional.

Image source: Pinterest
Embroidery is an easily accessible craft to start—notes My Modern Met.
Embroidery supplies, among which: 
are very affordable. 
Moreover, the techniques range from basic to advanced, so everyone can easily find something for themselves.

Image source: SewGuide
Speaking of supplies, let's have a look at another YouTube workshop by Artesd'Olga, where she tackles the use of a punch needle (you can buy one on Amazon).
In the video, the crafter embroiders a butterfly in high relief with a punch needle. The technique of the magic needle—also referred to as Russian embroidery or Chinese embroidery—uses a metal needle that allows adjustments to make a wide variety of stitches. 
Check also the author's Instagram for a great deal of embroidery magic. 225K followers can't lie!
Otherwise, if you are not into fancy experiments, all you want is to take your embroidery fabric, embroidery hoop, embroidery thread or embroidery floss, embroidery needle, and embroidery ideas and simply, traditionally, let them do their thing; keep reading!
Here is a shortcut to creating a charming little butterfly embroidery that you need:
Steps
Description

Preparation

Remind yourself a few filling stitches, such as:

satin stitch, 

French knot, or

blanket stitch;

Take your regular embroidery supplies, and get ready to stitch. 

Drawing

Draw your design on the fabric with a marking tool of your choice. Do it free hand or use an embroidery pattern from an embroidery library or other online source to transfer the design. You can also get the design pack from online sources to get design ideas. There are also plenty of butterfly embroidery designs free to download. Check out, for example, Embroidery Pattern Central—a mine of information about the butterfly embroidery niche.

Browse these 20 classy Sew Guide designs that represent magnificent butterfly species, among which:

African Acrae Acrita, 

North American Deione Vanillae (also known as a passion butterfly), or

European Polymmtus Icarus;
Mind that a butterfly body is typically symmetrical on both sides, so if you want to keep it realistic, learn to draw or transfer well before sticking your needle in the fabric. "How to Transfer Embroidery Patterns" by
tracing to fabric,

transfer/carbon paper,

washaway

stabilizer

,

heat transfer pen/pencil, and

tracing paper
explains Twig and Tale. 
As explained by Sew Guide, there are ten ways to do that.

Image source: Twig and Tale
Now, let's get back to stitching:
Steps
Description

Start stitching

Use two strands of black thread to split stitch the outline of the wings and the veins within each wing. Then, fill the butterfly body using long and short stitches with six strands of the embroidery thread. Alternatively, you can use one or two strands to get a delicate image resembling a needle painting.

Making the design realistic

Since most of the actual butterflies have their wings outlined in black, use black in your embroidery to bring some realism to the picture. 

Otherwise, use any other color to keep your project fun and imaginative. 
We wrote the "how to embroider a butterfly" instructions above based on this Sew Guide article. 

Image source: Sew Guide
Butterfly machine embroidery designs
Hand embroidery is not for everyone. We don't mean that it's too hard; on the contrary. We mean that some crafters simply don't like it. 
And it's ok! 
There were plenty of discussions about hand and machine embroidering techniques. 
Among others "Hand vs. Machine Embroidery" by Best of Kashmir.
Following their guide, you will learn to recognize hand-embroidered and machine-embroidered garments by their:
costs, and 

the quality of stitches (with pictures!);

Image source: YouTube
The authors also suggest looking at the reverse side of the fabric. This method is obviously the most helpful for items without a lining. 
According to Best of Kashmir, to find out if the item was embroidered by hand or machine, you should look at the reverse side of the garment: 
Hand embroidery
Machine embroidery 

Hand-stitch employs single-color threads for embroidery. Therefore, a crafter will sometimes break off the earlier thread to use a new thread in a different color. This leaves behind a trail of threads that may hang on the reverse side of the fabric. So,

Best of Kashmir

suggests that hand embroidery leaves a lot of threads hanging on the reverse side. Click on

Needle N Thread

for a comprehensive guide to "Embroidery on the Backside: Perspective, Opinions, and Tips," i.e., what to do with threads o the back of your gorgeous embroidery project.

Machine embroidery is based on a continuous stitching process that uses a multicolored thread for embroidery. This continuity in stitches with very few breaks ensures it leaves very few threads hanging on the reverse side.
Which one is your favorite?

Image source: Hatch Embroidery
Making machine embroidery butterflies is straightforward, at least as long as you are equipped with 
On Embroidery Designs, you will find many patterns for machine embroidery in all sizes and colors, from PCS to JEF format.  
Jump to EmbLibrary for more free butterfly machine embroidery designs.

Image source: Pinterest
While there are thousands of methods to embroider, we really like this "Freestanding Lace Butterflies" on the Sewing Report YouTube channel. 
Check it out to learn how to stitch out freestanding lace using 
an

embroidery machine

(in the video, they use Brother PE800, and we tackle

Brother embroidery machine

here) and 

wash away stabilizer;
Do you have fun embroidering? We hope you are thriving!
Also, we wouldn't be ourselves if we didn't mention a few more good readings.
Discover:
in our expert guide through all sorts of crafts and craft-related topics on Super Label Store blog.

Image source: Hive
Tips for beginners who want to start with butterfly embroidery
Here are a few tips for beginners:
Start with simpler butterfly designs and gradually move on to more complex ones as you gain confidence.

Practice basic stitches on scrap fabric before working on your final project.

Use an embroidery hoop to keep the fabric taut and prevent puckering.

Don't be afraid to experiment with different colors, stitches, and materials to discover your unique style.
Frequently asked questions
Are there any specific color combinations that work well for butterfly embroidery?
Butterfly embroidery designs can be stitched in a wide range of color combinations. Some popular choices include vibrant and contrasting colors for a bold look, or softer pastel shades for a more delicate and dreamy feel. Ultimately, the color combination depends on your personal preference and the overall theme you want to achieve.
Can I customize butterfly embroidery designs to fit my personal style?
Absolutely! Embroidery designs are highly customizable. You can modify the colors, add additional elements, experiment with different stitch combinations, or even combine multiple butterfly designs to create a unique piece that reflects your personal style.
Are butterfly embroidery designs suitable for beginners?
Yes, butterfly embroidery designs can be suitable for beginners, depending on the complexity of the design. There are simpler designs with fewer stitches and details that are great for those who are new to embroidery. However, more intricate designs may require more experience and skill to achieve the desired results.