Affordable and Dependable—What Do You Need to Know About the Brother Sewing Machine?
Are you already addicted to all the benefits of your Brother sewing machine? 
Or maybe it's the opposite: 
Has your relatively cheap Brother sewing machine failed to please you?
Knowing how to sew may not be enough. 
Even the best idea for a sewing project is likely to fade without a sewing machine tailored to your needs.
Is this the one? There are ways to find out what's the best sewing machine for you!
We hope you're writing your new Brother sewing machine story now! We can't wait to share a few observations before you head towards the store. 
For this article, get yourself a nice cup of large latte macchiato!
We're about to reveal all there is to know about the Brother basic sewing machine and more. 
Brother brand sewing machine—introduction and history
The Brother company produces sturdy sewing machines for various uses. These machines are affordable and made to last. 
Sewing machines for domestic use are a big part of the Brother production. 
In September 2011, the Brother company sold its 50 millionth domestic sewing machine. (According to Sew Care). 
No wonder it's considered one of the best-selling sewing machine brands in the world!
First off, let's discover where do Brother sewing machines come from:
Brother is headquartered in Nagoya, Japan. It produces electronic machines all over the world. Brother also sells under another name—OEM. 

The brand's factories are based in Zhuhai, China, where they only construct mechanical sewing machines.

In a Taiwan-based factory, they produce computerized sewing machines and embroidery sewing machines.

The factory of Brother international corporation in Vietnam is considered the biggest single-brand factory in the world.

Image source: Mores Sew
We're dying to tell you how it all started!
If you research the Brother sewing machine online, you'll come across the slogans:
"Brother Sewing Machines | 100 years of innovative excellence," and 

"Brother at your side sewing machine."
Although they're standard ads, these proud mottos are not far from the truth. 
Brother sewing machine company (a branch of Brother Industries, Ltd.) was founded in 1908 in Nagoya, Japan, by Kanekichi Yasui. 
Watch the beginning of the Brother story told in less than five minutes:
At its birth, the company was named Yasui Sewing Machine Co. and produced only sewing machines. However, in 1934 the brand incorporated and changed its name to Brother.
With years, it transformed into a multi-industrial worldwide brand, manufacturing also:
office accessories:
printers, 

copiers, 

electronic typewriters, 

fax machines, 

multifunction devices, and
      2. sewing machine tools;

Image source: Pinterest
This company has had a long history. For the last century, it has produced many sewing machines. Experienced sewers call these products low end.
Before electronic sewing machines showed up, analog models ruled for years. 
Now, we call them vintage and occasionally find them in the attics of our grandparents' houses.
The Eproceeding website explains how to find out how old your Brother sewing machine is:
"Brother sewing machine serial numbers are coded to indicate the manufacture date of the machine. The company puts a code on each machine but when they started to do that is unknown. The letter and first number indicate the month, and the last digit—the year the machine was made."
If you come across vintage Brother sewing machine models, research them online.
Check out, for example, these handy instructions: 
"How to use a vintage sewing machine brother 345," on YouTube:
In this video, Bibi Cameron shares the following essential information about this model:
how to thread the machine, 

tips, 

needle plates,  

basic stitches, and 

sewing on different materials;

Image source: Antiques. Love To Know
The charm of vintage Brother sewing machines is hard to resist. 
Yet, there is the other side of this coin. 
Stephanie responds to the question, "Why did I ditch my vintage sewing machine for a new one?" on her blog Swoodson Says. 
Let's list a couple of vintage sewing machines' pros and cons that she gathered through her research:
Pros
Cons

Metal parts are hard to break

May have quirks or issues challenging to diagnose and fix

Affordable, or you can even find it for free on attics or flea markets

Many vintage models only have a straight stitch (not suitable for sewing knit fabrics)

Made to last for decades

Replacing parts, cords, finding manuals can be demanding in terms of availability and skill

Built for thicker fabrics; therefore, they can handle heavier weights with ease

Rare parts are expensive

Mechanical issues are cheaper to fix than computerized

 

Saving items from the landfill

Super Label Store is engaged in the upcycling fashion movement. Check these blogs to learn more about it:

 
But, hey, modern sewing machines also have their quirks! 
Let's see what issues and benefits come with a modern appliance, like Brother sewing machine com or other brands.
Pros
Cons

Typically comes with a warranty or service package if purchased new. If you need a sewing machine repair, you have it for free

Environmental aspect:

buying new machine (manufacturing and packaging)

buying a modern machine (planned obsolescence)

Lighter, easier to travel with thanks to the plastic parts they are made of

Computerized displays are expensive to fix

Some functions may make sewing more accessible—for example, sewing using the button instead of a foot pedal

Repairing these machines may sometimes cost more than buying a new one. Unfortunately, it means that we're forced to make a not ecologically friendly choice. 

Popular models have plenty of video tutorials online

 

More bells and whistles—surprising automatic functions, like the one for making buttonholes

 
Now that we know all pros and cons of a vintage and modern Brother sewing machine, let's not forget one thing: 
Many Brother sewing machine models never stop making tops of international lists of the best machines (i.e., Independent).

Image source: My Vintage Sewing Machines
Popular brother sewing machine series
Some of the popular Brother sewing machine series are 
Brother CS Series, 

Brother XR Series, 

Brother SE Series, 

Brother PE Series, 

Brother pacesetter series (PS series), 

Brother Innov-is Series,

Brother dreamweaver XE, 

Brother luminaire, 

Brother HC Series, 

Brother PQ Series, 

Brother ST Series, 

Brother LX Series, 

Brother Industrial Sewing Machine series etc.
Brother sewing machine price
We went through the great history of the Brother brand.
Then, we checked if it's better to invest in a vintage model or a modern one. 
Now let's focus on something even more practical—the price range of the Brother USA sewing machines.
Besides all the pros and cons of the machine, we will base our decision also on the financial aspect. 
So how much is a Brother sewing machine?

Image source: Music City Sewing
Brother produces several machines in different genres:
home sewing machines,

embroidery sewing machines,

quilting sewing machines,

domestic overlockers,

A-grade sewing machines,

industrial sewing machines, and

industrial single needle sewing machines;
The price of 
will vary significantly. 
The most petite, lightweight Brother sewing machines available on Amazon or Walmart start at $105. 
As their:
size, 

weight,

computerization level, 

quality, and 

range of use 
reach higher levels of sophistication, their prices rise. 
You can pay, for example, 
$2,999.99 for a Brother Innovis NQ3600D Combination Sewing and Embroidery Machine or 

€11.990,00 for Brother PR1055X Professional 10 Needle Sewing Embroidery Machine.
Read here about sewing machine needles.
When it comes to the first model mentioned above, Megan McCabe shares her thoughts. 
Read this excerpt from the description of the Rocky Mountain Sewing and Vacuum YouTube channel:
"The Innov-ís NQ3600D offers state-of-the-art features such as an automatic thread trimming system, giving you the opportunity to cut every jump stitch by moving the frame. The large workspace, Automatic Height Adjuster (AHA) feature, and the Pivot function all make for easy sewing and quilting projects. Expand your design capabilities with the generous 233 built-in embroidery designs, including 35 designs featuring Disney characters."
Watch Megan's introduction to this high-end model of Brother at your side sewing machine. 
You may also want to read how to thread a sewing machine if your current model doesn't have an automatic option.
Megan claims that this combo of a sewing machine and an embroidery sewing machine has many options, not making it overwhelming.
What are your thoughts? Will it become one of your sewing room ideas for the future?

Image source: Brother Sewing UK
When it comes to innovation in sewing, we've got another idea.
This concept is cheaper and easier to decide on than a heavy-weight sewing machine. 
Meet different types of woven labels by Super Label Store.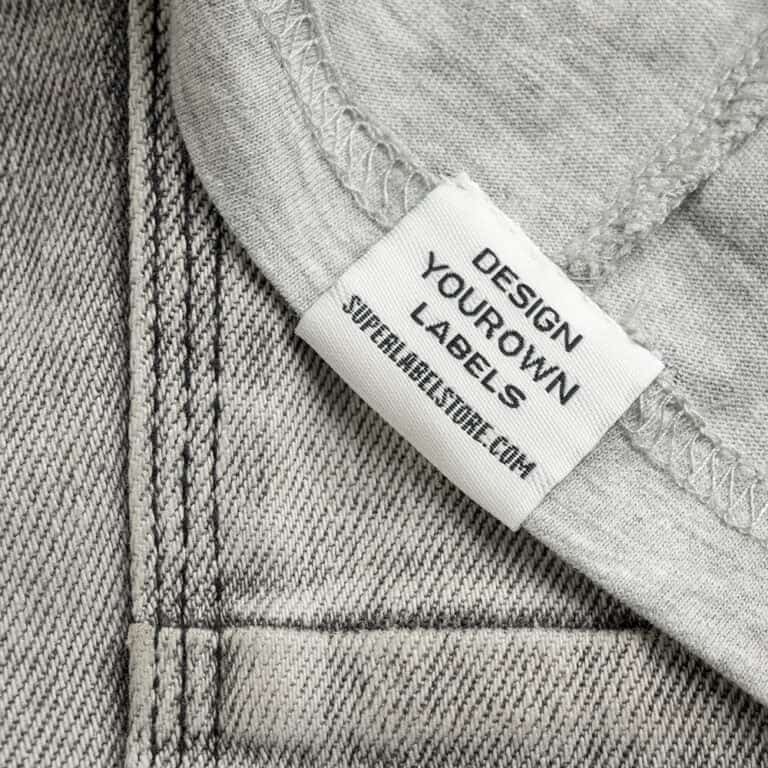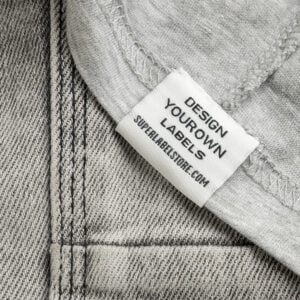 What's the deal?
Let's say you learn to sew, get your sewing machine for beginners, and buy an advanced model after some time.
Sewing fabric and sewing leather have no secrets from you. Your sewing kit is complete. 
Yet, your clothing, although so elegant and perfect, is still missing something. 
It looks great but stays in a low-key DIY category. 
How to change it? How to make your projects stand out?
Super Label Store offers a range of products to take your fashion projects to the next level. 
Now, you can order customized:
care labels

, and
with several clicks on the website!
Consider it if you want to improve the look of your self-made clothing with minimal effort on your side. 
Ordering customized woven labels is affordable. Also, you can order even the smallest number of items designed by you for your personal use. 
To sum up the price discourse, Brother machines are inexpensive sewing machines, perfect if you're on a budget. 
And since there's a never-ending Brother Singer sewing machine discussion: 
Low-budget Brother sewing machines have more features than the low-budget Singer machines. 
Another helpful piece of information from the same source regarding another competitor is:
Brother and Janome are two prominent sewing machine brands in the US. 

Brother is the most popular sewing machine brand in the US.

Janome is lavishly fueled by loyal customers.
According to Answers To All, Brother XM2701 is the best pick for the best sewing machine under $100.
One rule counts for the most purchases you'll ever make: the more you spend, the more you get. 
For example, Brother Sewing Machine SE400 costs $569 on Amazon, and it has:
67 built-in stitches, 

five lettering fonts, and 

over 50 integrated embroidery designs,

automatic needle threader and drop-in top bobbin,

wide table, 

10 sewing feet, 

instructional DVD, 

LCD screen,

free technical support via online, live chat, or phone for the life of your machine;
Spending more at the beginning also means saving later. 
Picking the expensive model will provide you comfort and unleash your imagination. 
It will also allow you to save money on customization such as:
sports uniforms, 

work uniforms, 

backpacks, etc. 
Brother, Singer, or Janome offer a great combination of price and valuable features. Other great quality brands like Pfaff, Bernina, and Husqvarna tend to start at a higher price. 
If you're an advanced sewer, you can use the Bernina machine daily and keep a cheaper Brother machine as a backup.
On the other hand, the basic, affordable Brother is created old-school. It can have, for example, only ten built-in stitches. 
Yet, this set allows you to sew most projects, such as
clothing, 

draperies,

quilts, and even

stuffed animals; 
Do you really need more?

Image source: NY Times
Where to buy a Brother sewing machine?
You can easily find Brother sewing machine dealers online and in stores around the world.
Amazon is an authorized reseller of Brother sewing machines. 
Attention! You can buy from Amazon but not from a seller doing business on the Amazon site. 
A Brother sewing machine bought from a seller instead of the Amazon company won't give you a warranty.
For more information about physical stores, go on the Brother sewing machine website.
Go to Brother USA for more detailed info. 
Is Brother sewing machine suitable for beginners?
Before we get to the Brother sewing machine table to compare some most prominent models, let's consider the beginner's perspective.
Is Brother the right pick for the first stages of your sewing adventure? 
Brother is an experienced "brother" in the worldwide sewing production "family." 
No wonder they are pretty good at what they do. 
All Brother sewing machines offer a 25-year limited warranty. So you have loads of time for peaceful learning! 
The stitches are accurate.
These machines are excellent for beginners and will grow with you.

Image source: Nancy Zieman
What are the reasons to get yourself your first machine?
Read if you're still wondering if it's worth the chase (according to Sewing Machine Express):
You can save a lot of money

You can fix your clothes

You can customize your clothes and follow trends

You can make extra cash

You can improve your mental health

You will be more creative and have a sense of accomplishment
For 10 reasons to start sewing clothes with descriptions, check this blog by Super Label Store. 

Image source: DIYs
Talking about beginners, Brother has a range of what we can call kids sewing machine. 
In the article "10 Best Sewing Machines for Kids in 2021," there are:
Brother XM2701 Lightweight Sewing Machine, and

Brother XM1010 10-Stitch Sewing Machine;
Why are they recommended for children? 
Here are their features and brief comments by DIYs. 
Brother XM2701 Lightweight Sewing Machine
Brother XM1010 10-Stitch Sewing Machine

It's a transitionary machine. It's almost as fully equipped as a regular professional design. It's:

a little smaller, 

more accessible, 

colorful, and 

learner-friendly.

It's a sewing machine with fun visual details on it. 

It is excellent for kids who have moved beyond some of the little and safety guarded machines. But, at the same time, they aren't ready yet for their own full-sized machine.

It serves to transition your child from the miniature and plastic guarded little kids' machine into a professional one.

automatic needle threading capabilities, 

snag-free bobbin systems (typical of most Brother brand machines), 

six different useful sewing feet, 

a free arm feature, 

27 built-in stitches (some of these stitches are essentials that everyone should learn, and some are a little more fun and decorative), 

a one-step buttonhole feature,

6 feet, 

a bunch of accessories,

a 25-year limited warranty,

an instruction manual and tutorial DVD;

(read here about other sewings supplies that you may need)

sturdy build,

slightly smaller than a fully equipped machine, 

very portable, 

four different detachable sewing feet for different functions,

free arm piece (the same that most fully-equipped professional machines feature),

10 automatic stitch settings

Fundamentals and decorative. 

The latter works excellently as an introduction to using embroidery machines for embroidery.  

a useful and simple buttonhole setting,

10 built-in stitches, and

a 25-year limited warranty,

a straightforward manual and instructional DVD;

One of the cons is that this model isn't as lightweight as it seems. 

When it comes to the downsides, this model is a bit costly. 
According to Sewing Experts, 
Brother Innov-is NS80E Sewing Machine

Brother SE625 Computerized Sewing and Embroidery Machine
are among the 11 Best Sewing Machines for Beginners (Good House Keeping).
But there are also Singer's machines and Zest Sewing Machine manufactured by Baby Lock on the list.
What do we know about the latter?
When it comes to Baby Lock, people often think it's joined together with Brother and makes the same sewing machines under different labels. 
The real story is different.
These brands have different histories, and their head offices have different locations. 
Baby Lock has quite a few sewing machine models made in Brother's Japanese factories. This is where the mental connection that started rumors was created. 
But, hey! Brother has no say over the design or the quality of the sewing machines they make for Baby Lock. 
The biggest hack lies here: 
Brother only makes the low-end Baby Lock machines but according to Baby Lock's quality control requirements. 
So while the two machines may share the same parts, the ones made for Baby Lock (in Brother factories) must meet Baby Lock company's standards.  
We hope that the explanation above mode it more clear. 

Image source: Blog.Pat Sloan
Comparing the sewing machines made by these companies shows grand differences. The price is one of them.
Baby Lock sewing machines are usually more expensive than Brother. This is because Baby Lock sewing machine company targets the upper end of the spending market while Brother targets the lower end.
To add some spice to this story: 
Disney has licensed Brother to produce some of its embroidery designs in their sewing machines.
Baby Lock doesn't have the same license, so you need to pick a Brother embroidery machine to enjoy the Disney designs. 
"All in all, while both companies produce good machines, the edge in the better than competition would probably tilt towards Babylock."
—adds Sewing Is Cool.
Read more about the baby lock sewing machine in this article.  

Image source: Among Brenda's Quilts
Brother sewing machine models
Now, we know what Brother has got to offer to your kids. 
There are also Singer, Baby Lock, Jerome, and other sewing machines manufacturers. 
But what Brother com sewing machine has to offer you?
With Brother, everyone will find something for themselves. 
Let's look at some curious, available models.

Image source: Fashion Sewing with Angela Wolf
Sewing is both fun and useful. 
It lets you:
repair damaged clothing, 

design new fashions, or 

craft fun costumes;
To maximize the benefit of sewing, you need to pick a suitable machine for your doings. 
Let's see what we can learn about some Brother models with the help of the Best Sewing Machine Review Spot. 
Brother sewing machines will deal with any quilting, embroidery, sewing, or seams jobs you're going to take up. This brand has a perfect product for anything you want to do in fashion: 
from computerized embroidery, 

monogramming, 

quilting, to

sewing machine for your pro or basic needs;
Read about these six Brother sewing machines before picking your favorite model.
Brother SE400 Combination Sewing and Embroidery Machine
This machine tops many lists.
It's great for sewing newbies, occasional users, and pro fashion designers.
There is one unique feature of this Brother sewing machine. You can connect it to a computer with a USB cord to experience innovative sewing hacks. 
You can purchase embroidery designs and update your machine. The embroidery software is also compatible with Mac. 
See this YouTube tutorial by Brother Sews USA:
In Brother SE400, regular sewing functions are combined with a fun-to-use embroidery machine. This model is also great for sewing quilting.
Just think about it:
67 unique sewing stitches,  

70 built-in embroidery designs (no shortage of projects to create ever),

five lettering fonts,

4×4 inch embroidery options,

LCD extensive touch screen access, 

512kb of data in memory to load all your designs on the machine, and

a memory card slot (to access an abundance of designs with a compatible memory card);
This Brother machine model is in the price range of $300-$500. Check Walmart for more information regarding prices. 
Brother PQ1500SL High-Speed Quilting and Sewing Machine
Brother PQ1500SL sewing machine makes quilting easy and smooth.
This model offers a high-speed stitching capacity—up to 1500 stitches per minute. 
It's a hard and conscientious worker suitable for larger-scale jobs. This machine tackles various issues related to different fabrics.
Surprisingly, this model is also very quiet.
If you want to go slow with this Brother machine, you can use the foot pedal to control the speed. It's super easy to control and very responsive.
It's user-friendly to the point that some sewers give their Brother machines names!
For example, the one from the photo below was posted with "Everyone, meet Patrice!"

Image source: Reddit
The Brother PQ1500SL features:
4 feed dog settings for maximum fabric control, 

a mechanism for pin feed adjustments, 

a quilting bed extension table, 

a knee lifter, 

automatic thread trimmers with fast needle threader (saves you a lot of time), 

retractable drop feed,

LED working light, and

7 by 8.6 Inches working space;
Brother LB6800PRW Computerized Embroidery and Sewing Machine
This babe makes you feel in total control. 
To showcase your creativity across its spectrum, get acquainted with the embroidery design option.
It has 120 frame combinations, 70 different built-in designs, and 5 lettering fonts.
You can connect this machine to your computer via a USB port to import designs from your laptop. This Brother product is compatible with all computers and systems except MAC.
Brother LB6800PRW Computerized Embroidery and Sewing Machine has:
67 full-range sewing stitches,

4" by 4" embroidery design and editing,

one-touch auto thread trimmer (this option allows you to cut your bobbin and top thread easily),

7 specialty sewing feet, 

embroidery bobbin thread, 

the capability of 710 stitches per minute,

backlit LCD touchscreen,

25 years limited manufacturer warranty,

designer rolling bag, 

a softcover, 

a bilingual manual, and 

free phone support;
Read another review of this model on Home Necessary. 

Image source: Home Necessary
Brother CS6000i Sewing Machine
The Brother CS6000i is affordable ($100-$200). It's also effortless to use—also thanks to the helpful user manual. 
What's more, this model comes with a glut of accessories that ideally respond to your sewing needs.
There is a reason this model is so popular. Check, for example, nearly 6500 positive reviews and its high Amazon rating.
Its popularity lies in the Golden Mean it has achieved. This model wins hands down as a perfect combination of features and a very affordable price.
Let's see what features it has for a great price:
60 stitch functions, 

easy to view LCD backlit display, 

adjustable sewing speed, 

easy to follow threading diagrams, 

an automatic needle threader,

push-button sewing 
This model basically comes with a foot pedal. Yet, there is also a start/stop button to use the sewing machine without it. 
a quick-set drop bobbin—no fishing for your thread ever again,

a variety of one-step buttonholes styles and decorative stitches, 

oversized tables for larger projects,

a bilingual user manual,
There is even an extra room in the arm of the sewing machine to store accessories.  
Brother CS6000i Sewing Machine is an excellent choice for beginners or professionals. It's the best pick for everyone looking for an entry-level computerized sewing machine.
Read about two more models from the list on Best Sewing Machine Review Spot.

Image source: Make and Takes
Here's a quick summary of the biggest pros and cons of the Brother sewing machines that we described above. 
We made this sewing machine table according to the information from the Best Sewing Machine Review Spot: 
| | | |
| --- | --- | --- |
|   | Pro | Con |
| Brother SE400 Combination Sewing and Embroidery Machine | It's a solid and rugged build of the sewing machine. It works for anyone that wants a super-lasting embroidery and sewing machine combination. | You will have to find your way around preventing constant needle and thread breakage.   |
| Brother PQ1500SL High-Speed Quilting and Sewing Machine | Recommended for people with a large-scale job as this machine helps you get the job done timely. According to the authors of the blog, it's the best brother quilting sewing machine. | Due to the lack of an indicator on the bobbin, you may find it hard to know you are running out of thread. |
| Brother LB6800PRW Computerized Embroidery and Sewing Machine | This one responds perfectly to your embroidery needs, thanks to the ample amount of embroidery design options. | While it's not a complicated machine, there's a steep learning curve to find your way around it. |
Have you found your favorite type?
Check the second part of the pros and cons of the most popular Brother sewing machines:
You can also check the list of reviews at Sewing Machine Express. 
 
Pro
Con

Brother CS6000i Sewing Machine

This model is said to have an "incredible value for money." This machine has a wide range of quilting and sewing features while being easy on your budget. 

Some sewers complain about the dreaded E6 error. The E6 error appears when you sew thicker fabrics.

There were a few complaints about the seams coming undone.

Brother HC1850 Computerized Sewing and Quilting Machine

Very easy to use; being a great asset in the hands of any newbie.

It makes a bit of noise. Also, winding the bobbin is a bit of a hassle.

Brother XR9500PRW Sewing Machine

Recommended for basic users with many sewing projects. They call this model a "workhorse." 

Not very durable, despite having a metal frame.
Several more websites reviewed Brother sewing machine models to help you pick the best one. 
A curious review offers Treasurie. The author of the blog presents sewing machines for beginners in the following price ranges:
$100-$200,

$300-$500,

$500-$1000;
If you want to go deeper into categories, we recommend having a look at these blogs:
Remember, there is no better or worse sewing machine. Instead, there's a better or worse fit for your personal needs. 
Frequently Asked Questions
Can I use third-party accessories, such as needles and thread, with my Brother sewing machine?
While Brother recommends using their branded accessories, you can often use compatible third-party items such as needles and threads. However, be sure to check your machine's manual for guidelines.
Can I use these sewing machines for heavy-duty projects like leather or denim?
While some Brother sewing machines are equipped to handle heavier fabrics to some extent, it's recommended to choose a model explicitly designed for heavy-duty sewing if you plan to work extensively with leather, denim, or other thick materials. The Brother ST371HD is an example of a heavy-duty model.
What is the difference between the thread serger and the presser foot?
The thread serger ensures clean and professional edges, while the adaptable presser foot enhances precision stitching.