Ready to Pack, Ready to Sew: 10 free backpack sewing patterns to be practical and stylish
Now that we are gradually starting to travel again after a long period of stasis due to lockdown, we need to prepare ourselves for what will come next. 
Say goodbye to baggy PJs, fluffy slippers, and warm blankets! Welcome boarding passes, comfy shoes, and a practical backpack!
You can't get caught unprepared if your friends or partner organize a last-minute weekend trip to a European metropolis or a trekking tour in the mountains.
Here's your new must-do project….make a backpack from scratch! It will carry all your valuables and necessary water bottle, travel guide and clothes. It will be practical but also unique and stylish because you made it (remember to attach your custom woven label!) 

Image source: Facebook page of SuperLabelStore
You can also opt for a mini backpack sewing pattern if you need something for your daily errands or you feel more comfortable starting with a smaller project.
You also need to decide what kind of school backpack will get back to school with you or your little ones in a few days!
In this article, you will find different versions of a backpack sewing pattern. Do you know what the most common types of backpacks are? If you don't, read the next section!
Decide which type of backpack you want to make
A backpack is a general term that can cover many variations and styles. All types of backpacks, however, are characterised by three essential features that this item will always have.  
These are:
Shoulder straps

Main compartment

Closing system protecting the items inside the backpack
Additional features that vary from backpack to backpack are:
Number and style of pockets and other compartments. For example, zipper pocket, slip pocket etc.

Type of closing system (zippers, buckle flaps, magnetic buttons, strings, and so on)

Materials (canvas, waterproof fabrics,

durable cotton fabric

, leather,

lining fabric,

fusible fleece

etc.)

Padding

Backpack pattern (pattern piece with or without seam allowance, paid or free pattern).

Image source: Shot Kit
Here's a table of the most common types of backpacks. It will help you decide which one meets your needs according to the weight you have to carry and the occasion you are using it. 
  Type                             Pros and Cons                                                            Capacity                                          Use
Standard Backpack


Image source: Eastpack

Zippers and standard storage. 

Practicality over style.

25-50 liters

Trips, school and general outdoor activities

Daypack


Image source: Little America Store

Light and compact.

Less storage, fewer pockets.

10-30 liters

Office, commuting, school

Mini backpack


Image source: Pinterest

Lightweight, easy to carry everywhere, stylish, and cheaper than bigger types.

Little storage, might not have padding or structure, straps might not be adjustable, fewer pockets.

6-10 liters

Strolling around the city

Rucksack


Image source: Louis

Many outer pockets, buckle flaps that allow more flexibility, great storage, vintage look

Lacks compactness, heavyweight

30-50+ liters

Travelling, excursions

Tote backpack


Image source: Noodle-head

You can use it as a bag too, lightweight, multipurpose and convertible, expandable.

Straps might not be the most comfortable or adjustable, with less capacity.

14-15 liters

Office, school, traveling

Bucket backpack


Image source: By Goods

Stylish, minimal, many sizes, deep compartment, expandable.

Usually one main compartment, easy to lose small items in the bag.

50+ (it depends on the size: from mini capacity to large rucksack capacity.

Traveling, excursions, or a day out.

Drawstring backpack


Image source: Amazon

Lightweight, foldable, long straps, expandable.

Exposed closing, non-adjustable strings, non-structured, cannot carry too much weight, usually one main compartment.

10 – 15 liters ca. (even more depending on the material)

Gym, day out, beach, traveling

Satchel backpack


Image source: Pic Click

Sturdy, elegant.

Rigid, it can only fit rectangular items properly.

15-17 liters circa

Office, school

Laptop backpack


Image source: Laptop Lelo

Slimfit, lightweight, compact.

One purpose only, less capacity.

10-16 liters

Office, school.

Duffel backpack


Image source: Hardloop

Great storage, deep tubular compartment, comfortable opening.

Big main compartment that can make it difficult to find smaller items.

20-100 liters (depending on the size)

Long trips outdoors
This list doesn't include sports backpacks because these have a complex structure and technical fabric. They also have specific characteristics depending on which physical activity you are using it for (hiking, trekking, biking, jogging, etc.).
This article will only suggest easy backpack sewing patterns you can make at home without too much fuss and with materials you can retrieve with ease.
You can download each backpack sewing pattern free of charge! Apart from being easy and free, these links are also safe to use! 
You can be sure that they were put to the test, so don't worry about malware and viruses which are so frequent in the world of free sewing patterns.
Are you looking for more projects? Check out these other articles on free patterns from SuperLabelStore:
Do you want to experience the thrill of making your own patterns? Read our blog on how to make sewing patterns. 
If instead, you are a beginner and you need some guidance in your DIY projects, perhaps our guides on how to sew and learn to sew will help you in the process. 
Do you also need a pair of shorts for your holiday? Try one of the patterns from our article on shorts sewing patterns! 
Now, let's go ahead with these simple backpack sewing patterns! 
Compact Recycled Daypack by AdAtkins
Let's start the first project of this article with not only a daypack tutorial, but also with a recycling idea which is always welcome, don't you think?
You can remedy the difficulty of retrieving good waterproof fabric (which can be quite expensive too) by recycling the materials of old or wrong-size jackets.
On Youtube, you can find the sewing tutorials showing you how to do it. You don't need to print a pdf pattern. You only need to cut rectangles and squares in your chosen material!
Needless to say, you can also use a fabric of your choice (woven fabrics, oilskin, PVC, you name it!)
Mini Backpack by DIY Crafts TV
In this tutorial of a mini backpack, you can find another way to give your pack structure and padding for resistance and shape.
With common interfacing and a wall fiber tape you can find in any bricolage store in your city, your backpack can take any hit!
Follow the straightforward tutorial by DIY Crafts TV
Tote Backpack tutorial by Sewingtimes
Having more options at once is always life-saving. When it comes to carrying weight, being able to change position and give your shoulders and back a break means everything.
With a tote backpack, you will be able to be up all day carrying your stuff without getting too tired.
With this tutorial, you won't even need to print a pdf file! You only need to cut rectangles in your fabric and interfacing. Every beginner sewer can do it.
Rucksack Backpack by Sustain My Craft Habit
You are going to love this rucksack backpack sewing pattern! Reasons are:
it's

a

free

sewing pattern

it's easy

it comes with a clear, written, and visual tutorial!
It's the perfect first step into the world of crafting rucksacks. If you remember from our table, these types generally have the highest number of details (pockets, buckles, adjustable straps, compartments, etc.) compared to other backpacks.
Sustain My Craft Habit, instead, offers you the free pdf sewing pattern of a simple minimalistic version which has one central strap, one main compartment, and one front pocket. 
When you have mastered the making of this rucksack, you will be ready to try making a more complex one. Or simply be happy with the one you already made.

Image source: Sustain My Craft Habit
You can download the pdf file from the tutorial page of the website, follow the link above.
Bucket Backpack by Sip Sew Savannah
This bucket backpack has a similar construction process to the recycled daypack as you just need to cut squares and rectangles out of your fabric…you only need to get measurements right from this tutorial!
Working with square shapes means you can play with dimension without too much difficulty, so you can resize this backpack according to your desires.
You can pick contrasting fabrics to show off a special fabric from your stash or go for one colour block.

Image source: Sip Sew Savannah
Laptop Backpack by The Sewing Directory
If you bring your laptop wherever you go, or if your laptop IS your office and you can't do without it, then what you need is a laptop backpack with no doubt!
This free pdf pattern by The Sewing Directory will help you make your new laptop backpack in no time! Download the pattern, print it on A4 paper, and read the instructions on the website. You can also find useful visuals.

Image source: The Sewing Directory
Drawstring Backpack by Apple Green Cottage
Like many other projects in this article, to make this practical drawstring backpack you only need to cut rectangles allowing you to save on toner and paper. 
You can customise this model by Apple Green Cottage in many ways:
You can choose between two sizes

Two zipper pockets, on the outside and the inside

Flat or slouchy bottom
It has a handle that makes it even more practical!

Image source: Apple Green Cottage
Follow the clear written guide for this drawstring backpack on Apple Green Cottage.
Don't be tricked by the mermaid pattern fabrics! This backpack is unisex, you can interpret it with all the fabrics you want. Its shape is so simple that it can be used on many occasions.
Simple Hiking Pack by Mood Fabric
This cool backpack by Mood Fabric can be considered a hybrid between a satchel backpack and a minimalist rucksack. Don't be scared if they use the term hiking: there is no technical fabric involved in the making of this pattern!
The soft texture of the suggested fabric makes this backpack lightweight but also practical when you go on an excursion. The buckle flaps make it convenient if you want to fill it with ease.

Image source: Mood Fabrics
Are you considering using leather for your satchel bag? Read our article on types of leather!
Roll Top Backpack by Sailrite
Another hybrid that combines the best features of a rucksack and a bucket backpack! Deep main compartment, few pockets, and closing straps!
The video tutorial on Sailrite website will guide you through the entire process. There are some bits and bobs to purchase so be sure to read all the required material before sitting down to start sewing.
Classic Safari Duffel Bag by Sew 4 Home + tutorial for how to attach shoulder straps
The final project of this list is a Duffel Bag!
Sew 4 Home offers free pdf patterns and a thorough written and visual guide that carries you throughout the entire process of making this type of bag. It's just magnificent, don't you think?

Image source: Sew 4 Home
However, this free backpack pattern is not designed to be a backpack as well. Don't worry! You are covered!
You can either buy extra webbing, D-rings, swivel hooks just like those in the tutorial, and instead of attaching one per side, you attach two and tadah…you have your shoulder straps!
Or you can follow this tutorial for making a duffel backpack (the pattern, in this case, must be purchased) and see how they create and attach padded shoulder straps. To recreate them at home with your sewing machine, you could trace those of a backpack you already have.
Once you have your backpack ready, why don't you attach a note for its care instructions? Superlabelstore helps you to create your personalized care labels!
If you are looking for projects for your little ones, SuperLabelStore has the right article for you! Read the article on sewing patterns for kids on our blog! 
These DIY backpack projects inspired you to sew clothing as well? On shirt sewing patterns and pants sewing patterns you will find ideas to clothe yourself with handmade garments from head to toe! 
If you have a business, consider SuperLabelStore to design your hang tags. It's easy, fast, and convenient!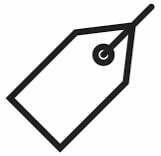 Image source: SuperLabelStore
Frequently Asked Questions
Can I resize a backpack sewing pattern to make it larger or smaller?
In many cases, it's possible to resize a backpack pattern. However, this may require some knowledge of pattern adjustments and sewing skills. It's recommended to work with a pattern that closely matches the size you want to avoid significant modifications.
Are these patterns suitable for sewing machines or hand sewing?
Most backpack sewing patterns are designed for sewing machines due to the volume and thickness of the materials used. While it's possible to hand-sew certain parts, using a sewing machine will make the process faster and more efficient.
Are the sewing instructions for the backpack patterns specific to the right side or can I use them for both sides of the fabric?
The sewing instructions provided for the backpack patterns are designed to be versatile and applicable to both the right and left sides of the fabric.
When following the instructions, you don't need to worry about distinguishing between the right and wrong sides of the fabric. Simply follow each instruction carefully, and you'll be able to create your backpack using either side of the fabric with ease.