Despite Being Tiny, Sewing Machine Thread Can Still Surprise You—Let's Dive in!
The subject of sewing machine thread doesn't end with whether it's better to sew with cotton or polyester thread.
It's the entire universe of possibilities, and we can't wait to invite you in!
But before we address each type of thread for sewing machine and the most prominent brands, take a minute to read:
What kind of thread for a sewing machine?
Let's explore the fundamentals of the sewing machine thread.
Read carefully to find out how to choose thread for a sewing machine and do it right!
According to Gathered, while all-purpose thread for sewing machines works on most sewing fabric types, a rule of thumb for any slightly different fabric (think stretch or heavyweight) is to use the same type of thread as the fabric. It means that a 100% cotton material will be perfect for 100% cotton thread, and so on. 
Reading spools of thread for a sewing machine can be useful for gathering information, especially if you need to purchase the same thread for one sewing project. If you're not in the game yet, learn to sew with our blog!
The end of the thread spool shows
fiber content, 

the manufacturer,

color number,

weight, and 

the number of plies (strands) twisted together;
The last number shows two numbers. The higher the first number, the finer the thread you're using.
You can also "Refill & Reuse Old Sewing Thread Spools Using a Sewing Machine." Learn how to do it with Alice Pearce:
More good tips?
Mind that it won't always be hard to choose a sewing machine thread.  
Sometimes your sewing pattern or instructions will give you advice on the type that's most suitable to pick for your project. 
Also, if you are planning to dye your fabric, you'll need to select a thread material that can accept the dye color.
We also have our own advice on handy accessories to pick for an array of your sewing endeavors. 
Super Label Store's different types of woven labels are the best choice if climbing a step higher on a professional sewing ladder is the direction that interests you most. 
Customizing your textile, clothing, sheets, towels, and accessories with custom hang tags, care labels, and woven labels involves four super guarantees:
super easy—with online configurations that are simple to operate, you can design and order your labels in minutes,

super quality—premium quality from the start to finish of the process,

super custom (100%)—your work is 100% unique, 

super low quantities—from big to small, we are happy to make it all;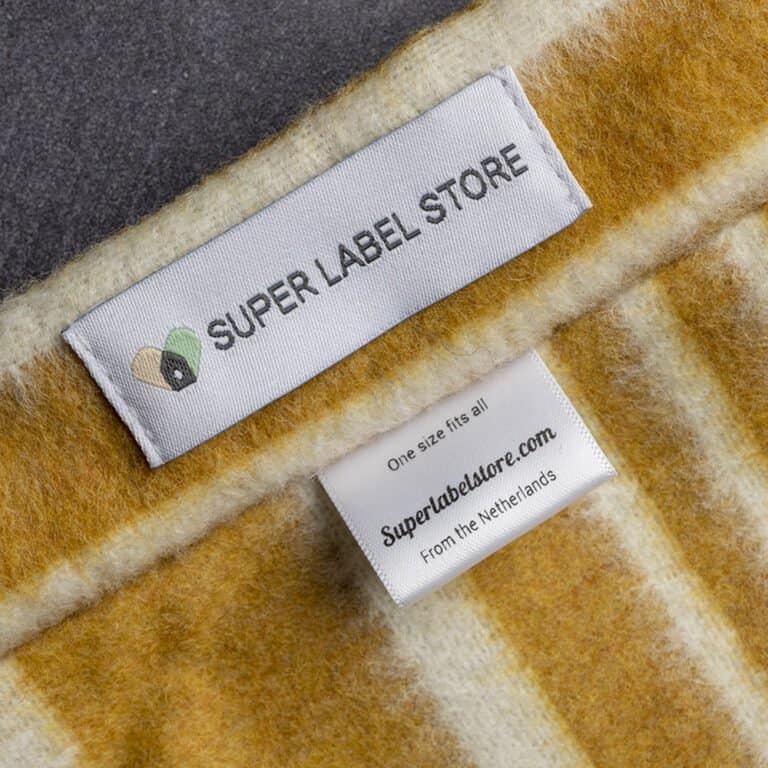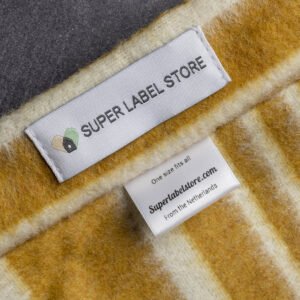 Sewing machine thread—color
When it comes to sewing machine thread color, if you can't find an exact match, go for a thread that's one to two shades darker than the fabric. 
The light one will stand out more—suggests Gathered. 
Unless having a noticeable sewing machine thread on your piece of clothing is the visual effect you wish for. 
If you want to get inspired by visible mending as a "means of self-expression," read "Instead of hiding rips and tears, the visible mending movement turns them into art," by Meghan Racklin on Vox. 
Think about it. A garment featuring your personally conceived thread pattern becomes yours uniquely, even if a thousand other people wear the same jacket or trousers.  

Image source: Vox
Sewing machine thread—quality
Don't forget about the quality. Ensure you buy good-quality thread if you want your project to thrive. 
Your seams are made with the help of devices manufactured by various sewing machine brands, but it's a sewing machine thread that actually stays on the garment forever. 
Make sure that you spend as much as you can (reasonably, though) on these sewing supplies.

Image source: Gathered
Sewing machine thread—types
Besides all-purpose thread for sewing machines, there are several types of thread:
cotton threads,

polyester/nylon threads,

specialists threads;
Let's see briefly what we should know about them, according to Gathered:
Sewing machine thread
Description

Cotton thread

The cotton sewing machine thread has a minimal stretch. Most of these are mercerized—they have gone through a series of chemical processes that increased their luster and made them more water and dye-absorbent, making them less likely to run. This thread is excellent for delicate projects, such as cotton or linen fabrics or sheers (because they all shrink the same way). Cotton thread doesn't go well with stretchy or synthetic fabrics because it will shrink when the fabric doesn't, making the seam pucker.

100% Cotton thread is also widely available, though usually labeled as quilting thread. Keep in mind that the quilting thread is way too thick to fit through the eye of my needle! Also, a low-quality cotton thread can shrink when washed. And just like 100% cotton fabric, cotton thread produces lint.

Polyester/Nylon thread

Strong, durable threads with some stretch, making them suitable for stretch fabrics such as synthetics and knit; in general, for all types of sewing. These sewing machine threads often have a wax or silicone finish—it allows the thread to slip through the fabric with little friction. You can use cotton-wrapped polyester thread with most types of

sewing fabric

. Polyester thread doesn't shrink or fade when washed and doesn't produce a lot of lint, which keeps your machine clean. Most of what is called the "all-purpose" thread you'll find at fabric and craft stores is 100% polyester.  

Specialists thread

You should match these threads to the thread content of the fabric of your sewing project. They are made from a variety of materials, such as silk.
When should you use polyester thread for the sewing machine and cotton thread for the sewing machine?
Let's see what Made to Sew thinks about it.
Following the advice of sewing purists, ‌use the same thread as the fabric yarn content. 
So, this one is easy: use cotton thread to sew cotton fabric, right?
Cotton thread is indeed a perfect accompaniment to 100% cotton fabric. 
This sewing machine thread type is most commonly used in patchwork and quilting. 
One cotton thread's characteristic is that they have very little "give" and are weaker than other threads, for example, polyester. 
Using them on lightweight, delicate projects works out excellently as you want the thread to be weaker than the fabric. Otherwise, any potential stress on seams would cause the fabric to tear, and we prefer when it's not the fabric but the thread that breaks. 

Image source: Thrifty Fun
According to Made to Sew, polyester thread is your go-to everyday thread.
You can use it on a variety of different projects for both hand and machine sewing. 
It's durable, which makes it excellent for projects that feature a great deal of wear and tear.
Polyester thread has a small amount of "give," being suitable for stretch and knit fabrics. This type of sewing machine thread is available in the widest array of colors.
Examples of this type of thread are Gutermann Sew All 100% Polyester thread, available in many different-sized spools: 100 meters, 250m, 500m, and 1000m.

Image source: Sew Sew Lounge
"Just like using the correct needle, using the right type of thread will make an enormous difference in your sewing."
—explain the authors of Sew Sew Lounge blog. 
Read about sewing machine needles here. 
With countless brands of thread, different fiber content, and spool types, the choice is vast.  
Let's make your sewing machine thread suit your sewing needs!
Feature
Description

Fiber content

How is a sewing thread made, anyway? 

It's made by twisting yarns of the same thickness to form a circular cross-section.  

Thread is made from natural fibers such as cotton, wool, linen, or synthetic fibers, such as polyester, nylon, or rayon. 

Thread needs to be strong enough to hold seams together with regular wear and laundering.

A type of spool

Interestingly enough, the type of spool category describes how the thread is wound on the spool:

stacked—when the thread comes off the spool from the side. This type works best when the thread spool holder is vertical to the top of your machine or

cross-wound—in this case, the thread comes off the spool from the top. It's the most suitable when the thread spool holder is horizontal to the top of your machine.

What's the best way to avoid thread feed problems? Making the right decision in this department. 

Thread brand (read also about

sewing machine brands

and our research regarding the

best sewing machine

)

When you are just starting to sew (glance at sewing machine for beginners and kids sewing machine articles), you usually invest in the brands that are most available in your local sewing and craft stores. These brands will most probably be Coats & Clark (a 200 years-long tradition!) and Gütermann (which has been thriving on the market for 150 years).  

Read "What Brand of Thread Should You Use?" on The Sewing Garden. 

Both brands are appealing for their wide range of color choices and other handy features. The most significant difference between them is how the thread is wound on the spool: Coats & Clark thread is stacked, and Gütermann is cross-wound. 
Remember that a quality thread 
is smooth, 

resists friction during sewing, and 

its stretch is balanced enough to keep from breaking or making seams pucker. 
Coats & Clark was the first cotton thread mass-produced for public use during the industrial revolution and changed home sewing forever.

Image source: The Sewing Garden
We covered all the sewing machine thread's features and types, but specialist threads, the rarer ones, were left apart. 
Let's go through some of them:
Silk—is more elastic than cotton (read more on

Sew4Home

), so sink thread is perfect for delicate fabric with no stretch. It's an excellent choice for hand basting, securing hems, and delicate hand tacking. It is ideal for basting as it doesn't leave a permanent mark or impression on the fabric, and it doesn't tangle as much as other threads. (read here

how to sew

) Silk is excellent for finishing hems, basting (tacking), buttonholes, decorative stitching, and tailoring. It's exceptionally smooth, so it travels through even the lightest, most delicate fabrics without leaving a mark. It's also surprisingly strong, especially when used with beeswax. "This thread is wonderful at sinking into the textured loose weave."—notices

Made to Sew

. Quilting Chanel-style jackets is one example where we can use this type of thread successfully.

Outdoor living—100% continuous multifilament polyester created to resist almost every weather phenomenon, such as UV rays and moisture. Perfect for sewing or repairing cushions and pillows designed for patio use.

Decorative threads (metallic & embroidery)—will achieve their excellent form within a machine or hand embroidery, creating decorative detailing on garments and home decor projects. The range of the variety of different threads and colors will overwhelm you in a good way. When working with metallic and embroidery threads, you'll have to use a specialist needle to prevent shedding and snapping of the thread. (read here about

sewing machine needles

)
Metallic—made from metal strands twisted around a polyester core, commonly used for topstitching or embellishment in home décor. There is a difference between hand sewing and machine sewing metallics, so ‌double-check the spool before making a purchase.
      4. Other—this category gathers super specialties, such as wool, serger, beading, nylon, monofilament, pre-wound bobbins, upholstery, or glow-in-the-dark type of threads. It's not a day-to-day sewing necessity, but it can be your actual irreplaceable rescue in certain rare situations.
What about an extra-strong thread? When to use it?
It's not suitable for most everyday sewing projects but will be handy, for example, for home furnishing projects. The ultra-strong type of thread is made of thicker, more robust polyester able to take a great deal of wear and tear. It will work ideally on denim, sewing leather (also read about leather sewing machine), canvas, and rugged repair work. It's also acceptable to use it for topstitching.
So, do you need a special thread for the sewing machine?

Image source: Deer and Doe
Can you use hand sewing thread in a sewing machine?
You can, but it's better not to for several reasons, according to Shirley Hicks on Quora:
There is much less thread on the spool than that sold by most fabric stores for home sewing or regular large spools for industrial and commercial production. You'll run through it very quickly.

Thread used for only hand-sewing can feature a lower tensile strength than that needed for machine sewing. It's usually all-cotton, while machine thread is often made with a polyester core or a cotton/poly fiber combination. Since it can be made with a looser twist and shorter fiber staple, put in a machine, it can break pretty easily.

Image source: Blog Seamwork
The best thread for sewing machine
The renowned Gütermann and Coats & Clark are broad categories, so why don't we dig into it and explore some examples of what's known as a superb thread. 
In "The Best Thread for Fabric-Based Artworks" on ArtNews, we discover the top five threads to make use of and never regret it! 
| | |
| --- | --- |
| Thread's name | Description |
| Gutermann Sew-All Thread | It's a polyester thread with 50 weight, suitable for all-purpose use. It comes in a 1,094-yard spool. Gutermann Sew-All Thread provides outstanding quality and versatility and offers a low-lint finish with optimal stitch security. We can use it in hand sewing or on a machine, with all materials and seams. The long-staple polyester that it's made of ensures it's firm and less prone to breakage. |
| Mettler Silk-Finish Cotton Thread | This 50-weight thread is produced from 100% long-staple Egyptian cotton with a soft, silky sheen. Already excited? Mettler Silk-Finish Cotton Thread comes in 547-yard spools and is excellent for sewing cotton, making it an excellent choice for quilting, as well as hand and machine sewing. It features a mercerized finish that gives it extra strength to reduce snagging, knotting, and breakage. Being fade and shrink resistant, it provides a trusted finish for heirloom crafts.  |
| American & Efird Serger Thread | Of course, you know Serger! The brand is everywhere, also in the threads' niche! This 40-weight durable polyester thread is often used to construct seams and finish raw edges, being flexible and strong without causing bunching or adding too much weight. American & Efird Serger Thread is slightly finer than standard sewing thread. It's designed for machine use and is suitable for all kinds of sewing and embroidery projects. A 3,000-yard cone comes in a delightful variety of colors, ready to take up all of your unique projects. |
To read about 
Coats & Clark Inc. Dual Duty Heavy Thread and

Singer Polyester Hand Sewing Thread, 
take a look at the ArtNews. 
Also, check out our blog about a handheld sewing machine. 

Image source: Sew 4 Home