Is there anything better than finding your kiddo a lifelong passion with thanks to the right kids sewing machine early on?
Every child is born with an enthusiasm for discovery.
In significant part, it's up to you if your little one has what it takes to turn their passions into a well-paid job in the future. 
With our guide at hand, this ride will be much easier!
What makes a youth sewing machine unique?
They are designed to be exceptionally safe and easy to use. Every kiddo can handle it without problems, even when they eventually sew all by themselves, without your supervision. 
Now, parents' job is to ensure the kiddo has everything they need to develop their skills. And here comes the challenging research of the best sewing machine for kids.
Kids first sewing machine—things to keep in mind
Before we get to the top ten list, let's get acquainted with the basics. 
Debbie Shore is fabulous at teaching children how to sew:
thread a needle, 

knot the thread, 

sew a running stitch, and 

sew on a button;
As a result, your kid will put together a scary monster made only thanks to their creativity!
There's no better start than a handmade monster, as there is no better end than custom woven labels.  
Get to know these different types of woven labels, care labels, and hang tags. You can design them exactly the way you want them to be and produce them in any quantity.
Super Label Store is glad to help anyone customize their textile, clothing, towels, sheets, accessories:
DIY/clothing crafters at home, 

textile/sewing fanatics,

small/starting clothing brands,

fashion designers, as well as

hotels, bars, and hospitality businesses;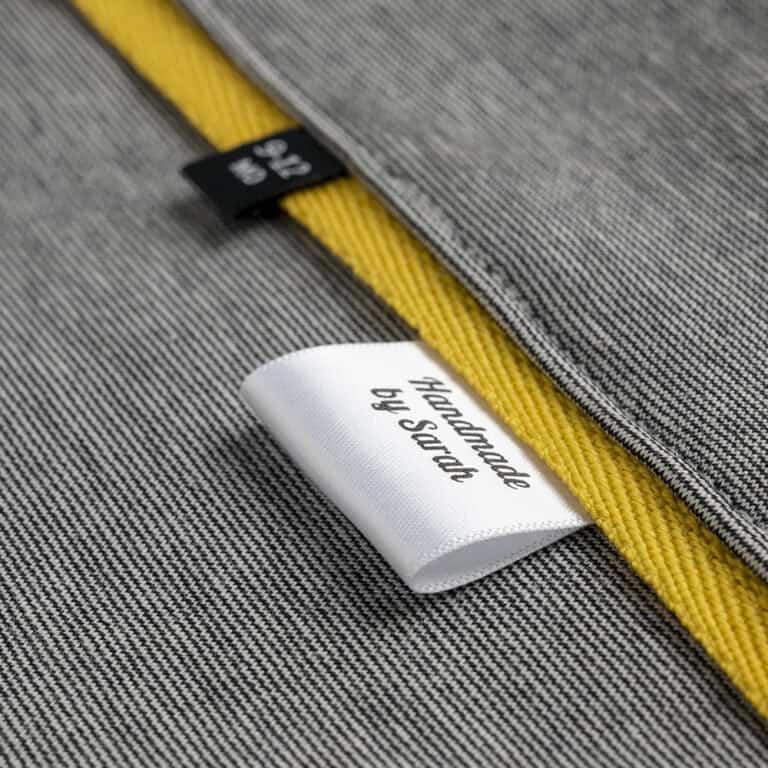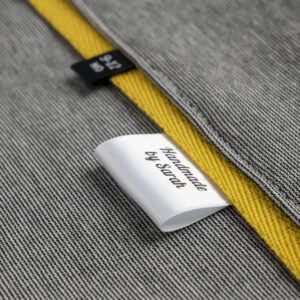 Do's and don'ts in choosing a children's sewing machine
In the next paragraph, we will review the best sewing machine for children. We're sure that your youngster will love their new affordable hobby!
But first, let's have a look at the things you should pay attention to when picking your kiddo's sewing appliance. 
We tackled the question in the table below:
| | |
| --- | --- |
| Features important to look for | Things to avoid  |
| Safety features | Computerized sewing machine |
| Simple to use for little hands | Variable speed foot pedal |
| Portable and lightweight | Too big or too heavy machine |
| Hand switch for consistent speed | |
| Real machine that will develop manual skills  | |
The information in the table was prepared by the Best Kids Sewing Machine. On the site, they also share another piece of practical knowledge:
"Machines with all the bells and whistles can get expensive, but the best kids machines will be basic and come at a reasonable price. […] the three most popular high-quality child's sewing machine brands that perform real stitches using thread (not a toy) are Janome, Brother, and Singer." 
Remember that we're talking about the kid's real sewing machine, not a toy! Avoid a toy sewing machine like the plague—you take away your kiddo's chance to develop real skill.

Image source: DIYS
According to Sew My Place, when it comes to boys and girls sewing machines, you should:
Choose quality over price
The goal isn't to hunt down the cheapest sewing machine on the market. 
There are plenty of them. It won't even be so hard. 
Unfortunately, many parents have the approach that goes: 
"It's just a little girl's sewing machine. She'll play around a bit and then break it quickly, anyway."
But think about it as an investment. To truly foster your child's interest in sewing, buy them a quality machine. It's extra hype and good energy to persevere. 
Prices? 
"The best sewing machines for kids are standard sewing machines made for beginning sewers. And you can find quality, name-brand sewing machines for $100 or less."
(check our article reviewing sewing machine for beginners) 
It's worth keeping in mind that a less than $150 sewing machine will be pretty basic. It may lack some features that could help your child learn to sew faster. So your quickly learning child (as they usually are) might outgrow such a machine in a year or two.
Consider paying a little more to make a real investment in the future of your youngster's passion. The point is to find a medium-cost appliance that they can continue to use as their skill level grows. 

Image source: Goldstar Tool
Sewing machines for children are often colorful and look like toy machines. These aren't always of the highest quality.
Look for a name-brand product from a company known for quality. It can be a Brother sewing machine, Janome sewing machine, Singer sewing machine, Baby Lock sewing machine, or similar.
Keep the number of stitches low, as they add to the price, not giving much in return. Your child doesn't need hundreds of them, several stitches will do. 
"Most young sewers only need 10 to 12 stitches (including basics like the straight stitch and zigzag stitch) to start."
—Sew My Place confirms.
      2. Avoid "toy" sewing machines
This is a big one. 
You'll see them everywhere, and your kid will love them.
This shiny, decorated with pictures of hearts, flowers, or cartoon characters, a full-color palette sewing machine for 8 year old will ignite every inch of passion in your dear little ones. 
And guess what? 
This is precisely the one you shouldn't buy. 

Image source: YouTube
You'll notice them without problems at the toy aisle of your local department store. 
Yes, they are cute. 
Also, they are cheaply made and rarely last long, and what you make using them—stitches, for example, maybe weak and not hold.
"On top of all of that, toy sewing machines aren't the best tools for teaching a child real sewing skills."
—reminds Sew My Place.
Unless your toddler is an actual toddler and the only "sewing" they know is throwing their toys around the sewing room. 
But there is also another side of the coin with toy sewing machines, as listed in the blog "The Deeper Side of Toy Sewing Machines": 
toys are for kids,

these toys help to pass on the traditional sewing custom,

kids wish to contribute to the world of grown-ups, and so on!
Check the whole story about sewing machine toys on Sewing Machines Plus. 

Image source: Eclectic Maker
      3. Choose a sturdy and safe sewing machine
Sounds obvious? 
Even if it does, these things are easy to forget, being under the charm of your kiddo's sudden love for sewing and everything related to it. 
Safety has been the parent's biggest concern since the dawn of time. 
A high-quality sewing machine provides it better than a low or average-quality appliance. 
Look for safety features, like finger guards, to protect your children from getting jabbed by a sewing machine needle. Read here about sewing machine needles. 
Encourage your kids to learn to sew basics before getting down to business with a real machine. Explain thoroughly how to thread a sewing machine before they try to do it by themselves.

Image source: The Creative Folk
      4. Choose a simple and easy-to-use sewing machine 
We're measuring two equally significant weights on the scale here.
On the one hand, you want to develop your child's skills, so you want to invest in the machine that encourages this. 
On the other hand, you don't want to buy a sewing machine for 10-year old that's so complicated that it makes your child run away (back to their video games). 
We need just a pinch of positive frustration at the beginning, not a gram more than that! 
The moment your children can't figure out their sewing machine, you've lost their attention.
Put some effort into imagining how you felt at the beginning of your sewing adventure: 
Would you feel at ease with the machine you're about to buy for your kid?

Does it seem relatively easy or hard to tackle?
Many sewing machines have specifically designed "ease-of-use" features. Go for these models when shopping for your sewing beginner kiddo. 
An example? An automatic needle threader will make the threading job much more manageable.

Image source: We All Sew
What to equip yourself with besides
kids sewing machine
Before we reveal our ten top picks, we've got another word of advice. 
Let us answer several burning questions about taking care of your little ones taking their first steps in sewing. 
How young can a child start sewing?
As a rule of thumb, kids' sewing machines are designed for ages six and above. Yet, it's not always the case. Some five-year-olds may already tackle the machine pretty well. At the same time, other eight-year-old kids may still need constant supervision.
If your child is ready for their first attempt younger, give it a try! There is no specific age that makes a child ready for a sewing machine.
We've learned another couple of tips about keeping your bairn happy with sewing from Eclectic Maker: 
have patience, 

keep the lessons short and sweet,

if your child is left-handed, make sure you have left-handed scissors,

when you are letting the kids go through your spare fabric–don't let them rummage through by themselves,

do not let them loose on your state-of-the-art computerized sewing machine,

teaching sewing should be fun not a chore;
Another set of hacks?
Let's check out those by Philly Art Center.
talk with children about safety (a lot!), 

show them how things work, 

make it a little easier (for example, draw a stitching line directly onto the fabric for kids to sew onto using chalk or a fabric marker),

give them independence—trust them that they can handle some things by themselves; let them be proud of what they did!

give them freedom—experiments are fun; don't take it away from them. Let them test various kinds of

sewing fabric

and experience crazy stitches;
Find more excellent tips on Hello Sewing in the article "Teaching a Child to Sew Made Easy with 10 Smart Tips." 

Image source: Philly Art Center
10 best sewing machines for young beginners
Are you looking for the most creative and also helpful way to engage the mind of your kid? Playing video games doesn't seem to ignite their creativity?
A kid's beginner sewing machine might be what you're searching for. 
Yet, choosing the ideal child sewing machine doesn't come easy. There are plenty of them on the market, just as there are a thousand models for adults.
We've done our homework and researched the field of kid-friendly sewing machines. We are glad to share our discoveries below!

Image source: Sewing Machine Zone
The best models will be the easiest to use for children starting out but will also have the potential to increase their skills in sewing.
Here's our choice of favorite ten kid-safe sewing machine models:
SINGER 1304 Kids Sewing Machine
This mechanical model makes the top of many lists, even if users recognize its drawbacks:
can appear a bit too noisy, 

doesn't have an automatic needle threader,

has limited stitch options,

the proper pressure to use on the pedal can be pretty tricky to learn for new sewers,

the plastic bobbins break often and don't wind as well as the steel variety,

the accessory kit included contains only light and mid-weight needles;
The rest of the story is more than satisfying:
has a relatively low speed of 400 spm, which is slow enough for anyone to control the sewing process easily,

LED light to illuminate the sewing area,

comes with an extra-high presser foot lifter,

easy threading and free arm,

adjustable tension,

comes with a travel case,

simple enough for children to use well,

25-year limited warranty,

interior made from metal;
Discover more about this exciting model on The Crafty Needle. 

Image source: The Crafty Needle
Janome 14412 Pink Hello Kitty
Here's how they buy your child—with Hello Kitty! Yet, people who picked this machine as one of the best in the kids' category went with the research beneath the exciting exterior. 
Peter Lappin from Male Pattern Boldness describes the experience with these words:
"It stitches beautifully. I did side-by-side comparisons with my Bernina 930 and there was virtually no difference in stitch quality. The stitches are extremely straight (as opposed to somewhat angled). It performs straight stitch, zig-zag, as well as a few utilities and stretch stitches—all the basics."
With this machine, you're getting:
12 built-in stitches,

4-step buttonholer,

free arm,

stitch selection dials,

aluminum frame;
According to the Best Kids Sewing Machine, it's the best Janome sewing machine to grow with your child. 
This machine may look childish, but it's a pretty serious proposition, even for advanced sewers.

Image source: Male Pattern Boldness
Brother XM2701
Good old Brother. To make things simpler from the start, let's put all the pros and cons on the table:
| | |
| --- | --- |
| Pros | Cons |
| Bright LED light | No automatic thread cutter |
| Automatic needle threading and bobbin winding | No cover to protect against dust |
| One-step auto-size buttonhole | No speed controller |
| Portable and lightweight | |
| Durable and sturdy | |
| Versatile and easy to thread | |
According to Sewing Machine Zone, this model comes with a full range of features and fantastic versatility. 
Its lightweight and compact design appeals to kids. 
But we also get excellent features like 27 built-in stitches: stretch, blind hem, zigzag and decorative, plus an auto-size buttonhole. 
Also, there's a chart etched on the machine above the stitch selection knob. We love these forever helpful charts.
Speaking of valuable features: the drop-in top bobbin is jam-resistant. Installing the bobbin is easy and makes threading super convenient. A gorgeous transparent bobbin cover allows you to know when the thread is running low. We won't even mention the automatic bobbin winding.
Reach out to Sewing Machine Zone for more praises over this hero. 

Image source: The Spruce
Janome Arctic Crystal Easy-to-Use Sewing Machine
If you're curious about this model, José Negrón Costureando prepared an hour-long review and uploaded it to YouTube. This is how you recognize a genuine passion! 
The video is in Spanish, but the automatic English translation is reliable enough to follow:
It's just another example of a fun-looking, kid-friendly machine that functions almost like a full-sized professional model.
The adorable design of this Janome is explicitly sized for slightly smaller learners.
This model (that could be called the best sewing machine for 10 year old) is proud of its easy-to-turn and simple-to-understand adjustable dials. But, hey producers, adult sewers would appreciate this feature too!
A DVD that comes with a machine comprises fun video tutorials that help children learn how to use the machine. It also explains why specific mechanisms work the way they do.
Janome Arctic Crystal has dials for adjusting :
speed, 

thread tension, 

sewing direction, and 

automatic stitch type; 
It's also equipped with:
a removable free arm piece, 

dual retractable spool pins, and 

several practical presser feet;
DIYS remains that the cheerful mint isn't the only available color of Janome Arctic Crystal. It also comes in bright pink and cheerful blue.

Image source: Janome
Brother SM1738D Kids Sewing Machine
We never have enough of Brothers. 
As Sewing Machine Buffs found out, in this kids model, we get:
four sewing feet (including zigzag, zipper, button sewing, and buttonhole feet),

a free arm function to sew items with smaller openings (such as sleeves and cuffs),

a drop-in bobbin system to quickly set up the bobbin and keep it securely in place while preventing jams,

a stitch selector dial that comes with mini diagrams of the different stitches (to simplify the selection process,

automatic adjustment of the width and length of the stitches,

17 built-in stitches bring absolute fun to the table;
Sewing with this model is exciting for kids not only because of the excellent set of features. There are also four Disney-themed faceplates that you can swap out. Don't say it doesn't matter! 
"This machine is ideal for working on basic sewing tasks such as mending garments, handling simple DIY projects, and sewing basic home décor. The theme can be set up based on your mood."
—summarizes Sewing Machine Zone. 
Singer Tradition 2277 Sewing Machine for Kids
Just as the name suggests, most of us know this machine. 
It's not only an ideal choice for entry-level users. This machine is powerful enough to be considered a choice for ages as it comes with a 25-year limited warranty.
Quilts Review puts all the juicy features down:
23 built-in stitches, including 19 decorative stitches,

automatic needle threader,

free arm sewing machine,

one-step buttonhole,

heavy-duty metal frame,

high presser foot lift,

automatic reverse sewing option;
It's a kid-friendly choice with a lot of extra accessories: 
dust cover, 

a variety of presser feet, 

a quilting guide, 

needles, 

caps, 

bobbins, 

spools, and others;
Children as young as five can get overwhelmed by this model, but a teenager will appreciate its:
23 stitch options,

ease at use,

long warranty to protect investment,

speed control dial, and

automatic reverse sewing option;

Image source: Bee Sights
Brother CS6000i Computerized Sewing Machine
This Brother is an overall winner in all the categories. 
We wrote about it also in the sewing machine for beginners blog. 
While it may seem weird at first to give such a computerized machine to a kid, some experts stay firmly in this position. 
And here's what, according to the Best Sewing Machine for Beginners Today, are Brother CS6000i's "key features at a glance":
60 built-in stitches,

seven styles of a one-step automatic buttonhole,

backlit LCD,

automatic needle threader,

easy threading,

speed controller,

detachable extension table included,

built-in free arm,

nine presser feet;
There is one prerequisite to hand this machine to a kid. 
For starters, you must be sure that it's a long-term adventure for them. You don't buy a machine like this for two weeks of fun. 
Second, give it to your children if they are independent beings, able to think and act by themselves without your constant supervision. A highly manually skilled five-year-old is not enough for this model. 
You must be convinced that your little one understands a sewing machine and knows how to operate it. 
At this point, you'll find nothing as good as Brother CS6000i!
Also, listen to Liz and her "Tour of Brother CS 6000i Sewing and Embroidery Machine for Quilting."
NEX Sewing Machine Free-Arm Crafting Mending Machine
This kid's sewing machine costs less than $50. 
For its complete specification, check American Sewing Machine. 
This model is a portable, intuitive, simple Walmart sewing machine that can run on battery power.
White and pink features and lightweight construction make this model great for fun-loving and ambitious kids. 
You get:
According to Quilters Review: 
"Great for beginners, this machine still packs a lot of power in a small machine, offering:

double threading and speed options

operates off DC 6V or battery

forward and reverse options
While on the downside, it allegedly has: 
fragile bobbin design,

hard instructions,

narrow foot pedal;

Image source: American Sewing Machine
Janome 2212
What about Janome 2212 will make your kiddo happy?
If we listen to the Get Sew suggestions, there are two main reasons:
It's well-suited for beginners

It works great with thicker fabrics
Now let's tackle the first of them: Why is Janome 2212 a good solution when you're looking for a machine for your youngster?
This robust sewing machine packs in:
12 built-in stitches, 

a 4-step buttonhole function, and 

a speed of 1000 SPM;
If this wasn't enough, the setup is quick and easy. 
With the stitch guide on the top of the machine, you use a dial to pick your chosen option. 

With the second dial, you adjust stitch length and width. 
With Janome 2212, you adjust stitch tension manually. 
Working with thicker fabrics may not be what your child expresses as the first need, but a little older sewing beginner will appreciate it. 
The thing is that when a manufacturer works on designing a beginner or child sewing machine, making it able to sew thick fabrics is the last thing they want to achieve.
Janome 2212 is an exception, and that's why we underline this feature. 
It's thanks to the powerful motor and over-the-top speed that this Janome easily handles denim.
Don't forget that using the correct needle is still a must. 
Read the full, exhaustive description of this model on Grandma Likes to Sew. 

Image source: Grandma Likes to Sew
Janome Fastlane Fuschia Basic Sewing Machine
For an average kid, the bright exterior of this machine will, naturally, make a difference. 
Yet, apart from having an eye-dropping color, this cutie has a couple of other good features to it. 
According to DIYS, this Janome kids sewing machine is 
well-sized for small hands, 

lightweight & portable, and 

intuitive (meaning its key features are easy to find);
Add a decent range of professional features, and we've got a bingo:
ten applicable automatic stitch settings,

a free arm feature for sewing sleeves and cuffs,

a snag-free drop-in bobbin system,

the needle comes with an easy-to-navigate guard designed to protect little fingers;
Some users say, though, that this colorful beast is not the easiest to set up. 

Image source: Rush Repair Service
Check-in with Super Label Store for other valuable sewing-related inspiration like:
And if your goal is to find the best sewing machine ever, we're equipped with a fair dose of information on this subject as well.