Has Your Embroidery Hoop Become Your Ally in Your Embroidery Endeavors Yet?
An embroidery hoop—known also as a tambour frame—is built of two concentric circular or elliptical rings.
Out of these two rings, one is slightly smaller than the other. The larger ring has a tightening device, which usually comes in the form of a metal screw. 
Your embroidery fabric will sit between these two rings that hold it taut. 
You reposition the hoop when working over a large piece of fabric. (read our article about the types of fabric)
The purpose of the embroidery hoop is indispensable: it keeps your fabric taut while stitching, enabling you to create even stitches and ensuring consistent tension during the embroidering process—explains DMC. 
As underlined by Embroidery Rocksea, a hand embroidery hoop can be helpful for your projects, minimizing your effort in managing the fabric and enhancing the stitching experience. 
If you don't have a hoop at hand, you can use another fabric frame. For example, if you want to make a lightweight embroidery hoop out of a plastic takeaway container, check out this guide by Instructables. 
In the following paragraphs, we look closely at the types of embroidery hoops, their sizes, and their uses. 
Also, if you love embroidery as much as we do, you will fancy our blogs about:

Image source: YouTube
Types of embroidery hoops
The embroidery hoops you will often come across are wooden and bamboo.
A wooden embroidery frame is probably the all-time favorite of most embroiderers. It looks nicer for finished pieces than plastic hoops do. In addition, it's affordable and can be reused almost infinitely. 

Image source: Crewen Ghoul
Darice is a well-known, widely available brand in the world of wooden embroidery hoops. You can get your 4 embroidery hoops or larger ones on Amazon by clicking this link. 
"Starting out on your embroidery journey, it's wise to experiment with a range of different embroidery hoops."
—claims Hope and Heart. 
Wooden hoops are lightweight, easy to use, and can come in different shapes, whether it's oval, square, or a more down-to-earth round. A wide range of sizes they come in will suit most of your projects. A wooden hoop is eco-friendly and in some parts biodegradable.
Both plastic and wooden embroidery hoops come in similar shapes and sizes. Yet, the way we use those two options varies. Standard plastic embroidery hoops are the same as wooden ones and work in the same way—with the only difference being that they are plastic.
Here's what you should know about particular types of these two categories of hoops:
Wooden embroidery hoops
Plastic embroidery hoops

Wooden bamboo hoops are cheap and good for novices but they don't always manage to grip the

embroidery fabric

tightly enough. Hence, you need to constantly pull the fabric taught when you work with these hoops. Wrapping the frame can eliminate this problem to a certain degree but won't fix it for good. A bamboo embroidery hoop is also prone to splinter—a rough and sometimes splitting edge of a hoop is never a good idea when it comes to the well-being of your projects.

Flexi Plastic hoops are flexible; the outer hoop is stretched over the inner hoop to fall into a ridge in order to keep your fabric in place. No wonder it's a great go-to accessory for beginners—it's easier to get the fabric tight and smooth for use. 

Wooden beech hoops are easy to use and lightweight. They have a very smooth finish and you don't risk them splintering. It's handy that you can paint them a darker color if you wish to make them unique against your embroidery project. Another pro of beech hoops is that they grip perfectly, keeping your fabric taught throughout the process; you don't have to pause to re-tighten the frame. We don't have to add that it saves you time and your design doesn't get distorted. 

Spring Tension Embroidery hoops are secured with a spring mechanism that's meant to hold the fabric in place. Read what they are and how to use them on

Embroidery

. 
Embroidering on larger areas is best with a snap-frame hoop, and the material they are made of (plastic or wood) doesn't matter. 

Image source: Paraffle Embroidery
You will find a useful guide through embroidery hoops' types on Crewel Ghoul. 
Check out also our blogs about:
Embroidery hoop sizes
As a rule of thumb, you want your hoop to match the size of your project.
A 6-inch hoop is a good starting size, especially for working on a sampler. The best sizes of an embroidery hoop for beginners are 4″ or 6″.
Smaller hoops of 3 or 4 inches will do their job with 
patches, 

pins, and 

other small projects; 
These hoops can hold the fabric of all thicknesses, including 
felt or 

Aida cloth for cross-stitching;
However, that doesn't mean that there aren't even smaller models of hoops! Check out this Pinterest page with miniature embroidery frames—such as a pack of two 2 in embroidery hoop pieces (2″ inches wide).
Also, embroidery hoops sometimes come in fun shapes, like 
square or 
oval; 

Image source: The Jolly Jabber 
That was the situation with hand embroidery. 
But what if you practice embroidery on canvas but with the use of an embroidery machine? Embroidery library is full of patterns to transform your ideas into a tangible matter. 
According to Kreative Kiwi Embroidery, the size of hoop or hoops your embroidery machine comes with depends on 
the manufacturer, 

the model of your

embroidery machine

, 

the price you paid for it;
A cheaper machine comes with cheap embroidery hoops and is likely to only have only one small hoop. The top-notch models will often come in several sizes.
Keep in mind that if you physically measure your hoop, it will have a different size than it's written on the label. If you measure the area of the sewing field within the hoop, it will vary too. 
To resolve your doubts right away: the physical hoop size isn't the actual sewing field, nor the actual size it is known as. The size of your embroidery hoop gives you rather just an indication of the size of embroidery patterns it can embroider.
So an exemplary 4 x 4 hoop may measure 5.3 x 5 inches around the outside, and have a sewing field, or stitch limit of only 3.93 x 3.93 inches, but it will suit a 4 x 4 inch design!
Clearly, since the machine isn't able to sew very close to the edge of the internal hoop, the largest area it can embroider upon is smaller than the hoop size itself.

Image source: Blog Bernina
And since we mentioned labels—are you familiar with the Super Label Store offer?
The company is focused on supplying sustainable, affordable, and customized solutions for a variety of customers, such as:
DIY/clothing crafters at home, 

textile/sewing fanatics,

(small/starting) clothing brands,

fashion designers, and

hotels, bars, and hospitality businesses, 
who want to customize their textile, clothing, towels, sheets, and accessories with custom woven labels, hang tags, and care labels.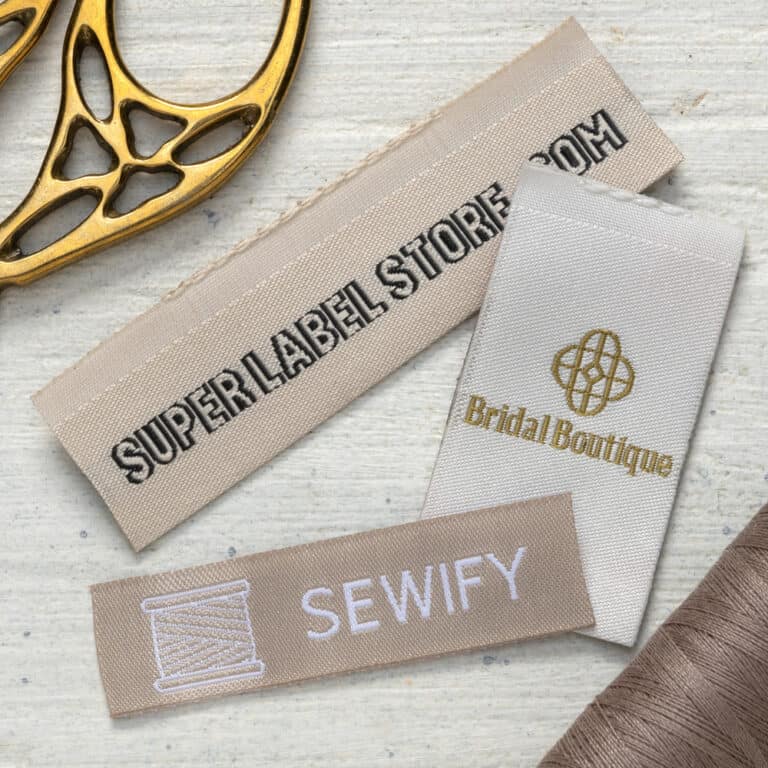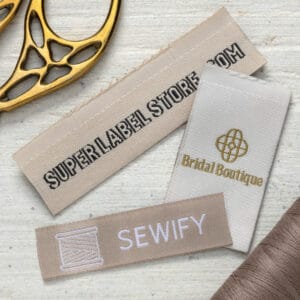 Creating an embroidery loom with an embroidery hoop
When we're talking about an embroidery loom, we step into an area of an artisanal activity called weaving. 
Weaving is a process of combining warp and weft components to make a woven structure. 
See the picture below for a taste of how beautifully your precisely conducted weaving project may come out.

Image source: YouTube
Got inspired?
Watch "Weave a Summer Beach Wreath – DIY Embroidery Hoop Loom" on the HGTV Handmade channel and put this idea in practice step by step:
"How to use an embroidery hoop as a loom"? Here's the response by Kate from The Weaving Loom in her handy step-by-step guide. 
This idea of using a hoop is based on your creativity and the affordability of these embroidery supplies—you can use an embroidery hoop instead of buying a dedicated loom to create your project. Otherwise, if you want to buy it, check out eBay or similar sources for an original loom.

Image source: The Weaving Loom
Here's how to make a project on an embroidery hoop, using it as a loom, according to The Weaving Loom:
Steps
Description

1

Remove the outer embroidery ring and set it to the side.

2

Tie your warp thread to the embroidery hoop using a slip knot.

3

Now, pull the warp thread straight across your hoop.

4

Bring the warp thread over the hoop, then down and around.

5

Pull the warp thread back towards the center, slightly (around an inch) to the right of the spot where you started your warp thread with a slip knot.

At this point, your thread (read about embroidery thread and embroidery floss) is passing over the top of the hoop again. 

6

Take the thread positioned an inch from the slip knot thread and pass the warp over and around the hoop so it comes out the bottom. To see the entire process in pictures, go to

The Weaving Loom

. 

7

Keep bringing the warp thread across the loom to the position an inch to the right of the previous thread. Every time the thread passes over an edge, then around to the bottom, and then over the next spot.

8

Continue with this 8-like figure about an inch apart until you reach the last open spot on the loom.
Are you with us?
At this point you can loop the warp thread over and around the last spot to achieve the effect as below:

Image source: The Weaving Loom
Can you see that your middle is making a messy criss-cross of warp threads?
There is a solution: take the warp string that you just looped around the last spot on the hoop and pull it to the middle. Then, string it down around between some of the warp threads—you'll notice that your warp threads are evening out to nice triangles.
Then, wrap your warp thread around the middle again at a perpendicular angle to secure the middle even more precisely.
You will see that the only spot without two warp threads is where you started your slip knot. So, bring your warp thread down over the opposite side of your beginning thread and tie it off. Now you will have two warp threads going around the hoop for each spot.
We are almost there!

Image source: I Love My Burg
The last thing to do is to put your outer hoop around your warped hoop and tighten it so that your warp threads don't slide around. 
Three, two, one, and you can get on weaving!
Here are some weaving techniques by The Weaving Loom and some more to check out also on The Weaving Loom. Follow Kate on Instagram to be always updated with her numerous inspirations and doings. 
As you see, setting up for this adventure was a piece of cake.
Follow Super Label Store blog for more embroidery ideas—get your first 
embroidery kit

(which is basically an embroidery hoop with fabric and

embroidery needle

), 
and create your amazing embroidery stitches, whether you go for patterns such as
You may also get inspired by the embroidery wheel, carefully described in the blog "How to Work Woven Wheel Stitch" on The Spruce Crafts. 

Image source: Needle N Thread
Embroidery hoop—how and why to use it?
Last but not least, let's have a closer look at how to use an embroidery hoop and why you should do it in the first place. 
The way to use an embroidery hoop couldn't have been simpler. 
The whole process comes in eight easy steps, as described on Crewel Ghoul:
First, loosen the screw on the top of the hoop.

Then, separate the inner and outer rings of the hoop.

Next, place the inner, smaller ring on a flat surface and the fabric on top of it.

Place the outer hoop over the top of the fabric embroidery hoops of the inner hoop.

Finally, when both rings are together, you can tighten the hoop screw and pull fabric evenly through the hoop until it becomes tight like a drum. 

Optionally, trim excess fabric around the hoop (it's best to leave just a few inches).
So, why should you use an embroidery hoop, anyway? Here's why, according to Crewel Ghoul:
Thanks to embroidery hoops you stretch the fabric tight preserving the structure and weaving of the embroidery fabric, which helps keep your stitches neat,

Fabric naturally gathers under tension, but ensuring it's kept tight in a hoop prevents your stitches from creating wrinkles and puckering the fabric. You know how nasty puckering may turn out for your projects! Having a smooth piece of fabric when you're done is worth the chase.

Hoops prevent hand fatigue—they stabilize the fabric for you so your hand doesn't have to do it.

Image source: Jenny Lemons