Is Baby Lock Sewing Machine Known Only for Inspirational Sergers? Let's Unravel a Few Mysteries
Even though the Baby Lock sewing machine brings to mind a sewing machine for beginners or kids sewing machine, this is not the case. (Yet, the Baby Lock Zest sewing machine was proudly listed by Good Housekeeping in the article "11 Best Sewing Machines for Beginners, According to Sewing Experts"). 
To discover the Baby Lock sewing machine's origins, let's first break down where the brand's name comes from. 
Baby Lock was the first brand to introduce the home serger and has been producing them for decades, regularly adding new patents to back their innovations. Like in 2019, when BLQK Sashiko became the first sewing machine capable of imitating hand sewing. 
The idea was to develop a machine that sewers could easily use at home to do the same type of sewing that professionals did in the factory. 
So what did engineers do? They took the design of the industrial overlockers and shrunk them. Since industrial machines are pretty big, after scaling the model down, it received the disarming nickname "baby." 
Hence, a serger, also known as an overlocker, i.e., a sewing machine used to create finished seams on fabric, modified by the brand for home use, became widely known as a baby overlocker. 
With time, the name has transformed into a shorter "Baby Lock" (Bsewinn).
Who makes Baby Lock sewing machines?
Baby Lock is a Japanese brand committed to producing high-quality products. Suzuki machinery Co., Ltd. manufactures Baby Lock sewing machines in Yamagata, Japan. The brand started selling them in 1968.
According to Krostrade, besides Japan, Baby Lock makes some units in countries such as China, Taiwan, Vietnam, and Thailand; yet, without sacrificing quality. 
Brand's policy—not particularly original but infallible—states proudly:
"delivering only the best quality, made in Japan machines to our customers." (Baby Lock)

Image source: Krostrade
The question that echoes throughout the internet is what Baby Lock and Brother sewing machine have in common.
For starters, they're both Japanese brands. Brother was founded in Japan much earlier as a sewing machine repair company—in 1908—and transformed into a sewing machine manufacturer with the launch of their first model in 1932. (Silver Bobbin) 
But what causes both brands to come up together in conversations is that Baby Lock has a manufacturing agreement with Brother. The latter produces many Baby Lock sewing machines in Japan, following Baby Lock's specifications. 
Should you choose Baby Lock over Brother? 
There are a few reasons pro:
Baby Lock is a sewing-focused company, while Brother is also involved in office supplies. It means that your sewing needs are the apple of the eye of Baby Lock's staff and retailers,

Baby Lock offers extra models of sergers with custom patents,

Baby Lock's motto—"For the love of sewing"—is widely known to hold true, especially when it comes to customer support!
There is also a couple of features worth comparing between that these two, according to Silver Bobbin:
Brother
Baby Lock
Built-in stitches

Varies by model

Brother HC1850 has 130

Varies by model

Babylock Brilliant has 190

Stitches per minute

Varies by model

Brother PQ1500Sl can stitch 1500 per minute

Varies by model

Babylock Accomplish can stitch 1500 per minute

Durability

Some low-end models are less durable

High-quality production ensures durability in all models

Quality

Depends on the model.

Low-end machines tend to be slightly lower quality

High quality is evident in all models

Affordability

More budget-friendly

More expensive and tend to use higher quality components

Service and Warranty

25-year limited warranty on many models

25-year limited warranty on many models/Gold warranty in high-end machines

Experience Level

A technology company that makes computerized electronics, such as printers, scanners, label printers, and fax machines;

Only sell sewing machines and sergers. A specific focus on sewing gives Baby Lock the edge on sewing expertise.
For an exhaustive comparison chart showing similar models produced by both brands, go to MyersSewing.
Check also how to keep the machines by both brands well-kept in a video by Angela Jasmina, "Brother & Babylock Embroidery Machine Maintenance":

Image source: Sewing Is Cool
Now that you know that Baby Lock comes from Japan, we know what questions may are coming to your mind:
W

here to buy Baby Lock sewing machines? 

Do I have to order them from Japan? 

How‌ ‌to‌ ‌service‌ ‌a‌ ‌Baby‌ Lock sewing machine? (read about a

sewing machine repair

)

Is there a risk there will be no Baby Lock sewing machine repair near me? 

Will I get Baby Lock sewing machine parts outside of Asia?
The only answer to all these questions is that you absolutely should not worry! 
Baby Lock is a global brand with registered Baby Lock sewing machine dealers, with servicing and machine parts available throughout 
Europe, 

Africa,

The Middle East,

The US, 

Canada, etc. 
For the comprehensive list of contributors, go to the Baby Lock website. 
You can find the Baby Lock sewing machine of your choice with the manufacturer's website's retailer finder in two steps:
put in your zip code, and 

find the stores in your location. 
Purchase your Baby Lock sewing machine only from authorized retailers! Only they can issue a warranty recognized by the brand. Also, they are perfectly prepared to train and demonstrate the use of the sewing machine correctly. 
After buying, register your Baby Lock machine for warranty purposes and to make service smoother. 
"Why Trust Baby Lock?"—responds Steve Jeffery, President of Baby Lock USA:

Image source: The Sara Project
Are Baby Lock sewing machines good?
Is the Baby Lock serger sewing machine any good? We indeed wouldn't be talking about it so extensively otherwise!
According to Krostrade: 
"Baby Lock is a good sewing machine because the brand prides itself on maintaining quality craftsmanship. There is also an array of units to choose from to help you select the best ones for your needs." 
One of these particular units is Sashiko. This sewing machine uses a LED monitor, and it's designed to create stitches that look handmade. Therefore, you can control the stitch length and spacing, and you have a specialty stitch mode for decorative techniques. 
Moreover, the built-in tray is convenient for storage, and the fluorescent lamp makes working more comfortable. 
And look at that neat exterior!

Image source: YouTube
Also, let's see "What Can a Baby Lock Serger Do?" featuring Linda Pacini:
According to Sewing Life, there are at least 14 reasons to fall in love with a Baby Lock sewing machine:
ExtraordinAir™ Threading—takes the thread through every looper automatically. So thread the loopers quickly and effortlessly!

Image source: Tumor Farmer
The Automatic Thread Delivery System—now you can set the type of stitch and serge you want in the Baby Lock Evolution and Baby Lock Ovation to deliver a balanced stitch on every type of fabric using different types of thread. It means that you can stitch two different fabrics simultaneously, and your Baby Lock will do it seamlessly without skipping. (read our blogs on

How to Thread a Sewing Machine

and

Sewing Machine Thread

)

Tubular Loopers—this feature allows you to thread and sew the fabric in any order. Simply set it to the type of stitch you want to perform and serge. The feature is available in Baby Lock Evolution and Ovation. (need a reminder on

How Does a Sewing Machine Work

?

Looper Drive System—it's here to ensure the loopers stay aligned and undamaged. This magical system protects the sewing machine from requiring repairs, allowing you to serge without worries. 
Check out these "7 Clever Overlocker Tips" by Lucy from Sew Essential: 

Image source: The Sara Project
Advanced Knife Driving and One-Way Clutch System—it seems like things are getting complicated, but not really. It's just that

"Baby Lock has created a knife system with a larger cutting bite that cuts thicker fabric with ease and increased visibility,"

as explained by

Flash Sew and Quilt

.

Full-Featured and Single Unit Differential Feed—adds a one-unit feed dog device to the sewing machine, providing more vital feeding and a consistent gathering.

Dial Adjustable Stitch Length and Automatic Rolled Hem—enable us to adjust the length of the stitch by changing the Dial. The Dial features an Automatic Rolled Hem setting that retracts the built-in stitch width finger to perform a rolled hem finish.

Fabric Support System—this aspect keeps stitches flat and balanced, no matter what speed, fabric, or stitch you choose (

Ready Set Sew Tn

). Fabric Support System comes in the Baby Lock's ExtraordinAir sergers. The built-in stitch fingers are designed to move along with the knife blade and adjust the seam repeatedly with the cutting width. 
Want to learn to sew and discover more quirks about sewing fabric? Learn about sewing leather and leather sewing machine on our blog. 
Vertical Needle Penetration—other sewing machines use slanted needles, but not this one. Slanted needles push and damage material while Baby Lock's vertical needles sew directly up and down. (for a quick lesson on

sewing machine needles

, jump to

Super Label Store

)

Image source: Sarah Hearts
Chain and Cover Tension Disks—it's a feature that can perform

chain stitches, 

triple cover stitches, and 

cover stitches. 
A single tension dial controls the three cover needles, so you save time because you don't have to use a different dial to adjust each of them. This feature is included in the Baby Lock Evolution model.
Also, you surely want to break down the concept of sewing machine tension before it's too late!
And before we forget that sewing is all about having a great time, let's spend some fun quality time with Sue, a Baby Lock Educator, and her presentation "Sew Fair – "Serger Fun" with Sue Kostroski":
8/7/6 Thread Stitch Capacity—it's just another feature taking us closer to the sewing perfection and utmost fulfillment. This feature allows you to perform more than one stitch combination (a total of 87 stitch combinations). Machines with this option—Ovation and Evolution—can also sew through heavier and thicker material better than most sewing machines for cover stitches.

Image source: Tumor Farmer
Better? Nicer? Higher quality?
There's another way to achieve these goals for your DIY garments and accessories. 
Super Label Store is a producer of custom labels. The brand collaborates with 
DIY/clothing crafters at home, 

textile lovers,

starting clothing brands,

fashion designers, and

hotels, bars, and hospitality businesses
providing different types of woven labels, care labels, and custom hang tags. 
Don't think twice if you know how to sew or are close to it; design and order woven labels created especially for your products.
Nothing adds professionalism to your clothing, accessories, beddings, and blankets as personalized woven labels.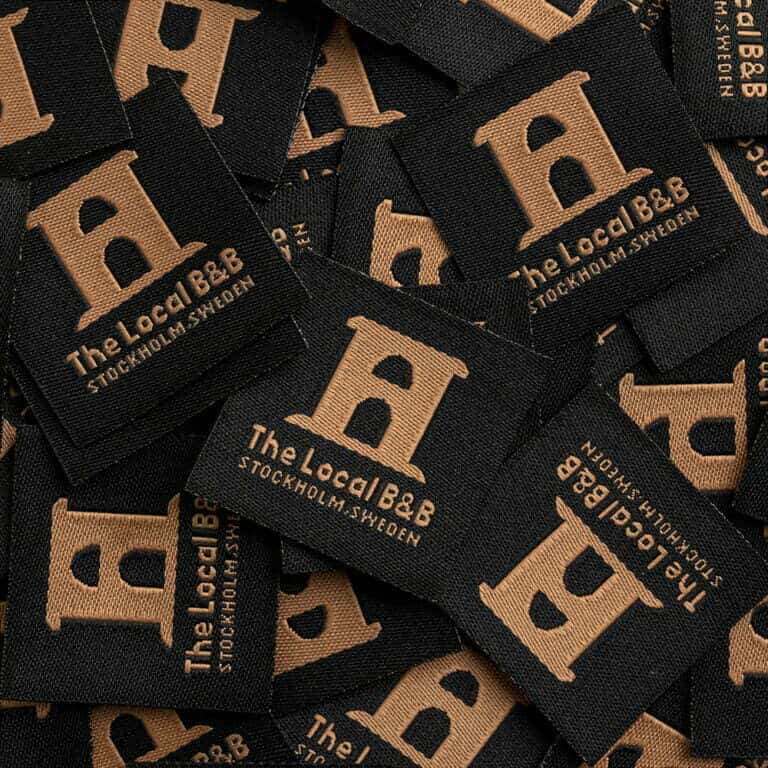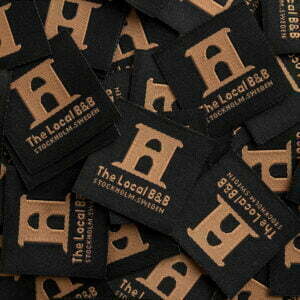 Now, let's get back to the remaining Baby Lock's traits that stole our hearts: 
Cover Stitch Chaining Off—allows you to start or stop cover-stitching with ease. Begin or pause cover-stitching effortlessly by automatically chaining it off.

Thread Delivery Unit for the Wave Stitch—exists to create an even Wave Stitch using a thread delivery unit. 

Needle Threading System—makes threading a needle quick and easy.

Image source: Tumor Farmer
And when it comes to cutting edge technology that Baby Lock gladly makes use of:
Chain-off Forming Device,

Cover Stitch Forming Device, 

Gas Carry Threading Device,

Looper Drive Device for Sewing Machine,

Needle Clamp Device for Sewing Machine,

Needle Threading Device

Stitching Mode Changer, 

Storage Device for Power Code of Sewing Machine, and others
(by Sewing Life)
Baby Lock sewing machine models
It can't go unnoticed that Baby Lock sewing machines have top-notch adorable names. 
Just think about 
Baby Lock Crescendo sewing machine,

Baby Lock Soprano sewing machine,

Baby Lock Joy sewing machine,

Baby Lock Jubilant sewing machine,

Baby Lock Lyric sewing machine,

Baby Lock Brilliant sewing machine (for sewing),

Baby Lock Grace sewing machine,

Baby Lock Chorus sewing machine (for quilting),

Baby Lock Zeal sewing machine,

Baby Lock Jane (Baby Lock straight stitch sewing machine)

Baby Lock Triumph (serger),

Baby Lock Destiny (Baby Lock sewing and embroidery machine),

Baby Lock Solaris 2 (Baby Lock sewing and embroidery machine);
and you'll forget any other machine you've ever come across. 
Eager to hear any Baby Lock sewing machine reviews? Let's listen to Julie, also known as The Crafty Quilter, and her opinion of the Crescendo model:
"I use it for piecing, applique, and free motion quilting—basically everything. It's very user-friendly, so I feel comfortable with the different functions (even though I haven't tried them all yet). […] Free motion quilting on the Crescendo has been very sweet. There are two different FMQ feet. One has an open toe that hops or bounces across the top, and the other one has a small circle toe that just hovers over the top. This latter foot is very smooth and great for quilts that don't have bulky seams."

Image source: Baby Lock
If you're hungry for more consumer reports Baby Lock sewing machines, here's Sarah Hearts describing her experience:
"Since my Baby Lock Soprano arrived in August, I have completed three garments and one Halloween costume! From the first stitch, I was instantly impressed with the new machine. If you're new to sewing or have been sewing for a long time and looking for a new machine, here's what I love about my new sewing machine:

the automatic fabric sensor system, 

advanced needle threader,

advanced pivoting feature, 

includes 16 feet + loads of accessories,

comes with a quilting extension table, 
the most popular stitches are front & center."
To put it in order, we're gathered a few pieces of information about the most talked-about Baby Lock models in the table below:
Model
What makes it stand out?
Features

Baby Lock Ellisimo Gold 2 Machine BLSOG2

Sew-Embroidery

finds this IQ technology-based model the most desirable of all Baby Lock sewing machine reviews. It comes with a Needle Cam feature which allows you to watch the sewing process in real-time. 

the max speed-1000 strokes per minute,

Never Miss system for automatic threading,

8.3 inches display shows 16.7 million colors and provides visibility under 176 degrees,

617 embroidery designs (120 frame options, 21 fonts);

Baby Lock Crescendo Machine BLCR

A Crescendo is an entry-level unit based on IQ technology.

One-button operation (start, stop, reverse, elevate the needle, trim thread, and more) provides ultimate results within minutes. 

550 stitches,

7-inches diagonal display with 260.000 colors with a stylus,

25 years warranty

the user interface is available in 13 different languages;

Baby Lock Anna Machine BL20A

Known as the perfect beginner's sewing machine with 15 stitches, no complicated features, and small handy size.

the stitch width is 5 mm, and you can adjust the length between 0 and 4mm. 

electronic foot control,

capacious compartment for accessories in the machine;
It shouldn't be hard to pick the Baby Lock sewing machine suitable for your needs. 
Listen to another satisfied customer describing her experience with Baby Lock Brilliant on The Sara Project.

Image source: The Sara Project
We hope you'll find the best sewing machine for your doings!
Also, look at other sewing machine brands to get some perspective. 
Baby Lock sewing machine prices
Baby Lock machines aren't cheap. 
The quality asks for a fair price here. These machines range between $349 for the most petite, most basic models to $1,999 for more adventurous examples. 
If you don't feel like spending much, consider buying used Baby Lock sewing machines; eBay is full of them!