Are free embroidery designs an idea of our time? They aren't but since the global internet outreach has conquered our houses, hearts, and sewing rooms, how we embroider has changed. (Have a look at our articles about sewing room ideas and sewing room organization).
Nowadays, so many free machine embroidery patterns are available online that you can be sure to find the one you are looking for. 
However, don't be surprised to encounter the opposite problem. Now, choosing only one pattern from all this abundance can become challenging! 
To decide from a glut of 
check our Super Label Store blog section and explore these complex topics.
Side note: If you plan to sell items with free machine embroidery designs commercially, check if the authors labeled them as "for commercial use." Read the fine print from the designer before stitching on your items to sell.  
As a rule of thumb, most designers offer their embroidery designs com free, to stitch and sell in limited quantities. It is usually not allowed to mass-produce your products with embroidery designs downloads free without prior written permission of the author of a design.
It is also forbidden to distribute the design file and its parts. You may only sell or share sewn and embroidered versions of the designs, not digital copies.

Image source: Blog Makerist
Free machine embroidery patterns to download
In this paragraph, we will look at embroidery machine designs to download.
For starters, Sewing Machine Fun lists "11 Sites With the Best Free Embroidery Designs" worth taking a closer look at. 
Check out the following websites to explore your favorite embroidery designs download niche:
EmbroideryDesigns.com,

OregonPatchworks.com,

Embroideres.com,

AnnTheGran.com,

CreativeFabrica.com,

BunnyCup.com Embroidery,

KreativeKiwiEmbroidery.co.nz,

Oma'sPlace.com,

DailyEmbroidery.com, and
Also, when you visit these embroidery library websites, make sure to download the suitable file format. You need a file suitable for your embroidery machine or embroidery sewing machine. 

Image source: Think Make Share Blog
The rule is simple: Only if your embroidery appliance can work with the free embroidery files you downloaded will you have any chance of success in first uploading them to the machine and then working on them to create marvelous creations!
For instance, if you own a Brother machine and want to download free Brother embroidery designs, ensure they are free embroidery designs PES.  
Downloadable embroidery designs for Brother need to have a PES format—a stitch-based file format used by Brother and Babylock embroidery home sewing machines.

Image source: Silhouette School Blog
But, it's a no-brainer that PES embroidery designs aren't the only ones out there.  
What if you don't have a Brother embroidery machine? If you own a different-brand machine and are eager to download free embroidery patterns to get your craftsy creative juices flowing, let us help you do some adequate research regarding design file types.
Let's go through all the available embroidery pattern formats below: (We created the following table with the help of Embroidery and Janome)
File format
Description
Examples of machine models

.xxx

Singer embroidery home sewing machines use this stitch-based file format.

Singer Quantum XL-6000, XL-5000, XL-1000, XL-150,

Singer Futura CE 100 / 200, 

but also

HusqvarnaViking Designer Topaz 50, and Designer SE;

.csd

The .csd stitch-based file format is used by

Poem, 

Huskygram, and 

Singer EU 

embroidery home sewing machines.

Singer EU / Poem / Huskygram,

Singer Futura CE 100 / 200;

.jef

This stitch-based file is read by the Janome MemoryCraft 10000. 

Get to know Janome sewing machine in detail on our blog. Tackle also various embroidery supplies that you will need along the way. 

Janome Memory Craft 9500, 9700, 10000, 10001, 11000, 300E,

as well as

Kenmore Elite 19005, Elite Ergo 19010,

Elna Xplore 8600 / Xperience 8200,

Elna Xquisit II,

Husqvarna Viking Designer SE, Designer Topaz 50;
Are you familiar with 
embroidery machine pattern formats mentioned above? 
Below, we share more extensions of pattern options, but first, let's quickly jump back to the examples of websites with embroidery designs free download. 
Here are several online sources recommended by Sewing Machine Fun:
Falcon Embroidery

(tab "Freebies"), 

CreativeAppliques.com,

Brother Official Website,

DesignsByJuju.com,

ProDigitizing.com;
Apart from discovering free embroidery patterns, ensure you are updated with the knowledge about:

Image source: The Seaman Mom
What other embroidery patterns' extensions can you come across during your embroidery adventure? First, let's check more options:  
File format
Description
Examples of machine models

.sew

This stitch-based file format is used by Memory Craft 5700, 8000, and 9000 machines, but not only! See the column on the right for more

embroidery machine

models. 

Husqvarna Viking Designer SE, Designer Topaz 50,

Singer Quantum XL-5000,

Elna Envision 9006, 8006, 8007, 

CE20,

Elna Xquisit, Elna Xquisit II,

Kenmore 19000 / 19001, Elite Ergo 19010 (if using a card),

Janome Memory Craft 5000/5700/8000, 9000, 9500;

.pes

This stitch-based file format is read by Brother and Babylock embroidery home sewing machines. 

Also, we write about the Brother embroidery machine and Brother sewing machine here if you want to explore this brand better.

Brother PE 100/150/200, PE 180D, PE170D/270D/400D, PE 700, PR 600C/600 II, PC 6500, and many others, 

Simplicity SE3, SE1;

Husqvarna Viking Designer SE, Designer Topaz 50, and Husqvarna Viking Brother White 3300,

Singer Quantum XL-5000,

Babylock Accent/BL60E, Ellageo 3, Ellegante, Ellure, Esante, Espree (similar to Brother 150), Babylock EMP6,

Bernina Deco 330, 500, 600, 650, 

Bernina Artista 430E / 440 QEE;

.dst

This extension indicates a stitch-based file format used by Tajima commercial embroidery sewing machines.

Husqvarna Viking Designer SE, Topaz 50, Brother White 4400,

Singer Futura CE 100 / 200, Quantum XL-1000, Quantum XL-5000, 

Babylock Ellageo 3, Babylock EMP6, 

Brother Ultima 2002, Barudan, Brother (commercial models), Happy, Tajima, Toyota, SWF, ZSK, Ricoma;
That's naturally not all!
Besides .xxx, .csd, and .jef, and the above-mentioned .sew, .pes, and .dst pattern formats, we've got:
.pec,

.hus,

.pcs,

.exp, 

.jan;
Read about these embroidery pattern file extensions on Janome and Embroidery. 
Keep in mind that, according to Lindee G Embroidery, every "non-machine" format, such as .gen, .emb, .pdc, .bx, .esa. requires appropriate software to open.

Image source: Pinterest
Listen to John Deer's Embroidery Legacy in his video "Machine Embroidery File Formats Explained – Machine Embroidery for Beginner's Series" to make sure your embroidery ideas come to see the light of the day smoothly:
As John Deer mentions in his video, these embroidery file extensions may seem overwhelming initially. 
Yet, this is what the Super Label Store is here for—to ensure the most complex constructs look excruciatingly simple. Read our handy guides on the Super Label Store blog to comprehend all the sophisticated embroidery concepts in one go!

Image source: The New York Times
But Super Label Store not only ensures you learn your craft. We also ensure your finished projects stand out and exude professionalism!
 Explore our top-notch 
created individually, in any number, and customized according to the needs of  
DIY/clothing crafters at home,

textile/embroidery/sewing fanatics,

(small/starting) clothing brands,

fashion designers, 

owners and managers of hotels, bars, and hospitality businesses; 
From embroidery enthusiasts to professionals, everyone can customize their textile, clothing, towels, sheets, and accessories with the Super Label Store custom (clothing) labels and tags.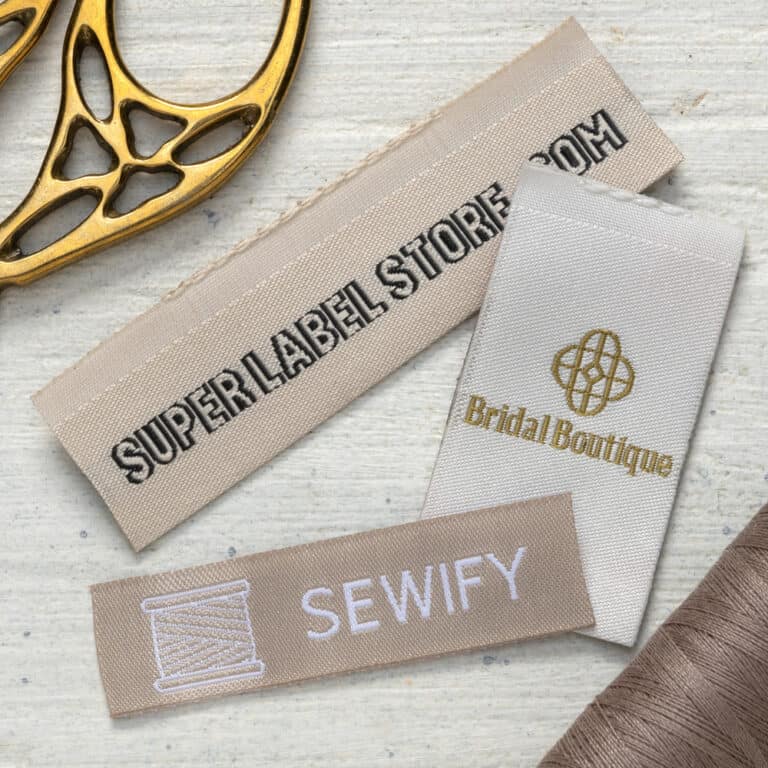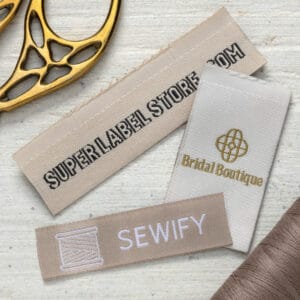 Besides approaching the extensions of free machine embroidery patterns, we recommend you tackle two related essential topics before starting to embroider with the embroidery machine or embroidery sewing machine. 
Make sure to watch:
"How to Digitize Logos Yourself" by MrJayBusch teaches you to convert your designs to embroidery files easily: 
      2. And the guide "How to Transfer Designs from Computer to Embroidery Machine" by SimplyShy to handle this essential step of the machine embroidery process:
Now that you know what they are and how to handle your embroidery pes files and other free machine embroidery downloads, let's approach the free download embroidery designs library for hand embroidery.  

Image source: Think Make Share Blog
Hand embroidery free download
What if you aren't a fan of digitalized embroidery? 
If you are one of these crafters who find nothing as inspiring as making hand
Stay with us to get familiar with various hand embroidery patterns you could use. 
Hand embroidery is still a popular specialty, attracting lovers of the unique embroidery on canvas or embroidery on various types of cotton fabric.

Image source: Pinterest
Whether done by hand or machine, you can use embroidery to express your personal and political truths.
Hand Embroidery notices
"People have embroidered themselves out of depression, and they have used embroidered to rehabilitate themselves from physical injuries." 
Embroidering can be highly beneficial not only because it has the power of pumping up the looks of your garments or interiors. Have a look at the following "12 Ways Embroidery Can Boost Your Mental and Physical Wellbeing" on Hand Embroidery to understand how many advantages it has undercover:
Embroidery helps alleviate stress—the act of embroidering encourages the release of neurotransmitters, so expect the effects of this "natural injection," in the form of joy, well-being, and the reduction of stress hormones,

It reduces anxiety—when you look at and appreciate an excellent piece of embroidery (it also works with any other piece of visual art), it helps you manage and reduce anxiety,

Embroidering lowers blood pressure and decreases heart rate. According to the research by the Home Sewing Association, the functioning of the bodies of crafters doing cross-stitch goes through actual physiological changes for the better!

Image source: Blog Treasurie
Embroidering keeps your brain healthy.

Hand embroidery

is all about spatial and gestural practices, which are crucial to developing, maintaining, and repairing the brain at every age.

Embroidery can help the brain recover from injury or stroke. This straightforward craft enhances the re-establishment of neural pathways and improves brain plasticity.

Contrary to popular belief, embroidery (given you use sufficient light!) helps keep your eyes sharp, maintaining and strengthening eyesight over the years.

Image source: Flamingo Toes
But the scope of this elegant craft isn't limited to achieving a particular aesthetic result. Embroidering will also help you to learn to be mindful. If you want to engage in mindfulness practices (i.e., focusing on the present moment), there is no better way than embroidery. Practiced regularly, you will learn to silence the parts of your brain that typically generate negative emotions.

Embroidering builds one's confidence. Do you know this feeling when you have just completed your embroidery project? Experiencing a sense of accomplishment now and then helps build self-confidence over time without putting much thought into it.

Neat embroidery pieces brighten up your home—whether you attach your embroidery projects to clothing or home decor items, you will come across them regularly. From there, you are just one step away from creating a highly pleasing creative environment in your interiors.

Image source: China Culture
Embroidery is a creative activity that helps you express yourself. Some people play the guitar, others dance or photograph, and others go crazy about embroidering. 

Art therapy based on embroidery has similar means and objectives to other branches of this enterprise—it helps people explore their emotions, memories, and ideas through artistic practice.

Eager to become sustainable and save the planet? With your self-made embroidery projects, you not only upcycle your clothing, ensuring you don't create more contamination during the garments' production, but these items also make you look unique and cool! In addition, embroidering on an item of clothing means you automatically extend its life or give it a new one.
Explore also these 18 health benefits of sewing on our blog. 

Image source: Crewel Ghoul
Free embroidery designs for hand embroidery are easily available online (just as machine ones).
To feed you with some inspiration, Cutesy Crafts shares flower embroidery pattern collections gathered from several websites. 
Over 45 free embroidery designs are listed, so you can start embroidering immediately without spending a dime. 
Check out, for example: 
Spring Bee Embroidery Pattern (

Cutesy Crafts

),

Poinsettia Embroidery Pattern,

Flower Outline Pattern,

Free Christmas Deer Embroidery Pattern, or

Free Flower Embroidery Pattern
to name just a few!

Image source: Pinterest
Try out these "8 Embroidery Flower Patterns For Beginners" on Crewel Ghoul. You can download your gorgeous pdf pattern and start embroidering right away, spending not more than $ 3-7, depending on the complexity of the pattern. 
What about free heart embroidery design if you fancy something other than a traditional flower pattern? 
According to Needle N Thread, there is an array of advanced options to turn every regular Valentine's Day into a fest.  
Scalloped Heart Design (by

Needle N Thread

)—a cute little heart; you wouldn't believe how simple and quick it is to stitch.

Heart of Flowers (brought to you by

Needle N Thread

as well)—it is a design that features some vibrant flowers tucked inside a heart frame. 

Image source: Needle N Thread
      3. Curly Heart (click for the pdf by the Needle N Thread)—are you looking for the cutest abundance of curlicues and swirls? This heart design is filled with them to the extreme! What's more, this pattern is excellent for practicing line stitches;
      4. Blooming Hearts (jump to Needle N Thread to tackle this one)—the intertwining vines of this embroidery free download pattern make a very delicate, airy outline, touched by charming little blossoms.
      5. Hungarian Whitework Hearts design comes from a Hungarian designer. It is a valuable study for whitework and pulled or drawn thread.

Image source: Pamash Designs
      6. Heart, Branching Out (to check out on Needle N Thread here)—a neat, stylized heart, vine, and leaf design (all in one), perfect for formal embroideries such as silk work or goldwork.
      7. Heart Snowflake in Cross Stitch (explore this pattern here on Needle N Thread)
"This particular pattern is for a rather large snowflake—it would make a nice focal point on a tablecloth or table runner, especially if surrounded by smaller flakes arranged in a pleasing way"
—writes Mary Corbet on Needle N Thread. 
This motif works great for folksy cross stitch, especially worked in monochrome.

Image source: Needle N Thread
Don't forget to explore "Nine Fun Ways to Embroider Valentine Hearts!" with:
seed,

satin,

French knot, 

chain,

trellis,

backstitch,

running,

woven wheel,

weave/couch
on Pamash Designs.  
Also, check out this Pinterest abundance of free heart embroidery design inspiration. 
"Hand Embroidery Designs | Heart Embroidery Sampler for Beginners" by DIY Stitching is an easy-to-follow video guide to embroidering the heart of your dreams in one go:
Use these simple patterns to quickly and easily add a fancy design to your clothing, zipper pouch, bookmarks, napkin, hand towel, bibs, and many more!

Image source: Pinterest