Easy to use configurators help you to design and order in minutes.
Premium quality from start to finish.
FROM 5 TO 10.000+ PIECES
Fast production time.
6-12 business days or less
DOWNLOAD AND PRINT YOUR PROOF (PDF) BEFORE ORDERING, SCALE 1:1.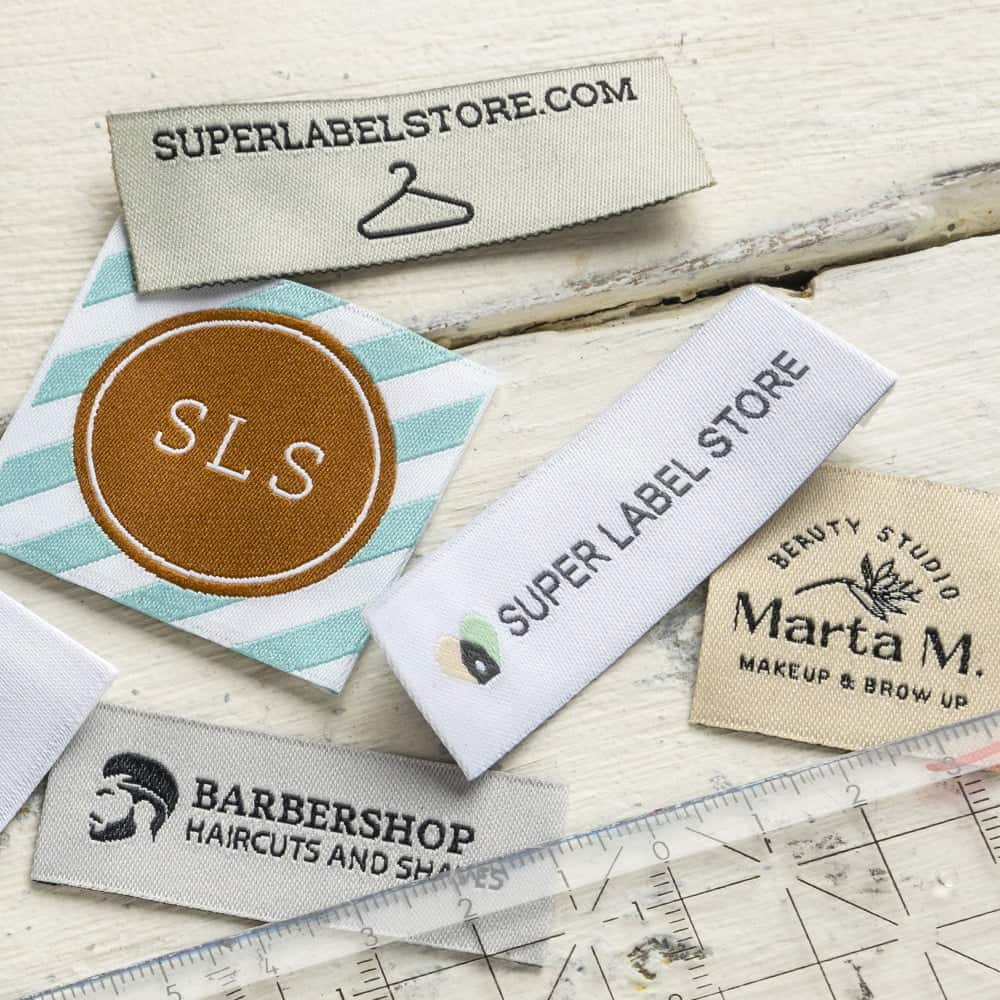 DESIGNING YOUR CUSTOM CLOTHING LABELS? EASY!
Everyone has a different idea's of high quality custom clothing labels and clothing tags. One may be looking for a simple, minimalistic design, the other has a more elaborate one in mind. Superlabelstore.com offers countless custom clothing tags, all different in look, shape, and size, and we also have loads of other creative options like a logo label, icon label or custom neck label. You can design clothing labels in all finishes like midfold or centerfold labels, iron on labels, sew on clothing labels or straight cut clothing labels. Choose whatever you like.
Whatever design you have in mind, our clothing label maker, makes it look exactly as you want at Super Label Store from fully personalized clothing labels to custom sewing labels to iron on clothing labels. You can easily order your iron on or sew on clothing labels online now. Create and order your high quality custom clothing labels with sew-on or iron-on application at Superlabelstore.com. Check here how it works.
Our personalized clothing labels are the most beautiful, high quality and premium clothing labels. This is because they are made of top of the range materials.
Custom clothing tags will last the entire lifespan of your garment and, of course, they look amazing. Apart from that, custom clothing labels offer many additional options
like different shapes, colors, details, application methods and sizes. Design and buy your clothing tags online now with our clothing label maker.
Want to order custom clothing tags? Take a look at the custom fabric labels and garment labels options now.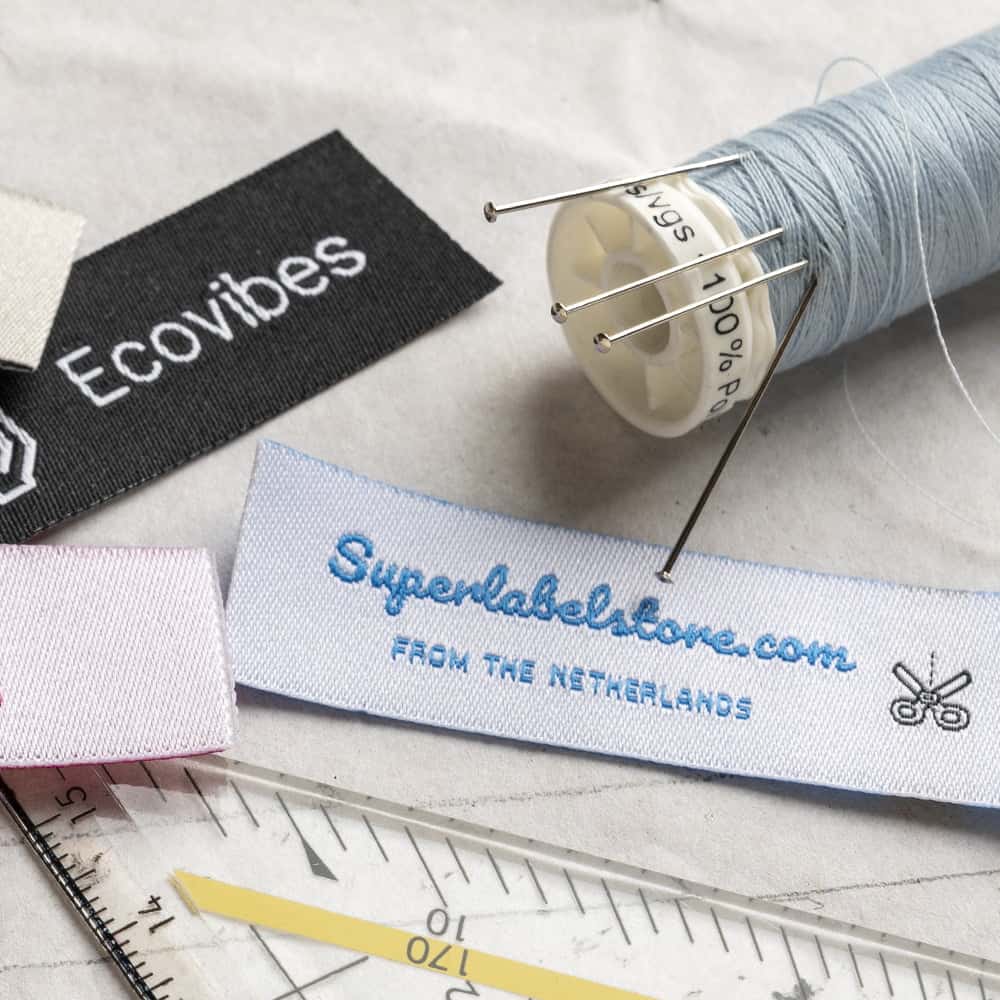 If you want to sell your personally designed clothes or garments, you certainly need custom hang tags. They will make your items 100% retail-ready. A hang tag doesn't just tell the customer how much the item costs or its size, but it also makes you instantly recognizable as a brand. Especially when you go for a cool custom clothing tag design that stands out. After all, the options are limitless! Start designing here.
Care labels are essential. When a garment has no care label, customers will not know how to wash and treat the item. The result? When the garment isn't washed according to the right instructions, its beautiful appearance will already fade after just a few washings, or perhaps it will even shrink. Super Label Store lets you design your personalized and custom care labels with unique instructions and care symbols.
Pre-made labels are commonly used labels – like size labels and sew labels – that don't require a unique design. Simply select the labels you need and follow the order and payment steps! Need custom clothing tags with your own design or logo. Looking for clothing labels near me? Take a look at our easy to use, custom clothing label and tags configurators and order online.
Custom clothing labels – Iron on or Sew on

Superlabelstore.com specializes in manufacturing small and large quantities of personalized clothing labels, including iron-on and sew-on clothing labels, hang tags and care labels. With a minimum purchase 5 or 100 personalized clothing labels, we're the economical solution for all your custom label needs, both large and small. Our brand labels for clothing and apparels are a great accent to all your creative brands and creations, especially for custom clothing lines.

Clothing brand labels with logo

Young designers might be so focused on the shape, color, and cut of their dress, they may not give much thought to custom clothing labels that are added after production. The same goes for consumers; how an item of clothing looks and what it costs tend to be the main concerns for buyers, but custom fabric labels shouldn't be ignored so easily.
Textile labels offer important information about the product, information which might just be the difference between an item being purchased or put back on the rack when shopping. Looking for custom clothing labels near me? Try our super easy online designing process now!

Custom fabric labels for clothes

Custom clothing labels are an important tool used to ensure that the clothing sold meets standards in the United States and other countries as well.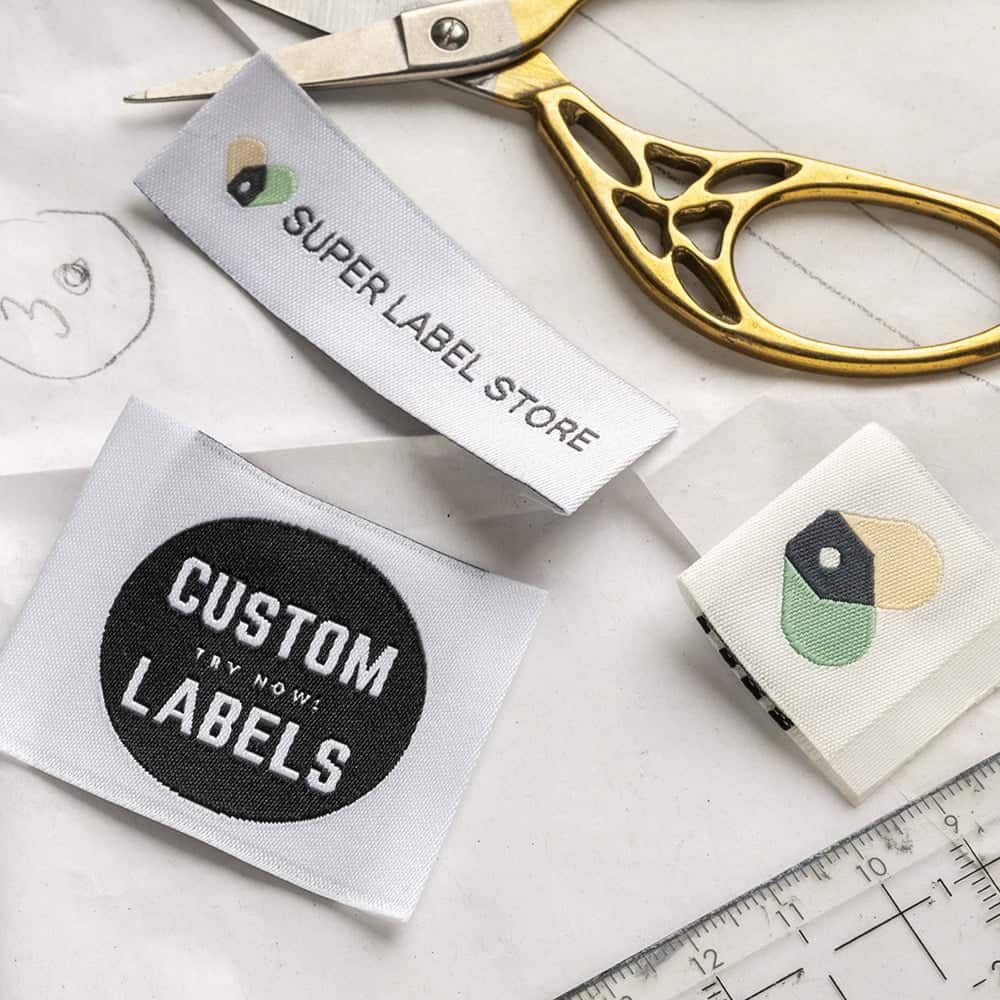 Many different sizes and shapes of sew on clothing labels are sold, and normally the size of the label used is dependent on the size of the final product used. A new product label will be required if you are combining several pieces of fabric to make one overall piece of clothing.
Custom labels for clothing and apparel

Luxury clothing labels, garment tags and custom labels for clothing come in many forms and can be differentiated by the label fabric construction, label function, label shape, etc. Some of which maintain legal requirements (care labels) and other types of fashion brand labels are placed on the garments strictly for appearance or as identification of the fashion brand.
One of the most common uses of a garment label is to aid a fashion designer to develop brand recognition. The clothing brand label is generally placed somewhere inside the garment to identify the brand. Brand labels are also often placed on the outside of clothes to make the brand easily visible.  
Logo clothing labels with your brandname, logo or QR code

A logo is a brand ambassador who will represent your company even if you are not present there. This is why small business owners have realized its importance and are busy designing their logo labels today. The same is the case with the apparel business industry. Apparel business owners know very well that without a logo they won't be able to imprint their business image in the minds of their valuable customers. Not only that, they have to present their company to the world as well.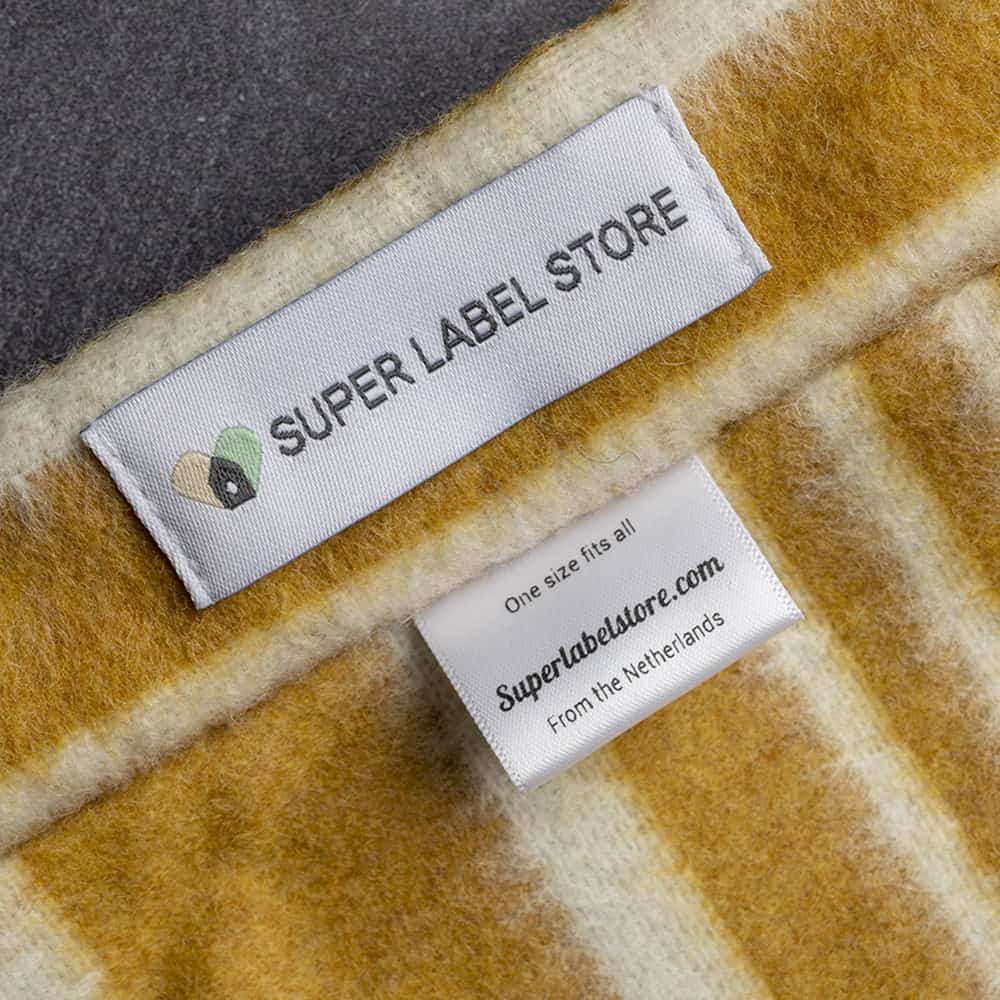 Clothing label designs can do wonders for your business if it is drawn by serious and expert hands. 
Why order custom fabric labels?

When you are designing and producing clothing, the positioning of the garment label is an important aspect of the production process.
It's not just where the fabric label is placed on your clothing that is important. The information that the label contains, such as care labeling and flammability information, is also significant.
Garment labeling isn't new in clothing production, but it is something to consider. It's important to ensure that you adhere to local regulations and laws such as those handed down by the Federal Trade Commission, and this simple guide will help you identify the information that is required. Also, we'll inform you about some other details that you should include to improve your customer service. Superlabelstore.com lets you also design and create custom quilt labels, brand name labels or logo labels. 
Custom textile labels with your logo

When designing and making your own garments, whether it be for you and your family, or to sell on, adding custom sewing labels is a great way to add a custom finishing touch. These textile labels are ideal to sew on your handmade clothing to both spread your name and give you a professional finish. Sew in custom sewing labels with care instructions, a logo, or even your name or brand name.

Iron-on clothing labels
– Easy to apply

Iron-on labels are good for putting identification on clothing items. The ease of application of these labels makes our labels a great choice for labeling all of your clothing. Simply iron these custom clothing tags onto the fabric you wish to name.
Custom clothing labels are made from a durable polyester material that stretches with the clothing and has an extremely strong bonding agent on the back that is activated with the heat from your iron. Once applied these labels will stay put through the wash and the tumble dryer. Tested in commercial washing conditions used in aged care facilities we know they work. Standard size iron-on clothing labels are the best labels for kids in primary school and the elderly in aged care. 
Label maker for clothing – Easy to use
In general, textile and apparel products sold must be labeled with some vital information, the fiber content, the country of origin, the manufacturer or dealer identity, and the care instructions. Labels containing care instructions must be attached permanently to the item. Order yours today!